Can't Play MOV File on Mac? Here're Reasons and Fixes
MOV is natively supported by Apple's QuickTime Player which is bundled with Mac for ages. Therefore theoretically, you shouldn't have much difficulty in playing MOV files on Mac Pro, MacBook, Mac Mini, and iMac. However, it is not that simple as MOV file is not compatible with QuickTime sometimes.
EVERY .MOV file I have - when I open it in QuickTime on my Mac - is forced into 'conversion' mode, which then seems to stall - every time. So basically, I can't open or play any .MOV file I have.
I have a black MacBook and a 27" iMac and a video camera that shoots to .MOV files. I had been able to view the movie files on both computers as well as edit them in iMovie. After a software update from Apple I was unable to view the files any more. I can hear the audio, but the screen is black.
[Solved] Mac Can't Play MOV? Convert MOV to QuickTime MOV to Play on Mac Successfully In most cases, your Mac can't play MOV files becasue your MOV is encoded with codecs that QuickTime does not support. Accordingly, you should convert MOV to QuickTime format so as to play the files on Mac withour problems. And WinX HD Video Converter Deluxe can help you.
Below we've summarized several typical problems:
Mac won't play .mov files that are taken with iPhone, drone, DSLR camera, etc.
Mac won't read .mov files that are edited in Adobe Premiere, After Effects, iMovie, etc.
Mac QuickTime cannot open MOV files after getting a software update.
Mac only plays the first frame or the first second of MOV file.
So, how to solve these MOV not playing on Mac or QuickTime Player cant open MOV errors? Below we will give the explanations.
Part 1. Why You Can't Play MOV File on Mac with QuickTime?
Reason 1. The MOV file could not be a valid media file.
When Mac QuickTime cannot open your .mov file, firstly you need to check the video information with Finder or MediaInfo and see if the file size or the duration is normal or not. If the file size is in 0kb or only in a few kb or the duration of the video is 0:00, your .mov video possibly has been emptied/corrupted and certainly won't be played with QuickTime, VLC or any other media player on Mac. >> Check how to repair corrupted and unplayable MOV files
Reason 2. The MOV file is created using an incompatible format.
If the file size and duration are fine, you need to check the video and audio codecs that are used to encode your MOV file. MOV container format could be encoded with a legacy Apple proprietary compression format or a format that Mac doesn't support.
The support for a wide range of legacy codecs has been discontinued with the release of the Mac OS X Mavericks. If your MOV files are compressed with legacy codecs, you can try installing the old QuickTime Player 7 on Mac, or use QuickTime X's conversion feature to upgrade the legacy codecs to modern codecs (H.264/AAC). If these solutions don't work for you, you can try a more powerful third-party player like 5KPlayer or use WinX HD Video Converter for Mac to convert MOV, no matter what codecs it use and what resolution it is, to Mac supported formats.
Part 2. How to Convert MOV for Playback on Mac?
Step 1.

Download the .dmg file of WinX HD Video Converter for Mac and install it. This software is fully compatible with macOS Big Sur and lower. Then launch it and click the "+ Video" button to import the MOV file that can't be played on Mac.
Step 2. At the Output Profile panel, choose a video format that Mac can recognize, such as MP4 and MOV with H.264 video codec and AAC audio codec.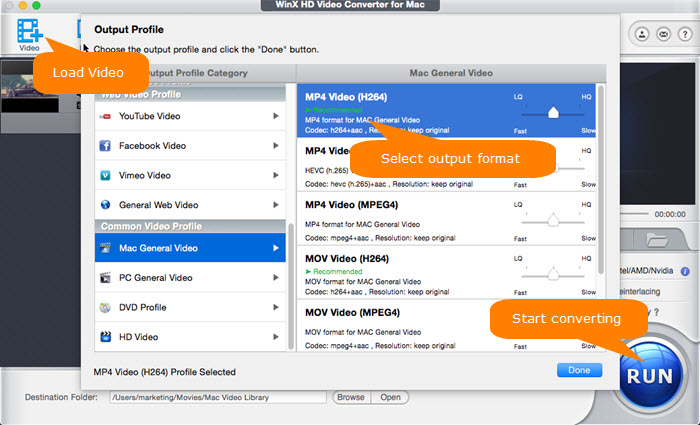 Step 3. Hit "RUN" to begin converting MOV to Mac playable format. WinX features super fast conversion speed by taking advantage of Intel/NVIDIA/AMD GPU acceleration.
Apart from converting MOV to QuickTime/Mac supported file formats, WinX can also convert MOV to MP4, AVI, WMV, iPhone (11), iPad (Pro), Samsung Galaxy S10, Xbox, PS4 and other devices for profiles, as well as convert other video formats to MOV. In addition to converting file formats, this program can also compressing videos (e.g., shrinking 4K to 1080p for smooth playback), cropping, cutting and merging videos, downloading online videos, recording screen and webcam, and making photo slideshow videos.
Video Tutorial: How to Convert MOV to MP4 in Seconds
Free download WinX HD Video Converter to help play .mov on Mac in any free MOV video player and do other things!