Top 5 Video Players for Mac (MacBook/iMac/Mac mini)
Which is the 2022 best video player for macOS MacBook/MacBook Air/MacBook Pro/iMac/Mac mini?
The reason I am writing this top 5 best video players for Mac now is because, more often than not, lists of free video players for Windows and Android are everywhere while relatively little information is available about the best media player for Mac computer. If you'd like to have the best Mac video player for your video playback needs, like fluid playback of all video file formats, support of SRT file, etc, on a Mac computer or laptop which might be connected with HDMI to your Apple TV, you've come to the right place.
Mac has the problem of being lack of support for many third-party programs, including video players. One way of reducing your concerns of video format compatibility will be to get the best free video player for Mac installed on your computer or convert your movie/music video to Mac supported file formats. And there are top 5 Mac meida players we would like to recommend as follows: (based on some online opinion polls).
Free Mac Video Player List - Top 5
No.1 5KPlayer
Ratings: ★★★★
Supported OS: Windows (10/8/7) and macOS (Catalina & earlier)
Supported media formats: MP4, MOV, MKV, AVI, WMV, FLV, MTS/M2TS, H.265/264, VP8/9, WebM, DVD disc, ISO, Video_TS, 360°, etc.
5KPlayer is a free video player for Mac (up to macOS Catalina) as well as Windows OS, including Windows 10. Thanks to the support for tons of video/audio codecs, it can play any movie/music videos smoothly and directly without need to installing third-party codec packs. Moreover, it performs well in playing SD/720P 1080p HD/4K UHD media source in any format, MKV, M2TS, TS, MOD, TOD, MP4, AVI, WMV, MOV, M4V, MPEG, H.264, FLV, etc. choose as you please.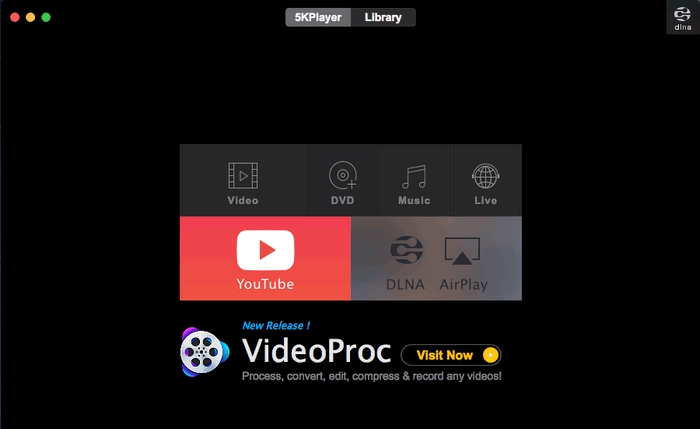 Extra features of 5KPlayer - the No.1 video player for Mac
Act as a free music player to play MP3, M4A, WMA, WAV, FLAC, AAC, AC3, etc;
A free movie DVD player software to play regular and strictly encrypted DVD movies;
Function as a free video music downloader to download movies/video clips/music songs from 300+ websites, say YouTube & Facebook;
Turn your computer to an AirPlay receiver for video music streaming from iPhone, and DLNA sender to stream contents to TV;
Enable users to listen to radios for free and create music playlist.
5KPlayer - Any media file can be playable. Play any SD/HD/4K UHD movie/music videos on Mac OS (Big Sur, Catalina), new 16-inch MacBook Pro, MacBook Air, iMac, 5K Retina iMac, etc.
No.2 VLC Media Player
Ratings: ★★★★
Supported OS: Windows, macOS, iOS, Android, Chrome OS, etc.
Supported media formats: MP3, WMV, WebM, MKV, MOV, H.264, MPEG-4/2, DVDs, Audio CDs, VCDs, etc.
VLC is voted into the top 5 of the best video players for Mac, which is a FREE and open-source multimedia player compatible with Mac OS X, Windows, Linux, Android, iOS, etc, over ten operating systems written by non-profit organization VideoLAN.
This is the really amazing thing for all sorts of platform-users. Technically, VLC media player for Mac supports video in nearly all types of file formats, like MOV, MP4, QuickTime, AVI, MPEG, some WMV, DVD ISO file, etc. Also, you can use this Mac video player to play DVD, CD, and VCD. This is the first free video player for Mac and Linux that can playback encrypted DVDs, as well as incomplete and damaged videos. But many people don't like the layout and interface of this Mac video player, which might be outdated and difficult to use.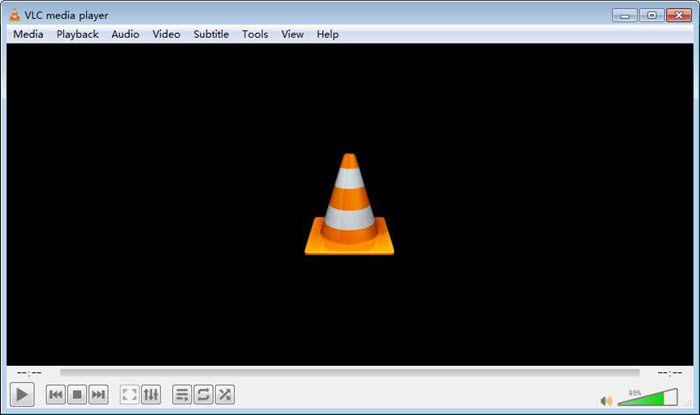 Supported media formats of VLC
Container Formats: 3GP, ASF, AVI, FLV, MIDI, QuickTime, MP4, Ogg, OGM, WAV, MPEG-2, AIFF, Raw audio, Raw DV, MXF, VOB, RM, DVD-Video, VCD, SVCD, CD Audio, DVB
Input Video Formats: H.263, H.264, MPEG-4, HEVC, MJPEG, WMV, MPEG-1, MPEG-2, MPEG-4 Part 2, RealVideo, Cinepak, Dirac, DV, HuffYUV, etc.
Audio Formats: AAC, AC3, ALAC, AMR, DTS, DV Audio, XM, FLAC, etc.
Output Video Formats: H.263, H.264/MPEG-4 AVC, MJPEG, MPEG-1, MPEG-2, MPEG-4 Part 2, VP5, VP6, VP8, VP9, Theora, DV, Dirac
No.3 MPlayerX
Ratings: ★★★
Supported OS: Linux, OS X and Microsoft Windows
Supported media formats: MPEG, AVI, ASF and WMV, QuickTime and OGG/OGM, SDP, PVA, GIF
Many Mac users take MPlayerX media player as a standard part of their toolbox simply because it works properly and almost all popular codecs are in it. No fuss or headache of codec installing or updating. Seriously, you will not be frustrated with such practical video player on your Mac OS.
Besides, problem like disappearing of title bar in QuickTime never happens. When playing AVI file on Mac/MacBook, this Mac media player performs greater without stuttering while QuickTime player cannot recognize the file sometimes. Well, system crash things happen randomly, which should be tackled properly.
Other features of MPlayerX
Detect and convert the encoding method of the subtitle file automatically and seamlessly.
Seamlessly and directly plays videos in youtube, vimeo, and many others through the video URLs.
Output the raw DTS/AC3 stream to let you enjoy theater effectc.
Support Apple Remote.
No.4 QuickTime Player
Ratings: ★★★
Supported OS: Windows Vista, Mac OS X Leopard to macOS Mojave
Supported media formats: Ogg, Matroska, Flash Video, DivX Media Format, ASF, MPEG, MP3, DV-DIF, WAV and AIFF etc.
QuickTime Player, developed by Apple, is the default video player on any Mac OS system and apparently a good free option for Mac users to play videos on Mac. This best media player for Mac supports most common video audio and image formats, works great with HD videos, and enables you to record, edit and stream Internet videos and HD movie trailers. One exception is that Mac QuickTime video player does not support WMV and DivX.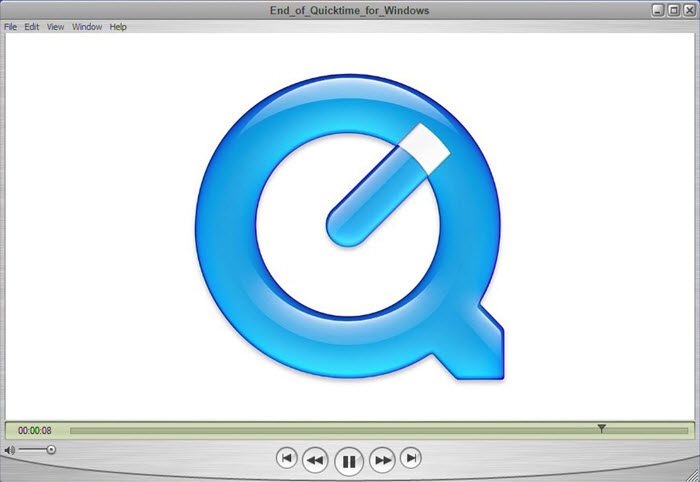 Note: Be advised that OS upgrade may lead to your QuickTime player crashing on Mac sometimes. Be sure to research pros and cons of your Mac OS upgrading move, check out if your computer is better enough to run QT and prepare for Mac video player issues in advance. On the other hand, starting with macOS Catalina, any 32-bit apps won't be supported. To be specific, QuickTime 7 is no longer available in Catalina. You can try QuickTime alternative for macOS 10.15.
No.5 DivX Player
Ratings: ★★★
Supported OS: Windows, macOS
Supported media formats: DivX, AVI, MKV and HEVC files in up to 4K quality.
DivX player for Mac is a powerful movie video player for Mac especially for HD videos playback, such as all native DivX videos, MKV and HEVC up to 4K movies. QuickTime files are included as well. With an easy-to-use interface, DivX player also plays as a video converter. But, this Mac video player seems to eat up too much space with its big installation file. So enough space matters to it.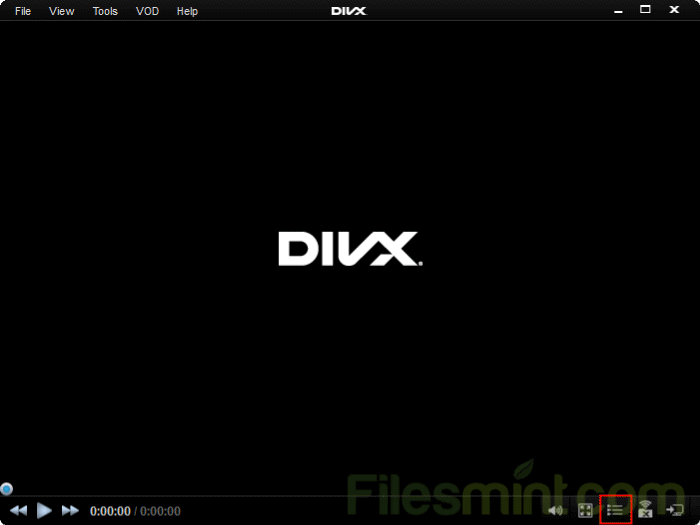 Bonus features of DivX Player
Frame by frame playback with Chapter Points to quickly navigate to favorite scenes or find different scenes.
Create, play and loop playlists, and automatically add files to the playlist.
Support AC3 and DTS surrounded sound.
Play videos directly from cloud indluding Google Drive and Dropbox.
Cast videos, music and photos to any DLNA-compatible device like Xbox, Playstation, Samsung Galaxy line of products, or Chromecast.
All of them are powerful video players for Mac. You can choose anyone based on your own needs.
Comparison of Top 5 Video Players for Mac
Players

Supported Media

AirPlay

Download Online Video

5KPlayer
(Mac, Windows)

Video/Audio
DVD (region-free)

Y

Y

VLC Media Player
(Mac, Windows, Linux, Android, iOS, Windows Mobile)

Video/Audio/DVD

N

N

MPlayerX
(Mac Only)

Video/Audio/DVD

N

N

QuickTime
(Mac, Windows)

Video/Audio/DVD

N

N

DivX Plus Player
(Mac, Windows)

Video/Audio/DVD

N

N
Frequently Asked Questions
1. What is the best video player for Mac?
Nearly all good Mac video players are capable of playing multimedia files including MP4, MKV, AVI, MOV, FLV, WMV, etc. However, speaking of playing high resolution or rare videos, it is picky. Accordingly, 5KPlayer is thought of the best free video player for Mac to play not only 4K60 videos, DVDs, HDR files, but also encrypted DVDs. Also, it's AirPlay and DLNA features let you stream videos to bigger screen.
2. Is VLC available for Mac?
Yes. VLC media player for Mac works very well. As of now, VLC runs natively on newest M1 Mac computer without big errors.
3. Does Mac have a media player?
Yes. QuickTime Player is the default media player for Mac computers. You can find QuickTime Player by going to the Applications folder located on the dock of the Mac you are using.
4. Why can't I play videos on my Mac?
Mac only supports video formats inlcuding AVI, AVR, DV, M-JPEG, MPEG-1, MPEG-2, MPEG-4, AAC, OpenDML, 3GPP, 3GPP2, AMC, H.264, HEVC, iTunes (.m4v), QuickTime (.mov, .qt), and audio formats including AAC, AIFF, WAVE, uLaw, AC3, MPEG-3, MPEG-4 (.mp4, .m4a), .snd, .au, .caf, Adaptive multi-rate (.amr). Therefore, if your file like MKV video is not supported by Mac, you can't play videos on Mac.
5. How to play videos on Mac?
Usually, you have two ways. The easiest and most direct way is to download a good Mac video player to play video files on Mac. And the other way is to convert videos to Mac-compatible ones to play successfully.