QuickTime Player Can't Load WMV? Top Ways to Play WMV on Mac
Are you a Mac user struggling to play WMV (Windows Media Video) files on your MackBook Air/Pro/iMac? Don't worry, we've got you covered! Playing WMV on Mac may seem challenging due to compatibility issues, but with the right tools and methods, you can easily overcome this hurdle. In this article, we'll guide you through various solutions, including the best media players, conversion techniques to make it possible to play WMV on your Mac. Say goodbye to frustration and unlock the compatibility of WMV files on your Mac effortlessly. Let's dive in and explore how to play WMV on Mac like a pro!
Suggested Reading: How to Play MP4 on Mac?
[Best Way] Free Convert WMV to QuickTime MOV for Playback on Mac/iOS/iMovie
Download WinX Video Converter for Mac to free decode WMV video to QuickTime MOV format, as well as MP4, M4V, H264, HEVC, or any formats Mac, iPhone iPad, iMovie, Apple TV supported. Thus, your WMV video can be playable on any Apple platform and device with no hassle. GPU acceleration & High-quality output. 100% working for playing WMV on Mac!
Top 5 Ways to Play WMV on Mac
Part 1. Installing Windows Media Components for QuickTime
When you hunt for ideas to make WMV playable on Mac, a must-have choice appearing on your radar is Windows media components - Flip4Mac. It's no exaggeration to say that Flip4Mac used to be the most popular way in handling WMV on Mac playback matter. However, that's not the case nowadays. Flip4Mac sales and support have been unavailable years ago. Instead, its replacement called Switch (an all-sided player and encoder) is highly recommended by its company Telestream to play WMV on Mac without using QuickTime. Switch is a paid WMV player, priced at affordable $9.99 and then you can enjoy another impressive feature - inspect. It offers you with frame-accurate playback of all your WMV videos, demonstrate all the detailed info in a clutter-free, well-organized interface. Other settings concerning video like metadata, bit rate, video/audio codec, loudness level are also covered. If there's something wrong with your input file, it will auto correct it and export a new file for you. Have a try if your budget is adequate.
Way 2. Playing WMV with VLC Media Player on Mac
VLC Media Player is a time-tested WMV player for Mac, which is able to play WMV and a large range of media files in resolutions up to 8K, as well as compressed video. VLC for Mac OS provides a robust feature set. You can adjust the playback speed and audio quality, as well as apply video effects. Color captions, add-on subtitles, audio tracks, and even video conversion are all fully supported by the WMV player on MacOS. However, one issue with VLC is that many of these capabilities are difficult to discover under less-intuitive menus, making it difficult to use.
How to Play WMV on Mac with VLC
Step 1. Free download VLC dmg file from it's official site. Then launch it.
Step 2. Drag and drop or click on File > Open File, then browse and select the WMV video that you want to play. Click Open when you're done.
Step 3.  VLC will start playing the WMV file on your Mac. You can use the playback controls at the bottom of the VLC interface to pause, play, seek, adjust volume, and more.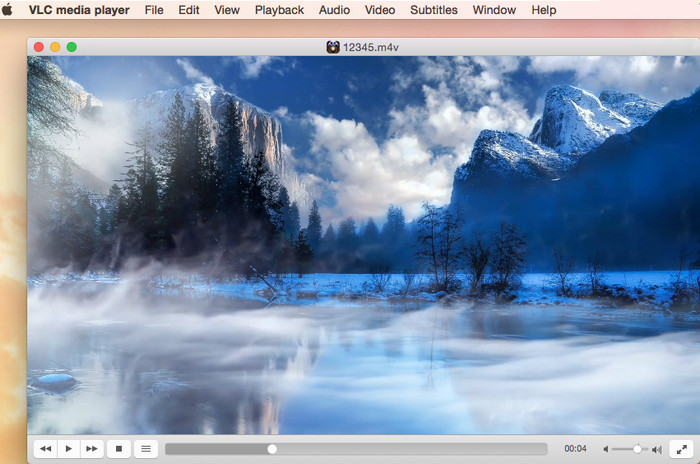 Way 3. Opening WMV on macOS in 5KPlayer
5KPlayer claim to fame is that it can free play WMV video on Mac smoothly, even with 1080p full HD, 2.7K and 4K 2160p. That attributes to its advanced Intel/Nvidia/AMD GPU hardware decoding. Thus, you can use it to play WMV, as well as MP4, MKV, AVCHD, MPEG, etc. at compute-intensive HEVC codec 4K 30/50/60FPS without video choppy playback, video freezing, only audio no video errors.
On top of this, 5KPlayer is a powerhouse with video downloading feature (1000+ sites supported) and wireless streaming (AirPlay, DLNA) available. Thus, you can easily watch WMV on your bigger yet sharper screen Apple TV or other DLNA-supported smart TVs with better video/movie visual experience.
How to Play WMV on Mac with 5KPlayer
Step 1.

Download 5KPlayer for macOS. Once downloaded, open the installer and follow the on-screen instructions to install 5KPlayer on your system. Then launch it on your computer.
Step 2. Drag and drop or click the Video button and choose a WMV file on your Mac to play.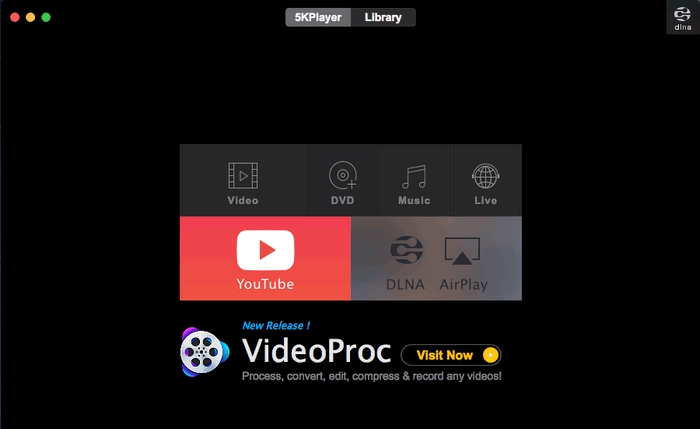 Way 4. Converting WMV to a QuickTime MOV with WinX Video Converter
Converting WMV to a QuickTime compatible format is a safe belt for playing WMV on Mac. Fortunately, WinX HD Video Converter for Mac offers you a solid way to convert WMV to QuickTime MOV, MP4, M4V or any other formats your Mac computer support, so as to play WMV on Mac smoothly. Actually, this WMV converter for Mac also supports you to convert any video to 420+ formats, compress 4K to 1080p or 720p to avoid choppy playback on underpowered Mac computer. Better still, you can even free download video movie from YouTube, Instagram, TikTok and 1000+ sites for offline playback on MacBook/iMac/Mac Mini.
How to Convert WMV to MOV Using WinX Video Converter
Step 1. Download and install WinX Video Converter on your desktop. Click "Video" button to load WMV files after software launching.
Step 2. Choose MOV from the pop-up Window. Scroll down to "Mac General Video" under "Common Video Profile" to opt for MOV video. Or move cursor to "Apple Device" under Device Profile, select "to iPhone Video", "to iPad Video", "to Apple TV Video", "to iMovie Video"...based on the device and platform you're running.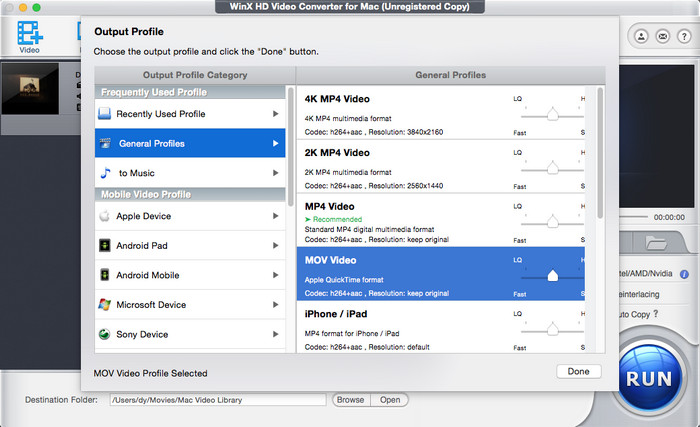 Optional: if you need to do some adjustments on parameter settings, tap setting icon on the main panel. Afterwards, change video resolution, lower bit rate/frame rate, adjust aspect ratio, tweak audio channel, audio codec, etc. all on your disposal.
Step 3. Click "Browse" button to choose the destination folder for output video storage. Then click "RUN" button to begin converting WMV to QuickTime MOV format at GPU hardware accelerated speed, up to 320FPS.
Way 5. Leveraging Online WMV Converters to Convert WMV to QuickTime
Online WMV Converters also help changing WMV to QuickTime supported formats, especially for those who don't want to download anything on their devices. There are many online video converters available on the web. Take OnlineVideoConverter as an example, it's a powerful and free WMV converter online that allows you to convert any video link or video file to various formats, including WMV, MOV, MP3, MP4, and M4A. Besides ultra fast media conversions, OnlineVideoConverter doesn't require download and registeration, has no restrictions on conversions and downloads. But it depends more on the network, and may have lower speed of uploading and transforming for larger size.
How to Convert WMV to MOV with OnlineVideoConverter
Step 1. Navigate to OnlineVideoConverter official page. Click on the "Select or Drop File" button to browse and open the WMV that you want to play on Mac.
Step 2. Drop down the list of Format and choose MOV or MP4 as the output format.
Step 3. Select the Video Quality if necessary, for example HD 720p, 1080P and more.
Step 4. Tap the Start button to start converting WMV to MOV. Your video will be processed in a very short time. After then, download the converted WMV offline and you can play it freely in QuickTime Player.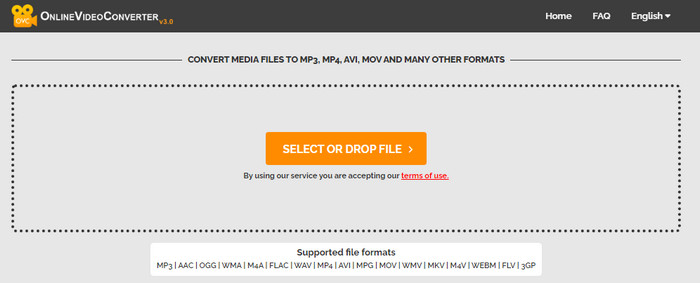 FAQ
1. Can QuickTime play WMV files?
QuickTime player doesn't open WMV files, it only supports a limited variety of video formats like M4V, MOV, MP4, Mjpeg. Hence, when you try to play a WMV in QuickTime, you may usually get an error message saying "You may experience problems playing a video track in [name of video]."
2. Can MacOS play WMV?
MacOS cannot play WMV natively. Actually, audio or video clips in notes that were created with the Windows version of OneNote may not work on your Mac until you install optional conversion software.
3. Why is WMV not playing on my Mac?
Since WMV is a Microsoft proprietary codec, it is not supported by the default Mac player. To play WMV on Mac, you will need a video player for Mac that is compatible with this format
4. What is the best WMV Player for Mac?
There are many WMV players for Mac, like VLC, 5KPlayer, Elmedia Player, Cisdem Video Player and more. We recommend 5KPlayer as the best WMV player for Mac. It offers a range of different features that make playback easy and convenient. It also lets you play files on external devices such as Roku or Chromecast. And it offers plenty of options for customisation and fine tuning.