How to Fix MOV File Out of Sync Issue?
Audio out of sync issue may occur with your MOV file.
I have various MOV files recorded as screen recordings with QuickTime Player on my Mac. When playing these files in QuickTime, they are fine. However in playing them in VLC, the audio is way out of sync.
When I play .mov files in Windows Media Player, the sound sync is off by at least 5 seconds.
I have a few .mov files recorded with my iPhone. The audio matches the video perfectly while playing with QuickTime and VLC. But when I imported them to Adobe Premiere, the audio was out of sync.
I'm trying to export a number of clips from Final Cut Express to .MOV files for uploading to YouTube. They all seem to export fine, but some of the clips have the audio go out-of-sync after uploading to YouTube.
MOV audio video out of sync means that you hear audio before or after seeing corresponding action. Audio desynchronization contributes to very poor viewing experience. Luckily, you can fix this issue through different attempts we introduce here.
[Solved] MOV out of Sync? Sync MOV Video Audio with WinX Video Converter
WinX HD Video Converter Deluxe can be a nice try to re-encode your MOV files for smooth playback without video audio out of sync problem. This MOV video sync tool helps you convert MOV and more formats from variable frame rate to constant frame rate, transcode MOV video to MP4, HEVC, H.264, and more, change audio codec to widely compatible MP3, AAC, AC3 etc.
How to Solve MOV out of Sync Error?
What Are the Causes for Audio Out of Sync Issue in MOV Video File?
Before we walk you through the fixes, we'd like to show you why the sound doesn't sync with the picture. Below are several possible reasons.
The MOV file is corrupted and goes out of sync, because you forcefully shut down your computer when MOV file is open. Check how to repair corrupted MOV file >>
The MOV file is infected with viruses.
The MOV file is saved in a hard drive that contains bad sectors, thus resulting in out of sync error.
The media player may be the culprit for out of sync problem in MOV file.
Out-of-date computer hardware can also lead to video and audio sync issue.
If your MOV file plays fine in QuickTime, VLC, Windows Media Player or others, but goes out of sync after being imported to post-production software like Adobe Premiere, the MOV file is probably encoded with a variable frame rate which many video-editing programs cannot handle properly.
While converting any video to MOV file format using unreliable converter programs or improper settings, the audio and video tracks may go out of sync.
Interruptions when MOV files are being created on any gadget or imported on to a program or device will also cause audio delay or video delay error.
How to Resolve MOV File Audio Out of Sync Issue?
Here we round up 3 ways to tackle out of sync problem in MOV files.
1. Try a different player
When MOV video playback is out of sync in your player, QuickTime for instance, try a different one such as 5KPlayer. You may be pleasantly surprised to find that the desync issue and other video file not playing error get fixed.
2. Resync the video and audio of MOV file in player
Some players like VLC and Windows Media Player allow users to sync video and audio manually.
In VLC:
[Method 1] Open VLC -> Tools -> Preferences -> click All at the bottom left corner -> click Audio at the left side bar -> find Audio desynchronization compensation and set the syncing compensation forward or backward according to how your audio is out of sync with the MOV video -> click Save and your .mov video should play without out of sync issue.
[Method 2] Use the keystroke F to slow audio by 50ms and G to speed audio by 50ms.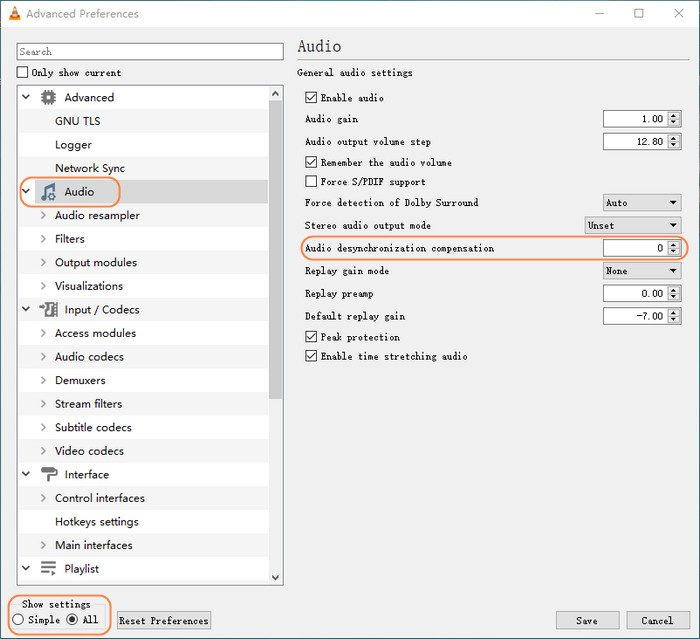 In Windows Media Player:
Open WMP -> click Organize -> Performance -> Drop Frames to Keep Audio and Video Synchronized -> click Apply and OK -> restart WMP and try playing your MOV file.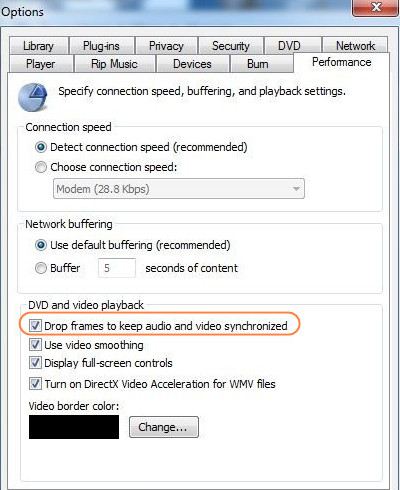 3. Convert variable framerate to constant framerate
MOV files shot by iOS devices are encoded with variable frame rate and will go out of sync after being added to video-editing software. In this case, you can use WinX HD Video Converter Deluxe to convert variable frame rate to constant frame rate. Steps are shown below.
Step 1. Download WinX HD Video Converter Deluxe (for Windows

and for Mac

) and install it.
Step 2. Open this software and click "+Video" button to load the MOV file whose audio is out of sync.
Step 3. Choose an output profile.
Step 4. Click the settings button and choose a fixed frame rate, such as 30.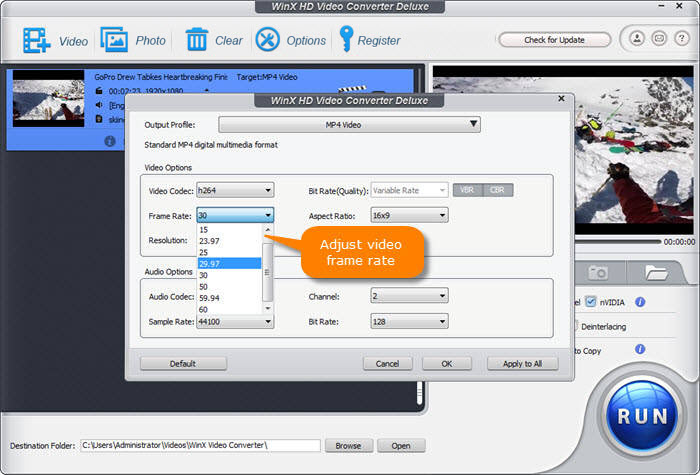 Step 5. Hit "RUN" and the conversion will begin. Once done, you'll get a new file with a constant frame rate and without out-of-sync issue while being imported to Adobe Premiere and the like.
WinX HD Video Converter Deluxe converts videos to MOV or MOV to other formats without audio out of sync issue. Plus, it can convert MOV to/from other file formats such as 4K/HD MOV to MP4 and do more things including resizing video, editing video, downloading video, and creating photo slideshow.
Video tutorial on how to fix MOV file out of sync error by converting MOV to MP4: