GoPro/DJI/Canon/Sony Splits Video? Why and How to Merge Clips?
Because of the FAT32/exFAT file system compatibility issue, GoPro, DJI, Canon, Sony, etc. brand cameras or camcorders will split video files into multiple segments during recording. Put more succinctly, the FAT32/exFAT file system can't store a single file larger than 4GB. So, once your video size reaches 4GB, the FAT32/exFAT file system will end the recording of that segment and then immediately start a new one. The whole process goes with one and another video clip until you stop the recording or your SD card just fills up. It means that a 10-minute 4K video footage will be split into a lot of video clips of seconds or minutes.
Actually, it is quite considerate GoPro, DJI, Canon, or Sony splits your video into small chunks for safety precaution purpose to prevent "put all eggs in one basket" problem. However, if you want one complete video, to upload to cloud or YouTube, or sharing to SNS, you'd better merge all of the segments into one video. And below is a solution.
How to Stitch Videos Together for Collection, Sharing or Uploading?
WinX HD Video Converter, an established converter brand with over 10 years of video processing experiences, can help merge GoPro, DJI, Canon or Sony video clips into one.
Join GoPro, DJI, Canon, Sony, etc. video segments without frame loss.
Compress gigabytes of merged 4K videos for space saving. GBs to MBs
Trim long video, eg. extract 15s from a 10 minutes long video for SNS sharing.
Convert video formats, especially convert H.265 to H.264.
Part 1. Why Does GoPro/DJI/Canon/Sony Split Video Files Into Segments?
As we have mentioned in the beginning, the FAT32/exFAT file system used on your memory card is mainly to blame. Based on different devices you use, there are some details you may concern. So, we list them as many as possible to help you learn the target reason better.
1. About GoPro Splits Long Video
From GoPro Help Center, GoPro splits a long video into small chunks for two reasons:
Safety precaution: Splitting the video into small clips will reduce the chance of losing the whole video footage if the file gets corrupted. If the video is separated by clips, the others will be okay when one video clip gets corrupted.
Maintaining the file system compatibility: The FAT32 file system only allows for maximum 4GB in a single file, that's why you see situations like "GoPro only records 8 minutes", "GoPro only record for 12 minutes", "GoPro stops recording after 17 minutes", etc. Because of File Chaptering named by GoPro, at the highest 4K or high FPS settings from device like GoPro Hero 8 Black, the segments may be only 6 to 8 minutes long. How long are the video clips depends on the video mode and camera model you are using, and the chapter lengths are various for each camera.
Based on information GoPro developer provides, the newer models of GoPro use chapters of a maximum size of 4GB and earlier models use smaller sizes. Whatever, the longest time of a video clip seemingly won't be over 20 minutes. Luckily, when you continuously record something, the video segments between each won't lose any frames that you will get a seemless playback if you add the whole playlist to a video player or get a complete video recording after merging with a video merger software.
2. About DJI, Canon, Sony, etc. Splits Video Files
Based on the fact that almost all cameras and camcorders from mainstream brands use FAT32 and exFAT file system, it is normal that DJI, Canon, Sony, etc. split a long video up to small segments. To be straightforward, all models from such brands as of now will face the video split up problem due to the file system limitations.
Now that you can't avoid the video split up problem when doing a long video recording, you may have thought of stitching the video segments together for easier playback, collection, sharing or uploading. And below is a way you can use to join GoPro, DJI, Canon, Sony, etc. videos.
Note: If you format a 32GB SD card in your device, it will format as FAT32. If you use a 64GB or more memory card, your device will format the card as exFAT which actually allows for much larger files. However, no matter the file system is FAT32 or exFAT, the GoPro/DJI/Canon/Sony, etc. devices limit the maximum size of a file to 4GB by default. That's why GoPro, DJI, Canon or Sony always records in segments when recording a long video.
Part 2: How to Join All the Split up Video Clips?
In theory, Premiere Pro from Adobe and Final Cut Pro from Apple are the most suitable and professional tools to merge high definition 4K video clips on Windows and Mac, however, Final Cut Pro and Adobe Premiere Pro can't import MP4/MOV files is the biggest headache to most of their users. Besides, they are quite professional for experienced users. So, for most newbies, we suggest a more user-friendly 4K video editor called WinX HD Video Converter Deluxe.
As MOV or MP4 encoded with H.264/AAC or HEVC is the default video format of GoPro, DJI and Cannon cameras/camcorders, not all video mergers could handle all the videos easily. Luckily, WinX HD Video Converter is the exception which you can use to import GoPro 4K MP4/MOV (HEVC/H.264), DJI MOV/MP4 (H.264/HEVC), Sony XAVC and Canon MP4 (MPEG-4 AVC/H.264 + AAC)/MOV (H.264+Linear PCM) and then output. With the Hardware Acceleration tech, the whole process is very smooth and fast.
How to stitch videos together with WinX HD Video Converter Deluxe?
Before the merging process, you should export all the video clips to your computer by using SD card reader or USB cable.
Step 1. Free download WinX HD Video Converter Deluxe, install and launch it on your computer.
Step 2. Click on the "+ Video" button to add your video segments.
Step 3. When the "Output Profile" window pops up, simply choose the output video format and click OK. Here, we suggest you to select MP4 (H.264+AAC) as it is accepted by most devices and platforms.
Step 4. If you have no other requirements to your video clips like trim or crop, you can simply click on "Browse" button to choose a destination folder to save your merged video.
Step 5. Tick the "Merge" option in the right part and hit "RUN" to start merging the split up videos.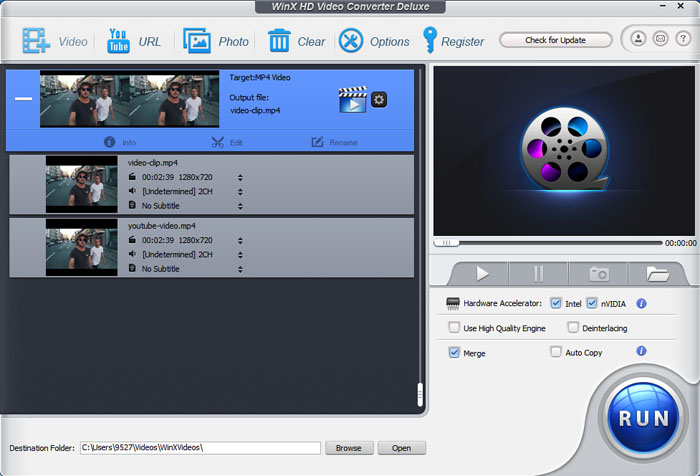 Notice: Sometimes joining is not an ideal way as you will get a very large file. The video resolution especially from GoPro and DJI cameras are higher and higher day by day, and you obviously will get gigabytes of a video. Higher resolution means better image quality, but larger file size occupies more storage space and is harder to uploading to cloud and video streaming sites like YouTube. So, you can also use WinX HD Video Converter Deluxe to compress 4K videos to smaller sizes without worrying about losing quality.
Final words: Unless there is a better file system for recording longer videos, it is inevitable that GoPro, DJI, Canon or Sony splits video into segments when you record for a quite long time. Thanks to diverse video merger tools like WinX HD Video Converter Deluxe, you can easily stitch a list of video clips together at will. Just feel free to record videos with your GoPro/DJI/Canon/Sony camera, drone or camcorder, and WinX HD Video Converter Deluxe will do the rest merging job for you.