Top 6 MOV Video Editors to Edit MOV Files (Cut, Crop, Merge & More)
Nowadays, a majority of cameras including mobiles, GoPro and DJI are producing video files in .mov format. However, many people know nothing about MOV.
MOV is a mainstream multimedia container file format developed by Apple, so we usually see MOV files in iPhone and iPad. It contains one or more tracks, each of which stores a particular type of data: audio, video, or text (e.g. for subtitles). Thus, MOV can be large relatively but in high quality. And if you want to shared your MOV footage recorded by camera or mobile, you definitely need edit your MOV files, for example, merge several clips together for an engaging story, cut the lousy segments or remove the unwanted frame parts of MOV footage to make it acceptable by YouTube, Instagram or whatever platforms.
This article shows you top 6 MOV editors and detailed guide on how to edit MOV files, including trimming the video length, cropping frame size, merging multiple clips into one, adding external subtitles, add watermarks and more.
Get Started with the Best MOV Video Editor
WinX MOV Video Editor supports to edit (trim, crop, rotate, merge, add subtitle etc.) MOV files without quality loss to make it available on YouTube, Instagram, Facebook or whatever platforms.
Part 1. How to Edit MOV Files with the Best MOV Video Editor
To edit MOV files, you need a MOV editor firstly. There are many choices, but also many problems faced with, such as Adobe Premiere Pro may be too complicated for beginners to edit MOV videos, Windows Movie Maker won't read .mov files, or the outputs edited by some editing software are attached with annoying watermarks etc. By comparing dozens of MOV editors, WinX MOV Video Editor is more affordable and easier for average people to do basic editing for MOV files. Explore more, you'll love it more.
It's fully compatible with all MOV files. It accepts any MOV video (H264, HEVC, MPEG-4...), no matter what resolution it is. No additional MOV codec installation is required.
All basic editing functions are covered. Trim, crop, merge, subtitle etc. If you are looking for a MOV editor without fancy options, this is the best way to go. Without hundreds of options, you save more time and energy.
Export resulting file with ideal format and quality. There're hundreds of output profiles for you to choose, from regular formats to device profiles for your computer, Android handsets, game consoles, YouTube channel, etc.
It will never degrade the video and audio quality. Meanwhile, you're allowed to choose HQ when choosing profile and enable High Quality Engine before delivering the edited version, thus obtaining the highest possible quality.
Now let's check how to edit MOV with this excellent MOV editor. Free download and install it on your computer at very beginning. It's both available on Windows and macOS.
Step 1: Load your MOV video clips to the program
You can do it by drag-n'-drop or clicking "Add Video" button to locate the target MOV files and open them.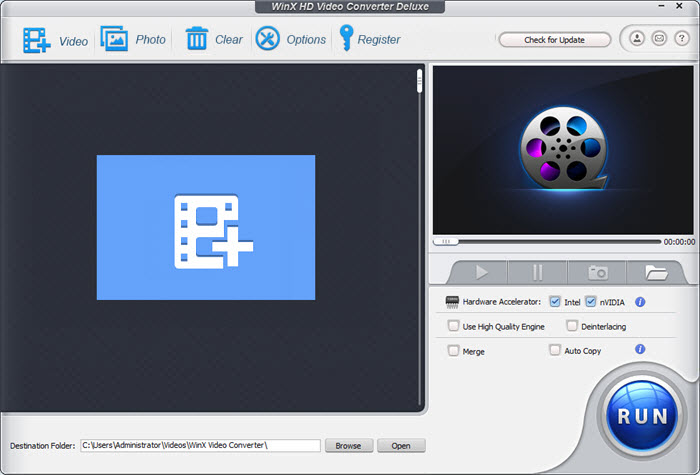 Step 2: Choose an output format for your video (s).
Continue to choose MOV as the output formtat from the automatically popped up window. Or you can export videos in a different format, just specify the one you like.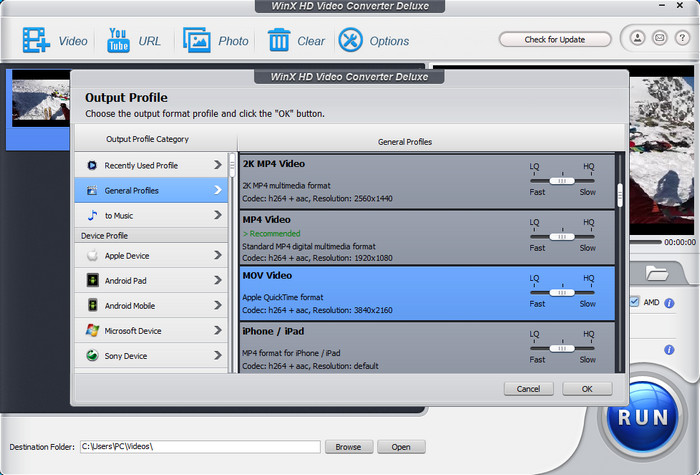 Step 3: Edit MOV files as you need.
You can use edither editing feature alone, or apply several editing function together as you desire.
Tip 1: Merge several MOV video clips into one
In the video loaded window, tick on the box of "Merge" at the lower right corner. This will join your MOV files you have imported just now together into one.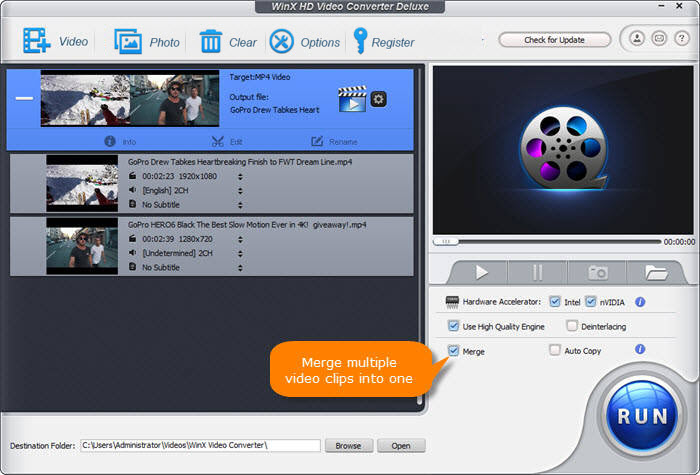 Tip 2: Trim out lousy segments in your MOV video
Click the scissor-shaped "Edit" button, move to Trim tab in the result window, and click Enable Trim. Then, you can trim off the beginning and/or ending segments.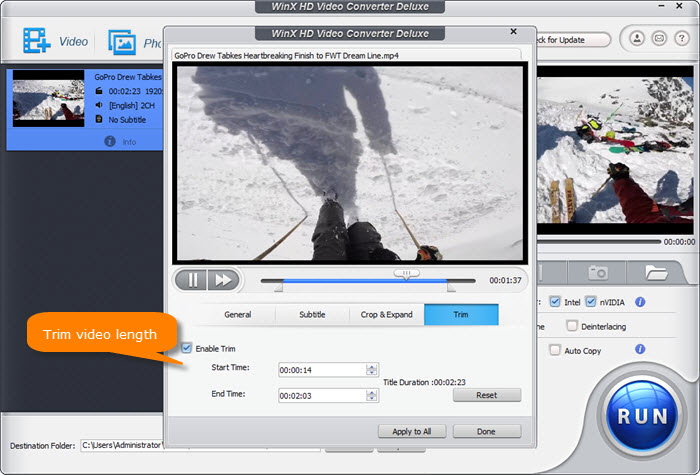 Tip 3: Crop the frame size of your MOV video
Choose "Crop" column, tick on the box of "Enable Crop", and then choose an option from the dropdown menu of Crop Original. Choosing Crop LetterBox will crop off the black bars around the image directly. You can directly drag the frame in the Preview window to perform MOV cropping or typing in values in the boxes under Position.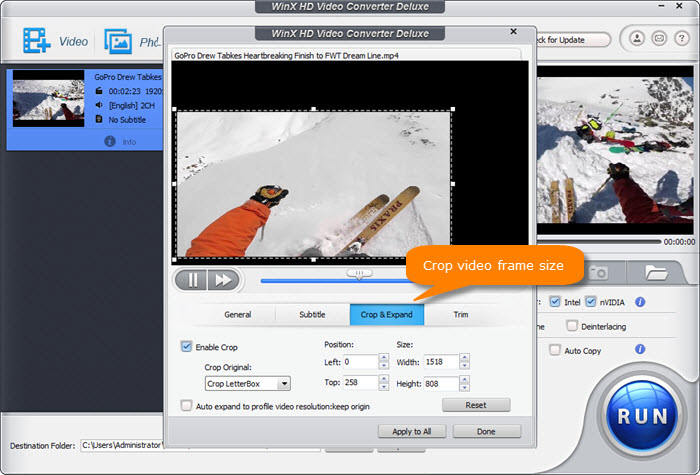 Tip 4: Add external subtitle for your MOV footage
Move to the "Subtitle" column. Check "Enable Subtitle", click Extra, and then click "Add" to open the .ass, .ssa or .srt file you made by yourself or downloaded online before.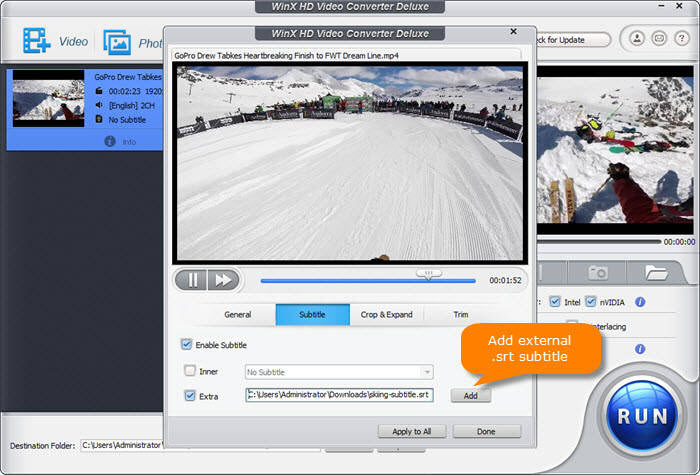 Tip 5: Adjust the audio volume
Go to the "General" tab, and tick on the box of "Adjust audio volume". Slide the block below to the far left to eliminate the audio thoroughly. Or you can also slide it to the right to tweak the audio volume as you desire.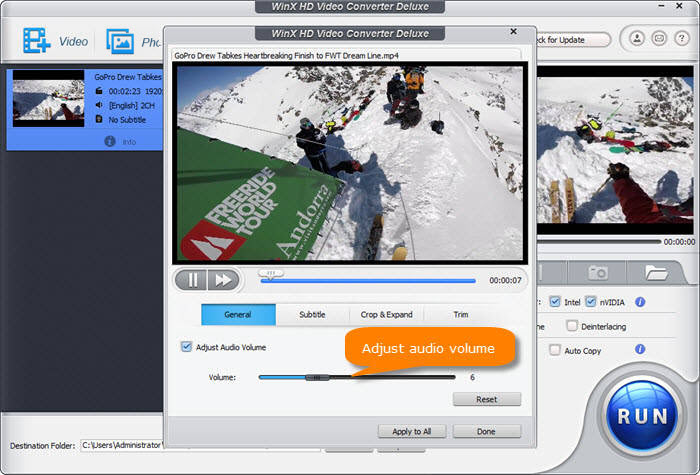 Step 4: Output edited MOV files.
If you have finished editing and settings, simply hit the blue "RUN" button at the lower right corner to export new files.
Part 2. Other Top 5 MOV Editors
#1. QuickTime Player
Supported platforms: macOS and Windows
As we all know that QuickTime Player is well recieved of MOV video files, allowing users to play MOV freely on Windows and macOS. But you know what, QuickTime Player is also a perfect video editor if you just need basic editing features like trimming, rotating, cropping, splitting or combining video clips.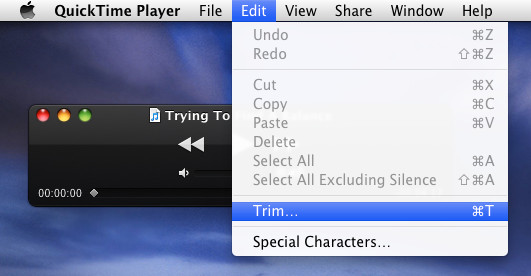 #2. MPEG Streamclip
Applied to: macOS and Windows
MPEG StreamClip is a free application that makes it easy to create clips or stills from longer video files for use in your editing projects, as well as converting between formats. It can cut, trim, crop and join MOV movies. With it, you can easily make smaller clips, not just the MOV format, out of two different videos downloaded from YouTube or the like and then combine them in the application into a single video.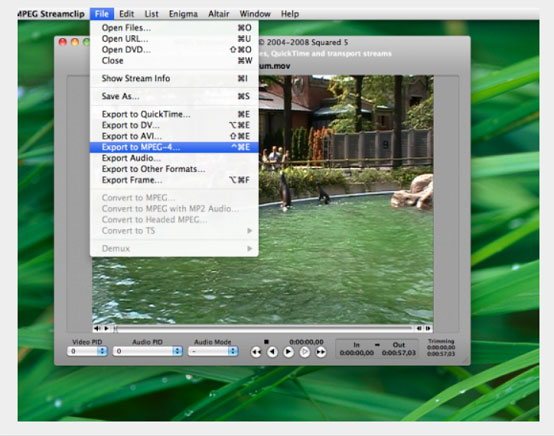 #3. Avidemux
Platform: Windows, macOS and Linux
Avidemux is an open-source-movie editor and encoder with handy operations. It is designed for simple video tasks like cut videos, add filters to the video, remove portions of a video, apply visual effects. It works with almost all common formats, including MOV files. Moreover, the built-in subtitle processing tool make it possibile to add SUB, SSA, SRT subtitles easily.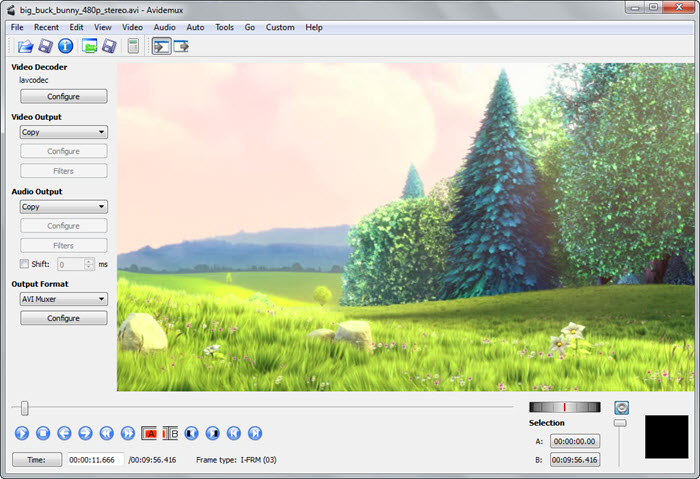 #4. VSDC Free Video Editor
Applies to: Windows
VSDC Free Video Editor is free .mov video editor that allows users edit video files and create videos of all types. It offers awesome video editing features for both entertainment and business use, including trim, crop, merge, rotate, split, text, filters, overlays, elements, etc. Briefly, this freeware can help you edit MOV videos with ease.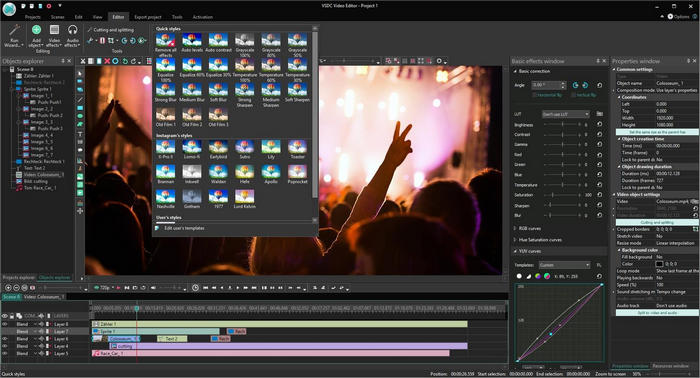 #5. VEED
Applies to: Windows, macOS, Android, and iOS etc.
VEED is an online video editor trusted by millions of monthly users and used to make tens of millions of videos already. It supports MOV format, along with many other video formats. You can perform all video editing tasks such as add text, subtitles, crop, trim, cut, and more without any previous editing experience.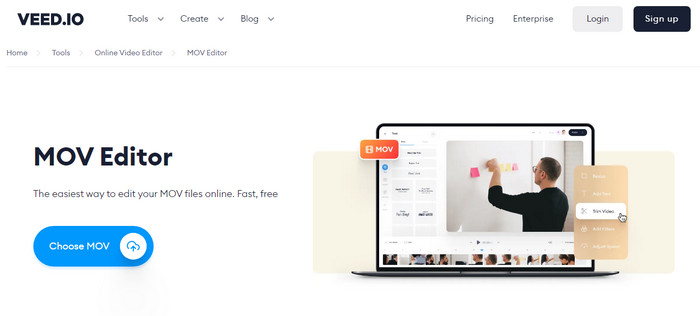 Conclusion
We've offered top 6 MOV editors in this post. You can choose different program according to your needs. For those want to edit MOV footage and also convert video formats, WinX MOV Editor could be the best option. Within it, you can not only trim, crop, merge, add subtitle for your MOV files, but also convert MOV to MP4 or any format to best fit your media player, device etc.
Part 3. FAQs about MOV Editing
1. Can iMovie edit MOV files?
Yes. iMovie supports MOV, 3GP, MPEG, MP4, and MOD as import formats. MOV files can be recognized by iMovie, and you can easily edit MOV with it.
2. How do I edit an MOV file on a Mac?
To edit MOV on Mac, you need take advantage of a video editor on Mac, such as iMovie or WinX HD Video Converter for Mac.
Free download the program, install and open it.
Drag and drop to load your MOV files you want to edit.
Use the features you need to edit the MOV footage, be it trim, crop, add subtitle, merge etc.
Tap RUN button to fulfill the video editing process.
3. What is a MOV video file?
MOV is a MPEG 4 video container file developed by Apple and compatible with both macOS and Windows platforms. It can hold multiple tracks that store different types of media data and is often used for saving movies and other video files.