Top 5 Video Editing Software for Mac [Review & Free Download]
2022 Top 5 Video Editing/Processing Software for Mac | Best Programs to Edit (4K/HD) Videos on macOS (Monterey)
We can list tens of reasons to edit a video. We wanna beautify raw records in camcorder, create a parody of music video, make a complication of greatest moments in sports, furtherly produce a movie trailer/short film…Actually, video editing software is essential to make all needs a reality. If you are a Mac user seeking for a competent program for editing your (4K/HD) videos, top 5 video editing software for Mac introduced in this article can give you a hand. Let's read in-depth reviews and free download the best one.
Top 5 Video Editing Software for Mac
OS: Mac OS X Snow Leopard to macOS Big Sur
Supported Formats: 4K HEVC, H.264 from GoPro/Drone and more, HD (Camcorder) Video - AVCHD M2TS/MTS, TS, MKV, MOD, TOD etc, almost All Mainstream Video – MP4, AVI, WMV, MOV, WebM, FLV, 3GP, VOB, ASF etc.
Download Link: https://www.winxdvd.com/download/winx-hd-converter-deluxe-setup.exe
VideoProc is developed as versatile media software integrating video editor, transcoder, downloder; DVD converter and screen recorder into one. It pays much attention on video editing and offers a series of tools to help users make great videos with vivid colors, smooth images.
It is an utterly user-friendly video editing software for Mac designed with a modern and pleasing interface. Basic editing tools including Cut, Crop, (add) Subtitle, (add) Effect, Rotate and (add) Watermark can be easily accessed after importing a footage. Moreover, toolbox contains more options allowing you to deshake and denoise GoPro/Drone videos, correct fisheye, merge clips, split/flip the footage, make gifs from a video, extract subtitles/frames from video as well as convert 3D to 2D. Although this program has been arranged settings of every editing option to be perfect to simplify operation for beginners, you can also customize everything to pursue a result you need.
It wraps level-3 hardware acceleration tech including Intel QSV, NVIDIA NVENC, AMD VCE to deliver the fastest performance for video encoding, decoding and processing. Because offloading video editing task to GPU, CPU can simultaneously handle other tasks and keep low temperature. And, the resulting file can be outputted with a high quality (almost lossless).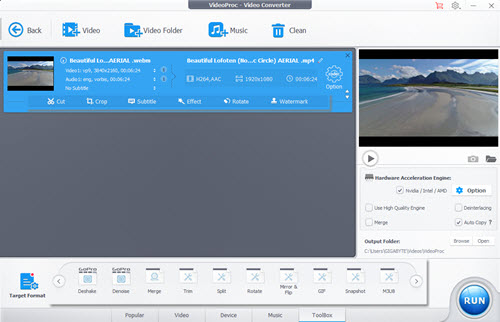 OS: Mac OS X, iOS
Supported Formats: DV/HDV, AVCHD, MPEG-2, MP4 (MPEG4/H.264), MOV
Download Link: https://itunes.apple.com/us/app/imovie/id408981434
iMovie is system-attached video editing software for Mac, firstly introduced as a Mac OS 8 app. Like Windows Movie Maker, iMovie is developed in different versions catering to different OS. The latest version 10.1.1 can only run on Mac OS X Yoesmite (10.10.5 and later).
iMovie boasts its HD support for video editing. It allows users to create video/movie from 1080P HD to 4K resolution using iMovie for Mac. Certainly, a more amazing work can generated thanks to various effects tools, ranging from simple title/transitions and other elements adding to a little advanced fast-forward, slow-motion, picture-in-picture, side-by-side, green screen.
What's more, a full soundtrack with built-in music, sounds or songs from iTunes can be created with ease. This great video editor for Mac is announced capable of making Hollywood-style trailers taking full advantage of splendid templates and a professional outline for movie including title, cast names and studio logo.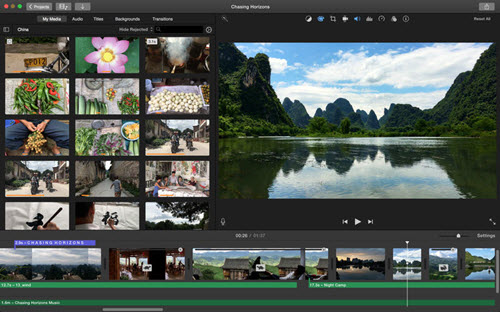 OS: Mac OS X 10.6.8 and later
Supported Formats: DVD/HDV, AVCHD (MTS/M2TS), Motion JPEG, MP4 (MPEG4/H.264), 3GP, AVI, MOV, MXF
Download Link: https://itunes.apple.com/us/app/final-cut-pro/id424389933
Different from the above video editing software for Mac, Final Cut Pro X features superior editing functions allowing professional filmmakers and video hobbyists to handle more complicated tasks. It is armed with several particular features. Magnetic Timeline assembles and sync video clips magnetically without black gaps in timeline. Multicam gives auto syncing up to 64 angles of video and photos and custom options for precise footage alignment. Clips including videos, music, sound effects can be easily connected together.
3D and cinematic templates in latest version can create stunning looks. And, traditional ways to trim and color tools for grading and masking are provided as well.
This video editing software for Mac can well handle resolution from SD to 4K and deliver high performance for rendering, transcoding and moving media. Although it is recognized as one top program to edit video on Mac, it is not suitable for beginners and quite expensive to get.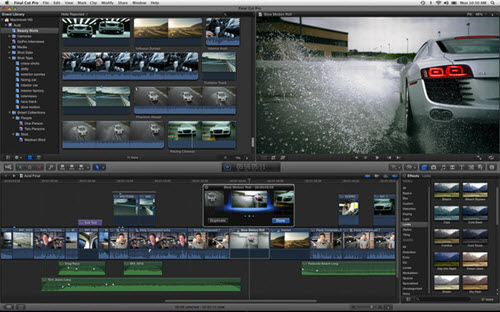 OS: Mac OS X, Linux, FreeBSD
Supported Formats: DV/HDV, AVCHD, MPEG2, MP4 (MPEG4/H.264), AVI, WMV, FLV etc.
Download Link: https://kdenlive.org/en/download/
Kdenlive shows excellent work on video editing based on the MLT Framework and KDE as an open-source free program. It allows users to merge a set of media including video, audio and image into a single file with customized resolution, frame rate, PAR and DAR. The multi-track editing with a timeline can be applied to an unlimited number of video/audio tracks.
This video editing software for Mac also owns essential tools to create, delete, move and crop clips, while a diverse of effects and transitions for video/audio, like rotations, colors, phase and pitch shifting, volume and more are used for enriching the output file.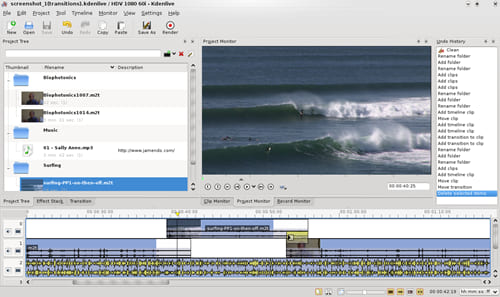 OS: Mac OS X, Windows, Linux, BSD
Supported Formats: AVI, ASF, WMV, FLV, MKV, MPEG, TS, MP4, MOV, 3GP, VOB etc.
Download Link: http://avidemux.sourceforge.net/download.html
Avidemux is another top free video editing software for Mac written in C++. It is mainly used for non-liner video editing, transcoding and visual effects applying with Filters. Besides simply cutting and trimming video, it can also handle audios by inserting to a video as background or sound effect as well as extract audio streams from videos in turn.
Avidemux embeds a subtitle tool supporting multiple subtitle formats, MicroDVD (.SUB), (Advanced) Substation Alpha (.ASS) and SubRip (.SRT). Moreover, it can be used as a basic video converter to export videos in AVI, FLV, MKV, MPEG, TS, MP4, OGM and VOB using libavcodec.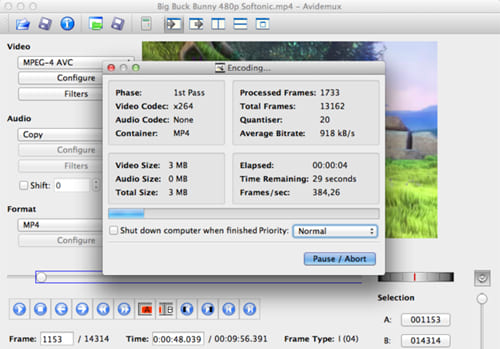 Bottom Line: VideoProc and Avidemux are better for beginners because they offers a relatively straightforward interface, easy operation and basic editing solutions, while the other 3 top programs focuses on offering more advanced and customizable options for further editing on advertisement, films, TV shows. Depending on your own needs and select the most appropriate video editing software for Mac.