Best Gopro Video Editor for Windows/Mac Review and Detailed Gopro Video Editing Tutorial
Eager for an Awesome Gopro Video Editor to Edit Gopro Videos?
Choose a Top Gopro video editor
Gopro, as a leading digital camera manufacturer, produces many high-end action cameras allowing users to capture exceptional 4K/HD videos/movies even the hit 360 degree VR videos. Want to edit the Gopro videos to make amazing personal Gopro videos to share with friends or upload to Facebook, YouTube or Instagram to share with the world? An easy-to-use Gopro video editor is needed.
Before stepping into how to edit Gopro videos with best-in–class Gopro video editor, let's first dig out what the Gopro recorded video formats are and look at some recommended Gopro video editing software for entry-level, intermediate and advanced users.
Part 1: Top Gopro Video Editors Review
Part 2: Tutorial of How to Edit Gopro Video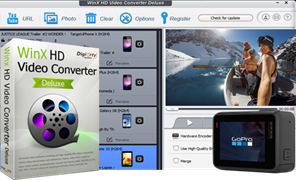 Best Gopro Video Editing Software for PC/Mac - WinX HD Video Converter Deluxe/for Mac
– Easily edit any Gopro video by trimming, cropping, merging, adding subtitles, adjusting video audio parameters, etc., and convert Gopro videos to MP4, AVI, MOV, FLV and almost any popular formats with favorite effects for playback on iPhone, iPad, Android, etc. or upload to YouTube, Facebook, etc. to share with others.
– Convert MKV, HEVC/H.265, M2TS, AVCHD, MOD, 4K/HD camcorder/drone videos, and standard MP4, AVI, MPEG, WMV, MOV, VOB, FLV, RMVB, WebM, etc. 370+ output video/audio codecs and 410+ device profiles are provided. Hardware acceleration is supported. Free download videos from YouTube and 300+ sites.
Gopro Video Editor - What are the Gopro Video Formats?
HD video formats: MP4, MTS (AVCHD), MOV and AVI. New Gopro Hero6 Black can record videos up to 4K encoded with HEVC codec.
VR (Virtual Reality) video formats: Most VR videos are in MP4 format, some are in H.264, MOV, F4V, WebM. Gopro welcomes anyone from the world to add and share 360 VR videos on Gopro VR.
Gopro VR video camera: GoPro Omni can produce high-resolution (Maximum 8K) 360° spherical video content.
Editing large Gopro 4K HEVC, 4K H.264, 360 degree VR videos may utilize much CPU power (up to 100%) and your computer may be often crashed. Converting, compressing 4K HEVC/H.264/360 degree VR gopro videos, hardware accelerated video processing software is preferred.
Top 4 Gopro Video Editors for Entry-level Users
# 1: Quik for Desktop (by GoPro) free
Quik is a free Gopro video editor produced by Gopro. It can easily access, edit and enjoy your GoPro photos and videos. You can freely import one favorite Gopro video footage and select the preferred soundtrack to create awesome videos synced to music in just a few clicks.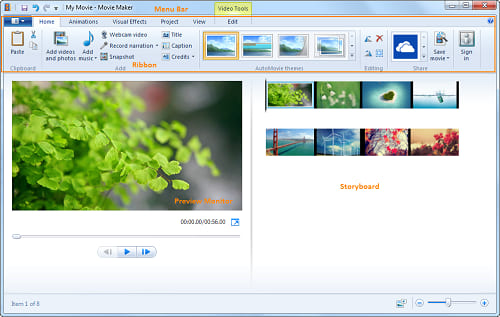 # 2: GoPro Studio – (Mac & Windows) free
Gopro Studio is a free Gopro app especially designed for users to make quick edits of Gopro videos and share with friends. For instance, trim videos to create short clips, then post them directly to Facebook or YouTube; drag and drop Gopro templates, add titles, music, audio tracks, slow-motion effects and more. The output video formats are limited.
# 3: Windows Movie Maker – (Windows) free
Windows Movie Maker is the top Gopro video editing software which can be applied to edit Gopro recorded videos on PC. Users can use it to trim and split video, speed up/down video, add music and animations, visual effects, titles, text, credits etc. and create photo slideshows with Gopro camera's favorite snapshots. But, it may not be compatible with Windows 10 OS.
# 4: Animoto – (online app) free or $5/month
Animoto is an online video maker and photo slideshow maker. Users can use this top editor for Gopro to easily make great videos by turning photos, video clips and music into stunning HD videos. It has both Android and iOS apps for customers to download. The limit is the Animoto free version only allows to create videos up to 30 seconds and don't allow downloading.
Best 3 Gopro Video Editors for Intermediate/Advanced Users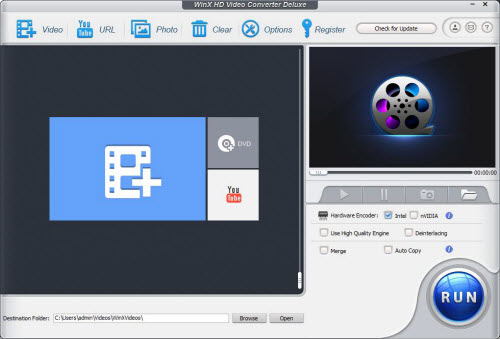 # 1: WinX HD Video Converter Deluxe – (PC & Mac) free or $35.95
As the best Gopro video editor and photo slideshow maker, this all-in-one powerful video editor, converter and downloader enables users to easily customize Gopro 8K/4K/HD/VR videos by trimming, cropping, merging, adding subtitles and background music, etc. as well as create vivid image slideshows to share with friends.
Better still, it also enables users to convert any 8K/4K/HD/SD videos to MP4, AVI, WMV, MOV, FLV, iPhone, iPad and 410+ devices profiles, as well as free download HD full movies/videos/music from YouTube, Dailymotion, Facebook and other 300+ sites. Get WinX HD Video Converter Deluxe with $0 cost: https://www.winxdvd.com/giveaway/
Unique: The only video converter supports Level-3 hardware acceleration. Utilize Intel QSV, Nvidia CUDA/NVENC hardware acceleration to speed Gopro (4K HEVC/H.264) video decoding, processing and encoding. >> Why need hardware acceleration in (4K) video converting/compressing?
# 2: Adobe Premiere Elements – (Mac & PC) $99.99
This top Gopro video editor published by Adobe Systems helps users create stunning movies with easy-to-use editing options. Its entry screen offers clip organization, editing and auto-movie generation options to change rough clips to incredible movies.
# 3: Final Cut Pro – (Mac) $299
This is a piece of video editing software for Gopro owned by Apple. This software is for advanced editors allowing users to log and transfer video onto a hard drive (internal or external), where it can be edited, processed, and output to a wide variety of formats. Final Cut Pro does not support MP4 video format.
After reviewing some video editing software for Gopro, below is the quick-start guide to Gopro video editing with WinX HD Video Converter Deluxe.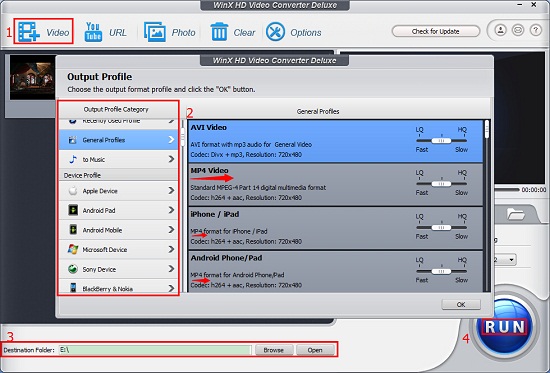 Best Gopro Video Editor - 4 Essential Steps for Awesome Gopro Video Editing
Free download, install and open WinX HD Video Converter Deluxe the top-recommended hardware accelerated Gopro video editor on your PC or Mac (free download Gopro video editor for Mac), then follow the detailed guide below to edit Gopro 4K/HD/VR videos to achieve desired video effects.
Step 1: Import the source Gopro (HEVC/H.264) video to the program.
Click "+ Video" button on the top-left tool bar to load the original Gopro video you want to edit.
Tip: You can also just drag bar to set the duration.
Step 2: Choose the output format for the edited Gopro video.
In the pop-up output profile window, browse the column to choose one video format you want the edited Gopro video file to be. MP4, AVI, FLV and 370+ video/audio codecs and 410+ device profiles are for your choice.
Step 3: Edit the Gopro video.
Click "Edit" button to open the video editing window to set the video editing features.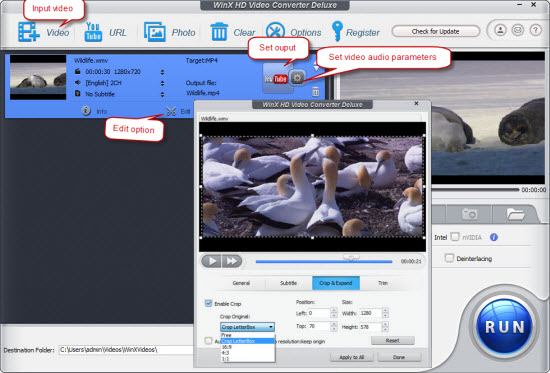 Trim – cut/split a part of the video
Click "Trim" icon and tick "Enable Trim", and users can set the start time and end time to extract a part of the Gopro video, or simply drag the play bar to cut the unwanted Gopro footage.
Crop – get rid of unwanted parts of the video
Click "Crop & Expand" to crop or expand the video to fit the playback screen frame. You can just drag the frame to get the area you want, or set details via following options.
Crop Original: Free, Crop letterBox, 16:9, 4:3 and 1:1.
Position: Set boundary from left and top with pixel.
Size: Set the resolution of crop video/image.
Expand: Auto expand to fit profile video resolution to fulfill the playback screen.
Add subtitles
Tab "Subtitle" icon to turn on/off subtitle, specify a different subtitle track, or add external customized subtitles. >> How to add subtitles to MP4
Merge – combine several video segments into one
This powerful Gopro video editor allows users to merge several Gopro footages into one video file by clicking "Merge" button.
Deinterlacing
Tick "Deinterlacing" to turn interlaced video into progressive video.
Add background music
Users can also use this best editor for Gopro to create photo slideshows. After you add the photos into the program by clicking "Photo" button on the top, you can then click "Add Music" to add any audio file as the background music when playing the photo slideshow. >> How to Make Movable Photo Picture Slideshow Video
Step 4: Export and save the edited Gopro video.
You can choose to enable hardware acceleration to speed up the video processing speed at most. Tick Intel or Nvidia hardware acceleration based on your computer equipment. Hardware acceleration is very essential especially processing large Gopro 4K HEVC, 4K H.264 videos.
When finishing all the video editing settings, click "Browse" to set a destination folder to store the edited Gopro video file and hit "RUN" to start editing and converting any Gopro HD/4K/VR video with the best Gopro video editor.
Top 1 Hardware Accelerated Gopro Video Editor for Windows (10)/Mac - WinX HD Video Converter Deluxe
Best all-in-one Gopro video editing software and photo slideshow maker, video converter and downloader allows users to edit any Gopro video/footage, make impressive Gopro photo slideshows and convert the video file to MP4, AVI, WMV, FLV, MOV, iPhone, iPad, Android and many more. Also help users to free download any 8K/4K/HD/SD or VR videos/movies from YouTube, Dailymotion, Facebook and 300+ video sites. Intel and Nvidia hardware acceleration are supported.
About Gopro and Its Products Line – Wiki Resource
Gopro: GoPro, Inc. (formerly Woodman Labs, Inc) is an American manufacturer of action cameras, often used in extreme-action videography and part of the connected sport movement. Its famous products include HD HERO cameras, HERO 2/3/4/5/6, Gopro Fusion, etc...