GoPro 2021: How to Make/Edit GoPro Slow Motion Video
How to convert normal GoPro video to slow motion version? Useful and handy slow motion video editors are shared here.
Videographers tend to film more cinematic videos with action camera. But stunning moments often occur in a flash, that's why slow motion is here and becomes one of the typical methods to make professional-looking movie. Frame rate/FPS (frame per second) is the key point, because only when the frame rate is slowed down can slow motion occurs. Before we go straight to the point of how to make GoPro slow motion video, we should know something crucial beforehand:
Does GoPro cameras Have Slow Motion Feature?
No. GoPro cannot shoot video with slow motion effect. The right steps to make slo-mo GoPro video are: record video at high frame rate like 4K 60fps and 1080p 240fps -> (export and) slow down GoPro video with third-party GoPro video editors. Below are the video specs of newer GoPro machines.
GoPro Hero 7 Black

GoPro Hero 6 Black

GoPro Hero 5 Black

GoPro Hero 5 Session

GoPro Hero 4 Black

GoPro Hero 4 Silver

4K / 60fps
2.7K / 120fps
1440p / 120fps
1080p / 240fps
960p / 240fps
720p / 240fps
WVGA / 240fps

4K / 60fps
2.7K / 120fps
1440p / 120fps
1080p / 240fps
960p / 240fps
720p / 240fps
WVGA / 240fps

4K / 30fps
2.7K / 60fps
1440p / 80fps
1080p / 120fps
960p / 120fps
720p / 240fps
WVGA / 240fps

4K / 30fps
2.7K / 48fps
1440p / 60fps
1080p / 90fps
960p / 100fps
720p / 120fps

4K / 30fps
2.7K / 60fps
1440p / 80fps
1080p / 120fps
960p / 120fps
720p / 240fps
WVGA / 240fps

4K / 15fps
2.7K / 30fps
1440p / 30fps
1080p / 60fps
960p / 100fps
720p / 120fps
WVGA / 240fps
What's the Relationship between FPS and Resolution?
It's easy to draw from the video specs of GoPros above that video resolution and frame rate are inversely proportional. Since all digital video cameras limit the data wrote per second for storage reason, when resolution increases, the maximum frame rate decreases.
What's the Best GoPro Video Settings for Further Slow Motion Making?
It depends. But one thing is for sure: the higher frame rate video you capture, the slower you can achieve after post production. In view of the relationship between FPS and resolution mentioned above, we recommend you go with "higher FPS + lower resolution" match when taking high-speed actions, while choosing "higher resolution + lower FPS" when shooting peaceful landscape videos or so.
What's the Lowest Frame Rate for A Smooth Video Playback?
Not all videos can be slowed down while keeping a good video quality. The watershed frame rate is 24 fps. Generally speaking, movie at 24 or higher fps can be played back seamlessly, while movie at lower frame rate will become jagged or blurred. To guarantee smooth playback of slow-motioned video, the exquisite miniatures offer higher and higher frame rate.
2023 Best GoPro Slow Motion Video Maker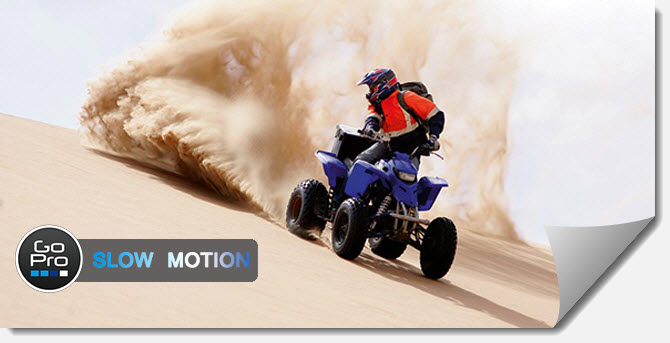 VideoProc - Allows you to make slow motion GoPro video at hardware accelerated speed while maintaining the highest possible quality thanks to hardware processing.
OS: Windows 10 | macOS Mojave or lower
WinX HD Video Converter can save (convert, natch) videos, and output presets for every portable device from Android to Windows Phone. - Rick (CNET Editor)
Then it's turn to get idea on how to make GoPro slow motion video with different slow motion video editors. Here's a quick reference on slow motion settings.
100% = 1.0 = Real Time | 50% = 0.5 = 2x Slower | 10% = 0.1 = 10x Slower | 200% = 2.0 = 2X Faster
1. How to Add Slow Motion to GoPro Video on Mobile via Quik
Supported OS: iOS, Android
You're enabled to access, edit and share GoPro video at one go with Quik app. It's packed with slow-mo feature, you just need to: Open and choose the video clip to edit, and click scissor icon labeled trim to turn to a video page with Slow-Mo option. Then turn it on and click "OK". Finally save and export the slow motion film.
2. How to Make GoPro Slow Motion Video on Desktop via Non-GoPro Software
Supported OS: Windows, Mac OS X
GoPro recommended Windows users to use VSDC and Mac users to iMovie for video editing after ending the life of GoPro Studio (Add slow motion in GoPro Studio). Actually there're much more better choices like Adobe Premiere Pro/After Effects, Vegas Pro and Final Cut Pro. If you take those experts tools too complicated to handle, another easy-peasy and lightweight (only 53 MB) bet titled "VideoProc" is worth a try. This all-in-one video editor and converter gives you ultimate control over any video, make GoPro slow motion, make GoPro fast motion/time lapse, edit GoPro video content and parameters, just to name a few.
It provides two desktop versions: one is for Windows (10 - 2000 32 & 64bit), the other one is for macOS (Mojave - Snow Leopard). Now free download the one you needed and then follow the steps.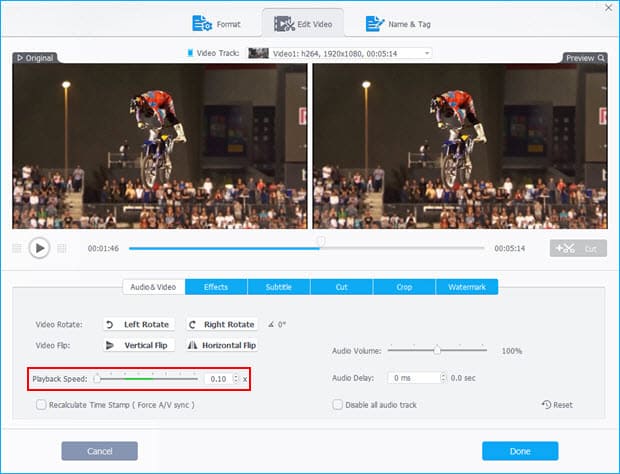 Step 1. To get started, simply export your GoPro footage to computer. And open it with VideoProc.
Step 2. Choose output video format with specific codec like MP4 (H.264), MP4 (H.265), or MKV (H.264), while retaining the original frame rate.
Step 3. Click Edit button to pop up a video editing dialog box.
Step 4. Look for the "Playback Speed" option under Audio & Video category, where you can customize video playback speed from 0.1 - 16x. Certainly, when the number is adjusted to anyone below 1.0, the GoPro video will be slowed down. You can watch slow-motioned video in the preview box to decide whether the speed is proper. In addition, "Recalculate Time Stamp (Force A/V sync)" can be ticked if there's an video audio not sync error.
Step 5. Do some other settings if necessary, and then press "RUN" to output video with slo-mo effect. By supporting level-3 hardware acceleration, WinX HD Video Converter will make the best of multi-core and GPU capabilities to dramatically speed up video processing while keeping high still video quality.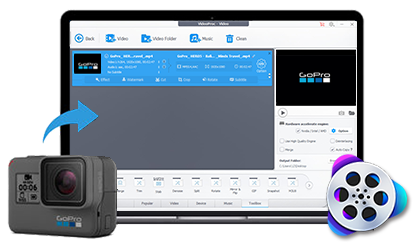 Your GoPro video will be more attractive after editing by VideoProc in these ways:
Now you can share your slow-motioned GoPro content to others! If you still have any problem on how to make or edit GoPro slow motion videos, just feel free to email us >>

Purchase benefits here: Lifetime full license and free upgrade. 30-day money back guarantee. Time-limited: $49.95 Now only $35.95 (save $14)