4K GoPro Video Processing: How to Stabilize GoPro 4K Shaky Videos without Quality Loss
Get the best GoPro video stabilization software to fix GoPro 4K/1080p shaking jittery videos on Win (10) or macOS, with the minimum cropping or quality loss.
When it's hard for ordinary DSLRs to finish movable sports and adventure photography, action camera sprang up and grabbed the market share of outdoor consumers. GoPro, as the most well-known name in action camera market, amazed users with its iconic box-shaped Hero series. Hero action cameras started to support 4K UHD (H.264 MP4) video shooting since 2012. And with the support for HEVC codec on newer computer systems and software, the latest Hero 6 also adopted it, making 4K60 video capturing available for the first time.
To record moments as fabulous as they actually are, 4K is surely the top choice for videographers. But everything has its limitation. GoPro still produces shaky video when camera movement or vibration happens if machine holder is walking, mountain biking, doing continuous activities at high speed or with strong wind etc. So newer GoPro machines like Hero 5 and 6 are equipped with in-camera video stabilization to improve the bumpy video at birth. Check the GoPro Hero cameras with 4K & Stabilization Support below:
GoPro
Release Date
4K Video Support
4K Format/Codec
In-camera Stabilization Support
HERO3 Black
late 2012
4K at 12/15 fps
MP4 (H.264)
N
HERO3+ Black
October 2013
4K at 12/15 fps
MP4 (H.264)
N
HERO4 Silver
September 2014
4K at 12.5/15 fps
MP4 (H.264)
N
HERO4 Black
September 2014
4K at 24/25/30 fps
MP4 (H.264)
N
HERO5 Session
September 2016
4K at 25/30 fps
MP4 (H.264)
Y
HERO5 Black
September 2016
4K at 24/25/30 fps
MP4 (H.264)
Y
HERO6 Black
September, 2017
4K at 24/25/30/50/60 fps
MP4 (H.264/AVC), MP4 (H.265/HEVC)
Y (4K 60fps not supported)
HERO7 Black
September, 2018
4K at 24/25/30/50/60 fps
MP4 (H.264/AVC), MP4 (H.265/HEVC)
Y (HyperSmooth Video)
Q1: How Does GoPro In-camera Video Stabilization Work?

GoPro in-camera video stabilization is actually a combination of both lense and digital image stabilization. With video stabilization option turned on on GoPro, any blur or distorted picture caused by camera shaking will be real-time smoothed out on camera. The image processor, say GoPro GP1, flexibly crops images round the edge and zooms images in, losing about 5%~10% of the image in total. Unfortunately, not all GoPro Hero machines get benefit from this stabilization feature, because GoPro has added it into Hero5 firstly and improved its performance on Hero6.
From all mentioned above, it's clearly to draw some conclusions about disadvantages of GoPro In-camera Stabilization:
● GoPro in-camera stabiliation reduces shakiness with quality loss.
● You're not allowd to set image crop level as you prefer.
● You can't even see the original footage with no cropping because of in-time deshaking.
● It's only available for 4K 24/25/30fps videos taken by Hero 5, 6 and 7, and cannot be applied to their 4K 60fps video or other 4K videos taken by Hero 3/4.
Q2: Is Software Stabilization Different from In-camera Stabilization?

Generally, video editors are equipped with video stabilization feature, and in most cases, they realize their video deshaking goals in the same cropping way. Let's look into some popular programs here.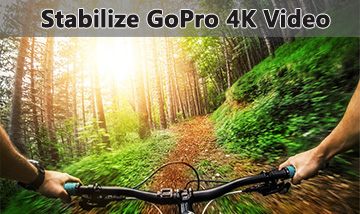 Stabilize GoPro 4K Shaky Video on Computer
- with Minimum Cropping or Quality Loss!
VideoProc, an all-in-one video converter and editor, is able to analyze and stabilize GoPro (Hero 3-7) shaky 4K video by adjusting shakiness, accuracy, step size and minimum contrast values to obtain the best ever motion compensation. By fully support GPU hardware acceleration, it delivers excellent 4K video processing speed, while maintaining the highest possible quality thanks to hardware processing.
Filmora, an easy-to-use video editing software with a massive user base, offers a one-click video stabilization solution to fix unsteady video. You can preview video effect while fining tune the stabilization level, which is the same thing as GoPro's cropping operation.
Adobe Premiere Pro, a non-linear video editor veterande, stabilize jittery motion with Warp Stabilizer effect by adjusting smoothness parameter. The higher percentage you set on smoothness, the more background areas of source shaky video will be removed. PR's Warp Stabilizer is not just a one-click tool, but also offers more subsettings to achieve perfect effect. And misoperation may lead to unwanted warping and anomalous keystoning.


Check official guide on how to use Premiere Pro Warp Stabilizer
Q3: What's the Best Way to Stabilize GoPro 4K Shaky Video?

Briefly speaking, the best way to deshake video is to stabilize camera as much as possible during filming process. So mechanical stabilization is the perfect way to go. Believe it or not, no matter you mount GoPro by using head and chest mount, or choose a gimbal grip stabilizer, it will be quite helpful for capturing steady video. Of course if you still get unstable video with all anti-shake preperation works done, you have to seek help for video editor for post production.