How to Stabilize GoPro 4K Shaky Videos without Quality Loss
Get the best GoPro video stabilization software to fix GoPro 4K/1080p shaking jittery videos on Win (10) or macOS, with the minimum cropping or quality loss.
When it's hard for ordinary DSLRs to finish movable sports and adventure photography, action camera sprang up and grabbed the market share of outdoor consumers. GoPro, as the most well-known name in action camera market, amazed users with its iconic box-shaped Hero series. Hero action cameras started to support 4K UHD (H.264 MP4) video shooting since 2012. And with the support for HEVC codec on newer computer systems and software, the latest Hero 6 also adopted it, making 4K60 video capturing available for the first time.
To record moments as fabulous as they actually are, 4K is surely the top choice for videographers. But everything has its limitation. GoPro still produces shaky video when camera movement or vibration happens if machine holder is walking, mountain biking, doing continuous activities at high speed or with strong wind etc. So newer GoPro machines like Hero 10 and 11 are equipped with in-camera video stabilization to improve the bumpy video at birth. Check the GoPro Hero cameras with 4K & Stabilization Support below:
| | | | | |
| --- | --- | --- | --- | --- |
| GoPro | Release Date | 4K Video Support | 4K Format/Codec | In-camera Stabilization Support |
| HERO3 Black | late 2012 | 4K at 12/15 fps | MP4 (H.264) | N |
| HERO3+ Black | October 2013 | 4K at 12/15 fps | MP4 (H.264) | N |
| HERO4 Silver | September 2014 | 4K at 12.5/15 fps | MP4 (H.264) | N |
| HERO4 Black | September 2014 | 4K at 24/25/30 fps | MP4 (H.264) | N |
| HERO5 Session | September 2016 | 4K at 25/30 fps | MP4 (H.264) | Y |
| HERO5 Black | September 2016 | 4K at 24/25/30 fps | MP4 (H.264) | Y |
| HERO6 Black | September, 2017 | 4K at 24/25/30/50/60 fps | MP4 (H.264/AVC), MP4 (H.265/HEVC) | Y (4K 60fps not supported) |
| HERO7 Black | September, 2018 | 4K at 24/25/30/50/60 fps | MP4 (H.264/AVC), MP4 (H.265/HEVC) | Y (HyperSmooth Video) |
| HERO8 Black | October, 2019 | 4K at 24/25/30/50/60 fps | MP4 (H.264/AVC), MP4 (H.265/HEVC) | Y (HyperSmooth Video) |
| HERO9 Black | September, 2020 | 4K at 24/25/30/50/60 fps | MP4 (H.265/HEVC) | Y (HyperSmooth Video) |
| HERO10 Black | September, 2021 | 4K at 24/25/30/50/60/100/120 fps | MP4 (H.265/HEVC) | Y (HyperSmooth Video) |
| HERO11 Black | September, 2022 | 4K at 120fps | MP4 (H.265/HEVC) | Y (HyperSmooth Video) |
Q1: How Does GoPro In-camera Video Stabilization Work?
GoPro in-camera video stabilization is actually a combination of both lense and digital image stabilization. With video stabilization option turned on on GoPro, any blur or distorted picture caused by camera shaking will be real-time smoothed out on camera. The image processor, say GoPro GP1, flexibly crops images round the edge and zooms images in, losing about 5%~10% of the image in total. Unfortunately, not all GoPro Hero machines get benefit from this stabilization feature, because GoPro has added it into Hero5 firstly and improved its performance on Hero6.
From all mentioned above, it's clearly to draw some conclusions about disadvantages of GoPro In-camera Stabilization:
GoPro in-camera stabiliation reduces shakiness with quality loss.
You're not allowd to set image crop level as you prefer.
You can't even see the original footage with no cropping because of in-time deshaking.
It's only available for 4K 24/25/30fps videos taken by Hero 5 and newer models, and cannot be applied to their 4K 60fps video or other 4K videos taken by Hero 3/4.
Q2: Is Software Stabilization Different from In-camera Stabilization?
Generally, video editors are equipped with video stabilization feature, and in most cases, they realize their video deshaking goals in the same cropping way. Let's look into some popular programs here.
Best GoPro Video Stabilizing Tools - Stabilize GoPro Shaky Video with Minimum Cropping or Quality Loss!
VideoProc, an all-in-one video converter and editor, is able to analyze and stabilize GoPro (Hero 3-7) shaky 4K video by adjusting shakiness, accuracy, step size and minimum contrast values to obtain the best ever motion compensation. By fully support GPU hardware acceleration, it delivers excellent 4K video processing speed, while maintaining the highest possible quality thanks to hardware processing.
Filmora, an easy-to-use video editing software with a massive user base, offers a one-click video stabilization solution to fix unsteady video. You can preview video effect while fining tune the stabilization level, which is the same thing as GoPro's cropping operation.
Adobe Premiere Pro, a non-linear video editor veterande, stabilize jittery motion with Warp Stabilizer effect by adjusting smoothness parameter. The higher percentage you set on smoothness, the more background areas of source shaky video will be removed. PR's Warp Stabilizer is not just a one-click tool, but also offers more subsettings to achieve perfect effect. And misoperation may lead to unwanted warping and anomalous keystoning.

Check official guide on how to use Premiere Pro Warp Stabilizer
Q3: What's the Best Way to Stabilize GoPro 4K Shaky Video?
Briefly speaking, the best way to deshake video is to stabilize camera as much as possible during filming process. So mechanical stabilization is the perfect way to go. Believe it or not, no matter you mount GoPro by using head and chest mount, or choose a gimbal grip stabilizer, it will be quite helpful for capturing steady video. Of course if you still get unstable video with all anti-shake preperation works done, you have to seek help for video editor for post production.
How to Stabilize GoPro 4K Shaky Video on Computer with No Cropping or Quality Degrade?
Please free download Windows version or Mac version GoPro video stabilization software from Digiarty to standby. Follow the easy-peasy steps on how to fix GoPro shaky video after exporting large GoPro 4K video to computer.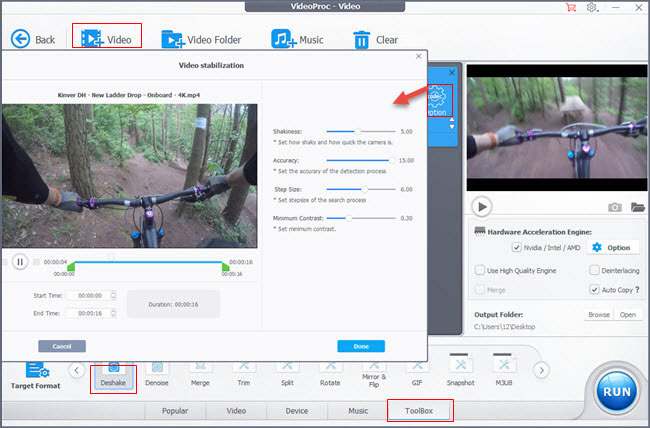 Step 1. Open VideoProc. Click "+ Video" to open or direct drag-and-drop source 4K GoPro shaky video stored on computer.
Step 2. Choose a target output profile. You can compress 4K to 1080p, convert HEVC codec to H.264, or keep original video specs unchanged.
Step 3. Navigate to ToolBox -> Deshake. Double click Deshake icon or tap "Option" to pop up a smaller pannel with 4 video stabilization options offered - shakiness, accuracy, step size and minimum contrast.
You can keep default settings to deshake weak GoPro video or tweaking the parameters as it actually requires. Here are some tips:
Shakiness value is free to define according to the degree of input.
Higher Accuracy value makes stabilization processing more accurate but slower. If the source video is not so rich in color, set it to a lower one.
Stepsize value can be raised when image trembles strongly.
Heightening Minimum Contrast can speed up stabilization speed, but may reduce the video quality.
You're free to trim video by setting start, end time during stabilization.
With more accurate algorithm built-in, VideoProc analyzes and calculates stabilization vectors automatically frame by frame, and then compensate the fuzzy content intensively by rotation and other position variations according to the final settings on parameters, no visible quality or color loss at all.
Step 4. Hit "RUN" to output a smoother GoPro video for sharing or uploading online. Since all video stabilization operations are handed over to hardware (Intel QSV, Nividia or AMD) to process through SDK and API, you will enjoy the fastest speed ever.
Notice: Still have any problem on how to stabilize 4K shaky video recorded by GoPro ors other action cameras, just email us >>
Born to record action, all GoPro Hero cams are well prepared for working at terrible environment. But some outdoor extreme adventures (e.g mountain biking) are so rough that even GoPro with better handler or stabilizer still creates shaky video. At this time, GoProers have to make it up with third-party editor other than GoPro Fusion Studio etc.
VideoProc - A Pro-level GoPro Video Editor with Simpler and Self-explaining UI
Compared to Adobe Premiere Pro, FFMPEG, After Effects, Final Cut Pro or any other video editor/transcoder with video stabilization feature, light and handy VideoProc with user-oriented UI is much easier to operate, especially for those newbies. Windows Movie Maker is also a good bet to go with anti-shake and wobble correction video stabilization. But this Microsoft-developed app only offers this function on PC running Windows 7 or earlier. Video stabilizing enhancement feature (1-click removing shaky camera motions) of YouTube Video Editor may also disappear starting Aug 22, 2018.
Free download VideoProc now to stabilize GoPro 4K shaky video, reduce wind/background noise from GoPro 4K video, convert HEVC MP4 to H264 MP4 for uploading online, compress GoPro 4K to 2K/1080p to free up storage, make slow motion video, crop/cut GoPro video or do some other video processing works on PC or Mac now!
Why Hardware Acceleration Is Crucial for 4K Video Processing?
Video processing under software-based environment brings us much flexibility. But hardware processes media in more efficiently way, especially when handling with large 4K files. That's why more and more software started to add support for hardware acceleration, including the well-known Adobe Premiere, Vegas, AE, Final Cut Pro, FFMPEG and HandBrake. For Windows user, VideoProc is a good bet to choose, because it works well with all general hardware accelerators from Intel, Nvidia and AMD, and also the only one who delivers the whole process of video transcoding to hardware, while keeping perpect balance between video size and quality.
External reading:
What is Video Stabilization [GoPro]: Our customers enjoy using their GoPro cameras in a wide range of scenarios, taking them along for the ride where other cameras can't go...
What is Image Stabilization [Wiki]: Image stabilization (IS) is a family of techniques that reduce blurring associated with the motion of a camera or others during exposure...