GoPro Time Lapse Tutorial: How to Make Time Lapse Video with GoPro and Video Editor
The Ultimate Guide to Create GoPro Time Lapse Video
Time lapse technique, which can recall changes in a couple of hours/days with a several minutes clip, brings striking visual impact and magnificence of nature motions, city rhythms and so on. It becomes prevailing photography for high artistry and wide functionality (in fields of geography, astronomy etc.). More cameras, for example GoPro, including time lapse mode make a reality for both professionals and amateurs to shoot epic time lapse footages. Also, a normal video can be turned to time lapse with the help of video editors. In this article, we will give a focus on how to make GoPro time lapse video.
VideoProc - Turn Your Normal GoPro Footages to Time-lapse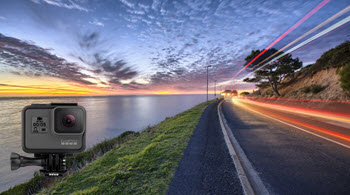 Every GoPro video can be an input, no matter what resolution it is, 4K, 2.7K, 1440P, 1080P or what format it is, H.264 or HEVC.
Normal GoPro footages can be transferred to time lapse videos at 24 or 30 fps.
Hardware acceleration tech (Intel QSV/NVIDIA NVENC/AMD VCE) greatly speeds up whole video processing.
How to Make Time Lapse Video with GoPro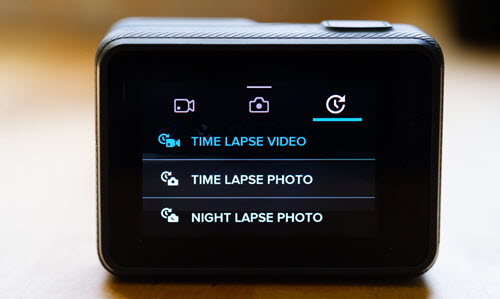 1. GoPro Action Cameras Which Support Time Lapse Videography
HERO4 Black/Sliver/Session; HERO5 Black/Session, HERO6 Black; HERO (2018)
2. Settings You Should Know for GoPro Time Lapse Recording
Resolutions: 1080P, 2.7K, 4K (default)
Intervals/seconds: 0.5 (default), 1, 2, 5, 10, 30, 60
FOV: Wide/Medium/Narrow for HERO4/5, Wide 16:9/Wide 3:4/Linear for HERO6
Aspect ratios: 16:9 - widescreen, only available on HERO5, 4:3 - for traditional television and computer monitor
Frame rate: 30 fps (playback at 30 frames/images per second)
3. Tutorial to Shoot GoPro Time Lapse Video
Step 1. Turn on your GoPro camera in Video mode.
Step 2. Press SETTINGS button on the side of the camera. Select TIME LAPSE VIDEO by pressing shutter button.
Step 3. Use the front MODE button to access INTERVAL and press shutter button to select desired interval. Repeat the operation (MODE first and then SHUTTER) to set RESOLUTION and FOV. Exit settings panel after all parameters are well adjusted.
Step 4. Press shutter button to start making time lapse video and stop shooting.
4. Tips You Should Pay Attention For GoPro Time Lapse Video Recording
Short intervals are better for obvious changes in the period of time, for example sports, crowds of people, fast moving clouds, while long intervals are recommended for no much visible changes, like sunrise/sunset, stars, growing plants and so on.
Pay attention to the duration which will be shown on the camera's display with time counter. Generally, 1 second of GoPro time lapse at 30 fps requires at least 15-second recording if the interval is set to 0.5 second and 30-minute recording if the interval is 60 seconds.
To make a long GoPro time lapse video, you should prepare a SD card with high capacity, full charged battery, even extra batteries or power source.
Tripod or other equipment which can stabilize your GoPro is in demand for stable images.
How to Make GoPro Time Lapse Video from Normal Footage with Video Editor
It is very possible to turn a normal GoPro footage to a time lapse video if there is a competent video editor.
VideoProc, boasts its power to convert and edit virtually all videos. It fully supports GoPro HEVC/H.264 videos, from 1080P to 4K. Offering a dozen of editing tools, it can help make great resulting files with vivid colors, crisp images, and special effects. To make time lapse footage from normal video is one of editing highlights VideoProc has. Level-3 hardware acceleration tech with integration of Intel QSV, NVIDIA NVENC and AMD VCE is utilized to deliver the fastest and smoothest editing performance (especially for GoPro 4K HEVC footages) and almost lossless quality.
Download and install VideoProc on your computer and follow this tutorial to make GoPro time lapse video with this video editor.
Operation Systems: Windows 10 (32 and 64 bit) or lower; macOS Mojave or lower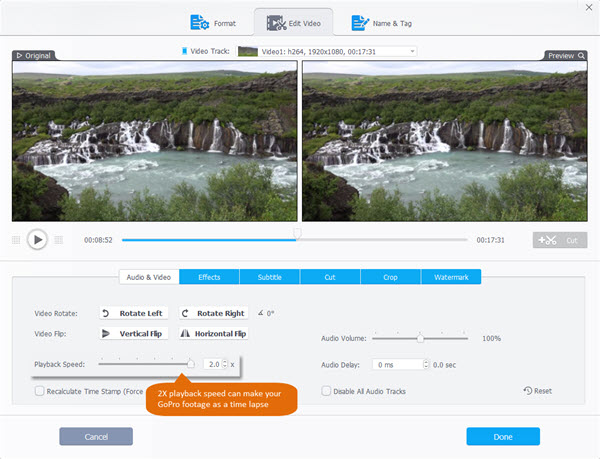 Step 1. Open VideoProc and click Video to access to Video Converter window. Click +Video to import one or several footages you try to make as time lapse.
Step 2. Move to the bottom of the window and click Popular tab to select a format as output. If there is no desired format, click Target Format to get more profiles.
Step 3. Click Codec Option. The window for settings appears. Go to Video Codec Option panel and change frame rate to 30fps. You can also adjust resolution, aspect ratio or select "keep original" option depending on your needs.
Step 4. Click Edit Video tab. Find Playback Speed under Audio & Video Category. Set playback speed to 2X (maximum). After that, click Done.
Step 5. Click Browse button to set destination folder to save the resulting file. At last, click RUN button start making GoPro time lapse video from normal footages. Hardware acceleration (Intel/NVIDIA/AMD) is automatically enabled which can help process your GoPro footages (especially for 4K files) speedily.
VideoProc Works as a Versatile GoPro Video Editor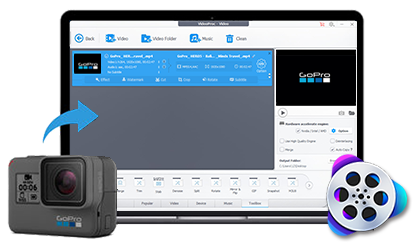 Compress large GoPro video (time lapse/slow-motion) to smaller size but better quality for email, YouTube, Facebook, Instagram and more.
Stabilize shaky videos; reduce wind/background noise; correct fisheye and so on.
Cut GoPro videos; crop black/blank/unwanted parts on images; merge several segments into one.
Adjust video/audio parameters, resolution, frame rate, aspect ratio and more for better playback on various devices and monitors.
Related External Source:
[1] Time Lapse - Time-lapse photography is a technique whereby the frequency at which film frames are captured (the frame rate) is much lower than that used to view the sequence. When played at normal speed, time appears to be moving faster and thus lapsing...
[2] GoPro - GoPro, Inc. (marketed as GoPro and sometimes stylised as GoPRO) is an American technology company founded in 2002 by Nick Woodman. It manufactures eponymous action cameras and develops its own mobile apps and video-editing software...