How to Make Time Lapse Video with GoPro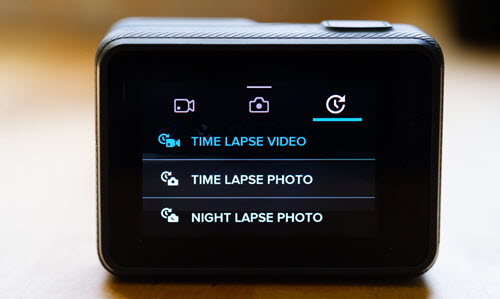 1. GoPro Action Cameras Which Support Time Lapse Videography
HERO4 Black/Sliver/Session; HERO5 Black/Session, HERO6 Black; HERO (2018)
2. Settings You Should Know for GoPro Time Lapse Recording
• Resolutions: 1080P, 2.7K, 4K (default)
• Intervals/seconds: 0.5 (default), 1, 2, 5, 10, 30, 60
• FOV: Wide/Medium/Narrow for HERO4/5, Wide 16:9/Wide 3:4/Linear for HERO6
• Aspect ratios: 16:9 - widescreen, only available on HERO5, 4:3 - for traditional television and computer monitor
• Frame rate: 30 fps (playback at 30 frames/images per second)
3. Tutorial to Shoot GoPro Time Lapse Video
Step 1. Turn on your GoPro camera in Video mode.
Step 2. Press SETTINGS button on the side of the camera. Select TIME LAPSE VIDEO by pressing shutter button.
Step 3. Use the front MODE button to access INTERVAL and press shutter button to select desired interval. Repeat the operation (MODE first and then SHUTTER) to set RESOLUTION and FOV. Exit settings panel after all parameters are well adjusted.
Step 4. Press shutter button to start making time lapse video and stop shooting.
4. Tips You Should Pay Attention For GoPro Time Lapse Video Recording
• Short intervals are better for obvious changes in the period of time, for example sports, crowds of people, fast moving clouds, while long intervals are recommended for no much visible changes, like sunrise/sunset, stars, growing plants and so on.
• Pay attention to the duration which will be shown on the camera's display with time counter. Generally, 1 second of GoPro time lapse at 30 fps requires at least 15-second recording if the interval is set to 0.5 second and 30-minute recording if the interval is 60 seconds.
• To make a long GoPro time lapse video, you should prepare a SD card with high capacity, full charged battery, even extra batteries or power source.
• Tripod or other equipment which can stabilize your GoPro is in demand for stable images.