A Qualified Video Editor Can Reduce GoPro 4K Video Noise with Ease
VideProc is the most recommended GoPro video editor for beginners. It not only focus on video transcoding for outputting a highly compatible file with various devices, webs, but provides a bunch of video editing tools to repair defects (noise reduction, shaky video stabilization, correct fisheye lens), add effects etc, to generate a more prefect video.
It fully supports GoPro 4K H.265/H.264 videos. The utilization of Hardware Acceleration tech greatly improves the performance to process GoPro 4K videos. Benefiting from Intel QSV, NVIDIA NVENC and AMD VCE, VideoProc accelerates video encoding, decoding and editing while ensuring the quality (almost as original) even though the video is compressed or resized. What's more, CPU is freed up to complete other missions efficiently during editing video.
Next, let's learn how to reduce noise on GoPro 4K videos.
First of all, please download and install this GoPro video editor on your computer. It is available for Windows 10 (32 & 64 bit) or lower while its Mac version can be well run on macOS Mojave (10.14) or lower.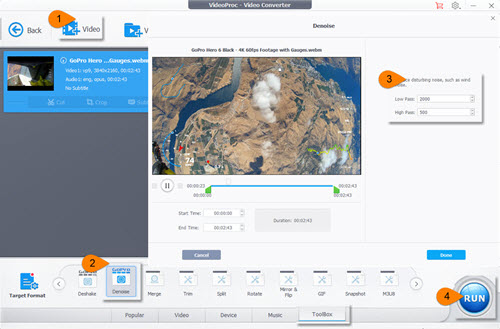 Step 1. Open VideoProc. Click Video and Video Converter window appears.
Step 2. Click ToolBox tab on the bottom of the interface. Select Denoise option.
Step 3 (Optional). Click edit icon next to the video title to enter settings window.
• On the left panel, there is a mini player. If you only want to reduce noise of a certain part of the whole video, you can move two green cursors on the process bar or input specific start/end time to trim the video.
• On the right panel, you can adjust high pass or low pass to achieve the best effect of noise reduce. If you don't know how to set it, just keep the default value which is strictly calculated for maximumly denoise. After all settings are well arranged, click Done.
Step 4. Click Browse button to set a new destination folder if necessary. Next, click RUN button to start GoPro 4K video noise reduction.
Notice: This GoPro video editor will automatically detect your GPU and enable hardware acceleration option (Intel/NVIDIA/AMD) for delivering the fastest video editing performance.
After the process is finished, destination folder will automatically pop up. Play the resulting video and you can find there is no wind/background noise at all.
Still have trouble on how to reduce noise on GoPro 4K video, just Mail Us >>
VideoProc Can Do More for You!
• Convert ANY video to HEVC (MP4/MKV), H.264 (MP4), AVI, WMV, MOV, FLV, iPhone, iPad, Android, Windows Mobile, Xbox, Sony PlayStation and more with ease.
• Compress 4K/HD videos for YouTube, Facebook, Twitter, Instagram, Email etc, with perfect quality for sharing over internet smoothly.
• Crop/cut/merge/rotate/flip videos; add watermark/subtitles; convert video to gif; extract frames/subtitles from video as well as adjust parameters.
Related External Source:
[1] GoPro - GoPro, Inc. (marketed as GoPro and sometimes stylised as GoPRO) is an American technology company founded in 2002 by Nick Woodman. It manufactures eponymous action cameras and develops its own mobile apps and video-editing software...
[2] 4K - 4K resolution, also called 4K, refers to a horizontal screen display resolution in the order of 4,000 pixels. There are several different 4K resolutions in the fields of digital television and digital cinematography. In television and consumer media, 4K UHD or UHD-1 is the dominant 4K standard...