GoPro Fisheye Correction Method 1: Turn off Fisheye Effect by Enabling Linear FOV
If you have a GoPro HERO6 Black, HERO5 Black or HERO5 Session, you should find that there's a built-in fisheye distortion correction - Linear FOV. Enabling Linear mode will remove distortion in GoPro camera, making you shoot a straight horizon with a more natural perspective. Thus, you don't need to do it after saving shootings into SD card. To turn on Linear, just go to photo/video modes and find it in the files of view setting.
HERO4 Black and HERO4 Silver users can also get access to this feature if firmware v.05.00.00 is installed.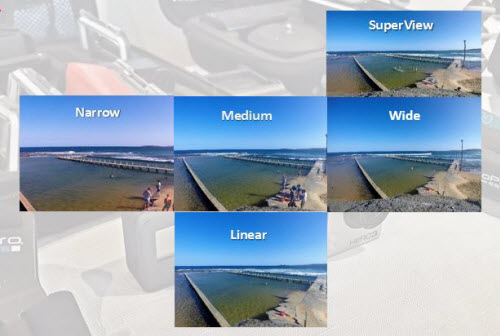 Please be noted:
• Once Linear FOV is enabled, you can't return to the fisheye look.
• Linear works for time-lapse photos, but not for time-lapse videos.
• You will notice that the edges will be slightly cut off.
• Linear FOV is only available for specific frame rates and resolutions. If there's no Linear available, it should attribute to the resolution and frame rate you choose.
Frame rates and resolutions support Linear FOV:
HERO4 Black: 2.7K at 60, 50, 48, 30, 25, 24 fps; 1080p at 120, 90, 60, 50, 48, 30, 24 fps
HERO4 Silver: 2.7K at 30, 25, 24 fps; 1080p at 60, 50, 48, 30, 24 fps
HERO5 Black: 2.7K at 60, 48, 30, 24 [PAL 50, 48, 25, 24] fps; 1080p at 60, 48, 30, 24 [PAL 50, 48, 25, 24] fps
HERO5 Session: 2.7K at 30, 24 [PAL 25, 24] fps; 1080p at 30, 24 [PAL 25, 24] fps
HERO6 Black: 2.7K/2.7K 4:3/1440p at 60, 30, 24 [PAL 50, 25, 24] fps; 1080p at 120, 60, 30, 24 [PAL 100, 50, 25, 24] fps; 720p at 60 [PAL 50] fps