How to Fast Remove Fisheye (Lens Distortion) from GoPro 4K/HD Video
3 simple ways to get rid of fisheye (distortion) effect from GoPro HERO 11/10 videos
GoPro action cameras are widely used as travel cameras, for it is not only tiny and rugged, but equipped with wide-angle lens, with which we can shoot distinctive and immersive fisheye videos and photos. However, fisheye effect leads to distorted look, with straight lines bent and center of the frame oversized in relation to the rest of the frame. Deformed photos or videos are not the best for use in some cases. So, can we turn off fisheye effect through GoPro camera settings? How to remove fisheye from GoPro videos during post-production? Let's get to the answers below.
The simple GoPro fisheye correction software you need - VideoProc
Download and install this tool on your computer, and then you can remove fisheye effects from GoPro HERO6/5/4/3 videos without degrading quality, no matter what format (H.264, H.265) and quality (4K, 2.7K, 1080P, etc.) they are in. Other edit options include: cut, crop, split, merge, deshake, denoise, rotate, add special effects, insert subtitle, etc.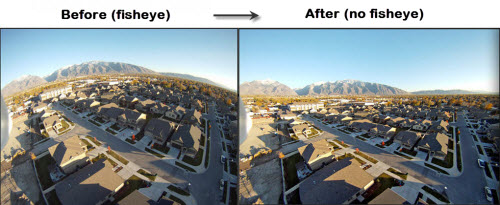 Method 1. Turn off Fisheye Effect by Enabling Linear FOV
If you have a GoPro HERO6 Black, HERO5 Black or HERO5 Session, you should find that there's a built-in fisheye distortion correction - Linear FOV. Enabling Linear mode will remove distortion in GoPro camera, making you shoot a straight horizon with a more natural perspective. Thus, you don't need to do it after saving shootings into SD card. To turn on Linear, just go to photo/video modes and find it in the files of view setting.
HERO4 Black and HERO4 Silver users can also get access to this feature if firmware v.05.00.00 is installed.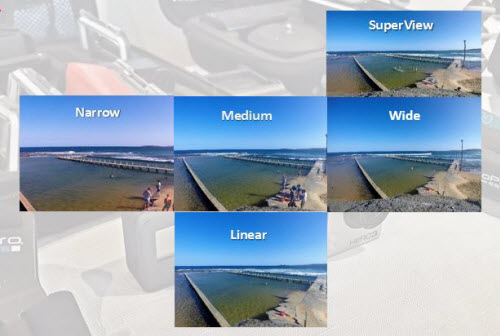 Please be noted:
Once Linear FOV is enabled, you can't return to the fisheye look.
Linear works for time-lapse photos, but not for time-lapse videos.
You will notice that the edges will be slightly cut off.
Linear FOV is only available for specific frame rates and resolutions. If there's no Linear available, it should attribute to the resolution and frame rate you choose.
Frame rates and resolutions support Linear FOV:
HERO11 Black: HyperView, SuperView, Wide, Linear, Linear + Horizon Leveling.
HERO10 Black: HyperView, SuperView, Wide, Linear, Linear + Horizon Leveling, Narrow.
HERO9 Black: HyperView, SuperView, Wide, Linear, Linear + Horizon Leveling, Narrow.
Method 2. Remove Fisheye from GoPro Videos with Free GoPro Studio
Please be noted:
GoPro Studio has been discontinued. If you're using Quik for desktop 2.4 or newer version, you won't find GoPro Studio in it. However, you can still use GoPro Studio if it hasn't been uninstalled from your computer.
GoPro HERO5 video fisheye distortion can't be solved by GoPro Studio.
To correct wide-angle distortion on free GoPro Studio, you should:
Step 1. Launch GoPro Studio on your computer.
Step 2. Go to "View & Trim" section, load the GoPro fisheye videos you want to correct and then click "Advanced Settings".
Step 3. Check "REMOVE FISHEYE" and click "OK".
Step 4. Click "ADD CLIP TO CONVERSION LIST" and then "CONVERT". Then, this free fisheye correction software will remove distortion from your GoPro videos.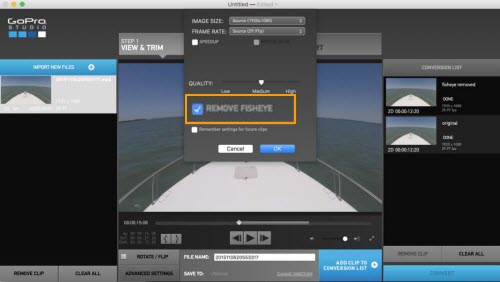 Method 3. Fix GoPro Distortion with Third-party Fisheye Correction Software
VideoProc is a piece of multifunctional video processing software capable of removing fisheye effect from videos captured by GoPro HERO and other action cameras or extreme wide angle lenses. To begin with, we should download and install it on our computer. This tool is compatible with both Windows and Mac, with new and old operating systems supported.
Then, let's see how to perform GoPro fisheye removal on this application.
Step 1. Open VideoProc and choose "Video". Then click "+Video" button to import the GoPro videos with fisheye effect.
Step 2. Click "Toolbox" at the bottom bar, choose "Fisheye" and click "Option" button in the file list to get access to Lens Correction panel.
In this step, you can move the sliders to adjust relative x-coordinate of the focal point of the image, relative y-coordinate of the focal point of the image, coefficient of the quadratic correction term and coefficient of the double quadratic correction term. The window in the left is designed to provide real-time preview. Additionally, you can move the bars below the preview window or enter in start time and end time to cut off unwanted GoPro videos. Once finished, click "Done".
Step 3. Hit "RUN" to begin removing fisheye from videos immediately. Soon later, it will output high-quality GoPro videos without fisheye effect.

In addition, VideoProc is a professional and fast video converter that can convert/compress GoPro 4K/2.7K/1080P/1440P/720P H.265/H.264 MP4 videos with unique level-3 hardware acceleration powered by Intel QSV, NVIDIA CUDA/NVENC, and AMD.