Compress Large 4K/2.7K GoPro Videos [No Freezing/Crash]
"I'm trying to figure out how to compress GoPro 4K videos for storage and uploading to YouTube. They are coming out at about 6 gigs each for a 15 minute video, and it is going to add up fast."
Those super hi-def 2.7K/4K GoPro videos put heavy burdens on your storage devices, players, or other apps, making storage device running out of space quickly, playback failure, video recognition error on editing programs etc. Plus, it will take long to upload such large-sized video to YouTube and the like. All these demand a GoPro video compressor to reduce GoPro 2.7K/4K footages. In this article, we'd like to introduce you the best GoPro video compressor and how to shrink GoPro footages in various ways.
WinX HD Video Converter Deluxe - Compress 4K/2.7K GoPro Video at GPU Acceleration
Processing 4K HEVC GoPro video is high-demanding on both software and hardware configurations (CPU, GPU, RAM...). How to smoothly downsize GoPro 4K/2.7K H265 video without half-crash or software freezing? A 4K video compressor with GPU hardware acceleration tech is the key! WinX HD Video Converter Deluxe, with Intel QSV/AMD/Nvidia GPU hardware acceleration tech supported, can hand over the compute-intensive 4K HEVC video compressing task from CPU to graphics processing expert GPU.
Thus, the whole 4K x265 GoPro video shrinking process will be smoothly conducted, no CPU 95% overuse, CPU overheating or sudden crash/freezing troubles. The compress speed is up to 320FPS, 47x real-time faster than before, 5X faster than any ordinary competitors.
Table of Content
Part 1. How to Compress 2.7K/4K GoPro Videos with WinX HD Video Converter Deluxe
What WinX HD Video Converter Deluxe Can Do for You:
Compress GoPro 2.7K/4K to 1080P or other resolutions to make GoPro files smaller for fast YouTube/Facebook uploading, email sending.
Trim off unwanted segment to reduce the GoPro video length and crop out unnecessary image area to shrink GoPro video.
Convert GoPro 2.7K/4K video from H.264 to H.265/HEVC to compress video without quality loss.
Change bit rate, frame rate, sample rate and other parameters to lower file size.
Speed up video resizing process to 47x realtime faster by GPU HW acceleration while keeping a good balance between quality and size.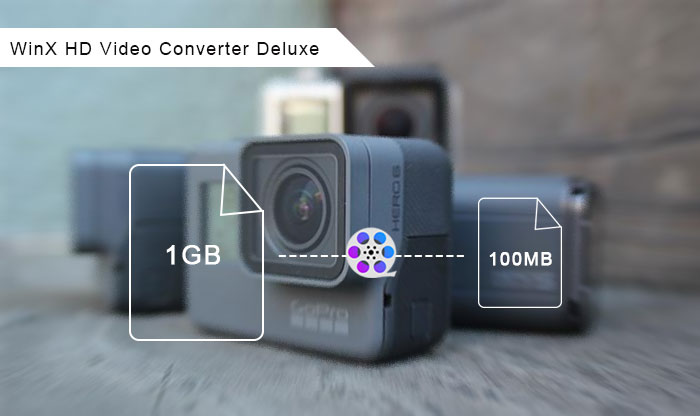 At the very beginning, free download WinX HD Video Converter Deluxe to your computer and launch it. Now start your GoPro compressing journey within several clicks.
Step 1. Open target 2.7K/4K GoPro videos on this compressor.
After launching WinX HD Video Converter Deluxe, click Video button to get access to video converter. Next, click +Video button to browse and open target GoPro videos or simply drag and drop them into the screen for later compressing.
Step 2. Choose an output profile for resized video.
You'll find some popular output profiles at the bottom of the screen. Click Target Format to get more presets. Those ready-made presets come with different video audio codecs, resolutions, container formats, etc., to meet different user needs.
If your to-be compressed 2.7K/4K GoPro videos are encoded with H.264, you can choose HEVC profile. By converting H.264 to HEVC/H.265, your GoPro video file will be reduced by about 50% without sacrificing quality.
If you want to compress GoPro videos for YouTube, the test data below may help you choose a YouTube profile.
The two YouTube output profiles deliver different file sizes when we compress a 4K (3840x2160) GoPro video (833 MB) to 720P (1280x720).
YouTube Video -> MP4 (h264+aac): file size - 162 MB
YouTube Video -> FLV (h264+mp3): file size - 119 MB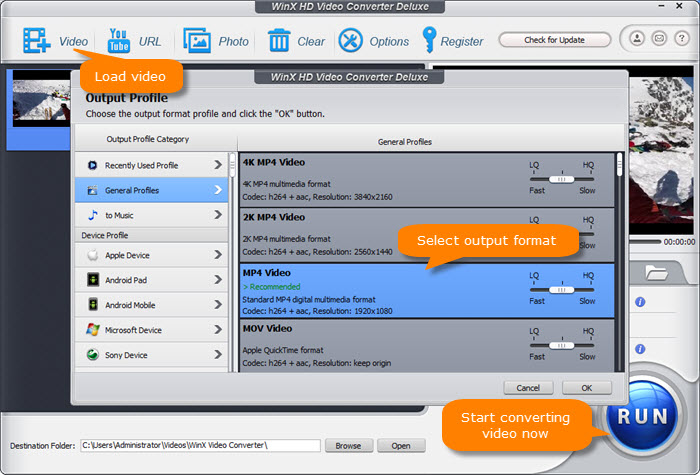 Step 3. Lower resolution and other parameters.
Click Option icon and then you'll be able to tweak the video audio parameters. Every item offers a drop down list for you.
To choose a lower video resolution, simply get access to the drop down list and choose your desired resolution, 1920x1080 for instance.
Bitrate is also another main factor influencing file size. So lowering the bitrate is also of great help to reduce GoPro video file size. Don't set bit rate too low, otherwise you will get an inferior video quality. Actually, the bit rate of some profiles will be altered automatically according to the resolution you choose. The software developer has chosen the ideal bit rate for you. Certainly, you can also change it as needed.
As for frame rate, you'd better keep the original frame rate because lowing frame rate may lead to less smoothness.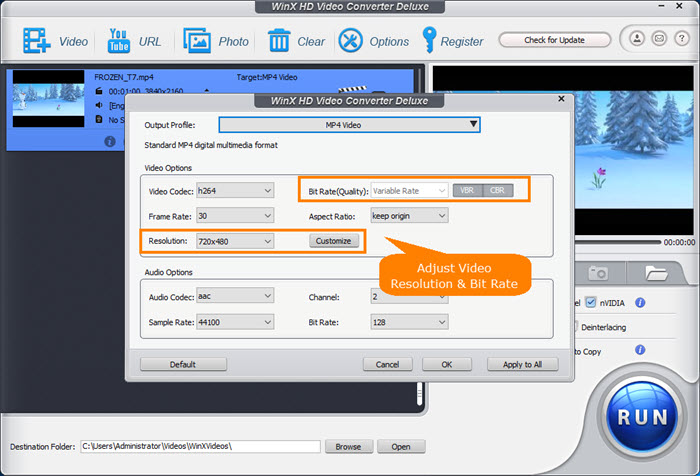 Step 4. Enable Crop/Trim to compress 2.7K/4K GoPro videos.
Click Crop & Expand buttons to step into video cropping and trimming interface.
Move to Cut tab, drag the knobs under preview window to the start point and end point of the video clip you want to keep. Once finished, click the orange Cut button. Then, clip 1 will appear below. You can click Edit to make some adjustments.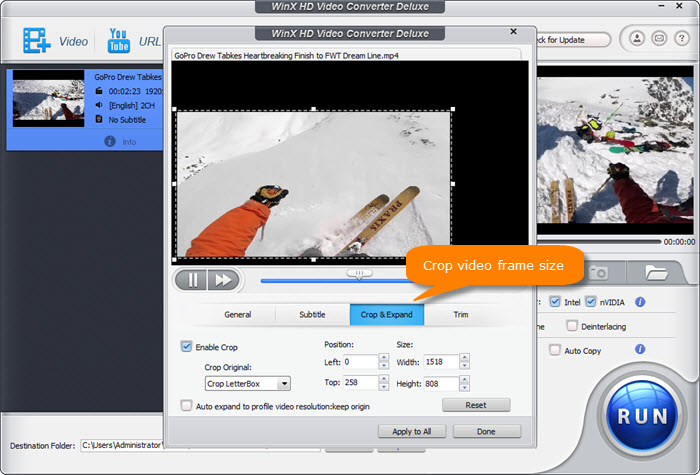 NVIDIA/Intel/AMD hardware acceleration will be enabled automatically to boost GoPro 4K/2.7K video compression speed if WinX HD Video Converter Deluxe has detected that your computer has the proper hardware.
Step 5. Begin compressing 2.7K/4K GoPro video.
Just click RUN button and the rest work will be handed over to WinX HD Video Converter Deluxe. In addition to hardware acceleration, this program will also take advantage of MMX-SSE, Hyper-threading and AMD 3DNow! tech to quicken video resizing. Click to see more free video compressor software for help.
Video Tutorial: How to Compress GoPro 4K to 1080P with Virtually No Quality Quality
Part 2. How to Reduce 2.7K/4K GoPro Footage Size with HandBrake
Considering that some people get used to HandBrake, we will illustrate how to compress 2.7K/4K GoPro videos with this free open-source video transcoder. It's free and safe to use, because of the absence of malicious stuff. HandBrake is a CPU-intensive tool always taking up more than 90% CPU power and is far slower than WinX HD Video Converter Deluxe. It may fail to compress some 4K videos. Here, let's take the operation on HandBrake Windows version as an example.
Step 1. Launch HandBrake and click File to choose a single 2.7K or 4K GoPro video for further compression.
Step 2. Click Browse to specify the save path and the name for resulting file.
Step 3. Choose a preset from the far-right side of the HandBrake window. You'd better select a preset that falls at or below your GoPro video's current quality. Here, we choose Very Fast 1080p30.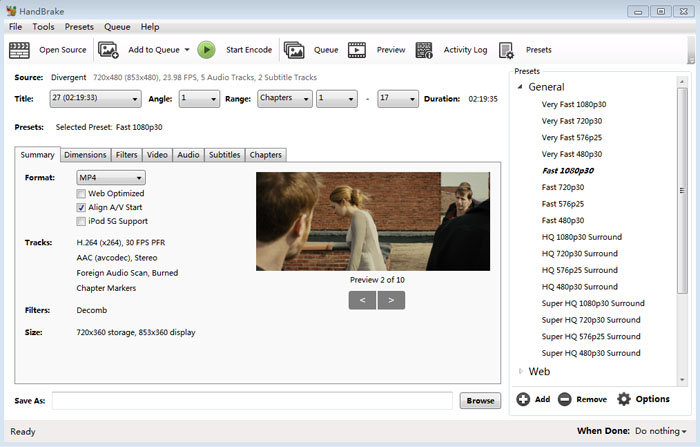 Step 4. Choose the Container under Output Settings. MP4 is recommended for its broad compatibility. In addition, you can check Web Optimized which will compress your GoPro 2.7K/4K video using web standards.
Step 5. Tweak video audio parameters.
Under Picture tab, you can cut down the width and height pixels.
Move to Video tab, and then adjust video codec, frame rate, bit rate, etc.
Step 6. Click Start Encode in the top menu bar to begin compressing your 2.7K/4K GoPro video. Typically this can take a quite long time. One more thing, I received an error message "Queue Finished with 1 errors or cancellations detected" after hitting Start Encode button during my test.
Part 3. How about Shrinking GoPro File Size with Online Video Compressor
Some people want to try a free online video compressor to reduce the size of their GoPro videos, because it seems to be a cost-saving and trouble-free method. Don't make your decision so fast before reading the following disadvantages of online tools.
Some sites require for signup with email.
There're often limitations on maximum file size, video length & quantity. So your large 4K GoPro videos are probably not supported as input.
Annoying watermark may be embedded.
Network connection is indispensible for file uploading, compressing and downloading. So it could be quite slow if you work on lousy internet.
You won't be offered with rich edit options and output presets.

You may be confused by the ads on the page, some of which are even dangerous with virus integrated.
The resulting file could be larger than before, corrupted or not opened.
How to Compress GoPro Videos Free Online with Freeconvert
Step 1. Open the site Freeconvert, choose a GoPro video you'd like to compress. The upload process is likely to be time-consuming.
Step 2. Choose your targe video file size, adjust video codec and compression method.
Step 3. Download the compressed GoPro video to your device when the process completes. Given that, you're more recommended to compress GoPro footages with a professional video compressor to remove the strict limits on file size and get rid of possible malware and adware. WinX HD Video Converter Deluxe is what you're searching for. Free download it to have a try!