GoPro Video Format Explained - What Video Format Does GoPro Use
Summar: Follow the post and learn what video format/codec do GoPro HERO action cameras use to record 4K/HD video and how to play and share GoPro video without format incompatibility issue.
GoPro is almost synonymous with action cams. If you are fond of doing adventure sports like climbing, skiing, or cycling, GoPro is a sure bet to shoot videos, thanks to its HyperSmooth stabilization, unique ultra-wide-angle fisheye look, high resolution and plenty of frame rate options, etc. But your shot of epic experiences may end up with failure while playing on your PC or sharing on social media. To make the footages useful, you need to figure out what video format do GoPro cameras record in.
Well, what video format does GoPro use for 4K and HD video shootings? What're the features of GoPro's video file format? Let's dive into the page centering on GoPro video format and learn how to convert GoPro video when necessary.
Part 1. What Video Format Does GoPro Use?
Briefly, all video footages are recorded using the MP4 file type, according to GoPro. These recordings can be in either H.264 or HEVC (H.265) codec, depending on your GoPro model and recording settings.
Specifically, all GoPro HERO5 and earlier cameras use the H.264 codec wrapped by MP4. The HERO6 Black and newer models still employs MP4 as the container format for all the video files, but the video codec is no longer limited to H.264. Large video contents, such as 4K60 and 1080p240, use H.265 (aka. HEVC) - a newer and more efficient video compression standard.
You have to bear in mind that the latest GoPro HERO11 Black uses HEVC in all video modes.
1. Learn more about the GoPro video format - MP4
MP4, also known as MPEG-4 Part 14, is a container format that can store video, audio and other data, subtitles and images for instance. Compared with other container formats like AVI, MP4 can export smaller file size but at the same quality because of its advanced data compression algorithm. It is the most widely used format that can play on most devices and be posted on social media platforms such as YouTube, Twitter, and Instagram.
2. Learn more about the GoPro video codec - H.264 and H.265 (HEVC)
▶ H.264
Different from MP4, H.264 also called MPEG-4 Part 10, Advanced Video Coding (MPEG-4 AVC), is a video compression codec. Its popularity results from the capability of delivering same quality file while using lower bit rates than MPEG-2, MPEG-4, DivX, XviD, etc. H.264 is currently the most widely used format for recording, compressing, and distributing video content. So it's no surprising to find that GoPro uses H.264 as the recording format, since the video clips encoded in H.264 can be therefore viewed, edited and shared on almost all platforms.
▶ H.265
Judging from the name, we can easily guess that HEVC (H.265) is the successor to H.264. HEVC offers high picture quality but with better compression than AVC (H.264). It is widely used to produce 4K and Ultra HD videos. Using H.265 as the video codec, we can see 40-50% bit rate reduction as compared to H.264 at the equivalent quality. Adoption of H.265 as the GoPro 4K video format will save you much storage space.
3. Specific GoPro Video Settings That Use HEVC Codec
Since GoPro HERO6, large videos with higher resolutions or frame rates use HEVC codec, such as 5K 24/30fps, 4K 60/120fps, 2.7k 60/120fps, 1080p 240fps, 360 video, etc. While all videos taken by the latest GoPro HERO11 Black uses HEVC video codec only.
GoPro model

Video settings in specific resolutions and frame rates

HERO11 Black

All record settings use MP4 HEVC format to record video.

HERO10 Black

5.3K 60/30/24fps and 5.3k 50/25fps.

4K 120/60/24fps and 4K 100/50fps.

4K (4:3) 60/30/24fps and 4K (4:3) 50/25fps.

2.7K 240/120fps and 2.7K 200/100fps.

2.7K (4:3) 60fps and 2.7K (4:3) 50fps.

1080p 240/30/24fps and 1080p 200/25fps.

HERO9 Black

5K 30/24fps and 5k 25fps.

4K 60/24fps and 4K 50fps.

4K (4:3) 30/24fps and 4K (4:3) 25fps.

2.7K 120fps and 2.7K 100fps.

2.7K (4:3) 60fps and 2.7K (4:3) 50fps.

1080p 240/30/24fps and 1080p 200/25fps.

MaX

360 video and Timewarp in all resolutions.

TL video 5.6k 30/25/24fps.

HERO mode 1440 60/30/24fps and 1080 60/30/24fps (note: H.264 may be available in the resolution).

HERO8 Black and HERO7 Black

4K 60fps and 4K 50fps.

4K (4:3) 30/24fps and 4K (4:3) 25fps.

2.7K 120fps and 2.7K 100fps.

2.7K (4:3) 60fps and 2.7K (4:3) 50fps.

1440p 120fps and 1440p 100fps.

1080p 240fps and 1080p 200fps.

960p 240fps and 960p 200fps.

Note: Videos with other frame rate by HERO8 and HERO 7 Black are encoded in either HEVC or H.264.

HERO6 Black

4K 60fps and 4K 50fps.

4K (4:3) 30/24fps and 4K (4:3) 25/24fps.

2.7K 120fps and 2.7K 100fps.

2.7K (4:3) 60fps and 2.7K (4:3) 50fps.

1080p 240fps and 1080p 200fps.
Note: If your video is recorded in HEVC setting and you don't have an HEVC-compatible computer or smart device, you may run into troubles like GoPro video choppy, freezing, or the video format not supported error. In this case, you will need to convert GoPro HEVC video to a more compatible format like H.264 first.
Part 2. What to Do when GoPro Video Can't Be Supported, Played, Edited...
Here're some true examples posted online:
What CODEC is used when the GOPRO HERO 11 Black is recording a video file in the .MP4 format? My new VIZIO 4K UHD TV will not play GOPRO videos... I get the message "unsupported video format". VIZIO rep says they support the play back of .MP4 videos just not the CODEC that GOPRO uses. How do we fix this?
I just bought new Hero 10, and the 4k 60fps files aren't viewable after I import into FCP, Adobe Premiere or Quick. All are using most updated versions. Just see a black screen and can hear audio.
Possible Solutions
Your device should meet the minimum system requirements for GoPro video playback and editing, especially when it is in 4K resolution.
Transfer your GoPro videos from SD card to computer's hard drive before playback. Otherwise, you may find the GoPro video is choppy.
Make use of a 4K-capable video player like 5KPlayer and VLC. Windows Media Player isn't recommended because it isn't powerful enough to handle ultra-high-definition video.
If your GoPro video is encoded in HEVC, make sure the device and the software you use support HEVC codec.
Ultimate Solution - Compress and Convert GoPro 4K HEVC/H.264 Video
Since GoPro videos can be large and videos encoded in HEVC is not as widely supported as H.264. So a video converter capable of re-encoding HEVC to H.264 and downscaling 4K resolutoin video is needed. This way can solve problems like GoPro video format not supported, high bitrate 4K GoPro video not compatible with your player, etc.
If you don't have a program to perform video compressing and converting, you can try WinX HD Video Converter Deluxe. It is available to convert GoPro HEVC to H.264, compress GoPro 4K video to 1080P, 720P, etc, so that you can upload the GoPro video YouTube/Facebook, play or edit on legacy PC/Mac, iPhone, iPad, Android, Xbox One, PS4, etc. A user guide is attached below to help convert/compress GoPro 4K HEVC/AVC videos.
To get started, download and install WinX HD Video Converter Deluxe on your computer. This program comes with two versions, Window edition compatible with Windows 11 and lower while Mac supporting macOS Ventura and lower.
Now open this tool and do what we tell you below.
Step 1. Load the GoPro 4K videos you want to convert or shrink.
First of all, click Video to access Video Processing tool. Next, you simply need to drag and drop target files into the screen or click the + Video button on the top toolbar to browse and select them.
Step 2. Select output profile.
WinX HD Video Converter Deluxe offers hundreds of optimized output profiles that can cover almost all of your needs. For easier playback and sharing, you can go to General Profiles and choose MP4 H.264 as the final video format.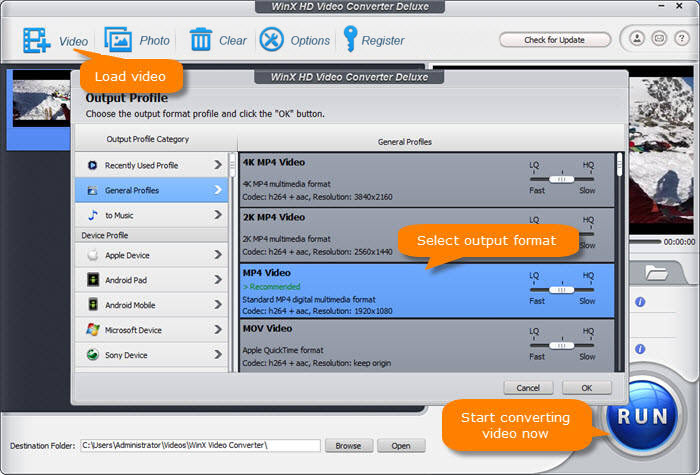 Step 3. Edit your GoPro video.
Click the Option icon, and then you can tweak video audio parameters, such as video resolution, bit rate, and frame rate.
Besides, you can crop and trim off unwanted part to resize video, rotate your videos, add special effects, adjust brightness, contrast, add watermark, etc.
Step 4. Begin converting/compressing GoPro 4K video.
Intel QSV, NVIDIA CUDA/NVENC and AMD based hardware decoding, processing and encoding will be enabled automatically if there's supported GPU. Hardware acceleration can give a great boost on speed. On top of that, the GoPro video format converting speed doesn't come at the expense of video quality. Certainly, you can also disable it based on your own needs. In the end, simply click RUN button to get GoPro 4K video conversion/compression started. Then, you're able to upload GoPro 4K video to YouTube without errors.
Part 3. FAQ about GoPro Video Format LRV
Except the GoPro video format MP4, some users also notice that LRV files appears when they shoot videos with GoPro or download videos from GoPro's memory card. Frankly, LRV files are used by GoPro's mobile apps, GoPro and Quik, which are low-resolution video files used by GoPro cameras and apps as video previews. They are generated from the original MP4, so you can safely delete the filetype without worrying about losing content from the original MP4 video file if needed.
About Gopro and Its Products Line – Wiki Resource
Gopro: GoPro, Inc. (formerly Woodman Labs, Inc) is an American manufacturer of action cameras, often used in extreme-action videography and part of the connected sport movement. Its famous products include HD HERO cameras, HERO 2/3/4/5, etc...