Follow How-to Tutorial to Cut GoPro Video with WinX HD Video Converter Deluxe
Step 1. Launch WinX HD Video Converter Deluxe after it is successfully downloaded and installed on computer. Click Video button and Video Converter window appears. Click +Video button to import your GoPro video. Batch input is allowed.
Step 2. Before cutting a video, what you should do is to select an output format. Move the mouse to the bottom of the window. Click Popular tab to check whether there is a wanted format. If not, click Target Format to get more profiles and select what you want. Certainly, you can select the format of source footage as output.
It is suggested to convert GoPro HEVC to H.264 if your device or computer is not compatible or competent with HEVC. Also, you can click Codec Option to adjust frame rate, resolution, aspect ratio etc, or make parameters "keep original".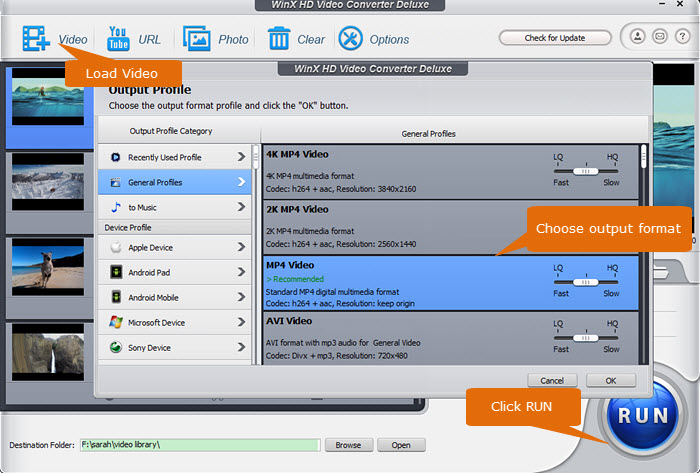 Step 3. Click Cut to access to video editing window. There are two panels. On the top, a mini player gives original and preview video comparison for your reference. And, the progress bar with two green cursors is presented under the player. Move cursors to set start/end time. Click Cut button next to progress bar to cut wanted part. The cut part will be listed on the bottom panel with a name of Clip 1. You can repeat moving cursors and cutting to get clip 2.3.4... as you like. All clips will be merged into one file. Next, click Done if you have gotten needed clips.
Step 4. Click Browse button to define a new destination folder if necessary. Click RUN button to make WinX HD Video Converter Deluxe cut your GoPro video(s). Hardware acceleration (Intel/NVIDIA/AMD depending on your graphic cards) will be automatically enabled to speed up video processing.
After WinX GoPro video cutter finishes its task, destination folder containing the cut video will be opened automatically. Check whether it keeps high quality and upload online immediately or later.

Note
Recommended System Requirements for 4K HEVC GoPro Video Editing and Playback:
• Processor: Intel Kaby Lake or newer
• GPU:
Intel HD Grphaics 4000 or better
AMD A10-7800 APU/AMD Radeon HD 7000 Series or better
NVIDIA GeForce GTX 650 Ti or better
• RAM of GPU: 1GB
• Memory: 4GB
• Hard Drive: 7200 PRM drive or SSD
• System: Windows 10/macOS High Sierra
Still have trouble on how to cut GoPro 4K/2.7K/1080P video, just Mail Us >>
What's More Can VideoPoc Help You to Customize GoPro Videos?
• Crop/merge/rotate/flip videos; stabilize shaky image; denoise audio; correct fisheye; add effects/subtitles/watermark; convert video to gif; extract frames from video and other advanced editing options.
• Convert GoPro HEVC/H.264 videos to AVI, WMV, MOV, FLV, 3GP, iPhone, iPad, Android, Windows Mobile, Sony PlayStation, Xbox, Chromecast etc, with high quality.
• Downscale GoPro 4K/2.7K video to 1080P, 1080P to 720P and compress GoPro videos by lowering bit rate, frame rate to smaller size but better quality.
• Download 4K/2.7K/1080P GoPro videos from YouTube, Facebook, Vimeo, Twitter, Instagram with ease.
Related External Source:
[1] GoPro - GoPro, Inc. (marketed as GoPro and sometimes stylised as GoPRO) is an American technology company founded in 2002 by Nick Woodman. It manufactures eponymous action cameras and develops its own mobile apps and video-editing software...
[2] 4K - K resolution, also called 4K, refers to a horizontal screen display resolution in the order of 4,000 pixels. There are several different 4K resolutions in the fields of digital television and digital cinematography. In television and consumer media, 3840×2160 (4K UHD) is the dominant 4K standard. In the movie projection industry, 4096×2160 (DCI 4K) is the dominant 4K standard..