[Solved] Cannot Play GoPro HD/4K Videos on PC/Mac
If you cannot play GoPro 1080p, 2.7K, 4K (60fps / 30fps) videos on computer (Win & Mac), check the reasons and try the solutions below to fix the problems
GoPro is pronoun and leader of action cameras. The main advantages for snowboarder, divers and Mountaineers are the capability of recording 4K@60fps epic footages which are expected to be shared to Instagrams, YouTube, Facebook, Twitters, Whatsapp and so on. However in fact, GoPro videos are sometimes unplayable and non-editable after being loaded to a computer. If you have encounter any of the following issues:
GoPro videos are unloadable to my PC or Mac.
GoPro videos transferred to my PC are not able to be opened.
GoPro videos cannot be viewed on the camera or on the PC.
GoPro video playback off colored, blurred or pixellated.
GoPro video playback is choppy and unstable.
Please read the text below that will answer why you cannot play GoPro videos on PC or Mac and how to solve these problems.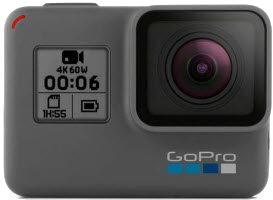 Reasons and Solutions for GoPro Videos Not Playing or Opening
Reason 1: Your software does not support 4K resolution or does not support it well enough.
Solution:
1. Try different video viewing program like 5KPlayer, VLC, QuickTime, etc.
5KPlayer – One of the first desktop media players that support 4K, 5K and 8K UHD videos. It allows you to play GoPro or any 4K 60fps, 48fps or 30fps video in different formats (e.g. MKV) without choppy, lagging, or other problems.
Bonus Feature: Play DVDs, music, audio files and radios; download online videos audios; built-in AirPlay™ tech receive, send and mirror AirPlay streams from Mac or iOS devices.
Reason 2: Your system or hardware devices are not fully ready for 4K.
It is possible that your computer does not have the required specs for the playback of the GoPro footages, mostly, not for 4K footages, so you can't play GoPro video on computer.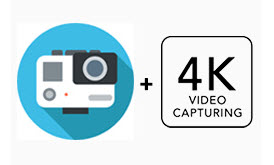 Solution: Please make sure your system meets the minimum requirement for 4K video playback:
Video RAM of GPU: 1GB
Memory: 8GB RAM
Storage: 7200 RPM Hard Drive or SSD
Processor: Intel Xeon E5 hexa-core or better / Intel Core i7 quad-core or better
GPU: Discrete Graphics: GeForce GTX 650 Ti or better; AMD A10-7800 APU
Integrated Graphics: Intel HD Graphics 5000 or better; AMD Radeon HD 7000 Series or better
If not, upgrade them. Please see some examples of playing 4K@60 and 4K@30 videos using specific CPUs and GPUs.
i7-4770k using integrated GPU: 4k@60, no issues.
EVGA nVidia GTX 750Ti: 4k@60, no issues.
i7-2600k using integrated GPU: 4k@60, no issues.
EVGA nVidia GTX 680: 4k@60, no issues.
G540 Celeron CPU (2013 CPU) using integrated GPU: 4k@30 no issues, 4k@60 a slight slowdown during high action scenes. CPU was pegged @ 100% for majority of the scenes.
If your device's processing power is not strong enough and you do not want to make upgrading, you can convert higher resolution files to lower resolution. (e.g. convert 4K to 2K resolution).
Reason 3: Your hardware or software does not support HEVC codec, especially GoPro's HEVC videos.
A certain number of GoPro users have no clue about whether the videos recorded from their action cameras are HEVC videos or not. So they may ask questions like can't open Hero 6 1080p @ 240fps files, GoPro Hero 6 - 4k 60fps Media Laggy and Glitchy, etc.
HEVC, or say H.265/X265, abbreviated form of High Efficiency Video Coding, is a video compression standard that brings better video quality at the same biterate, specifically, double the compression (save half of the file size) while keeping the same video quality. It is by far the most ideal coding for 4K and 8K large videos. Generally, HEVC video means a video with HEVC codec and MP4 file extension.
According to the official website of GoPro, the following are HEVC videos: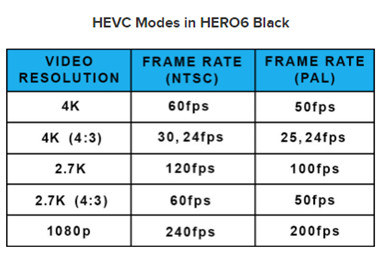 That is to say, if your GoPro Hero 6 video is 4K@60fps NTSC, @50fps PAL, 4K (4:3) @30 or 24 fps, 2.7K@120fps, 1080p@240fps, and the like, you can boldly take them as HEVC videos. (Learn: Hardware-accelerated HEVC Encoder)
Solution:
Update or upgrade your GPU to at least GeForce GTX 650 Ti, AMD A10-7800 APU or the like.
Change your player app to an HEVC-capable player.
Use DirectX Video Acceleration.
Convert GoPro HEVC to H.264 video using WinX HD Video Converter Deluxe.
Reason 4: Your PC/Mac don't have enough free space to save the large GoPro videos.
It is no exaggerate to say that all high definition videos recorded by high-end action cameras are bulky. For example, a 2:19 minute 4K 30fps will eat up 1.09G storage, and a 10 minute 1080p 30fps video is 3.453 GB large. The performance of hard disk and memory has great impact on your computer. If there is no sufficient space available, your computer will become slow or have errors when execute large-scale computing like reading or playing 4K videos.
Solution:
Archive your documents, clean up files from hard disks of your computer, and delete the useless files and junky files to save more disk space.
Buy an external hard drive that can be connected to your computer to save GoPro videos and other files.
Upload GoPro videos to cloud drive.
Reason 5: There are incompatible apps on your computer.
Some of the apps or programs on your computer may be not compatible with GoPro app.
Solution: Temporarily disable, delete or uninstall the incompatible app such as the pre-installed Sony Vaio.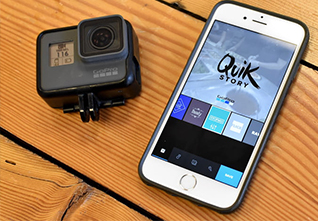 Reason 6: Your CPU's operation ability does not catch up.
Solution: Now that most video player, converter and editing apps support GPU acceleration, CPU power is less important than it was in the past. It is not necessary to upgrade your CPU to a higher end one since GPU can offload your CPU burden.