Best Windows 11 Video Editors for Video Editing
Microsoft purchased Clipchamp in 2022 to replace Windows Movie Maker for video editing on Windows 11. Also, classical Photos app on Windows 10 can also be used as a video editor for Windows 11. So, Windows 11 users now have two native options for quick video editing.
Both of the two are ideal choices for entry-level and newbie video editors. If you are a videographer, YouTuber, Vlog uploader, or movie enthusiast in need of an advanced program, you can also find an example here. The Windows 11 video editors hand-picked from us are varied from paid and free (open source), online and desktop, entry-level and professional-level ones. Each type we will take an example to show details.
Part 1. Native Windows 11 Video Editor Reviews
1. Clipchamp
Microsoft has phased out Windows Movie Maker and replaced it with Clipchamp. Microsoft acquired it in 2021 and recommended it as the new official Windows 11 video editor for easy and quick video editing. Microsoft says Clipchamp is an "inbox" app, which means it is pre-installed and you can directly use it after your PC updating to Windows 11.
Clipchamp have championed online video creation since 2014 and now been acquired by Microsoft with a desktop software to continue to enhance a user-friendly and fast video editing experience. Its functions are included in 3 main sections that you can see easily on the main UI, where basic editing tools like trim, split, crop, and templates and stock images/videos are listed. No editing experience required, the on-screen instruction will tell you what you can do and what you should do.
Just import your videos, and then Clipchamp will do the rest job for you. You can drag and drop a video to it from computer, or select videos from a cloud service, such as Dropbox, Google Drive, or OneDrive. Also, scanning your phone to add a video is available.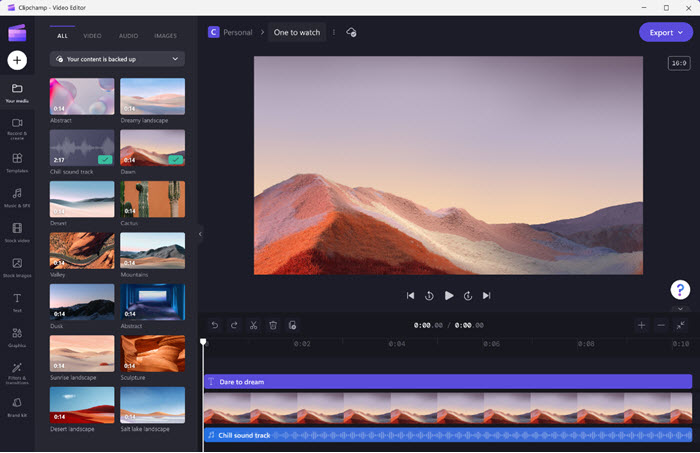 Main features:
1. Trim, cut, crop, split videos: If you need some rough editing to your video, these basic features built in this Windows 11 video editor will help you to that end. It lets you cut a video into several parts, so that you can choose or remove specific part in a video. The freehand crop function allows you to freely crop certain areas by adjusting the corners inside the video preview area.
2. Flip & rotate videos: No matter your video is in landscape mode or portrait mode, you can rotate it to the direction you need. If you need mirror video, you can also flip your video with it. BTW, change the opacity here of your video if needed.
3. Add filters & effects: To change colors of your videos, Clipchamp's filters will help. You can choose black, yellow, or blue color, and Radial, Vertical, Glass, Cartoon, or Glitch effect to your video. Also, adjusting the video exposure, saturation, temperature and contrast is easy.
4. Change video speed: You can slow down or speed up the video easily. Slow down a video by 0.1x to 0.5x speed, or speed up a video by 2x to 16x speed.
5. Change aspect ratio: It is a necessary function for video uploaders who need to upload videos to YouTube, TikTok, Instagram, Facebook, etc. Simply choose the desired aspect ratio for your video from preset options including 16:9, 9:16, 1:1, 4:5, 2:3, and 21:9, and you can get a video based on the type of a device or screen.
6. Picture in picture: You need picture-in-picture mode when you want to put a video on a playing video. This feature is especially good for tutorial videos and game streaming videos.
7. Loop a video: You can loop a video clip by creating a same copy or copies. Just hit the Duplicate button as many times as you need to loop the video and highlight the moment.
8. Use Templates: Clipchamp has prepared many templates for you to make use of. If you have no good ideas about your video, these ready-made creative templates would inspire you, save your time and help you quickly create an amazing video. They are tailor-made with different styles and themes to perfectly match with YouTube, Instagram, TikTok, Facebook, etc.
From ads to tutorial video templates, all within this Windows 11 video editing software make it possible and very easy to create social video ads, slideshows, presentations, wedding documentaries, etc.
9. Add background music & sound effects: There are royalty-free music songs for you to add to your videos, and you can also import your owns. By the way, audio track is needed if there is a dialogue or presentation. Now that videos can have different forms and styles, you can also add effects to your audio to make it different and special.
10. Add stock videos & images: The stock videos and images help your videos look more natural and smooth. You don't need to make transitions by yourself, just use the one Clipchamp prepares for you to insert to two video clips. Also, you can use the stock videos and images all the time to create a new video without importing your own videos.
11. Add text/fonts: It is easy to add titles, texts, subtitles to your videos by clicking on the Text option. From the top toolbar, you can modify the font text, color, filter, and other attributes. Also, you can move and resize the text box to shrink or enlarge the text.
12. Record camera & screen: You can use this feature to record your camera and screen when you are showing presentations or streaming video games. Then, save the video and polish the video with Clipchamp video editor on Windows 11. But, you can't record a video over 30 minutes.
13. Preview and export your video: There is a full screen preview option for you to preview your video in full display before exporting. When everything is done, it's time to save the edited video. Just click the Export button in the upper right corner and choose the resolution you need. Then, Clipchamp will start generate the video.
In conclusion, Climchamp can satisfy all your basic editing requirements and also some advanced needs as a bespoke video editor for Windows 11. The templates and stocks extend the possibility to create unique videos as many as possible. However, the free plan will give you a watermark and only allow you to export as 1080p. Only premium accounts can edit videos without watermarks and access more advanced features.
2. Photos App
The native Windows 11 Photos app has an embedded video editor for users to edit videos on Windows 11 with a set of video creation and editing tools. It is also a successor to Windows Movie Maker that you can edit your videos with music, texts, motions and 3D effects.
Besides importing videos, you can also add several photos to create photo slideshows videos, which is really useful for creating wedding, birthday or graduation slideshows.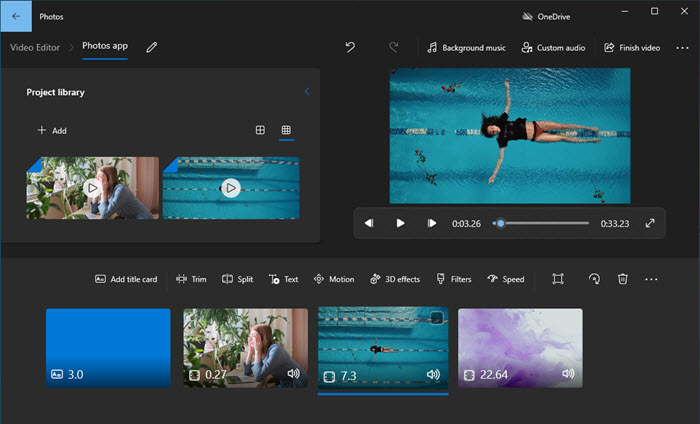 Main features:
1. Trim, cut, split the video: You decide the length of your video from start to end, and also split your video into parts as many you wish. However, you can't use it to crop a video in a customizable way.
2. Add text: You can add texts with different styles and layouts to your video to explain your video even better. Also, you can create a title card from the Storyboard if you'd like to add text to a plain colored background.
3. Add effects: All the functions are shown on screen that you can easily grasp the video editor in a few minutes. To make your video more attracting, you can add filters, motion, change colors, or change speed for your video.
Filters: It gives your video different color options and unique atmosphere.
Motion: You can have more visual effects to your video like Zoom in center, Zoom out center, Pan left, Pan right, etc.
3D effects: It makes your video a 3D-like video.
Speed: Here, you can set your video playback speed from 0.02x (slow) to 64x (fast).
Remove or show black bars: It will automatically add a black bar if needed, and also remove the unwanted black bars.
Rotate: With this function, you can change the orientation of your video, from landscape to portrait, or vice versa.
4. Add background music and customize the audio track: There are some ready-made music tracks for you to choose from. The music will automatically adjust to the length of your video, and also you can sync your video to the music's beat. Of course, if you have your own audio tracks, you can import it.
This Windows 11 video editor is very suitable for entry-level users who only need rough editing. Several easy steps can create a new video to publish on YouTube, TikTok, Facebook, etc. Though it only have 4 aspect ratio options including 16:9, 9:16, 3:4, and 4:3, they are enough for your video uploading to mainstream video streaming platforms. Born to be a Photos viewing app, you are more suggested to use to view pictures and photos on Windows 11 like JPG, PNG, AVIF, etc. images.
Part 2. Top 4 Third-party Video Editors for Windows 11
The 2 native video editing software for Windows 11 is good go-to choices. But if you need more options, here we will show you 5 examples from 5 types of video editor which are easy to handle that newbies and professional video editor will like to use to edit videos on Windows 11.
No.1: VideoPro Vlogger
Type: Free & entry-level
Suitable for: Newbies, beginners, the inexperienced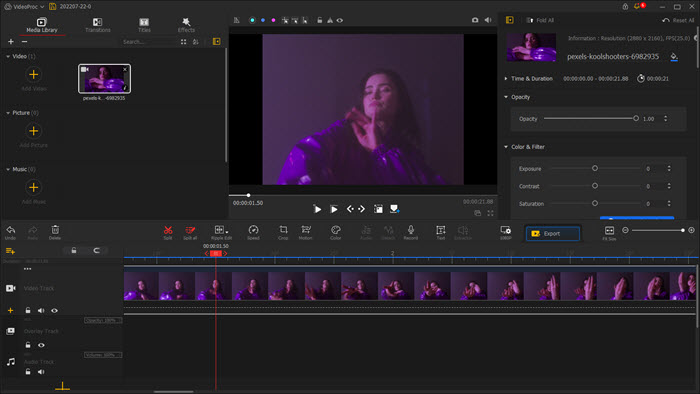 VideoProc Vlogger is a totally-free video editor for Windows 11 that never pops up ads to ask you to pay for advanced features. For entry-level and inexperienced video creators, it offers almost all basic skills related to video editing. Besides the cut, split, crop, and add audio tracks for rough editing, it also has some advanced functions for fine and creative editing, such as add filters, effects, motion effects, change colors, edit audio tracks, add text and subtitles, etc. to help you make your video a masterpiece. Also, creating a slideshow video is supported by VideoProc Vlogger.
Main features:
Rough editing available: trim, cut, split, crop, rotate, and flip.
20+ speed presets to control the video speed like a pro.
Add effects: 28+ Motion effects, diverse filters, different transitions and colors.
Add background music and audio track, equalize audio, add effects, and adjust the volume.
Add text, titles, subtitles, captions, etc.
Support Chroma Key (Green Screen), add watermarks, add/remove black bars, picture in picture mode.
No.2: Shotcut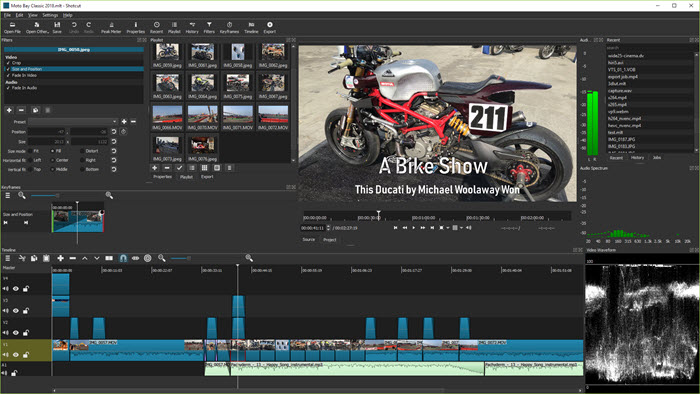 Shotcut is a free, open-source and cross-platform video editor that you can use on Windows 11, Windows 10, macOS, Linux and FreeBSD. It comes to be an intuitive app with minimal interface complexity that even newbies can complete a video creation by just follow the on-screen indications. Basic features like importing video (webcam and 4K video), keyframing on a timeline, cutting and splicing, and adding transitions, titles, and effects can be accessed with clicks of a mouse.
Main features:
Wide format support: Supports latest and popular video, audio and images formats.
Rough editing available: trim, cut, split, crop, rotate, and flip.
Add audio, add audio filters, add audio effects and adjust volume.
Add effects: Color correction and grading, fade in/out audio and video, add filters.
Adjust video speed.
Support picture in picture mode.
AMD, Intel, and NVIDIA hardware acceleration support.
No.3: Adobe Premiere Pro
Type: Professional-level
Suitable for: Experienced video editors, movie enthusiasts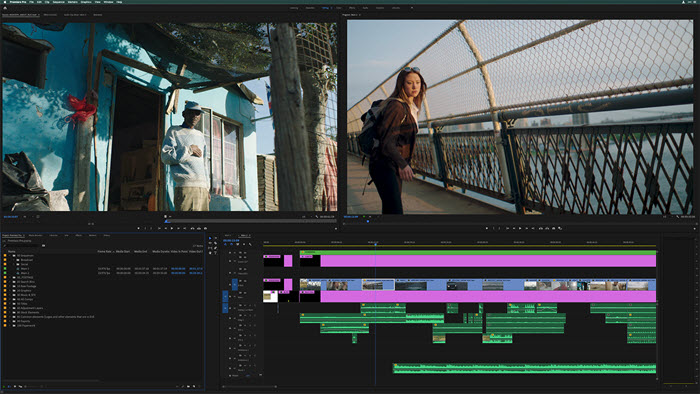 Being an industry standard, Adobe Premiere Pro is mainly for professional-level video editing that film, movie and promotion video makers favor most. With many built-in presets including fonts, connection with Photoshop, video effects, audio effects, green-screen, etc., you can edit footages in any format no matter they are from professional camera or your daily used phone, or in 1080p or up to 4K/8K. This professional Windows 11 video editor gets update frequently which helps extend your imagination to the most with trouble, as well as makes your video viewers wow. As an expert, you should always choose it when you need professional editing.
Main features:
Import multiple media files: 4K, MP4, MOV, AVI, H.264, HEVC (with Windows 11 HEVC video codec pre-installed), etc.
Basic editing features: trim, cut, split, crop, rotate, and flip.
Add audio and background music, add effects and adjust the volume.
Speed to text: It will automatically translate the audio into text so that the deaf or non-native speakers can understand.
Auto-frame: After your video creation is completed, it can automatically turn your video into 16:9, 9:16, 1:1, 3:4, 4:3, etc. to match with different social platforms.
Adobe Stock: You can get various ready-made music tracks, animated templates, video footages and more to spruce up your video.
Color Auto-Match: Color correction and color grading.
No.4: Adobe Express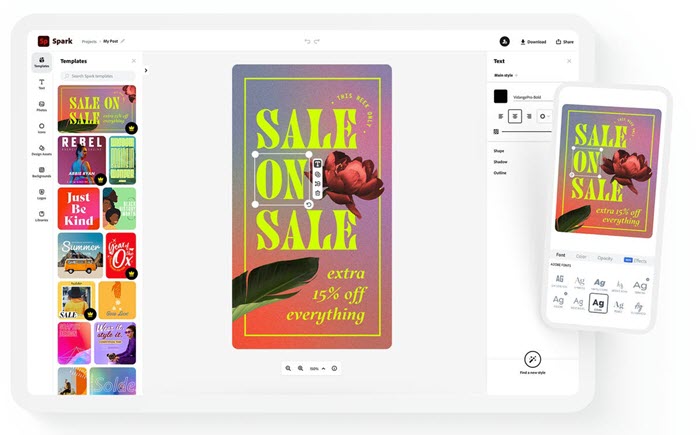 We know professional video editor Adobe Premiere Pro, but few of us know how to use it. So, here comes the entry-level video editing product from Adobe – Adobe Express. Adobe Express is a free online video editor for Windows 11 without the need of download that can be grasped easily. This web-based service has provided a collection of stock photos, templates and background music for you easily make a video. Or DIY your ideas with your texts, animations, videos, images and change their sequences at will. You don't need to be a video production expert to make stunning unique videos for uploading to YouTube, TikTok, Facebook, Instagram, etc.
Main features:
Basic editing features: trim, cut, split, crop, rotate, and flip.
Full of video and image stocks, and templates that you can make use of to create advertisements, YouTube banners, bussines cards, YouTube Thumnails, etc.
Resize video, and turn 4K to 1080p.
Change video speed: slow down or speed up.
Add background music, audio tracks, dialogue sound, and edit audio by adding effects or adjusting volume.
Remove background, and use a new background.
Convert video formats: MOV to MP4, GIF to MP4, MP4 to GIF, etc.
In conclusion
We just give you some examples as there are over 100 video editing software and many of them can be used on Windows 11. They can be classifies as 5 main types, say free third-party one, open-source one, entry-level one, professional one, and online one. You can follow the this guide to get what type you really need if the native Windows 11 video editors Clipchamp and Photos app can't let you finish the video editing task.