What Are the Best Virtual Reality Video Formats You'll Find and Choose?
General VR Video Formats/File Size
Updated: New algorithm could make VR become more realistic in 2020.
This page is going to tell you what the commonly seen virtual reality video formats and file sizes are in the first place.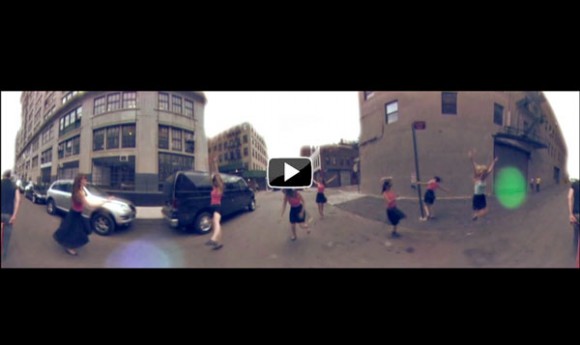 Virtual reality (VR) video can be created and formed from the very beginning the video was captured or recorded by a 360 degree video camera, which is called live action. It may also be a computer generated (CG) content that can be made easily by using a VR immersive video enabled app. The virtual reality video formats vary with the devices and software for producing the immersive videos.
To your surprise probably, all VR videos are in traditional formats, instead of specifically developed virtual reality video formats. That is because the VR video files can be considered as common videos, which are just processed by new technological means.
The most VR video formats we are seeing now are in .mp4 file extension, encoded with MPEG4 (as standard resolution) or H.264 (as higher definition). As well, some panoramic Videos are MOV, F4V and the like. And the new VVC format also supports 360 videos in high resolutions.
Best VR video formats on YouTube/Facebook:
The built-in formats of 360 degree videos on YouTube are mostly MP4 and Webm; and those on Facebook are MP4 videos in MP4 codecs.
The file size of a VR video is not supposed to be larger than that of a non-VR video (common SD/HD/4K video). And unlike 4K UHD, downloading a VR video won't increase the burden on your computer, USB or HDD.
Best Soft to Convert VR Videos - WinX HD Video Converter Deluxe
Convert VR video formats to iPhone, iTunes, Android, AVI, MOV, etc;
Compress immersive videos for uploading to YouTube, Facebook, etc.
It can save (and convert, natch) videos from the likes of YouTube, and output presets for every portable device from Android to Windows Phone. - Rick (CNET Editor)
Convert Virtual Reality Video Formats with WinX HD Video Converter
Noticeably, there lie different concepts when talking about converting VR videos: converting non-VR to VR formats such that the ordinary videos can let you have the 360°, super three-dimensional and immersive experience; changing a VR video from one format/resolution to another, for example, to the formats supported by VR video players.
For the first concept, since Virtual Reality is not an abstract and abstruse technology indeed, there already have many tools and apps to convert general videos to VR ones. It can be realized not as difficult as you think.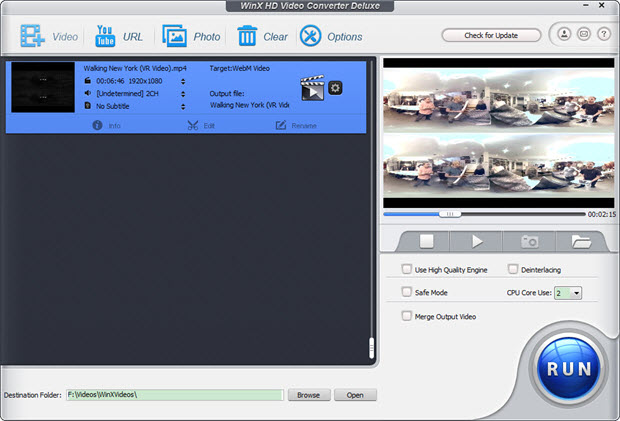 While for the second, WinX HD Video Converter Deluxe can surely do the help.
If you fail to upload your ready-made 360 degree videos to Facebook or YouTube, there are several factors to consider, including aspect Ratio, resolution, duration and video format. Please refer to the best video formats for uploading to YouTube and Facebook, adjust the aspect ratio/resolution, and convert the video formats by downloading WinX HD Video Converter Deluxe right above.
WinX HD Video Converter Deluxe can also help you free download 360 degree videos online. After downloading, such videos can be viewed by a VR viewer or player. If not, that is mostly because of the incompatibility with the video player. In another words, the VR video you are playing is not in the format accepted by the player. In such cases, you have to convert the VR video format to another.
Yes, different VR video players might have different supports for video formats, resolutions, aspect ratio, etc. Taking UtoVR Player as an example, it just suppots MP4, H.264, MOV and F4V ordinary and 3D panoramic local/live videos in 2K (2,048xunspecified) and 4K (2160p).
Therefore, if your VR videos are not in the formats supported by your VR players, you have to convert the VR video formats in the following way.
Step 1. Download the VR video converter.
Download WinX HD Video Converter on your PC (Windows 7 and Windows 10 included) or Mac (macOS High Sierra included). Complete the installation and launch it.
Step 2. Add a 360 degree virtual reality video file.
The VR video converter is capable of free downloading any VR immersive video online from YouTube, Facebook and so on (clicking the "YouTube URL" button).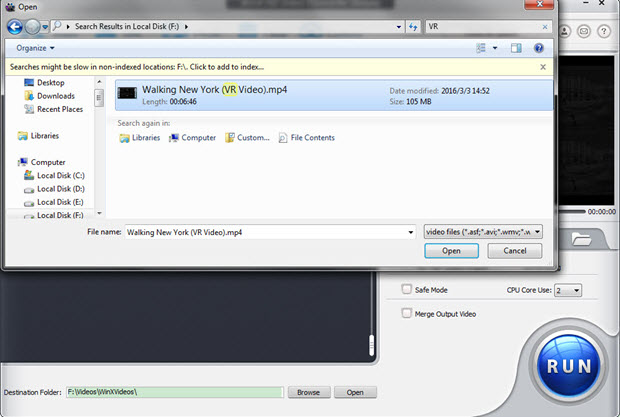 If you have some VR videos on your hard drive already, just click "+ Video" button, browse in your computer, select the video and hit "Open".
Step 3. Choose an output format.
Based on the support range of your VR player, choose an output video format. This VR video format converter embraces almost all video formats and has 420+ built-in profiles for Apple, Android, Microsoft and Sony devices. You are enabled to adjust the bitrate and resolution parameters for different needs.
Step 4. Start converting.
You can define the Destination Folder for saving the output file and set everything (e.g., hardware encoder, CPU core use, merge videos). Afterwards, you are good to go by tapping "RUN" button. The converted VR video can be in the best format and played by your VR video player or device after a time.
* If you still have question on using the software, please head to WinX HD Video Converter Deluxe User Guide >>
* If you still have questions about converting/compressing a VR or other video, just feel free to Mail Us >>