Instagram Down Fixed - Instagram Video Not Playing/Working on Android iPhone iPad PC
Part 1: [Solutions] Steps to Fix "Instagram Not Working"/"Instagram Video Won't Play"
All the solutions are divided into 3 parts, from basic check to targeted approach to where to ask for further efficient help. First, let's start with ordinary basic steps:
Basic Check
If Instagram crashes, restart the app. For Instagram video not opening/loading error, restart your phone or tablet or computer.
Make sure your internet connection works fine. Try to browse a website, or open another app, or try Instagram with cellular data instead of WiFi.
If there is no problem in the above two steps, then delete the app and reinstall it. Remember to download the latest version.
Still not working? Then check your settings to see if there is Operating System update alert. If yes, upgrade it right now.
The last way, sometimes working for all apps or phone errors, is to reset all your phone settings.
Part 2: Possible reasons for "Instagram videos won't play" on Android/iOS/PC
The Internet connection is bad.
The video is too large to load properly or it has been deleted for some reasons.
Your Instagram app needs an update.
The power saving mode is enabled.

"Instagram is having serious video playing issue on my Samsung Galaxy with the Nougat update. It just has a spinning circle and the video never loads or when does pauses and loads constantly or never finishes playing on mobile data and even when switching to the super fast house WiFi. How to fix video not playing on Instagram?"
Instagram not playing issue could occur on Android like Samsung Galaxy, iPhone, iPad, computer Chrome and Firefox. This is already a common theme online.
How to Fix "Instagram Video Not Playing" on Android iPhone iPad PC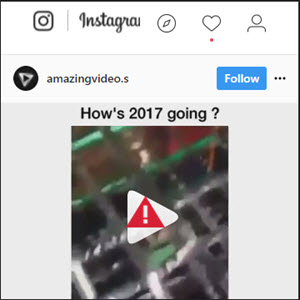 1. First of all, try some basic solutions we mentioned before, like restart Instagram app, or uninstall and reinstall it. According to some users, you have to reinstall Instagram from PC sometimes to make it work.
2. Turn off power saving mode on your Android/iOS phone. This is because power saving mode only really allows essential apps (excluding other apps like Instagram) to work fully. This method helps quite a lot to fix Instagram video playback issue.
• On Android 6.0 Marshmallow, go to Settings -> Battery -> Battery Saver - toggle the battery saver button to off. Or follow the next steps to fix "Instagram video won't play" on Android Nougat/Marshmallow: Go to the "Battery" -> open "Option" and you will see three items: Off, MID and MAX -> click on "Mid" -> customize -> enable "Background network usage" -> then restart your Instagram app and the Instagram videos should play on Android correctly.
• In regard of Android 7.0, we should check High Performance following this directory: Settings -> Device Maintenance -> -Battery -> Performance Mode -> choose High performance.
• On iPhone, go to Settings app, tap Battery, and then turn Low Power Mode off.
3. Clear caches:
• For Android users, go to "Settings" -> Apps -> click "Instagram" -> choose "Storage" -> Clear Cache and date. You might need to restart your Android phone, open the app, log in maybe, and the Instagram video should play now. BTW, this is also a fix for Instagram not posting issue if cache is the culprit.
• To clear the cache of Instagram app on your iPhone, you can just uninstall and reinstall that app.
• If you can't play Instagram videos through PC browser like Chrome and Firefox, simply clear cache of the browser and then open Instagram site to try again.
4. Troubleshoot router:
• Turn your router off. Wait for a while. Then turn it on and see if Instagram videos can play well.
• Check if it connects with other devices well.
• Check cables.
• Don't place it near heat sources.
• Restore router to factory settings.
• Try another router.
5. Reset Network settings of iPhone/Android to solve Instagram won't play error
• For Android users, tap Settings -> Backup & Reset -> Network Settings Reset -> RESET SETTINGS. Then reboot your Android, reconnect to network, and then try playing Instagram.
• For iPhone users, press Settings -> General -> Reset -> Reset Network Settings. Type in your passcode when required. Tap Reset Network Settings to confirm the action. After the restart, connect again and try out Instagram.
Part 3: [Solutions] Targeted Approach on Instagram Login Error

"I cannot log in to my account. My picture on the app icon won't load. I can't open, update or even delete the app. What is going on? I keep getting 'Sorry, there was a problem with your request' error message. (I'm using iPhone 7)"
At present, there are two versions of why so many people have Instagram login problem. One is that it is simply a bug that hasn't been solved. Or it is a way to force you guys to connect your account with Facebook to gain credential. But in a word, it has nothing to do with the ban of IP address. Going forward, there are ways around the Instagram login not working error, provided by some forum users, which however might not work for all.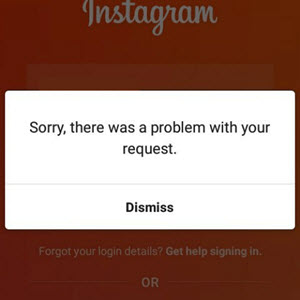 1. Link your Instagram account to Facebook on iPhone/Android to have a try. | Facebook help
2. Deactivate and then reactivate your account: Browse instagram.com website -> log in -> click the gear icon in the top right to go into settings -> deactivate your account -> leave it alone and go get a rest for at least 3 hours -> open your Instagram app -> log in and activate your account -> don't log out unless you've connected your Instagram account with Facebook.
3. Change password with email to see if it works.
Part 4: Other "Instagram Not Working" Errors to Be Fixed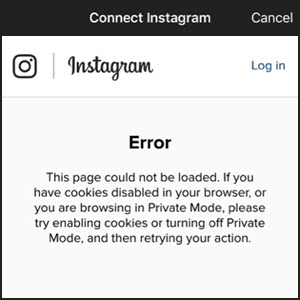 1. Instagram news feed error
"Again today, IG pictures will not show on newsfeed. There is text and symbols but not pics. Will they ever fix this?? I'm running Win 10 and using Chrome browser right now."
2. Instagram website won't load
"My instagram website isn't working. It doesn't show my photos on my instagram profile. But I still get notifications of likes and comments and I can click on the notification and see the pic. Any suggestions? Please fix my Instagram."
Where to Report Instagram Not Working/Playing Problem?
If none of the methods work for you or you have other new errors, here is a place to report the bug: http://downdetector.com/status/instagram and get further help. Or you can report the issue on Instagram directly. Do remember to note down as many details of the problem as possible. | Report Instagram error >>