Posted by Donna Peng - December 7, 2022 Contact Author

[Solved] HDTV Displays No Signal When Connecting It to DVD Player

To play DVDs without a DVD player, click: The solution most recommended by us [85%]
The Tom's Guide forum is flooded with DVD player and HDTV connection problems. "Connecting a Samsung DVD player to a Samsung HDTV via cables results in a No Signal message." "HDMI on the LG TV is connected to HDMI on the Toshiba DVD player, but it says No Signal Error." The issue can be caused by a wrong HDMI input, a DVD player breakdown, a faulty cable, etc. If you are experiencing such an issue, follow our instructions below to make things right.
Troubleshooting Tips
1. If your HDTV or 4K TV has multiple inputs, make sure you select the correct input for your DVD player, such as Video, HDMI 1, HDMI 2, HDMI 3, Component, and so on. Change the INPUT or source the HDTV is set to by pressing the INPUT button on the TV or its original remote. When you try different inputs, let the DVD player play a disc and output a constant signal.
2. If your TV has the correct INPUT or Source, unplug the cable and plug it back, or try another cable or port. Sometimes cables can short-out. Be sure they are connected securely.
3. Check for any loose connections or corrupted wires. If necessary, change the connection wire and enable the HDMI connection setting.
4. Test if your DVD player works on other TVs. It is possible that your DVD player has failed, resulting in No Signal on your HDTV.
5. Try connecting your DVD player to another HDTV if your DVD player works correctly.
6. Check if your DVD player is compatible with your HDTV.
The Ultimate Fix to HDTV No Signal When Connecting a DVD Player
If connecting DVD player to HDTV or 4K TV still results in No Signal error message, try digitizing your DVDs and play them requiring no DVD players. To do this, you need a DVD ripper program. In this way, you are able to play DVDs more conveniently and get around various DVDs not playing on TV issues like no sound, poor quality, wrong region, the DVD player not reading discs, to name a few.
WinX DVD Ripper Platinum - Digitize DVDs to Play Them without A DVD Player
Convert DVDs to MP4, MOV, WMV, etc. for playback on HDTVs, laptops, or other mobile devices.
Copy DVDs to NAS, Plex, Roku, USB, Chromecast for streaming to 4K TVs/HDTVs.
Support all kinds of DVDs, including scratched DVDs, 99-title DVDs, region locked DVDs, and more.
Output nearly original quality and give No.1 fast processing speed.

Download WinX DVD Ripper for Windows

to digitize your DVDs for playing on 4K TV/HDTV

Download WinX DVD Ripper for Mac

to digitize your DVDs for playing on 4K TV/HDTV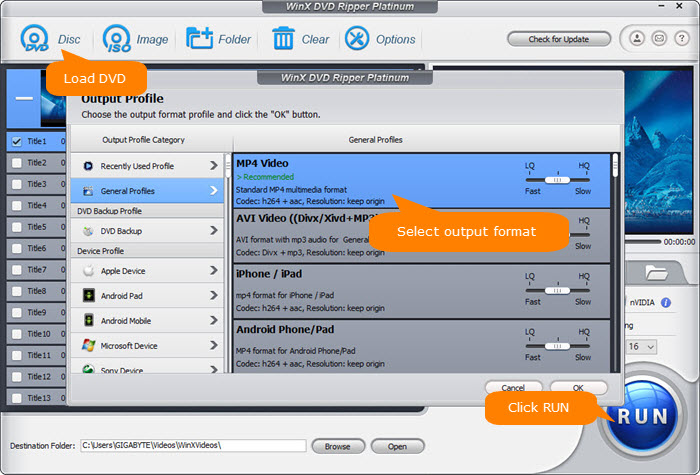 Disclaimer: Digiarty Software does not advocate ripping DVDs for any illegal purpose. You're suggested to refer to the DVD copyright laws in your country before doing so.