Posted by Donna Peng - Contact Author

Fix Audio Skipping/Distorted Problem When Playing a DVD

If you have tried the fixes but still no luck, click here: The solution most recommended by us [85%]
Troubleshooting Steps for Skipping/Distorted Audio Coming from DVD Player
When I insert a DVD into the tray of my Sony DVD player, the video plays normally, but the audio skips.
If the sound skips or is distorted when you play a DVD with a Sony or other brand DVD player, the problem might be with the disc or the DVD player. The DVD disc or the player might be dirty. Next, we'll show you how to clean the disc or player to fix DVD playback with audio skipping or distortion problem.

How to Fix DVD Playback Problem: Audio Skips or Audio Is Distorted
Below are the troubleshooting steps to fix DVD audio skipping or distortion issue. (If DVD player makes loud noise, click here>> )
Step 1. Check the DVD.
Take the DVD out of your player, and then see if there're fingerprints, smudges, dust, or others on the surface of the disc. If there are, just clean it using a soft, dry cloth. And, you should handle the disc by its edge and clean it from the center toward the edge. Once done, re-insert it into the player and see if audio skipping/distortion issue is solved or not.
Step 2. Check the DVD player.
If the sound problem happens on the DVD in question and also other DVDs, the problem is with the DVD player. Before we clean the player, you may be able to fix the issue by doing the following two things.
1). Move your DVD player away from any electrical device or any object having a magnetic field.
2). Cut off the power source of the player for around half a minute and then reconnect it.
If the sound keeps skipping or distortion, you need to clean the DVD player laser lens using lens cleaner or bring the player in to have the lens professionally cleaned. Alternatively, you can digitize the DVD and play it without using DVD player.
Audio skips or is distorted because of defective DVD player? You can rip DVD to digital and then play the video without DVD player.Easy & fast
To make a digital duplicate of a DVD, you can use WinX DVD Ripper Platinum
It can rip DVD (incl. old scratched disc) to MP4, AVI, WMV, MOV, MPEG, ISO, VIDEO_TS, etc.
It can rip DVD to iPhone, iPad, Android like Samsung Galaxy S9, Xbox, PS4, etc.
It will deliver original quality for you by using built-in High Quality Engine.
It costs a matter of minutes only to rip a DVD thanks to hardware acceleration and other techs.
It is easy for all users thanks to straightforward layout. Only 3 steps required: load DVD -> select output -> run to rip.

Download WinX DVD Ripper Platinum for Windows

to play DVD without needing DVD player

Download WinX DVD Ripper for Mac

to play DVD without needing DVD player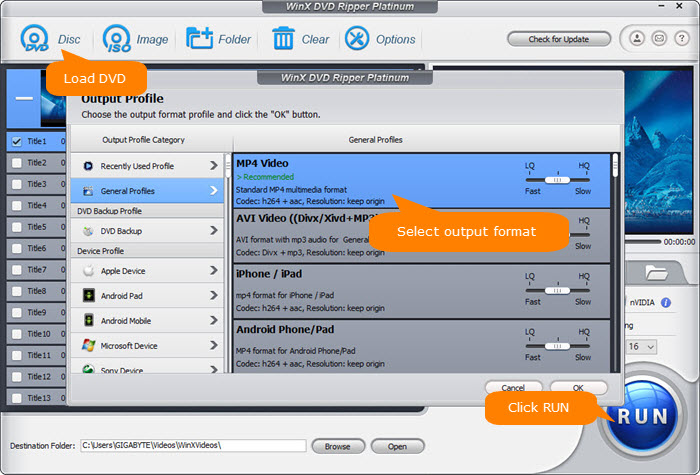 Disclaimer: Digiarty Software does not advocate ripping commercial DVDs for any illegal purpose. You're suggested to refer to the DVD copyright laws in your country before doing so.