Posted by Donna Peng - Contact Author

What to Do When INSERT DISC Appears on the DVD Player Display

If INSERT DISC appears after trying many ways, click: The solution most recommended by us [85%]
Fix DVD Player Says INSERT DISC When There's Already One Disc
I just put a DVD into my Sony DVD player, but the message INSERT DISC still appears on the display on the DVD player. Why? How can I make my DVD player load and read the inserted disc?
Sometimes INSERT DISC message still appears on the display on the DVD player even if we've already inserted one, or shows NO DISC or DISC ERROR on the display. Why? The problem might be related to the disc. In the following part, we will guide you to check the disc and fix INSERT DISC issue when your DVD player wont read discs.
What to Do if INSERT DISC Appears When There's Already a Disc?
Firstly, you should check if the disc is inserted correctly or not. The correct way is to make the playback side face down on the disc tray.
Secondly, check if the disc is dirty. If it is, you should clean it and try again. The cleaning steps have been elaborated in the article about how to fix DVD won't play on TV.
Thirdly, check if the disc is compatible with your DVD player. You can look at the specifications or supplied operations guide of your DVD player to check the disc compatibility.
If the disc is clean, compatible, and placed correctly but still cannot be read by the DVD player, you can take out the disc and leave the DVD player on for half an hour to resolve the possibility of moisture condensation inside the player.
If INSERT DISC message is still there after you have done all above things, you may need to check if the DVD player is broken and needs repair. Alternatively, you can convert DVD to digital file to play the video on the DVD without using DVD player or DVD drive. This way, you will never be bothered by DVD player's INSERT DISC, NO DISC or other error messages or computer's 'Please insert a disc into drive xxx'.
It is compatible with all your video DVDs, such as movie DVD, TV show DVD, workout DVD and more.
It can rip DVD to common formats (MP4, AVI, WMV, etc.) or ISO/VIDEO_TS to keep all DVD data.
Very easy to use: load DVD -> choose output format -> begin ripping. Original quality will be kept.
Work very fast by making use of hardware acceleration, multi-core CPU and Hyper-threading.

Download WinX DVD Ripper for Windows

to play DVD without experiencing various DVD player errors

Download WinX DVD Ripper for Mac

to play DVD without experiencing various DVD player errors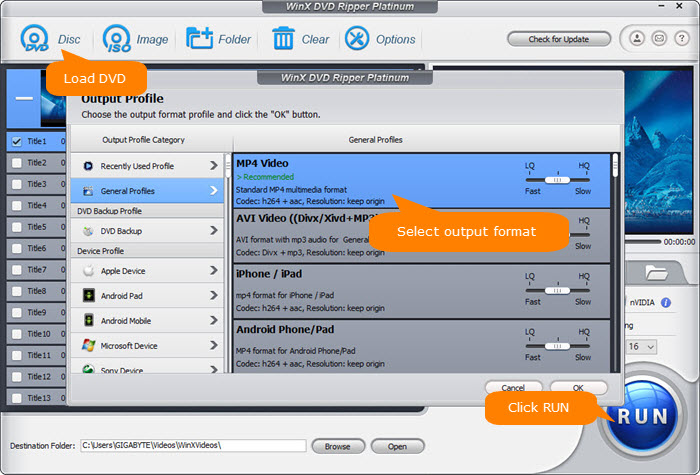 Disclaimer: Digiarty Software does not advocate ripping commercial DVDs for any illegal purpose. You're suggested to refer to the DVD copyright laws in your country before doing so.