Posted by Donna Peng - Contact Author

How to Fix Sony DVD Player Error 'Cannot Play (This) Disc'

If you are searching for an easy solution, click here:The solution most recommended by us [85%]
Troubleshoot 'Cannot Play (This) Disc' Error on Sony DVD Player
Sony DVD player is one of the most popular players in the market. But just like other DVD players, it also gives disc error messages such as 'cannot play this disc'/'cannot play disc' for specific DVD discs or all discs you insert.
My Sony DVD player says 'cannot play this disc' when I put a DVD in. I have tried different discs yet the problem persists.
If you're experiencing the same issue with Sony DVD player, don't be in a hurry to go shopping for a new player. You might be able to repair this error at home by following the troubleshooting tips below.

How to Fix Sony DVD Player 'Cannot Play (This) Disc'
Step 1. Reset your Sony DVD player. Unplug it from the power source for 10 minutes or longer, and then plug it back in. It may solve the problem.
Step 2. Check if 'cannot play (this) disc' message appears for specific disc or every inserted disc.
If the error happens with a specific one, the disc itself is the problem. It may be dirty, scratched, or not compatible with the player. Try cleaning it if you see fingerprints, smudges or dust on the disc.
If Sony DVD player gives you that message on all discs, it is a lens problem. Then, you need to try cleaning the laser lens inside the Sony DVD player with a cleaning disc. Or you can open the unit and wipe the glass laser head gently with an alcohol-infused eyeglass cleaner wipe. If cleaning fails to solve this error, the laser might be already broken and you're suggested to buy a new player instead of replacing the laser.
Check the complete solutions to fix DVD player not reading disc >>.
The best workaround to fix Sony DVD player 'cannot play (this) disc' error:Rip DVD and then you can play DVD content without troubling disc or player. Easy & fast
To rip DVD, first of all you need to download a DVD ripper. HandBrake is a choice if your DVDs are not copy-protected. But if you have some store-bought DVDs, you need to use a more powerful tool, such as WinX DVD Ripper Platinum.
Rip both burned and commercial DVDs, including those damaged or encrypted discs.
Convert DVD to ISO file, VIDEO_TS, MP4, AVI, WMV, MP3, and more formats.
Also prepare hundreds of device profiles, incl. iPhone, iPad, Android, Xbox, PS4, etc.
Keep original DVD quality and finish DVD ripping in a matter of minutes.

Download WinX DVD Ripper for Windows

to play DVD without experiencing various DVD player errors

Download WinX DVD Ripper for Mac

to play DVD without experiencing various DVD player errors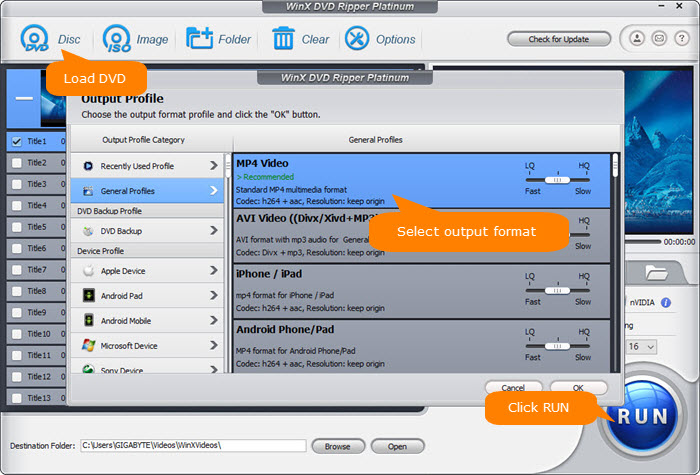 Disclaimer: Digiarty Software does not advocate ripping commercial DVDs for any illegal purpose. You're suggested to refer to the DVD copyright laws in your country before doing so.