How to Hook up a DVD Player to Hisense/Sharp/Hitachi/TCL Roku TV
Watching movies on DVD is one of our home entertainment ways. We can play DVD either on computer or TV. This article will show you how to connect a DVD player to a Roku Smart TV of Hisense, Sharp, Hitachi, TCL, Philips, Sanyo, RCA, JVC, Magnavox, Westinghouse, Element, Insignia and Onn brands.

Also read:
Even Without DVD Player Connected, You Can also Play DVD on Roku TV
Actually you can digitize DVD for later streaming to TV, or save DVD to USB flash drive and connect USB to TV for playback. WinX DVD Ripper does a good job in ripping DVD to digital file.
It can rip your movie or TV series DVD to MP4, MOV, and more formats for TV, iPhone, iPad, Android, Xbox, PS4/PS5, etc.
It rips a DVD in 5 minutes and keeps original quality.
How to Hook up DVD Play er toRoku TV?
A DVD player can be connected to Roku TV via an HDMI cable or a composite AV cable which has red, yellow, and white plugs. If your device is HDMI-compatible, you're suggested to use HDMI connection method because it can give better image and sound quality.
1. How to Connect DVD Player to Roku TV with HDMI Cable
Step 1. Unplug your Roku TV's power cord and that of your DVD player.
Step 2. Connect one end of your HDMI cable to one of the 3 HDMI jacks on the side or back of your Roku TV and the other end to the HDMI OUT jack on your DVD player.
Step 3. Plug power cords of your Roku TV and DVD player into power outlet, and turn on them.
Step 4. On the Home screen, select HDMI 1, HDMI 2, or HDMI 3 input option depending on which HDMI jack you use on Roku TV. Insert a DVD into the DVD player and then you should be able to play DVD on Roku TV if DVD player and Roku TV are successfully connected.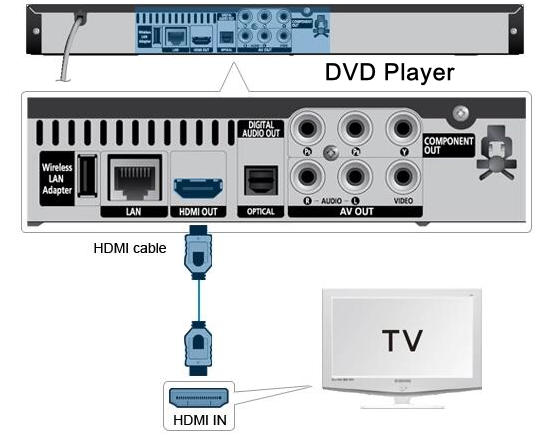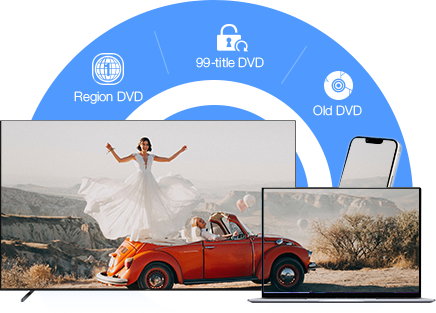 2. How to Connect DVD Player to Roku TV with AV
Step 1. Turn off your Roku TV and DVD player, and unplug their power cords.
Step 2. Connect your AV cable to the AV IN jacks (Video/L/R or yellow/white/red ports) on your Roku TV and to the AV OUT jacks on the DVD player. The yellow plug is for video, while the red and the white plugs are for audio. Make sure the yellow plug is inserted into the yellow terminal, the red plug is inserted into the red terminal, and the white is inserted into the white terminal. Otherwise, your DVD won't play as expected, such as playing sound only, no pictures.
Step 3. Hook up your DVD player and Roku TV to electrical outlets through power cords and turn on them.
Step 4. On the Home screen, select AV tile. Put a DVD into the DVD drive of your player and then watch DVD on Roku TV.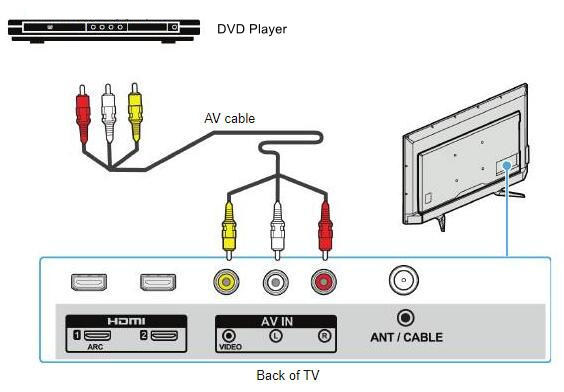 Frequently Asked Questions about Connecting DVD Player to Roku TV
1. Can I program my Roku remote to my DVD player?
No, you can't. Roku TV remote can control the TV only. You can only adjust the volume while playing a DVD. To control your DVD player, you can use the player's remote or use a universal remote that can control both Roku TV and DVD player.
2. Why my Roku TV says No Signal? How to fix this issue?
"I have a 50" HDMI 1 Hisense Roku TV hooked up by the red, white and yellow connectors to my Magnavox MDV2100 DVD player. When I use the appropriate AV setting and turn the DVD player on, the player is on, the DVD's spinning, but the TV says No Signal. Can you help me with this problem?"
Below are some advices.
Make sure your DVD player is powered and on.
Make sure you connect the cables to the right ports. Connect AV cables to AV OUT ports in your DVD player and to AUDIO IN or L/R on Roku TV. The yellow cable should be in an IN port. Some TVs have another source called COMP which is similar to AV source and the ports are also shared with each other (the only difference between AV and COMP is a component cable which has 5 heads instead of 3 to offer better quality). Insert the yellow cable into the green port that says "COMP/AV, VIDEO IN". Change the source to either AV or COMPONENT and you're good to go.
Try a different HDMI port.
Try a different cable.
Push the Reset button on your Roku TV about 10 seconds and release. You'll be required to turn on all devices first for system detect and register.
Test your DVD player on a different TV.
Connect your Roku TV to another DVD player.
3. Why does my DVD play sound only with no picture?
Be sure that your video cable, namely the yellow plug, is connected to the video input. A video cable can work for audio, but an audio cable can't work for video.
Still Can't Connect DVD Player to Roku TV Successfully?
If you have tried all possible solutions but still cannot connect DVD player to Roku TV and cannot play DVD on TV properly, you can rip DVD to USB drive for playback on Roku TV. To do this, you can use WinX DVD Ripper Platinum. Coming with the following features, it is the best DVD ripping software for Windows and Mac users.
Main Features:
Rip DVDs of movies, TV series, workouts, and others, even if they are encoded with region codes and copy protections.
Rip DVD to H.264 mp4 (compatible with Roku TV and more devices), AVI, WMV, MOV, FLV, etc.
Also available to 1:1 copy DVD to ISO image or VIDEO_TS folder.
Edit DVD: trim off unwanted video such as FBI warnings, crop video, merge titles, add subtitle, etc.
Improve speed by using GPU hardware acceleration, multi-core CPU, Hyper-threading, and Super Encode Engine.
Quick start guide:
Step 1. Insert source DVD into DVD drive. Open the DVD ripper, and then click DVD Disc button to open the inserted disc.
Step 2. On the Output Profile screen, choose an output format that is playable on Roku TV, such as MP4 Video (H.264+AAC codec).
Step 3. Connect your USB drive to your computer, hit Browse to select your USB drive as the destination folder, and then hit RUN to begin ripping DVD to USB. Once done, connect the USB drive to your Roku TV and watch the digital copy of the DVD on Roku TV.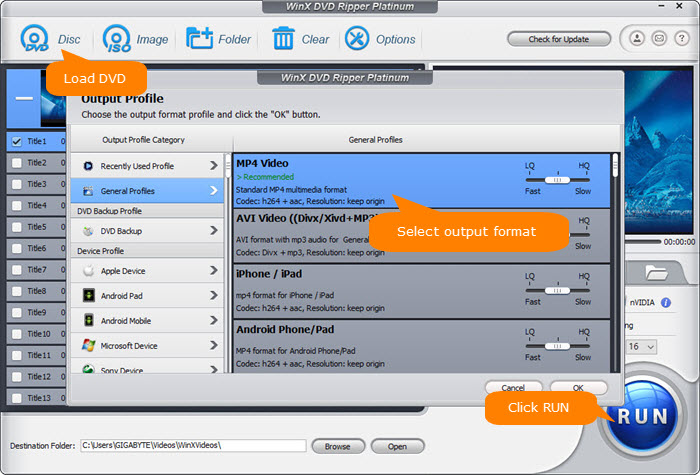 Disclaimer: Digiarty Software does not advocate ripping/copying copy-protected DVDs for any commercial purpose and suggests referring to the DVD copyright laws in your countries before doing so. And do not use WinX DVD Ripper to rip DVD rentals.