Posted by Donna Peng - Contact Author

PS4 Manual Disc Eject Not Working - You Can Fix it Now

The once-for-all solution is here: The solution most recommended by us [85%]
PS4 Manual Screw Won't Work? Below are the Most Effective Solutions for You.
Reports regarding PS4 eject button not working issues never seem to stop since its release. After users press the eject button, it just beeps 3 times and nothing happens. According to Sony's official site, if a disc won't eject from your PS4, you can manually eject it. Things will be much easier if it does work. Unfortunately, "I've tried to turn screw to eject manually but that doesn't seem to work" is more often the case.
How to fix PS4 manual disc eject not working issue and remove the disc from PS4? Try the fixes (work for both manually/automatically PS4 disc eject) below. Games aside, if you're watching DVD movies/TV shows on PS4, you're suggested to rip and convert the DVD to digital to avoid any ejecting errors once and for all. If you have other PS4 DVD problems, check here>>
Note: PS5 is coming to play game, video and movies with lightning fast loading experience thanks to the ultra-high speed SSD, adaptive triggers and 3D audio and more. But the manual disc eject option is still malfunctional sometimes just like what PS4 does. The following PS4 disc ejecting troubleshooting steps are available for you if you have the same issue with PS5.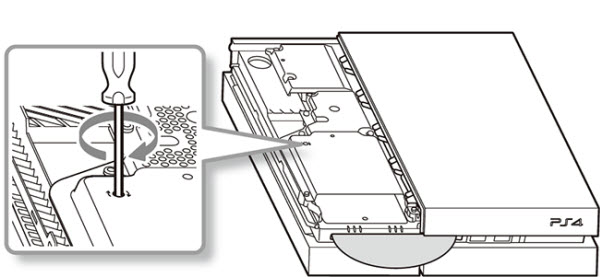 How to Fix PS4 won't Eject Disc? Once and for All Solution
Note that the fixes above can't promise the problem won't happen in the future. Imagine you have to be very careful inserting every disc into PS4, for fear that the disc will get stuck in PS4 again. Why not fix the problem once and for all? If you're watching DVD movies or TV series on PS4 models, you can convert them into digital formats to avoid PS4 won't eject disc issues. Try the powerful DVD converter - WinX DVD Ripper Platinum.
Convert DVDs of any type, multiple-titles, new releases, TV series, etc.
Easy to convert DVD to PS4 Pro/Slim, MP4, MKV, AVI, HEVC, MOV, WMV, etc.
Trouble-free experience, get rid of any DVD won't read/rip errors thanks to its Safe Mode.
No.1 fast ripping experience - Level-3 Hardware Acceleration delivers 5x faster speed than others.

Download WinX DVD Ripper Platinum for Windows

to convert DVD to PS4

Download WinX DVD Ripper for Mac

to convert DVD to PS4
Follow the step to convert DVD to PS4 digital formats and get rid of PS4 manual disc eject not working errors.
Step 1. Run WinX DVD Ripper Platinum and click the Disc button to load the DVD you'd like to play on PS4.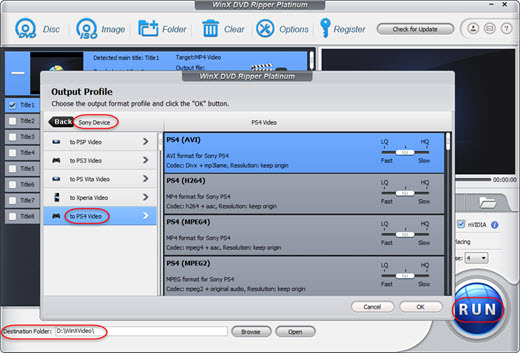 Step 2. It will automatically detect the right title and pop up a format window asking you to select the output file. You can click General Profiles > MP4 or find Sony Device under Device Profile and select PS4.
Step 3. Check the Safe Mode and Hardware Accelerator boxes on the main interface. It will speed up the process if possible and remove any ripping errors. Then click Run and start to convert DVD to PS4. After the rip, you can import the digital file to PS4 without inserting a disc.
If you encounter any problems using WinX DVD Ripper Platinum or have questions to ask, please email its tech support team.
1. This may be odd but it does help many PS4 spit out the disc. First, replace your PS4 console vertically instead of horizontally. Try again to see if PS4 will eject the disc. If not, hold the PS4 vertically and shake it.
2. Power off PS4 upon restart, then it will reseat the stuck disc to a readable position > then flip the PS4 to make the disc slot downward > press eject and smack on the back of the console simultaneously.
3. Power down the PS4 (no lights on top), unplug all of the power cord that are connected to the PS4. Press and hold the power button for about 30 seconds, reconnect the power cord back in, power up, and see if PS4 can eject the disk now.
4. When PS4 manual disc eject not working problem happens, it's likely that rollers inside the disc drive are probably really dirty or scratched up. To clean or fix, there is no good way but to disassemble the console.
5. When both automatic and manual disc eject screw won't work in PS4, the capacitive sensors located on the motherboard and controlled by a small gate IC may be the fault. The repairs on these devices require a SMT soldering skillset, and access to the Circuit Diagram of the PS4.
Go Back to the Guide to Rip DVD

Final Words:
Above methods are all the possible fixes available on the internet. If all the fixes fail to solve PS4 eject button not working issues, you may need to check if it has something to do with the DVD drive and then call the Sony technicians for help or send the console back for repair.