How to Rip a DVD with Preferred Subtitles or Forced Subtitles?
Summary: Learn how to rip DVDs to MP4 with inner/extra/forced subtitles in an easy way.
When watching ripped DVD movies, many people may encounter the following problem: We have no idea what the characters are saying when they speak their native language without subtitles. For that, is it possible to rip DVDs with subtitles they prefer?
So, this article will show you how to rip a DVD with desired internal subtitle track, with added external movie subtitles, or with translated forced subtitles on screen where a different language is being spoken.
How to Rip DVD to MP4 with Forced/Extra Subtitles
WinX DVD Ripper Platinum is what you need. It allows you to:
Rip DVDs with desired built-in subtitle track, forced subtitle or external SRT subtitle files.
Rip any DVDs with subtitles to MP4, MKV, AVI, MPEG, and 350+ other formats.
Rip DVDs protected by region codes, CSS, RCE, Sony ARccOS, Disney 99 fake titles, or any other encryptions.
Copy DVDs 1:1 to hard drive, USB in ISO image, DVD folder, MPEG2, or MKV with all subtitles, audio/video tracks, extras, etc.
Rip DVD to MP4 with subtitels in 5 minutes only with Intel QSV, nVIDIA, AMD hardware accelerated, up to 47x real-time faster.
Part 1. How to Rip DVDs with Desired Inner Subtitle
A commercial DVD disc always has several different built-in subtitle tracks. If you bought some French, Germany, Spanish-language DVDs which are foreign movies to you, you might want to rip these DVDs to MP4, AVI, MPEG, MOV etc yet still reserving its English subtitles to help you understand the movie, at this moment you could select English subtitle track and rip the DVD.
Before ripping, free download, install and launch WinX DVD Ripper on your PC or Mac that helps convert DVDs to movies with subtitles.
Step 1. Import the source DVD.
Click the "DVD Disc" button to load the DVD movie info, this powerful DVD ripper could auto analyze and detect the right DVD main title for you. (You can also choose DVD ISO Image file or DVD folder as the input)
Step 2. Choose an output profile.
Choose an output video format or device profile you'd like to rip the DVD movie. WinX DVD Ripper Platinum provides you 350+ preset output profiles. For example, select ripping DVD to MP4 with subtitles.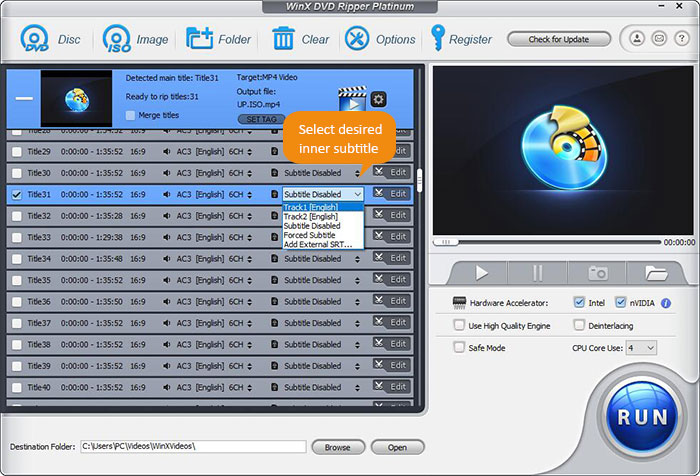 Step 3. Select one subtitle you like.
Open the drop-down list of the subtitle column and choose one subtitle track you want. Options for you to choose: internal subtitle track such as Track 1 [English], Subtitle Disabled (default), Forced Subtitle, Add External SRT Subtitle.
Step 4. Set a destination folder and start the DVD rip with subtitles.
Click the "Browse" button to select a target folder to store the ripped DVD video. All things done, hit "RUN" to start ripping the DVD with subtitles.
Part 2. How to Rip DVDs with Forced Subtitle for Non-native Language Fragments
If you don't want the whole movie to have subtitles, but just portions that require translation. You can choose the "Forced Subtitle" option. By doing so, you could disable the traditional subtitles while still preserving the subtitles that translate foreign language speaking parts periodically throughout the film to help you understand what they are saying. Check how to rip DVD with forced subtitle only here.
Download and install WinX DVD Ripper on your Windows or Mac computer, launch it and then put your movie DVD, either purchased or borrowed/rent, into the DVD-ROM drive for preparation.
Free download WinX DVD Ripper Platinum for Windows 11/10/8/7


Free download WinX DVD Ripper for Mac on Mac OS X 10.6 or later

Step 1. Click "DVD Disc" to load the source DVD disc.
Step 2. After the disc is sucessfully added, an Output Profile window will pop up. Choose the output video format or the smart mobile device as you like. Nearly all common formats and gadgets are among the list. You can also backup the Main title or full title of the DVD disc. Done, click "OK".
Step 3. Then it comes to the ripper main interface again. Generally, WinX DVD Ripper Platinum will automatically select the right title of the protected DVDs. At the right title column, open the drop-down list and choose "Forced Subtitle".
Step 4. Destination folder, ripping speed, output quality, output video audio parameters, etc. can be reset according to your needs. All things done, hit "RUN" button to set off the DVD ripping with forced subtitle.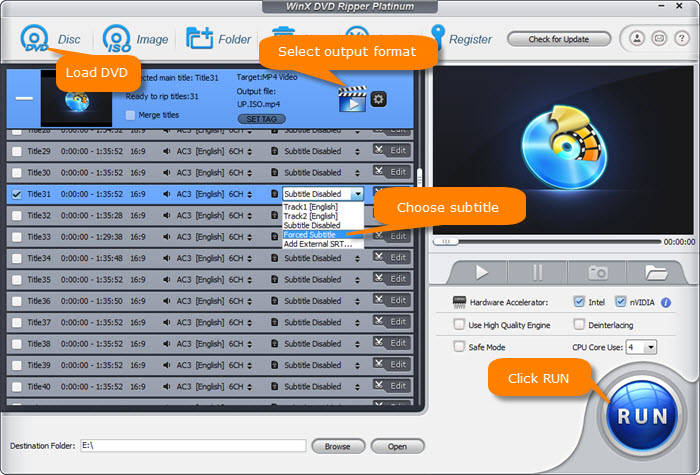 Part 3. How to Rip DVDs with External Subtitle
WinX DVD Ripper Platinum supports importing external SRT subtitles to DVD video. Therefore, even if the foreign language DVD movie do not contain any language subtitles you understand, you can download subtitles of your preferred language from a safe and reliable subtitle download site (such as opensubtitles.org). Now follow the steps below to add subtitles to the DVD video.
Step 1. Please download subtitles from online sites.
Step 2. Launch the program, click "DVD Disc" to load the source DVD.
Step 3. Choose an output format for your output video.
Step 4. Click "Edit" button, select the Subtitle tab and tick on the boxes of "Enable Subtitle" and "Extra".
Step 5. Click "Add" to import the target .srt subtitle file you downloaded or created.
Step 6. Select the proper subtitle location and the right language. Then tap "Done" when you finish.
Step 7. Tap "RUN" button to start ripping the DVD with your preferred subtitle.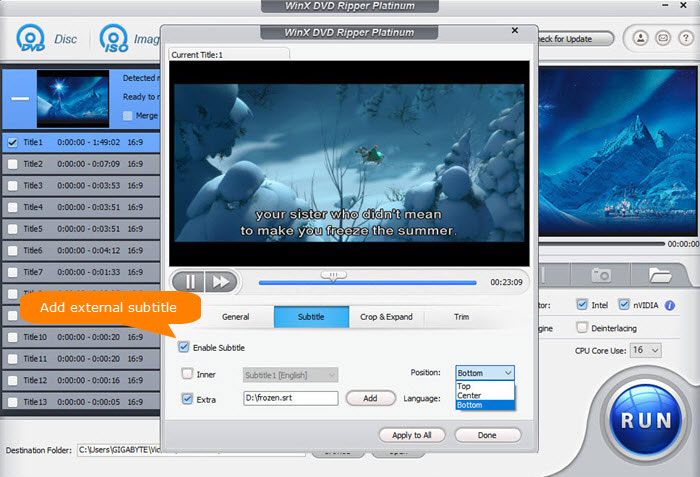 Disclaimer: Digiarty Software doesn't advocate ripping protected DVDs for commercial purpose & suggests referring to DVD copyright laws in your country before doing so.
Video Tutorial: How to Rip DVD with External Subtitles
Option 2. How to Rip DVD with Subtitles using VLC Media Player?
VLC is a popular and free method to rip a DVD. But how to rip a DVD with subtitles using VLC? Here are the steps:
Step 1. Launch VLC and insert the DVD you want to rip into your disc drive.. Click on Media in the top menu, then choose Convert / Save.
Step 2. Navigate to Disc tab, choose target DVD. Check the "No disc menus" option if you want to skip the DVD menus.
Step 3. Under "Disc selection," select the title you want to rip. You can preview the titles by clicking on the "Play" button. Next to the Audio and Subtitles section, find Subtitle track and choose which subtitle you want to rip DVD with. Then, hit Convert / Save.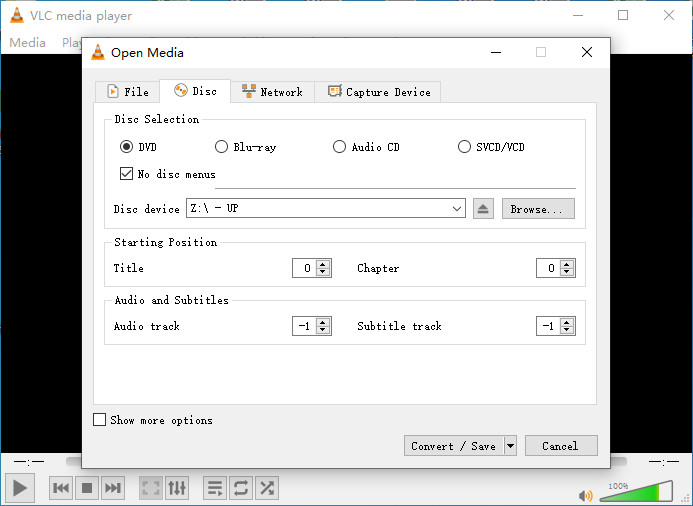 Step 3. Click setting icon and choose an encapsulation format that supports subtitles such as MP4. Besides, you can also click Subtitles tab and turn on subtitle capture. Then hit Save.
Step 4. Specify destination file and hit Start. Then, VLC will start ripping DVD to MP4 with subtitles.
Option 3. How to Rip DVD with Subtitles using HandBrake?
Step 1. Open HandBrake and insert the DVD into your computer's DVD drive.
Step 2. Launch Handbrake and click on the "Source" button to select the DVD disc as the source. Handbrake will scan the DVD and list the titles and chapters. Select the title or chapter containing the content you want to rip.
Step 3. Choose the output preset, output format, encoding codec, and quality as you need.
Step 4. Next, hit the Subtitles tab. Open the subtitles drop-down menua and select the subtitle track of the DVD that you want to keep. You can also add external subtitle to the ripped DVD video.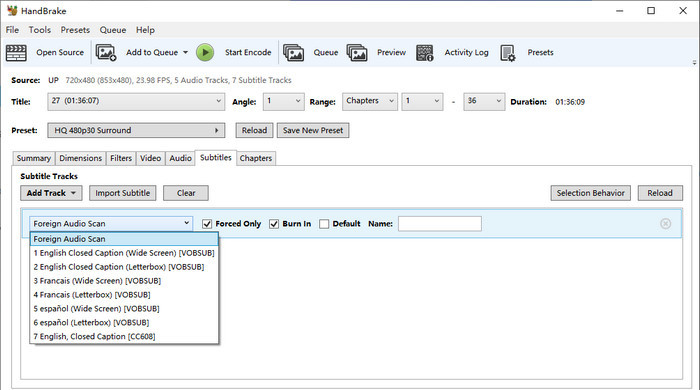 Step 5. Hit Start Encode. Then, HandBrake will begin ripping DVD with subtitles.
Part 4. Frequently Asked Questions
1. What is subtitle?
Simply put, subtitles are texts used to display dialogue or commentary in movies, TV shows, video games, and so on for better understanding, so as to help people who are hearing-impaired, who cannot understand the spoken language or who want to learn foreign language.
Soft Subtitle is involved in the actually DVD video, but is independent of the movie video. When ripping a DVD, it's usually titled "Track *".
Hard Subtitle, contrary to soft subtitles, attaches itself into the actual video and would always come along with the video.
Forced Subtitle appears on screen when a foreign/alien language is spoken, or showed in a sign, location, or other text, aiming to explain the meaning but can not be placed in the dubbing. When ripping a DVD, it's directly titled "Forced Subtitle".
Note: Generally, only the foreign dialogues and signs that matter the movie plot are translated in the forced subtitle.
2. Can you add subtitles to a DVD?
Yes, you can. As mentioned in this article, you can use WinX DVD Ripper to add subtitles to a ripped DVD movies. Besides, you can also add subtitles to a DVD when directly playing the DVD disc with DVD player 5KPlayer or VLC. And, with WinX DVD Author, it is possible to insert subtitles to DVDs you burned with MP4, MKV, AVI, etc. videos.
3. How do I extract subtitles from a DVD?
Extracting subtitles from a DVD may be quite time-consuming, as you need two complicated processes. Firstly, rip DVD to Video_TS folder with a DVD ripper. Secondly, extract subtitles from DVD the folder.