Is VLC Region Free to Play DVDs from any Regions?
I downloaded VLC into our MacBook so that we could use VLC to play different region DVDs. Everything I've read about VLC says that it will automatically play all regions... But I have tried SO many times and can only get VLC to play Region 1 DVDs. It won't play Region 4 at all...
From Wiki, we can see that VLC is one of the free software DVD players that ignore DVD region coding on RPC-1 firmware drives, making VLC a region-free player. However, this is not the case when you try to play DVDs from different regions in VLC. Can VLC bypass region code? Can VLC play DVDs from any region without worries? If you have the same questions, find answers in this post.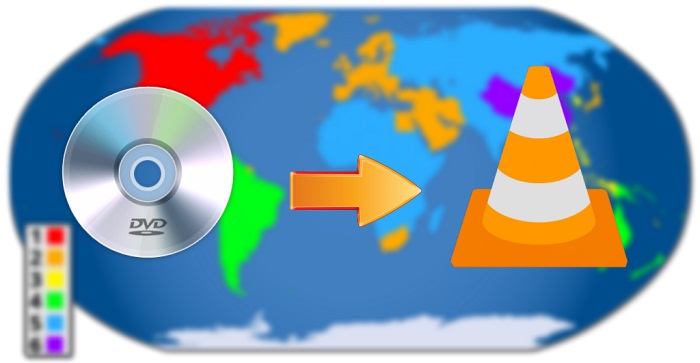 Part 1. Is VLC Player Region Free?
According to the official site of VLC, it depends on your DVD drive.
VLC is region free on RPC-1 firmware drives, which is commonly used by old DVD drives. In other words, VLC should always work on a RPC1 drive regardless of the region codes.
On newer drives that use RPC-2 firmware, things are different. On some RPC-2 drives, it enforces region coding on the hardware, which doesn't allow raw access to the drive unless it perform a region check. However, the libdvdcss in the VLC needs raw access to the DVD drive to crack the encryption key. Therefore, VLC won't play region DVDs except DVDs from the same region of the DVD drive. On some other RPC-2 drives where raw access is allowed, VLC can brute-force the region coding, but that can take quite a long time.
Part 2. How to Play any Region DVDs with VLC?
To use VLC play DVDs from Region 2, 4, other regions, you can:
#1 Update your DVD drive. You can try another DVD drive or get a muti-region/region-free DVD drive. VLC will play DVDs from any region when the firmware on the drive is unlocked to region free.
#2 Change the Region of your drive. Every DVD player allows you to change the region code to up to 5 times before it locks on the last set region. However, you will waste a change when you set the region back to the local region to watch DVDs from your place. You also need to note that when the drive is hard locked to the last set region forever, even trying to flash to a region free won't help.
#3 Flash your drive firmware. Flashing the optical drive before you use all of the region changes will allow you to have a region free optical drive. That means VLC is now region free too. However, flashing the optical drives firmware to unlock DVD drive to region free will void any warranty, and if something goes wrong with the flashing process it might kill the drive to where it might not be reversible and never work again. And if that happens you will have to buy a new drive to replace it cause trying to flash it will void the warranty and manufacturers won't cover it.
#4 Rip DVD to region-free. If making VLC player region free via DVD drive unlock is too hard for you, you can also make the DVD region-free for VLC player. There are ripping programs that can convert region DVDs to limit-free no matter what region is your DVD drive. Below I would introduce you one of the best.
Part 3. Convert any Region DVD to Region-free for VLC
WinX DVD Ripper Platinum will remove region code (1-6) no matter what region your DVD drive is. With simple clicks, you can convert the region DVD to MP4, H.264, AVI, MOV, WMV, FLV, etc. for free playback on VLC Media Player, DVD players, TVs, iPhone, Android, and more. It also lets you make a 1:1 digital copy in ISO image or Video_TS folder of the region DVD for later burning to another disc.
DVD region aside, it's updated with the latest protections including playlist obfuscation, multiple titles, 99-titles, bad sectors CSS, Sony ARccOS, non-standard DVDs, etc. to easily convert DVDs from Lionsgate, Disney, Pixar, Paramount, Sony, and others.
Step 1: Load the DVD. Run the software and insert the region-coded DVD into the disc drive. Then click the Disc button and the ripper will start to scan the right DVD title.
Step 2: Select an output format. The software will bring you to the output format window and there are up to 350+ options. As VLC supports almost all the video formats, select any format you like.
Step 3: Start to rip region DVDs. After a few minutes, you will get a region-free DVD file to play on VLC without setting the DVD drive/firmware.