Posted by Bella Brown - Contact Author

Sony DVD Player Troubleshooting: Solve No Picture Only Sound Error

If you cannot play DVD successfully, click here: The solution most recommended by us [85%]
What to DO when Sony DVD Player Not Showing Picture Only Sound on TV
Have got a Proscan DVD player hooked up to my Emerson TV and the sound works perfect but no picture. Have everything hooked up correctly but no picture just sound. - Tomsguide
Owners of Sony DVD Player experiences difficulty playing a disc and are plagued with errors, for example, stuck on loading, won't read disc, or says No Disc, Cannot Play (This) Disc, etc, among which, Sony DVD player no picture only sound is the most dreaded one. Below are the 4 typical cases.
• Just get sound but no picture when I use an HDMI connection.
• Sony DVD player has no picture on the TV when connected to a A/V device.
• There's no picture from the player and the TV screen is completely black or flashes.
• The picture from the DVD does not show on the TV screen.
The reasons behind the problem can be the HMDI cable, bad connection between TV and the source device, incorrect video input, dirty laser or disc itself. Sound complicated and end up with failure even you perform a factory reset? Before the transition to a head scratching, try the troubleshooting steps to fix your Sony DVD player no picture only sound error and get your DVD played on your TV or other mobiles correctly.
Step 1: Check if the Sony DVD player is in correct connection set for DVD playback. The picture from DVD won't display properly through a VCR due to copyright protection.
Step 2: Make sure the video cable is firmly connected or use a different cable. A loose or bad connection between TV and Sony DVD player may result in no picture only sound error on Sony DVD player.
Note: HDMI, Component Video, or S-Video cable is preferred for the best possible picture quality, on condition both TV and Sony DVD player have one of these connection types.
Step 3: Clean the laser or connect another player and check if the Sony DVD player not showing picture on TV is resolved.
Step 4: Clean the DVD or play another DVD to see if the dust, fingerprints, scratches or damages to the disc is causing the issue.
Note:
Make sure the recent system software is installed on TV. Downloads and manuals are available on model support page.
Check if the Sony DVD player displays picture on TV screen after completing each steps below.
The steps provided are general guidelines, which do not ensure 100% successful rate. For the most effective solution, please digitize your DVD discs to a format optimized for your TV or other screens with a professional DVD ripper.
Attention:
Inappropriate video signal utilized between TV and Sony DVD player has too much to do with no picture issue. Just make sure you select the same type of video signal (either progressive or interlaced) on TV as that on DVD player. For example, you have to set the Sony DVD player to output 480i signal if your TV is unable to display 480p DVD. Or else, it will cause DVD interlacing issue.

Interlaced scan video vs Progressive scan video

Even if the Sony DVD player shows picture and sound finally, the picture quality of the DVD contents played on the screen such as an HDTV will be poor due to the bad scaling up. Why and how to solve DVD bad quality on HDTV >>
Sony DVD player won't promise full screen playback of DVD contents on TV because of improper aspect ratio on television set, cable box, and most likely, the DVD itself that use, e.g. 2.35:1 ratio. As a result, you can see black or grey bars above and below the TV screen. Check what to do when DVD not playing full screen >>
Improper playback of DVD discs through Sony DVD player will shortening the life of drive.
The Once-and-for-All Solution: Digitize and Play DVD without Sony DVD Player or Disc Drive
Rather than spending much time and effort in troubleshooting the issue but in vain, why not trying a powerful DVD ripper such as WinX DVD Ripper Platinum to digitize DVD in such a way to put an end to the no picture with Sony DVD player, interlaced image, poor picture quality, and black bars during the DVD playback. With it, you can fast backup and rip DVDs to formats suitable for playing on TVs, gaming systems, mobiles, media players and so on without using Sony DVD player or disc drive anymore.
WinX DVD Ripper Platinum - Fast Backup and Rip DVD to Fix Any TV Screen with Intact Quality
Rip a full DVD as short as 5 minutes with hardware acceleration accelerated.
Convert DVD to MP4, MOV, AVI, etc for HDTVs, Xbox, PSP, iPhone, iPad, Android.
Enhance image quality by upscaling DVD to 720p/1080p, adjust codec, bitrate, framerate and more. Built in High Quality Engine and Interlacing kernel.
Crop DVD ratio to 16:9 to fit wide screen TV and any other screens.
Support any old or new discs, new releases, TV series, damaged and unplayable DVDs.

Download WinX DVD Ripper Platinum for Windows

to play DVD movie without picture issue

Download WinX DVD Ripper for Mac

to watch DVD with no picture issue
You can follow the steps below to convert DVD to HDTV with no quality loss.
Step 1. After you launch the DVD ripper, you can load the DVD disc by clicking the DVD Disc button. WinX DVD Ripper Pro will read any types of DVD and choose the right title in seconds.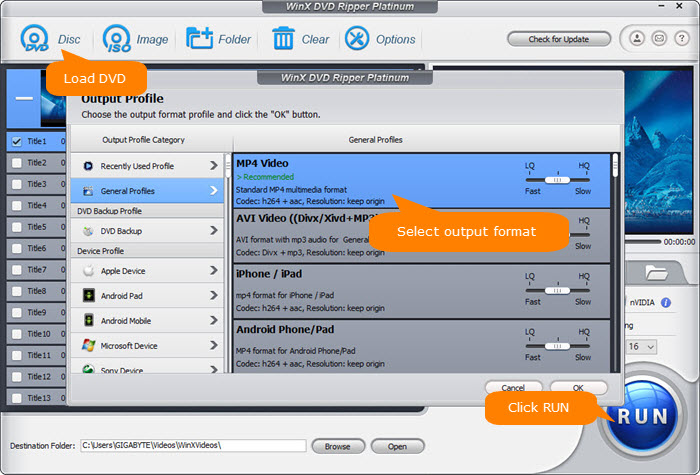 Step 2. Choose the output format your device recognizes. You are suggested to go to General Profiles > choose MP4 H.264 as the final format. This will ensure the widest compatibility with your mobiles.
Optional: For a high-quality DVD playback on your HDTV without interlacing or any other quality issue, you can do the following tweaks by clicking the gear-shaped icon on the main interface.
Adjust and scale up the video resolution from 480p to 720.
Up the bitrate to 5000kbps.
Keep the frame rate unchanged.
Change the aspect ratio to 16:9 to remove the black bars on your HDTV.
Enable Use High Quality Engine and Deinterlacing to maximize the output quality and remove interlacing, if your TV is able to display the progressive signal.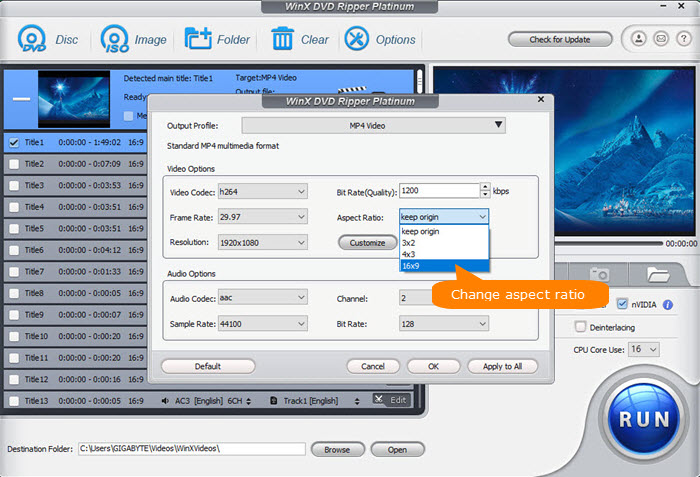 Step 3. Click RUN and start to convert DVD to MP4. Then you can play the content on your TV using USB without the need of Sony DVD player or disc drive anymore.
Disclaimer: This post involved in DVD ripping is to help users out of Sony DVD player no picture only sound problem. The software company doesn't advocate any ripping for illegal use. Please consult the DVD copyright law in your country before you rip any commercial DVD.