Handbrake can't Select the Correct Title and Rip DVDs from Lionsgate
-- "Anyone having a problem making a backup of Knives Out DVD? Tried Handbrake but it makes it to 1-2% then stops."  
-- "I was ripping John Wick 3, HandBrake picks up Title 40 and when done it is 3kB rather than approx 1 GB."
-- "Cannot encode Long Shot or Midway (2019) to PC. When starting the encode Handbrake immediately switches to "Queue Finished". Using latest version of Handbrake and works with other DVDs but not lionsgate titles. "
Similar errors are everywhere on handbrake.fr. Sometimes Handbrake fails to find the correct title at the first step, or the Queue completes but ends up 2.75 kb file... The same error happens to movies like Red 2, Expendables 3, Divergent, Enders game, John Wick, Hunger Gams, etc. All those titles have one thing in common: they are from Lionsgate. It seems that Handbrake won't rip DVDs from Lionsgate, no matter what workarounds you have taken. In this post, we'll discuss the reasons to the Handbrake errors and how to rip Lionsgate titles.
Part 1 Why Handbrake Won't Rip Lionsgate DVDs?
All DVD/blu-rays from Lionsgate and some Sony titles are protected by an anti-piracy measure called "playlist obfuscation", also called "screenpass protection". This idea of multiple playlists + obfuscation DRM was used to Lionsgate DVDs since mid-2013. The multiple playlists obfuscation DRM introduces tens or hundreds of fake playlists, among which only one is correct. Due to this measure, rip and copy tools will either select the longest title as the correct title, which is not, or eliminate every single possible playlist and tell you there is no valid title.
According to Wikileaks and user reports on various video forums (handbkrake, makemkv, redfox, reddit, etc.), Lionsgate Screen Pass DRM has disabled all free DVD tools like Handbrake and DVD Shrink as well as most paid ones like CloneDVD and DVD decrypter. Therefore, when you rip Lionsgate DVD with Handbrake, Handbrake doesn't know which title to rip. When a wrong title is selected, you will see scanning failures, no title, bad sectors, output files of only KBs...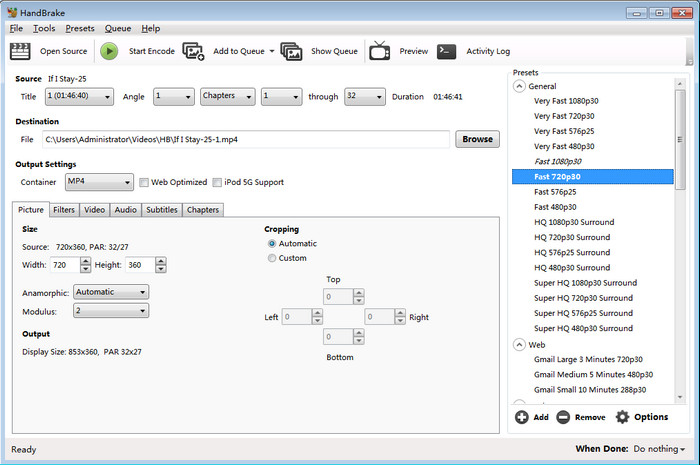 Will Handbrake + libdvdcss Rip Lionsgate DVDs?
Handbrake is not a DVD ripper and it doesn't support DVDs with protections. But with 3rd-party libdvdcss, it's able to convert many commercial discs. Is it possible for Handbrake to remove playlist obfuscation when VLC is installed?
No, it's still hard to rip Lionsgate DVDs with Handbrake and libdvdcss. Libdvdcss is a library used by VLC player to decode encrypted DVDs. It supports protections like Content Scramble System (CSS) and Region Code. For other protections including Lionsgate playlist obfuscation, you're out of luck. In other words, even with VLC libdvdcsss installed, Handbrake still can't rip DVDs with playlist obfuscation.
Part 2 Handbrake can't Rip Lionsgate DVDs, but You CAN
While Handbrake can't rip Lionsgate DVDs, a few other alternative DVD rippers are able to rip DVDs encrypted by Lionsgate playlist obfuscation. WinX DVD Ripper Platinum is one of the few survived tools that are capable to deal with Screen Pass, playlist obfuscation, multiple titles, 99-titles, bad sectors, region code, CSS, Sony ARccOS, non-standard DVDs, etc. It supports DVDs distributed by Lionsgate, Disney, Pixar, Paramount, Sony, and others.
It has no problem ripping the new Lionsgate DVD Knives Out, Disney Frozen 2, Hunger Games, and various other tough dics.
How to Rip Lionsgate DVDs without Error?
While Lionsgate playlist obfuscation seems to be complicated, it requires clicks only to rip them. You don't need to be tech-savvy. First, free download the Lionsgate DVD ripper:

For Windows (Windows 10 and earlier)


For macOS (Big Sur and earlier)
Step 1: Load the DVD. Run the software and insert the Lionsgate DVD into the disc drive. Then click the Disc button and the ripper will start to scan the right DVD title. It will easily detect the correct title from various fake ones. You won't see errors like scanning failure, wrong DVD title, no valid source, and the like.
Note: if you find the ripper is stuggling ripping any DVD, go back to the main interface and check the Safe Mode box. This feature is designed to remove DVDs that are difficult to rip.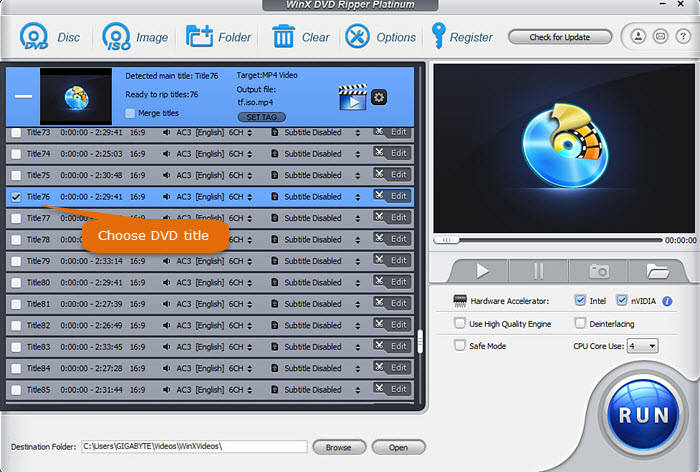 Step 2: Select an output format. Then the software will bring you to the output format window and there are up to 350+ options. You can convert the Lionsgate DVDs into MP4, MOV, AVI, WMV, HEVC, H.264, FLV, and more. Select an output format based on your needs. Normally, MP4 is the most widely-used file type. You can also find profiles for iPhone, Android, TVs, etc.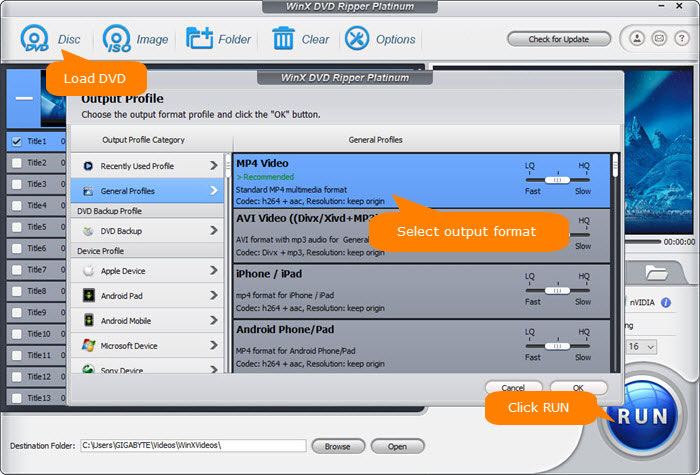 Step 3: Start to rip Lionsgate DVDs. Then click the RUN button to start rippping. The GPU acceleration should be able to deliver a very fast ripping speed. You can also rip DVDs from other studios like Marvel DVDs, Warner movies, 20th Century Fox, etc.