MakeMKV Shows Hundreds of Titles/Playlists for a Lionsgate Disc. Which One to Choose?
MakeMKV can digitize DVD and Blu-ray to MKV file for backup or convenient streaming. But many users find that there are hundreds of fake playlists/titles showing in MakeMKV while dealing with a Lionsgate Blu-ray/DVD disc such as Knives Out, John Wick, The Last Full Measure, Wind River, etc. MakeMKV cannot choose the correct one to rip. And users cannot determine which is the correct mpls because many of the titles seem to be right when judging from the file size and video length.
If the wrong title is selected, you will find that the rip file will not play properly. It might be all mixed up and play in wrong order. Or at some point during the movie a screen will pop up saying that this is not an original disk, but a copy. It could last for 5-10 seconds or even longer.
Hot reading: Latest MakeMKV Beta Key/Lifetime Key Know More about MakeMKV Lionsgate Fake Playlist/Playlist Obfuscation
Playlist obfuscation or fake playlist is a copy protection technology - the most common name for the particular component of Screen Pass. Lionsgate has adopted playlist obfuscation or fake playlist as a copy-protection measure since mid-2013 into many discs to prevent people from ripping/copying discs. Although there're tens of or even hundreds of titles/playlist with same or similar size and length, there's only one that is the real movie. Facts proved that this is indeed a very effective copyright restriction. Below are typical problems reported by MakeMKV users.
The DVD is "Adventure Classics: John Wayne in The Three Musketeers". MakeMKV gives errors for all 12 episodes and assumes all data on the dvd is fake. It goes back to the normal page for loading after this and gives no options for saving any of it.
I ripped a dvd of 3 from hell today and it ripped the large full movie file at 6 gigs like 3 times for some reason? Any reason why? Thanks!
Many DVD decrypters (read our review of tools to decrypt DVD fake playlist copy protection) including MakeMKV, Handbrake, AnyDVD are always reported to be unable to select the correct playlist and deliver scrambled file. Read on to find out fixes to Lionsgate DVDs fake playlist/playlist obfuscation problems and pick the right Lionsgate movie title. How to Determine the Correct Playlist/Title for a Lionsgate Blu-ray/DVD Disc?
It's easy to figure out the correct main movie title for most DVDs. Picking the title with the largest file size or the longest video length should work. But this isn't the case for a Lionsgate release with an obfuscated playlist or fake playlist. So, how to pick up the right playlist or title from hundreds of fake playlists for further Lionsgate DVD ripping? We will introduce three methods below.
Method 1. Install Java Runtime Environment (JRE)
JRE can be downloaded from java.com. After installing JRE, you can insert your Lionsgate blu-ray with playlist obfuscation or fake playlist protection. And then, you will receive a message like this 'Using Java runtime from C:\Program Files (x86)\Java\jre1.8.0_121\bin\java.exe'.
If MakeMKV can sniff out the main feature, it will move its play list to the first screen, toward the top of the list, with a comment of "(FPL_MainFeature)" next to it in the selection window (left part of screen).
However, JRE sometimes doesn't help. It might suggest a wrong playlist.
Method 2. Take advantage of VLC Media Player
Step 1. Open VLC, and load your disc in DISC mode and play it.
Step 2. When the movie starts playing, pause it, go to the top menu of VLC, click Playback, choose Title, and then you will find a title marked with a DOT. And the marked is probably the correct title you're looking for. Simply note down the title number and the title length.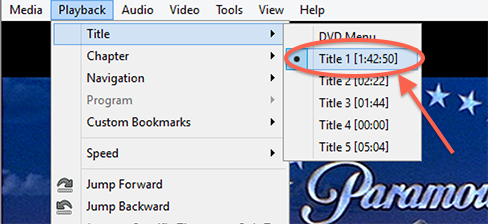 Step 3. Go back to MakeMKV and find the title based on your notes.
For detailed guide about how to use VLC to identify correct title, go to: https://www.tweaking4all.com/video/rip-dvd-blu-ray/dvd-what-title-to-rip-99-titles-fix/
Just like JRE, VLC isn't always right. It has been reported to fail to detect the correct title of some movies, such as The Autopsy of Jane Doe. In this case, move on to the next method.
Method 3. Do a search for your Lionsgate movie
Some movies have been discussed on MakeMKV forum, Reddit or somewhere else. And the correct playlist may be already found by some users. So, doing a search with words 'xxx(movie name) correct playlist' might help. Or, you can submit a post and ask for help.
We've found the correct playlists of the following Lionsgate releases from MakeMKV forum.
High Life (2019) Blu-ray - 00669.mpls
Gloria Bell Blu-ray - 00781.mpls
Anna (2019) Blu-ray - 00757.mpls
Check more troubleshooting tips for MakeMKV not ripping DVDs errors, such as DVDs won't load/open/read/recognize in MakeMKV, "no disc inserted" error, playlist Obfuscation/fake playlist, etc.
Related: MakeMKV beta/full registration key
What if the above methods don't work for you?
Then, you might as well try a different program to rip Lionsgate disc. Some programs may be more powerful than MakeMKV in dealing with Lionsgate's Playlist obfuscation/fake playlist protection. WinX DVD Ripper Platinum is such a thing. By updating its DVD title mechanism continuously, it can automatically detect the correct title of almost all DVDs (not available for Blu-rays yet) while loading DVD, even if the discs are manufactured with Playlist Obfuscation DRM, Disney X-Project, or other copy protection schemes.
Related article: MakeMKV vs WinX DVD Ripper: Which One to Choose?
Well, how to rip Lionsgate DVD with WinX DVD Ripper Platinum?
To begin with, you need to download and install WinX DVD Ripper Platinum on your computer. This DVD ripper works well with multiple-title DVDs.
Please DO NOT use WinX DVD Ripper to rip rental DVDs.
For Windows and Mac only. If you are a mobile user, please click here
Next, open it and follow the steps below.
Step 1. Click the DVD Disc button to import your Lionsgate DVD into this ripper for further operation. During the quick title scanning process, WinX DVD will identify which is the correct main title with ease and will check it for you automatically.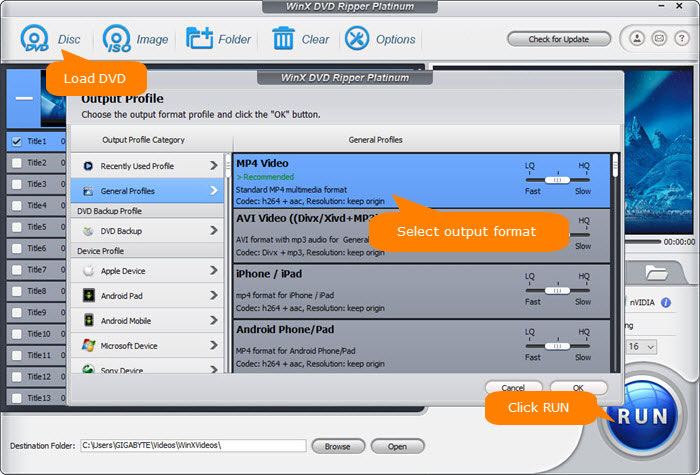 Step 2. Choose which output format you want to save the rip file as. WinX DVD has built over 350 output profiles to cover all kinds of user needs from making an exact backup of DVD to ripping main movie only for iPhone, iPad, etc.
Step 3. Turn on Safe Mode and then hit RUN. Then, this ripper will begin working and finish ripping at super fast speed thanks to the support for multi-core CPU and GPU hardware acceleration. It has no problem to rip DVDs from other studios like Marvel DVDs, Warner movies, Disney, Paramount DVDs, etc.
What you may be interested in: How to fix MakeMKV not ripping Spider-Man DVD discs >>
Disclaimer: Digiarty Software does not advocate ripping commercial DVDs for any illegal purpose. You're suggested to refer to the DVD copyright laws in your country before doing so.