How to Get Free MakeMKV Beta Key/Lifetime Key/Registration Code
MakeMKV is one of the top-rated programs to rip protected DVDs and Blu-rays on Windows, macOS, and Linux. To use MakeMKV, you have to get MakeMKV registration key or MakeMKV beta code. MakeMKV is free while the software in beta. You can get its temporary beta key for free or buy the full activation/lifetime key. Find out MakeMKV free beta key here and ways to get the MakeMKV lifetime registration code key.
MakeMKV Alternative - Free Copy Any DVD to MKV, MP4, H.264, ISO Image, etc.
MakeMKV beta key doesn't work? MakeMKV isn't worth your time. The software may fail to rip DVDs from Disney, Lionsgate, etc. with playlist obfuscation/fake playlists. You have many DVD ripping programs that are much powerful than MakeMKV to choose from. WinX DVD Ripper Platinum is one of them. Free download WinX DVD Ripper Platinum to replace MakeMKV and rip DVDs freely.
Rip and digitize a wide range of DVDs from Lionsgate, Disney, Warner Bros, Sony, etc.
Free copy DVDs to MKV, as well as MP4, AVI, MOV, H.264, etc. with 350+ preset profiles.
Offer backup mode, 1:1 backup DVDs to ISO image, TS folder, etc.
Support level-3 hardware acceleration, at least 5x faster than MakeMKV.
Part 1: MakeMKV Temporary Free Beta Key 2021 [Updated]
The current MakeMKV beta key/code is
T-bzbIz9GKcA8KINjhv1...vhQVXPnDdDlm62663Bo0 (valid until 2021-06-01)
You need to update the key every month. When the key is expired, users will get a message telling the version is out of date and asking for updating or registration. There's public API that automatically updates the beta key when it's available.
API
You can automatically retrieve free MakeMKV Beta key in various variations:

api.php?json: For Web apps
api.php?xml: XML formatted output
api.php?text: For apps that lack json and xml parsers. Lines are in Name=Value
api.php?raw: For apps only require the key
api.php?reg: Windows Registry File for easy user import.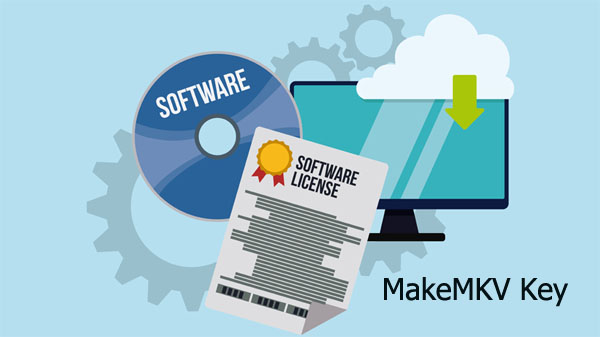 Part 2: MakeMKV Lifetime Full Registration/Activation Key
MakeMKV is free to convert DVDs without time limits. Ripping Blu-ray discs is a 30-days free trial. If you want to get the MakeMKV full activation key to make a digital copy of DVDs and Blu-ray discs, you have to purchase MakeMKV that is priced at $50. Use the steps below to buy the MakeMKV lifetime registration key.
Go to the MakeMKV purchase page, click the Buy now button, fill in the information, pay for it, and receive MakeMKV registration key.
Open MakeMKV on your computer.
Click the Help button at to top menu bar and select Register from the drop-down menu.
Use the full registration/activation key to enter it into MakeMKV.
Part 3: 2021 MakeMKV Crack Full Registration Key/Serial Number
There's no evidence that MakeMKV can be cracked. MakeMKV cracking software isn't trustworthy. Instead of searching for methods to crack MakeMKV, use the above MakeMKV temporary beta key/code and update the key monthly for using freely. If you still want to get 2021 MakeMKV crack version, use the steps below and get the MakeMKV crack serial number/registration key.
MakeMKV 1.16.3 Crack Registration Keys
KDRU84-DFJDIR-DFJKDIE
DFJKDIE-DFJKD-DFJKDIE
FJKDIRJ-DFJK48-DFJKDIE
DFHJDU-RJEI4J-DFJKDIJ2
How to Download and Install MakeMKV 1.16.3 Crack
Download the latest version of MakeMKV and uninstall the previous version. Close all the antivirus programs and similar software.
Go to a top-rated MakeMKV crack website, download Unpack or extracting a WinRAR file and open the configuration. Install the configuration after installation.
Use the above MakeMKV serial registration key to register MakeMKV. Now, you can use the MakeMKV crack version on your computer.
Part 4: MakeMKV Registration Code Doesn't Work? What to Do
Many users complained on the Reddit and MakeMKV forum that the lifetime or beta key didn't work properly. Here's a real case: We've purchased a key for MakeMKV to allow for Bluray ripping, but the key doesn't work.
Make sure you enter the registration key correctly into MakeMKV. Try typing the key instead of using copy & paste.
Contact MakeMKV support to make sure the original key is valid.
Use MakeMKV alternative program to rip and copy DVDs.
How to Rip and Copy DVDs with Free MakeMKV Alternative
Step 1. Free download WinX DVD Ripper Platinum on your computer and run it. Insert your DVD disc into DVD drive. Click the DVD Disc button at the top menu bar of the DVD ripper, choose your DVD disc to load. During the quick title reading process, the DVD ripper can recognize the right DVD title and select it automatically.
Step 2. The Output Profile windows appears when the DVD title is selected. Choose an output profile. MakeMKV only outputs MKV format, while WinX DVD Ripper offers lots of outputs with preset profiles for HDTVs, mobile devices, and more. You can copy DVDs to MP4 H.264, iPhone, iPad, hard drive, or back up DVDs to ISO images, TV folders.
Step 3. Click the RUN button to start copying DVDs. The MakeMKV alternative will finish ripping your DVD at super fast speed thanks to its support for multi-core CPU and GPU hardware acceleration.