Can PS5 Play DVDs from Any Region? How to Play DVDs on PS5?
Can the PS5 play DVDs? This is a question among all PS5 owners. Since the PlayStation 4 has a slot-loading disc drive to play CDs and DVDs, including Blu-ray discs, many think that the PS5 (or PlayStation 5) is also able to play DVDs. Is that true? Can you play your old DVD collection on the PS5? Find answers in this article.
Play DVDs on PS5 from Any Region (Digital Edition incl.)
The PS5 Digital Edition can't play DVDs natively, and the PS5 standard version has region locks. WinX DVD Ripper allows you to make DVD (region-locked or protected) playback on PS5 possible by digitizing DVDs to PS5 supported MKV, MP4 H.264/MPEG-4, WebM, MP3, AAC, as well as AVI, MOV, WMV, 3GP, ISO, and 350+ formats. Thus, you can play DVD digital copies on PS5 without physical disc.
This DVD ripper for PS5 will bypass region codes 1-6, RCE, UOP, Sony ARccOS, Disney 99-title DRM, and other protections from a DVD all on its own and help you load any types of DVD to PS5 with zero limit. It supports Nvidia/Intel/AMD GPU acceleration to convert DVDs to PS5 formats in 5 minutes only.
Part 1. Does PS5 Play DVDs?
Short answer: Yes, the Standard PS5 can play DVD discs, while the PS5 Digital Edition cannot.
The PS5 comes in two varieties: the standard PS5 and the PS5 Digital Edition. The standard version comes with an Ultra HD Blu-ray disc drive, while the digital version does not. This is the only difference between them.
PS5 Standard has a disc drive to play DVDs. It can not only play PS5 Blu-ray disc games, PS4 Blu-ray disc games, but also play video from 4K Ultra HD Blu-ray discs, standard Blu-ray discs, and DVDs. Yes, the Standard PS5 can work as a DVD player to play DVD movies. PS5 supports playing DVD-R, DVD+R, DVD-RW, DVD+RW, and DVD-ROM.
Due to its lack of a disc drive, the PS5 Digital Edition console cannot play any disc. How about connecting an external USB disc drive to the disc-less PS5 Digital Edition for DVD playback? I'm afraid that this trick doesn't work. PS5 Digital Edition doesn't support external drives. If you really need to play DVDs on PS5 Digital Edition, check out part 2.
What types of DVDs can you play on PS5?
PS5 supported DVD discs

PS5 unsupported DVD discs

Ultra HD Blu-ray™
Blu-ray Disc™ (BD-ROM BD-R/RE (BDAV, BDMV))

DVD (DVD-ROM DVD-R/RW (video mode, VR mode) DVD+R/RW)

CD
BD-RE ver.1.0
BD-R/RE XL
DVDs that have not been finalized
8 cm discs
Non-circular discs, such as discs in the shape of a card, star, or heart.
Discs that are cracked or deformed, or discs that have been repaired.
Discs that have stickers or paper labels on them.
Note: Please do not play unsupported DVDs on the PS5, it may damage your console.
Can PS5 play DVDs from any region?
No. PS5 isn't a region-free DVD player. It is region locked for DVDs. By default, your PS5 can only play region-locked DVDs and DVDs coded for the same region as your game console. Is it possible to make the PS5 DVD player region-free? No. We can only change the region of the PS5 DVD player a maximum of 4 times, after which the region code will be locked permanently.
So, how do I change the DVD region on my PlayStation 5?
Step 1. Put your DVD into the PS5's disc drive.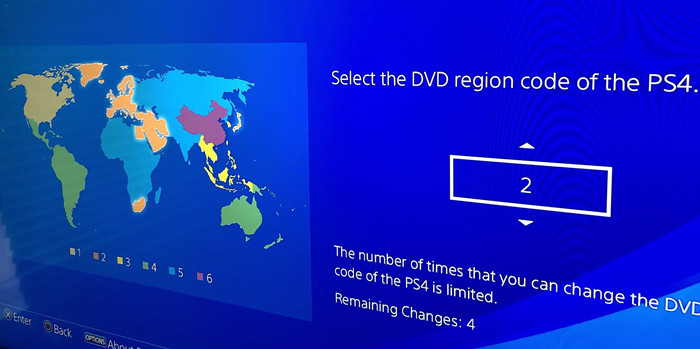 Step 2. When PS5 detects your DVD and finds it has a region code different from your console, it will ask if you want to change your PS5's DVD region code setting. Now, just choose a DVD region code based on your own needs.
Suggesting Reading ==>> Does PS4 Play DVDs?
Part 2. Is There Any Way to Play DVDs on PS5 Digital Edition?
PS5 Digital Edition supports neither a built-in disc drive nor an external disc drive. Well, does it mean that it is impossible to play movies on your DVD through PS5 Digital? No. Here is a workaround to play DVD on PS5 Digital Edition - rip the DVD to digital on your computer and transfer the digital copy to PS5 Digital.
WinX DVD Ripper is able to digitize video DVDs of movies, TV series, music concerts, fitness videos, etc. Even if the source DVD is locked by region code (1/2/3/4/5/6) and protected by CSS, Sony ARccOS, Disney X-Project and other copy protection schemes, WinXDVD can independently read it and process it without errors. Now, work with this DVD ripping software to rip DVDs for the PS5.
To get started, we should download and install WinX DVD Ripper on our computer. Simply click the download button below to get the setup file.
Step 1. Insert the source DVD into your computer's disc drive and click the DVD Disc button on WinX DVD Ripper to select the source disc. It will start to analyze the region codes or other copy protections on the DVD.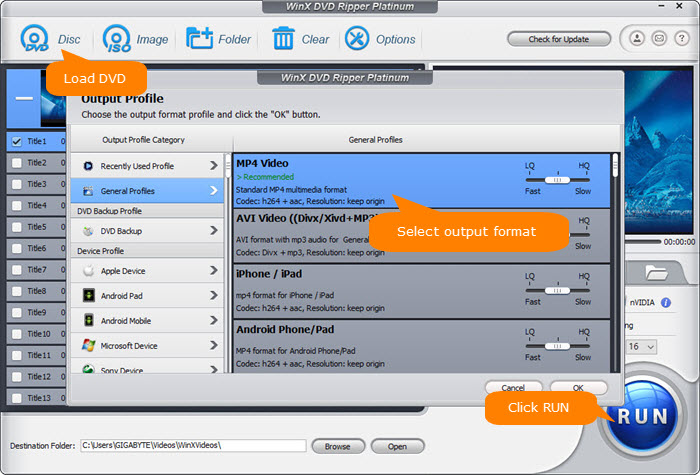 Step 2. Once the DVD is loaded, it will pop up an output format window. Choose an output profile that the Sony PS5 supports, such as MP4. WinXDVD has presets for PS4, PS3, and PSP.
Formats supported by PS5:
MKV: Video: H.264/MPEG-4 AVC High Profile Level 4.2, Audio: AAC LC 
 
MP4: Video: H.264/MPEG-4 AVC High Profile Level 5.2, Audio: AAC LC 
WEBM: Video: VP9, Audio: Opus 
Step 3. Hit the RUN button to start ripping DVDs. It won't take you too much time because it can utilize multi-core CPU and Intel/NVIDIA powered GPU hardware acceleration. Once done, import the digital replica into PS5 Digital Edition for later playback.
Step 4. Next, insert a USB into the computer and transfer the DVD movies into a folder on it. Then plug it out and insert it into the PS5 Digital Edition. To watch the DVD video on PS5, long-press the PS button and select Media Gallery from the main list. Then click USB on the far right. Select the DVD movie and then start to play.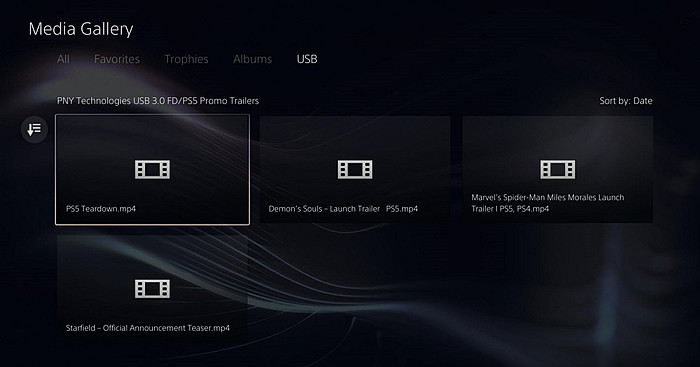 Part 3. How to Play DVDs on PS5 Standard Edition?
Some people may not know how to play DVDs on the Standard PS5. Below is the guide.
To begin with, enable the disc playback feature of your PS5 system over the Internet. One time only. You don't need to perform this every time you need to play DVDs or Bluray discs.
How to enable the disc playback feature on PS5:
Step 1. Connect your PS5 to the internet. Select with your controller: (Settings) > [Network] > [Set Up Internet Connection], and then follow the on-screen instructions to configure network settings. You can use either Wi-Fi or a LAN (Ethernet) cable to connect your PS5 system to the internet.
Step 2. Next, just login to your PS5 if necessary and insert the DVD disc you want to watch on the console. Then, the disc playback feature will be enabled. And generally speaking, your DVD will start playing automatically. If it doesn't play, go to the Video Section in the XMB Menu and hit the X button on the movie title. The video will start playing.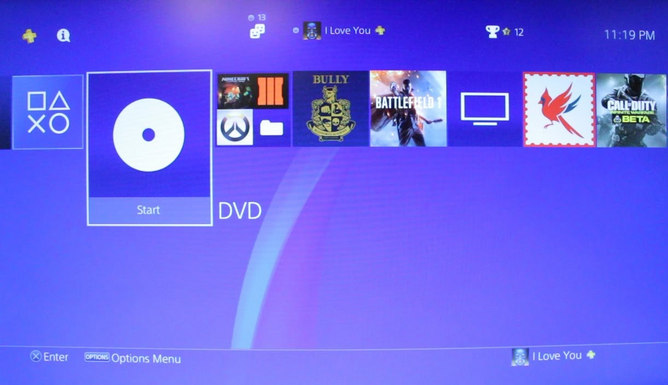 Tips: Make sure that your DVD is supported by PS5. Don't use unsupported disc formats, unfinished, dirty, scratched, cracked, deformed, and repaired DVDs, otherwise you may encounter a disc not recognized error or something else.
PS5 won't Play DVDs? How to Fix?
Problem: After inserting a DVD, the PS5 gets stuck on a black screen. No audio, no video.
Fix: If you have the PSVR connected, you will get this error. To fix this, you should unplug your PSVR.
Check out our solutions for PS4/PS5 not playing DVD issues, such as no disc inserted, an unrecognized disc, unexpected ejection, and black screen.
Part 4. FAQs about PS5 DVD Playing
1. Can I play my disc games on PS5 Digital Edition?
No. PlayStation 5 Digital Edition doesn't contain a disc drive and cannot play any disc-based media, including PS4 game discs.
2. Can I use an external DVD drive with PS5 Digital Edition?
No. PS5 Digital Edition has USB ports, so technically, you can attach an external optical drive to a PS5. However, it requires a program to play optical discs which the PlayStation 5 digital doesn't have. In other words, even if you can connect an external DVD drive to a PS5, it won't be able to open a disc.
3. Will PS5 disk drive get load when playing DVDs/Blu-Rays?
Yes. After you insert a DVD into a PS5's disc drive, there will be an annoying loud whirring sound. Then the sound will decrease as it starts to play. However, it would randomly spin the disc which could be distracting when watching a DVD or playing a game disc or digital game.
4. Will PS5 play 4K Blu-ray?
Unlike the PS4, the PS5 Console Edition does play 4K Blu-rays.
5. What is the difference between PS5 and PS5 Blu-ray?
The only difference is that the more expensive PS5 console will have an Ultra HD Blu-ray disc drive – otherwise they use the same custom processor, and feature the same 825GB SSD.
6. Is a PS5 Pro coming?
Rumor suggested that a PS5 Pro may hit shelves around late 2023 or 2024. That's still a long time to wait.