How to Play DVD on Nintendo Wii/Wii U with/without Homebrew
If you own a Nintendo Wii and have a collection of DVD movies or home videos that you'd like to enjoy on your gaming console, you might be wondering if it's possible to play DVDs on your Wii. The good news is that with a few straightforward steps and the right tools, you can turn your Wii into a versatile entertainment center, not limited to gaming but also capable of playing your favorite DVDs.
In this article, we'll guide you through the process of playing DVDs on your Nintendo Wii, making it easy to unleash your movie collection on the big screen without the need for a separate DVD player or other equipment. Whether it's movie night with friends or family, or you simply want to maximize the utility of your Wii console, we've got you covered with all the information you need to get started.
Play DVD on Wii/Wii U in 2 Ways:
Method 1 How to Play DVD on Wii/Wii U in AVI Format via Photo Channel
Nintendo Wii and Wii U do not play DVDs directly. Fortunately, there're workarounds. The first method is to rip DVD to SD card, insert the SD card into Wii/Wii U, and play the DVD rip file via Photo Channel.
What is Photo Channel?
Nintendo Wii and Wii U classify available applications into different channels and collects them in Wii Menu. Photo Channel is one of the built-in channels in Wii. Please note that Wii U users need to install Photo Channel manually. Not only can Photo Channel be used to view photos on SD card, but also watch videos. Before we rip DVD, we also need to figure out what video formats Photo Channel supports.
Video/Audio Formats Supported by Photo Channel
Videos in AVI and MOV (QuickTime) encoded as motion JPEG or MPEG-4 format with a resolution of up to 848x480 can be supported by Nintendo Wii.
Depending on version of Photo Channel, the compatible audio formats are quite different, MP3 for version 1.0 and alternative AAC (file extension .m4a) for version 1.1.
How to Rip DVD to Wii/Wii U Supported AVI Format?
The way to play a DVD on Wii/Wii U via the Photo Channel involves two steps: rip the DVD to Wii/Wii U supported file formats and play the converted DVD on Wii Photo Channel. Before you start, you'll need:
A Computer
A FAT/FAT32 SD Card (smaller than 2GB)
A DVD to Wii ripper. Here we use WinX DVD Ripper Platinum, a professional DVD ripper designed to rip any protected commercial & homemade DVD movies/TV shows/99-titles/scratched DVDs to digital AVI Wii supported format, as well as MOV, MPEG4, MP4, WMV, and more formats. It can also upscale DVD resolution from 720×480 pixels or 720×480 pixels to Wii 848x480 pixels resolution.
Now, let's download this DVD to Wii ripper and follow the steps below to play DVD movies on Wii/Wii U.
Disclaimer: Digiarty Software does not advocate ripping copy-protected DVDs for any commercial purpose and suggests referring to the DVD copyright laws in your countries before doing so.
(On Computer) Step 1: Rip DVD Movies to Wii Formats
Place SD card into your computer and insert the DVD you want to play on Wii/Wii U into DVD-ROM.
Open WinX DVD Ripper Platinum and hit DVD Disc to import your DVD movie. You can also rip an ISO image or VIDEO_TS Folder.
DVD will be loaded with main title checked and popped-up Output Profile windows. Scroll down to PC General Profiles, and select MOV Video ( MPEG4 + AAC) for Wii/Wii U.
Adjust video resolution suitable for Wii specs (848 x 480) by hitting setting button. And, the Edit icon placed at the right of title bar enables you to crop, trim and add subtitles for movie.
Click Browse button to set the destination folder as SD Card and hit RUN button to begin ripping DVD for playback on Wii/Wii U.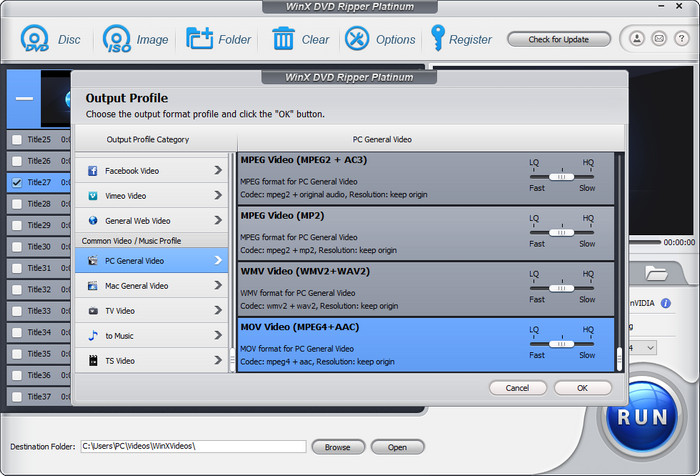 (On Wii) Step 2: Play DVD Movies on Wii/Wii U
Insert SD card into Wii/Wii U and go to Photo Channel to access the DVD movie you rip. Use controller to press Play button and watch DVD movies on your Nintendo Wii/Wii U.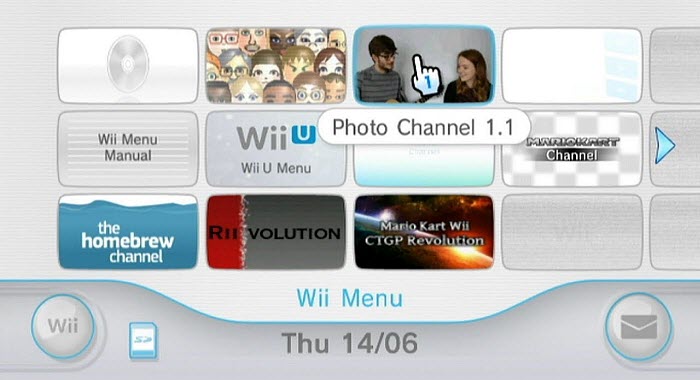 Method 2 How to Play DVD on Wii/Wii Uwith Homebrew Channel
What is Homebrew Channel?
The Homebrew Channel is a free program used to load unofficial games and programs, and apps that can bypass region code or play normal DVDs on Wii. It can launch homebrew apps from an SD or SDHC card, or TCP/USB Gecko using Wiiload. Once installed, users can access those apps from the Wii System Menu just like other Wii channels. Select the right hack based on your system:
The Twilight Hack has been blocked since System Menu V 4.0.
The Bannerbomb replaces Twilight Hack on System Menu V3.2-4.2.
The Letterbomb is the latest Wii exploit and is currently the only way to hack a Wii on System Menu 4.3 without using a game.
The Smash Stack works on all System Menu versions, but requires Super Smash Bros Brawl.
The HackMii Installer is most commonly used to install HBC.
Note:
Installing homebrew program on Wii will use an invisible bug called the Trucha Bug and void your Wii's warranty.
Installing homebrew program on Wii may corrupt your saved data or installing a game.
Turning Wii into DVD player with homebrew is complicated.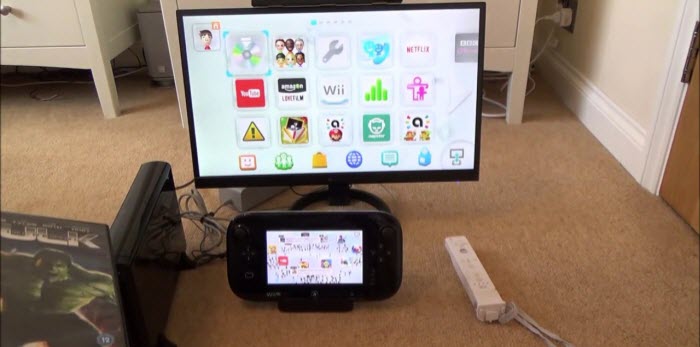 What You Need?
The way to turn Wii into a DVD player using Homebrew Channel involves two steps: install the Homebrew Channel and install the DVD player. Before you start, you'll need:
Nintendo Wii: with the latest system version 4.3.
A FAT/FAT32 formatted SD card (4GB capacity or higher, as the Wii can read SDHC cards only on 4.0 or above).
A PC with an SD card reader and an active internet connection.
A wireless network for your Nintendo Wii to connect to.
(On Wii) Step 1. Get Your Wii's MAC Address
MAC address is a unique network address used to run the LetterBomb exploit. Go to Wii's Setting menu > select Internet > select Console Information and record it.
(On computer) Step 2. Create Your LetterBomb
Insert the SD card into your computer. Open your browser and go to the HackMii download page at please.hackmii.com.
Check "Bundle the HackMii Installer for Me" and select the System Menu version. Enter your Wii's Mac address > click Cut the Red Wire.
A zip file will be available for download. Save it to your computer, unzip it and copy it to your SD card.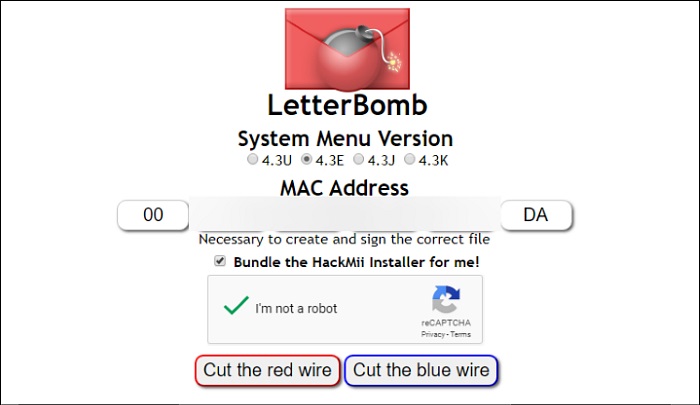 (On Wii) Step 3: Install LetterBomb on Wii
Insert the SD card to your Wii.
Go to the MEssageboard > navigate to Yesterday > click the LetterBomb message and run the Hackmii installer.
A scam warning screen will pop up. Press 1 and choose Install the Homebrew Channel. Choose Yes and continue. The Homebrew channel is now installed on your Wii.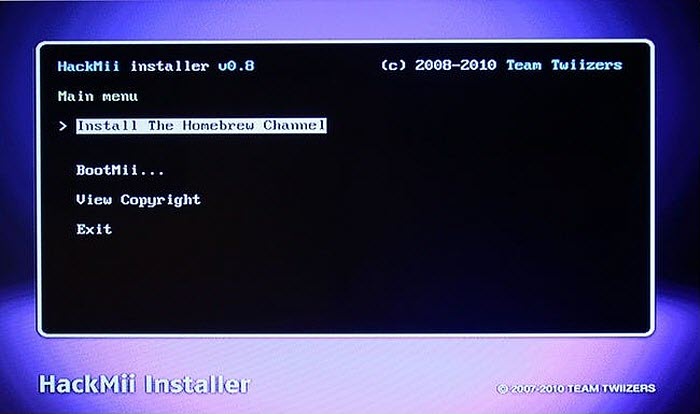 Step 4. Install Homebrew Browser
(On computer) Insert the SD card back to your computer > create a folder named "apps" on the SD card > unzip the homebrew_browser_v0.3.9.zip file (from the zip file downloaded earlier) and move everything into the apps folder.
(On Wii) Insert the SD card back into your Wii. Be sure your Wii is able to connect to your Wireless network, then launch the Homebrew Channel. Wait a moment and then you should be able to browse the list of featured Homebrew Apps.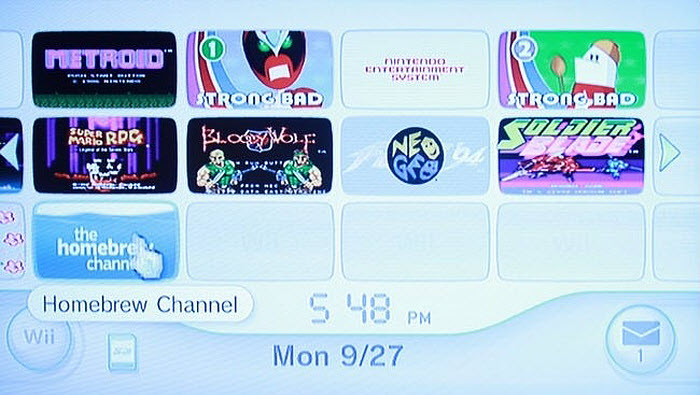 Step 5. Setup DVD Playback on Wii/Wii U
To play DVDs on Wii/Wii U, click Media and find MPlayer CE, a player that is able to play various kinds of DVDs. Download and install the app. After that, you can insert a DVD to Wii's disc drive and play the movie.
Frequently Asked Questions
1. Can I play DVDs on Wii/Wii U?
The official answer is no. Wii has native support for Wii Game Discs and GameCube Game Discs only. Wii U system supports Wii U and Wii Game Discs only. But technically, we can make Wii and Wii U play DVDs.
2. How to play DVDs on Wii/Wii U without homebrew?
If you don't want to use homebrew, you can use the first method: rip DVD to SD card, insert the SD card into Wii/Wii U, and then open Photo channel to access the DVD file in the SD card.
3. How to play DVDs on Wii/Wii U without SD card?
If you don't have a SD card, you can also play DVD on Wii/Wii U. Simply rip DVD on your computer and then stream the DVD file to Wii/Wii U through Plex. Check how to watch local videos on Wii U >>
4. How to turn Wii/Wii U into DVD player?
Wii/Wii U are not built to be a DVD player. But with Homebrew installed to softmode your Wii/Wii U, you can download and install a DVD player app (such as Mplayer and WiiMC) on Wii/Wii U and use Wii as a DVD player.
5. Why can't you play DVDs on Wii/Wii U?
Nintendo believes that you probably already have a device for DVD playback, so the company thinks that it doesn't warrant the cost involved to build that functionality into the Wii/Wii U console because of the patents related to those technologies.
6. Can you play movies from USB on Wii/Wii U?
The answer is yes if you have a Homebrewed Wii/Wii U. You can use WiiMC to play videos and music on your USB flash drive, USB external hard drive, etc.
Referrences: