DVD Won't Play on Mac - Why It Happens and How to Fix It
Summary: This article will show you how to fix DVD not playing on MacBook Pro, MacBook Air, iMac, iMac Pro, Mac mini, Mac Studio, and Mac Pro.
Questions:
- Everytime I put a DVD into my MacBook Pro, the disk spins around and then it is ejected. I have tried repairing permissions and lots of different DVD. Help?
- I want to use my Mac to present a DVD with projector. I put it in my Mac and the DVD player pops up. But when I press Play, it says "Supported Disc Not Available". Why my this DVD won't play Mac? Any help would be great!
We've discovered many posts with title "DVD won't play on Mac" on Apple communities and other forums. The most common Mac DVD Player not working errors include "Supported disc not available", "Not Permitted", "Skipping over damaged area", DVD automatically ejecting, and movie suddenly stopping playing. Why Apple DVD Player isn't working and how to fix the problem to play DVDs on Mac (MacBook Pro/Air/iMac/iMac Pro etc.) smoothly?
Getting the reason why DVD won't play on Mac would help a lot to find the most appropriate solution. Here we'll explain the reasons and fixes for the most common DVD playback problems on Mac.
The Easiest Solution to Fix DVD Not Playing on Mac
Free Download WinX DVD Ripper for Mac to rip DVD to digital format and play movie on macOS without DVD player!
Any disc is supported: region-locked DVD, NTSC/PAL DVD, new/old DVDs, Sony bad sector DVDs, Lionsgate or Disney 99-title discs.
Auto repair scratched/unplayable DVDs and make it playable on MacBook Pro/Air, iMac in digital format.
Vast output profiles: rip DVD to MP4, H264/HEVC, MOV, iPhone iPad, QT, iMovie, etc. for playback without DVD drive/region code limit.
5 minutes to rip a full DVD with GPU acceleration, multiple-core processor, hyper-threading (hardware configurations matter a lot, too).
Please DO NOT use WinX DVD Ripper to rip rental DVDs.
For Windows and Mac only. If you are a mobile user, please click here.
Part 1. DVD Won't Play on Mac and Automatically Eject
This could be because you insert a DVD encoded with a region code which doesn't match that of your DVD player, and you don't change the region when prompted, or if you've reached the maximum number of region changes.
Typical scenario comes that you insert a UK DVD (encoded with region code 2) into a Mac bought from USA which is set to use region code 1.
DVD Player complies with most copyright laws, and will thus enforce most restrictive measures of DVD technology, such as region-restrictive encodings. So it will not allows users to play a DVD from other regions.
In this case, you can change the region code of your DVD drive or DVD player. However, you can set the region code up to 5 times only (including the original setting). After that, it will be locked to your last modification permanently.
Solution 1. change your DVD drive region in DVD Player on Mac
Insert a DVD into your Mac that has a different region code than the one your DVD drive is set to. Then, you'll see a dialogue saying you need to select the region for your DVD drive. Just click on the the drop-down menu of "Change drive region to" and select a region code. And then click "Set Drive Region" and click the "Lock" icon to save your changes. Alternatively, you can convert your region-locked DVD to a region-free file with WinX DVD Ripper.
Solution 2. convert region-locked DVD to region-free file
To begin with, you need to download and install WinX DVD Ripper on your Mac. By the way, it also has a Windows version so you can perform the conversion task on a PC.
Here, we'll show you how to do this on a Mac computer.
Step 1. Insert your region coded DVD into your DVD-ROM, launch WinX DVD Ripper, and click the "DVD Disc" button to select your DVD as source.
Then, it will analyze your DVD and detect the main movie title automatically.
Step 2. Choose an output format according to your needs.
If you want to create a full region-free copy of your DVD, you can choose to clone DVD to ISO or VIDEO_TS folder which can be burned back to a DVD and can play like a DVD.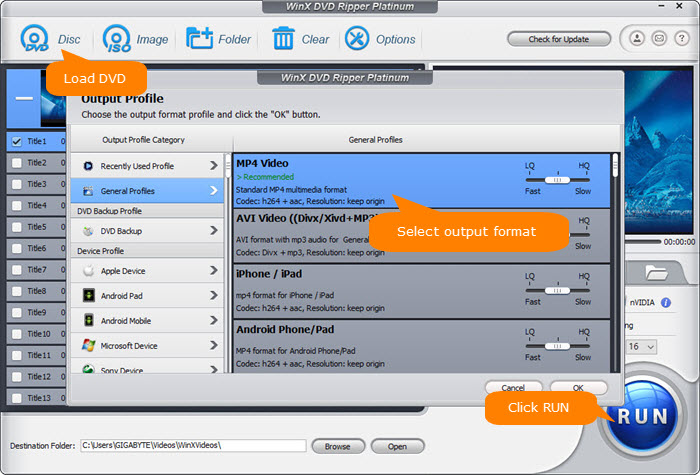 If you just need the movie part, you can choose to convert regional DVDs to MP4 which can be easily played on mobile devices, laptops, TVs, etc.
Step 3. Set the Destination Folder to store the output.
Step 4. Hit the RUN button to start exporting a region-free copy from your physical disc.
WinX DVD Ripper for Mac can ingest whatever DVD disc (intact or damaged) you feed it, from newly released Disney 99-title DVD, region code 1-6 DVD, Lionsgate DVD with multiple playlists, Sony ArccOS protected DVD to old DVDs. It seamlessly accepts them and make a digital copy of DVD to MP4, MKV, AVI, MOV, FLV, MPEG-2, VOB, HEVC, H264, as well as Apple TV, iMovie, QT, iPhone iPad with 350+ preset profiles.
Meanwhile, it won't take you long to make a digital copy of DVD. Only 5 minutes are needed to decrypt and rip a full DVD to MP4, MOV, ISO image, MPEG-2 and other mainstram formats by courtesy of the advanced Level-3 GPU hardware acceleration tech (Intel QSV, NVIDIA NVENC, AMD), alongside with multiple-core processor (up to 8 cores), hyper-threading tech, MMX-SSE & AMD 3DNow. Certainly, your hardware configurations on macOS computer should be high-end enough, as well.
Disclaimer: Digiarty Software does not advocate ripping/copying copy-protected DVDs for any commercial purpose and suggests referring to the DVD copyright laws in your countries before doing so.
Part 2. Mac DVD Player Doesn't Play DVD and Say "Supported disc not available" This error message will appear when there's no disc in the DVD drive.
If you've inserted a DVD but still get this message, the problem may be that the video content burned onto certain types of DVD-RW discs cannot be recognized by the DVD Player app. To fix this error, you can try burning the video content onto a DVD-R disc instead.
Firstly you may need to rip your video from the original DVD-RW disc with WinX DVD Ripper. You can follow the steps in "Solution 2. convert region-locked DVD to region-free file". And then make use of a Mac DVD burner to burn the video to a DVD-R disc.
Part 3. Mac DVD Player Doesn't Play DVD and Say "Not Permitted"
The first reason is that you are attemptting to use a DVD Player feature that the movie doesn't support.
The second reason is that your movie was burned onto a type of DVD-RW disc that DVD Player doesn't recognize. In this case, you can try burning your movie onto a DVD-R disc.
Part 4. Mac DVD Player Says "Skipping over damaged area"
This is simply because DVD is scratched.
Your DVD can't be guaranteed with 100% unscathed status. It's intact with the naked eye while it might be damaged interiorly, is susceptible to disc rot, or get affected with damp or high heat. In such case, try fixing scratched DVDs.
Part 5. Mac DVD Player Stops Playing DVD Suddenly
If a movie suddenly stops playing and you get a disc error message, there may be an issue with the DVD, the connections to your audio devices, or your Sound settings.
Part 6. Other Possible Reasons for DVD Not Playing on Mac
Other reasons for DVD not be recognized/read by Apple DVD Player include:
You insert DVD disc improperly;
You have a dirty or damaged DVD drive, or your DVD drive driver goes outdated. For that, you can clean, repair or buy a new DVD drive, or reset NVRAM (or PRAM) via press and hold the Command-Option-P-R keys to shut down your computer and turn on later.
Your Mac isn't set up to auto-play a DVD that is loaded into it. To get around this, start the DVD Player app first and then load your DVD. Then, your DVD should start playing and display the DVD Menu.
You place the DVD incorrectly. You need to make sure the disc is properly placed in the drive. You need to have the correct side facing up. For a single-sided disc, the label should face up. If the drive is vertically mounted, the label should be facing toward you. For a double-sided DVD, flip the disc over and see if it will mount.
The DVD is dirty. Try cleaning it with a soft, damp cloth, and then see if it can play on Mac or not.
Wrong settings. With the Finder active, select Preferences... from the Finder menu. Then, click the General icon, look under "Show these items on the Desktop:", and check if "CDs, DVDs, and iPods" is checked or not. If it isn't, when you insert a DVD, its icon will not show up on the desktop but only in Finder windows.
It is caused by certain third-party software. If you have difficulty in playing DVD on Mac after installing a third-party program, try uninstalling it or using an updated version and see if it works.
If you have tried all the solutions but still can't play DVD on Mac with the default DVD Player app, you might as well try a third-party DVD player, for example 5KPlayer. It allows users to play any unprotected homemade and region-locked encrypted commercial DVDs with great picture clarity. It can also play ISO image copied from DVD, VIDEO_TS folder and various video/audio files. The elegant and straightforward interface leads users to learn how to play a DVD content immediately. This Mac DVD player is a 100% clean and safe program bundled no adware, malware or virus so that you don't need to worry about security problem at all.
What's special to me is that this free DVD player also lets you free stream or mirror DVD movies from MacBook Pro/Air/iMac to smart TV if you wanna enjoy a classic DVD movie with your whole family in larger screen with better immersive experience (plus 5.1 surround sound).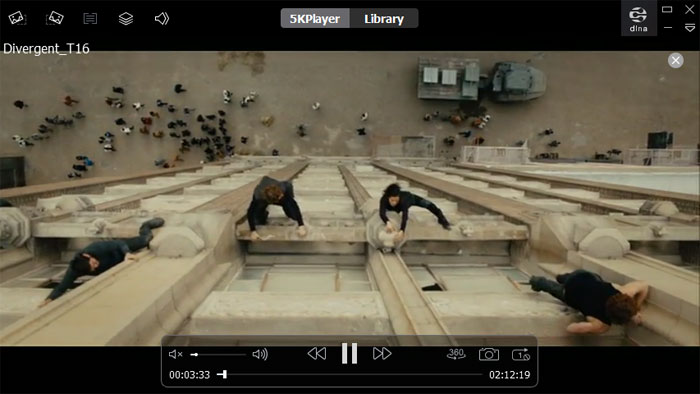 Final Words:
Although "Mac won't play DVD" error can be settled through purchasing another new drive or by resetting NVRAM, there is a possibility of resurgence in the near future. Comparatively speaking, digitizing DVD to Mac is an easier, more convenient and more effective way to slove DVD not playing on Mac issue. For that, WinX DVD Ripper is absolutely the best and fastest DVD ripper to convert DVD disc to digital video as MP4, H.264, HEVC, MKV, AVI, WMV, MPEG, MOV, etc. Also it enables you to 1:1 copy DVD to ISO image/folder/MPEG-2 file with original quality by accessing all DVD protections.