How to Play DVDs with Nintendo Switch?
Q: Can Nintendo Switch play DVDs?
A: No, officially it can't, at least for now.
From Nintendo Switch Customer Support, you can't play DVD, HD-DVD, CD music or Blu-ray discs, or movies/music stored on SD cards, USB hard drives, or other portable memory devices. In reality, Nintendo Switch is designed especially for game purposes so it ditches the disc compatibility. But it doesn't mean the very weak media playback option right now prevents you from playing DVDs on Nintendo Switch in the near future.
Also read: Can Xbox One Play DVDs?
Q: Does Nintendo Switch Play DVDs in the Future?
A: Yes, it does. But the date is not confirmed.
Despite the fact Nintendo Switch doesn't have a disc drive to input DVD disc so as to play physical DVD movies, you can make use of a DVD ripper to rip and convert DVD discs to digital video format for SD card and USB storage, and then play the contents with a media player to enjoy any DVD movies on Nintendo Switch. According to Kempf, the creator of VLC media player, mentioned last year that VLC was under development to come to Switch and PlayStation 4, so VLC in theory will be the best and most possible choice to help play DVD media on Nintendo Switch. Hence, this guide is a preparation for copying DVD media files to an USB storage and SD card for playback once VLC for Nintendo Switch is available. Plus, some other possible ways are also introduced.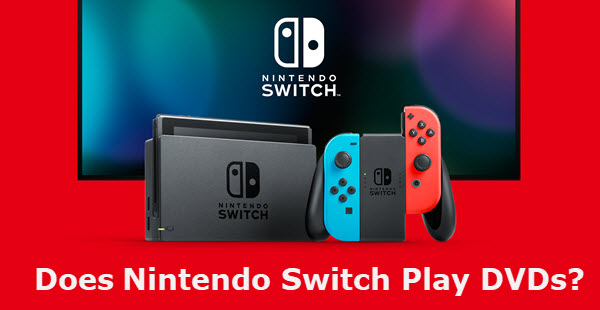 How to Play DVDs with Nintendo Switch?
Method 1. Play DVDs on Nintendo Switch with VLC – Future Plan
The Switch actually can play media files, but disappointedly the official media playing software is not existent as present. VLC media player is the first and only DVD media player said to support Nintendo Switch someday so as to make it possible to play DVD files directly from SD card and USB storage. Though the release date hasn't yet been confirmed, you can first learn to rip DVD discs to MP4 MKV AVI etc. video files to USB flash drive and SD card with WinX DVD Ripper Platinum.
WinX DVD Ripper Platinum is a top-notch DVD converting and backup tool to help copy DVD discs to MP4 for USB drive, SD card, iPhone, Android, Mac, PC and TV. With wide support for different DVDs, it helps digitize encrypted DVDs, regional DVDs, new DVDs, homemade DVDs, scratched DVDs, etc. to videos for easier playback with future version of VLC DVD player.
Step 1. Click the "Free Download" button above to download WinX DVD Ripper Platinum, install and launch it on your computer.
Step 2. Insert your DVD disc into your computer's disc drive, and then click on the "Disc" button on the main UI of WinX DVD Ripper Platinum to load your DVD.
Step 3. Choose an output format, like MP4. Then hit "Run" to start ripping DVD.
Step 4. Once finishing the above process, simply import the digitized DVD files into your SD card or USB flash drive for playback with VLC media player later.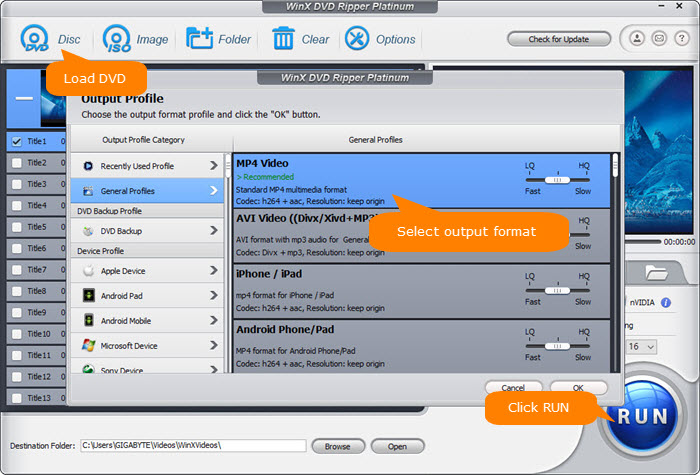 Method 2. Play DVDs on Nintendo Switch via Homebrew App – Unsafe
Homebrew app is another possible solution to play DVD discs with Nintendo Switch, as some netizens explained. It is a way that hacks your Nintendo Switch and then enable DVD playback. It may work for some versions of Switch, however it goes against Nintendo's terms of service and may result in a ban. The ban will prevent you from accessing the official servers and this will affect you to download games, so it is not recommended.
Method 3. Watch DVD Movies via YouTube/Hulu App on Nintendo Switch
Though Nintendo Switch highlights its gaming system, it adds YouTube and Hulu apps for people to watch the online streaming contents. The YouTube Movies provides a variety of channels that have licensed movies offered for free, so if you want to watch some DVD discs on Nintendo Switch with the same titles, you can simply browse the listing on YouTube and find the ones you are interested in. This is an indirect way but it indeed helps a lot when you want enjoy movies and videos on Nintendo Switch.