Can Kodi Play ISO Files? How to Fix ISO Files Not Playing on Kodi?
In the realm of media players, Kodi stands as a versatile and powerful platform that caters to the needs of entertainment enthusiasts. It supports an extensive range of file formats, enabling users to enjoy their favorite movies, TV shows, and music hassle-free. One common question among Kodi users is whether it can play ISO files. This is because some people have converted their Blu-rays and DVDs to ISO image files.
Can Kodi play ISO files? In this article, we will delve into the capabilities of Kodi and explore how it handles ISO files.
Table of Contents
Part 1. Can Kodi Play ISO Files?
Yes, Kodi has the capability to play ISO image files. According to the Kodi wiki article titled "Features and Supported Formats," the software can directly play CDs and DVDs from both physical disks and image files. Kodi supports playback of various popular archive formats stored on your hard drive.
To play an ISO file in Kodi, you can follow these steps:
Step 1. Launch Kodi on your device.
Step 2. Navigate to the main menu and select "Videos" or "Movies." Step 3. Choose the location where your ISO file is stored, such as a local drive or network storage. Then, Locate the ISO file and select it.
Then, Kodi will recognize the ISO file as a disc image and treat it as if you had inserted a physical disc into a DVD or Blu-ray drive.
Please note that the exact steps may vary slightly depending on the version of Kodi you are using and the skin or interface you have installed.
Part 2. Unable to Play ISO Files on Kodi?
Although Kodi excels at playing ISO files, some users may encounter ISO playback issues with Kodi. Here are some examples:
When I select the ISO in Kodi nothing happens.
Trying to play a DVD .ISO file instantly crashes Kodi
When I try to play iso movies, it takes about 3-5 minutes to start.
I've sometimes found some weird stuff playing back DVD ISOs through Kodi -- certain menu items not working.
These problems might be in Kodi or the ISO image file.
If you select an ISO file in Kodi but see nothing, you can wait a few minutes to see if the movie can play or not. ISO files have to be loaded, which means Kodi have to read the IFO file to understand how to load the VOB files.
If your ISO file cannot be recognized by Kodi, it may be because the ISO file is encrypted (Kodi only plays unprotected media) or because the ISO file doesn't conform to the DVD-video structure.
As for copy-protected ISO files, you have to have them converted with an ISO converter, such as WinX DVD Ripper. This tool can help you convert encrypted ISO files to MP4, MOV, AVI, WMV, and more formats so that you can play the movies on Kodi smoothly. It is easy to use and it is famous for fast conversion speed. So it won't take too much trouble. In addition to encrypted ISO files, it can also convert copy-protected DVDs and VIDEO_TS folders.
To convert ISO files to Kodi, simply follow these steps;
Step 1. Download and install WinX DVD Ripper on your computer.
Step 2. Launch WinX DVD Ripper and click on the "ISO Image" button located at the top left corner of the interface. In the pop-up window, browse and select the ISO file you want to convert.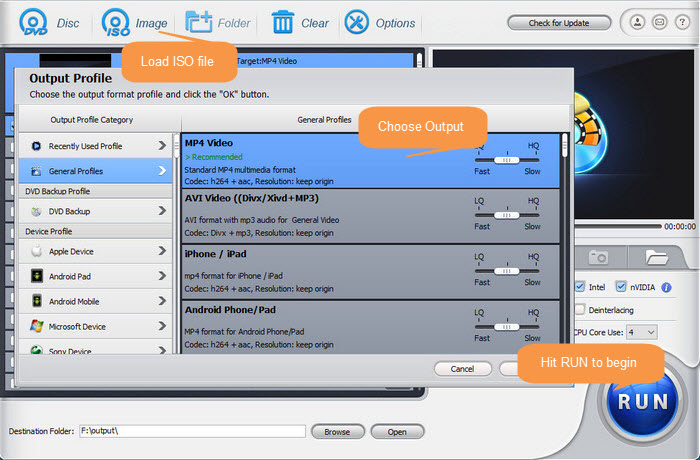 Step 3. In the pop-up Output Profile window, choose an output format for the converted file. Make sure to choose a format that Kodi supports.
Step 4. Customize the output settings if needed. You can adjust parameters like video codec, resolution, frame rate, audio codec, and more. This step is optional, and you can skip it if you prefer to use the default settings.
Step 5. Choose the destination folder where you want to save the converted file by clicking on the "Browse" button.
Step 6. Once you have configured all the settings, click on the "RUN" button to start the conversion process.
WinX DVD Ripper will begin converting the ISO file to the selected output format. The progress of the conversion will be displayed on the screen. Once the conversion is complete, you will be able to find the converted file in the destination folder you specified. Then, try to play the converted file in Kodi.
Disclaimer: Digiarty Software does not advocate ripping/copying copy-protected DVDs for any commercial purpose and suggests referring to the DVD copyright laws in your countries before doing so. And do not use WinX DVD Ripper to rip DVD rentals.
Final Words
In conclusion, Kodi is indeed capable of playing ISO files, allowing users to enjoy their favorite movies, TV shows, and music with ease. By following the provided steps, users can navigate through their ISO files and experience the convenience of DVD or Blu-ray playback directly within the Kodi platform.
However, it is essential to be aware of potential playback issues that may arise with certain ISO files. If you encounter difficulties playing ISO files in Kodi, it could be due to encryption or non-compliance with the DVD-video structure. In such cases, converting the ISO file to a compatible format using a tool like WinX DVD Ripper can help resolve the issue. This software enables users to convert encrypted ISO files into formats supported by Kodi, such as MP4, MOV, AVI, and WMV.
Enhance your Kodi experience by leveraging its capabilities to play ISO files, and should you encounter any playback issues, consider converting your ISO files with WinX DVD Ripper to unlock the full potential of Kodi's media playback features.