Posted by Kaley Torres - Contact Author

Why & How to Fix DVD Not Playing in Kodi/XBMC on TV or Computer

If you can't play DVDs in Kodi properly, click here: The solution most recommended by us [85%]
Kodi Won't Play DVDs on TV or Computer? Find the Easiest Solution Below
Kodi (formerly XBMC) is a free and open source media player, available for different operating-systems. To play most of the streaming media from the Internet, as well as all common digital media files from local and network storage media. And it's widely recognized to play DVD discs, DVD Folder and ISO images. But it's a pity that the DVDs are failed to be played on Kodi/XBMC happens occasionally. For example, the UI stays on the homescreen and it goes black or green screen, DVD menu are blank but audio plays at the background, or nothing happens after you insert the DVD into the optical drive, or a complete crash when playing an DVD image or simply a "playback failed" error pumped on the screen, etc. Why the Kodi failed to play your DVDs ? How to fix DVD playback problems on it?

Read on to find out the reason why your DVD failed to play on Kodi and how to fix DVD playback problems on Kodi. If the error persists after you checking your disc, DVD drive, HDMI connection and NVIDIA Shield, or other possible solutions, to digitize DVD, transfer your physical disc to digital format and play them on Kodi and any media player, TVs, computers, mobiles and tablets could be a delightful resolution.
DVD Not Playing in Kodi on TV or Computer Screens - Reasons & Solutions
To address the DVD won't play on TV/computer with Kodi, you should trace the causes of the problem. Here are the possible reasons and corresponding solutions for the problem with DVD on Kodi/XBMC.
Possible Reason 1: Your DVD disc/drive is corrupted or dirty. If you insert the DVD in the drive but nothing happens afterward and you can hear the noise that driver spin, it might be an issue of the DVD because it gets dirts or scratches, making them unplayable. You can clean your DVD or try another disc to see whether it works. Also, the drive can be a culprit owing to DVD drive not reading discs. For that, you can clean or replace it with a new one, or enable "play dvd automatically" option in Kodi.
Learn more: Quick Fixes for Xbox One Won't Read DVD Disc
Possible Reason 2: Some other drive was detected as DVD drive in Kodi. Sometimes after you insert a DVD in drive, Kodi will not detect the DVD and not present the DVD are recognized by the system, and the DVD icon on the Home screen are missing, especially when there are some other removable drives installed. It can be mis-identified as DVD drive in Kodi and go crashing in the detection code. For that, you can change the disk drive letter lower than all other drives in Disk Management. What if DVD drive not showing, how to fix it >>
Possible Reason 3: The bad connection among DVD player, Kodi and TV. If you've got your Kodi machine hooked up to your DVD player and TV in poor connection, you'll experience an DVD playback error on Kodi. But it can be solved easily and quickly: Plug out your HDMI cable and plug it in back. If it's a problem of the HDMI cable, buy a new one to replace it.
Possible Reason 4: Some certain add-ons were uninstalled.You may say you haven't uninstalled any add-ons of your Kodi. But it could happen, especially after you update Kodi to a new version. You can enable Debugging mode > Go to Settings > System Settings > Logging > Restart Kodi > Replicate the problem to see whether it's a problem of add-ons. If it's, update Kodi to a new version or reinstall it.
Possible Reason 5: The new version Kodi is not working properly with Nvidia Shield. Many users have complainted that DVD menu plays at the beginning but it freezes later during the playback. After itupgrading to Kodi 18, similar issues are frequently reported. It could be an issue that Kodi is not working properly with Nvidia Shield. You can try with mediacodec off and on. If it doesn't work, you're suggested to try a Kodi nightly and make a clean install of RC 5.2, such as kodi-18.0-Leia_rc5.2-arm64-v8a.apk.
The main cause for DVD not playing in Kodi is the newer DVD encryption tech can't be bypassed. The Key: Remove DVD Copy Protections & Rip DVD to Digital Videos for Playing in Kodi and More The Easiest Solution
Analysis: The reasons above are probably only the tip of the iceberg for DVD not playing in Kodi on TVs and computers. More often than not, DVD won't play with Kodi with no reason, leading to no way to fix it. Worse still, the newer encryption tech such as Sony/Disney DRM has always been an insurmountable obstacle for playing DVDs in Kodi even with libdvdcss installed. In this cases, you can try WinX DVD Ripper Platinum to remove DVD encryption and rip DVD to digital for playing anywhere in whatever devices.
WinX DVD Ripper Platinum - Digitize DVD for playback in Kodi or any players on TV and more!
Built in 350+ preset profiles, covering MP4, MOV, MKV, iPhone, game consoles, HDTVs, Nas, etc.
Support all types of DVDs, new DVD releases, old discs, 99-title DVDs, damaged DVD etc.
Decrypt DVDs with any encryptions, like CSS, UoPs, RCE, Sony ArccOS, Disney DRM and more.
A blazing fast speed to rip a full DVD, 5 mins only with GPU acceleration enabled. No quality loss!

Download WinX DVD Ripper Platinum on Windows

to rip DVD to Kodi supported formats.

Download WinX DVD Ripper Platinum on Mac

to digitize DVD for playing in Kodi on TV/computer.
Now, follow the steps below to unlock DVD encryption and digitize DVD for playing in Kodi/XBMC.
Step 1. Place your DVD disc into the drive. Launch the program and click "DVD Disc" to load your DVD. WinX DVD Ripper Platinum will read any types of DVDs and select the right title automatically in seconds, thanks to the DVD analysis kernel and title check mechanism tech.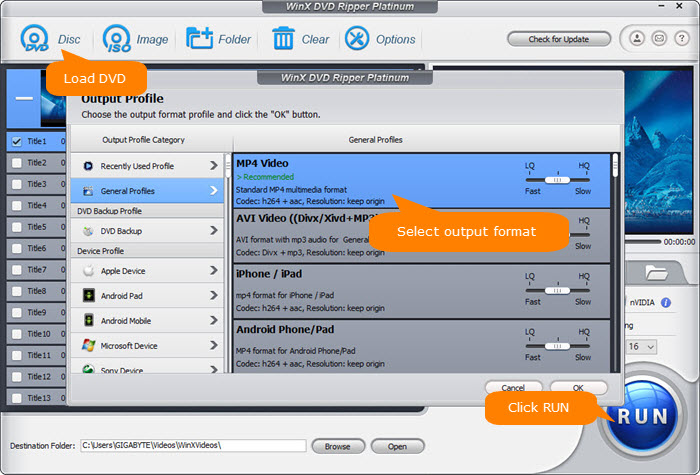 Step 2. Select an output format from the popup window according to your device. You're able to rip DVD to MP4, MOV, MKV, ISO image, iPhone, iPad, Android, Xbox, PS4, or any mainstream formats and devices.
Step 3. Hit "RUN" button to start digitize DVDs. Once done, you'll be able to play DVDs in Kodi, any media players, computers, HDTVs, portable devices etc.
Disclaimer: Digiarty Software does not advocate ripping copy-protected DVDs for any commercial purpose and suggests referring to the DVD copyright laws in your countries before doing so.