VLC Shows Green Screen During DVD Playback [Solved]
VLC is a free and open source media player capable of playing a variety of media files including DVD format with ease. But many users complained they had experienced VLC won't play DVD issue. One typical problem is they saw a sold green screen when playing DVD in VLC player and could hear the audio only. Take a look at how you can fix the green screen error in VLC in this post.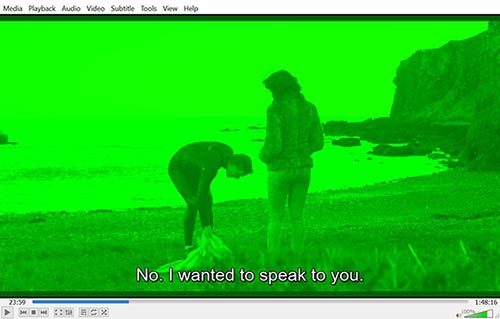 [Solved] VLC Green Screen When Playing DVDs - Rip DVD to Digitized Version
VLC green screen when playing DVDs may be caused by scratched, damaged or copy-protected DVDs. Among them, most DVD copy protection schemes are not supported by VLC so that there is green screen or some other DVD not playing errors. As of now, ripping DVD to MP4 to bypass DVD protections is the best to solve the issue and the tool we suggest is WinX DVD Ripper Platinum.
Part 1. Why VLC Shows Green Screen When Playing DVDs?
The reasons why you get sound but movie plays green in VLC media player can be concluded as below:
The green screen appears because the GPU-acceleration is turned on in VLC. The hardware issue also has something to do with VLC video playback failure.
The DVD is scratched, damaged or probably encoded with copy protection that hinders proper DVD playback in VLC. Typically, it will prompt you bad sector message and the screen goes green. You have to remove the protection scheme with a DVD decrypter first.
The VLC player itself is out-of-date. You will need to download the latest VLC version.
The green screen problem lies in display adapter drivers. Changing VLC settings and video output module will be helpful to fix the issue.
Part 2. How to Fix Green Screen Error in VLC during DVD Playback?
Note: Prior to the error fix, please make sure the DVD is neither scratched, damaged nor protected. Some new DVD movies with copy protection schemes are not supported by VLC. It will work only when you rip DVD to hard drive using tools like WinX DVD Ripper Platinum or so and then use VLC to play the movie from the hard drive.
Solution 1: Install the Latest Version of VLC Media Player
Uninstall VLC media player from your computer that shows green screen when playing DVDs and then reinstall it. So far, the latest VLC version is 3.0.16. Go to VLC official page and click Download VLC to get the latest edition.
If this doesn't work, then your green screen problem is with codecs, configuration, or possibly hardware. Read on.
Solution 2: Disable hardware acceleration
If uninstall and reinstall VLC player, but nothing helps. Check for an updated graphics driver for your graphics card or onboard graphics chip. An older desktop with an inadequate video card will cause the error. Disabling hardware acceleration is the primary method of addressing the VLC green screen issue.
To do this, please go to Tools > Preferences > Input/Codecs > Disable hardware decoding.
Solution 3: Change VLC settings
Changing VLC settings is another proper way to make DVD playback successful in VLC and remove the green screen error. If you are a user of Windows XP or older, go to Tools > Preferences > Video > disable accelerated video output/Overlay video output, then press Save to save VLC settings and restart VLC to see if the green screen disappears.
If it doesn't help, change the video output module. Open Tools > Preferences .. (set Show Settings to All ) and choose Video > Output module. For Windows XP and younger, you can try DirectX 3D, DirectX, OpenGL and Windows GDI video output modules. Then restart VLC to see if you can play DVD in VLC properly.
Solution 4: Try VLC alternative - a more powerful DVD player
In fact, VLC not showing DVD video but audio occurs not only during DVD playback, but also plagues users when playing video contents (see VLC MKV playback issue and fixes). If you are still unable to get VLC back to work, you are suggested to try other media players such as 5KPlayer to do the task. It is known for playing a wide range of media formats including DVD, MP4, 4K, HEVC, MKV, MOV, AVI, etc with GPU acceleratione support.
Solution 5: DVD Decrypter - The best workaround to VLC Not Playing DVD Issue
As is mentioned above, the reasons for VLC green screen in playing DVDs and videos are complicated, ranging from the computer, graphics card, codecs installed are interfere with each other, and so on. Even with all the problems being troubleshot, you cannot ensure the green screen issue is fixed, since there is a change the disc is under protected with copy protection scheme. Based on that, You have to rip DVD to hard drive with a DVD ripper such as WinX DVD Ripper Platinum that is capable of removing copy protections and then prevent green screen and other issues when playing DVDs.
WinX DVD Ripper Platinum - Rip DVD to hard drive for playing in VLC without green screen
Rip DVD to MP4, MOV, MKV, H.264 for VLC, iPhone, iPad, Android, TV, PS4, Xbox, etc.
Backup DVD to ISO image, MPEG2, MKV with subtitle and audio tracks.
Support all sorts of DVDs, be it newly released movies, damaged DVDs, or 99-title discs.
No.1 fast speed with GPU hardware acceleration | Easy to use | Original Quality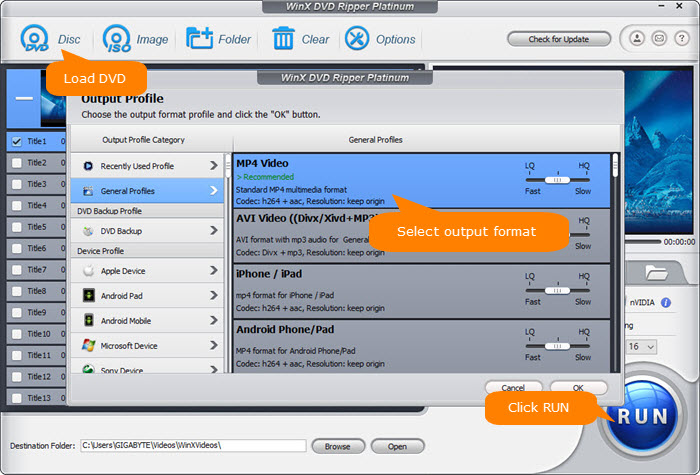 If you encounter any problems using WinX DVD Ripper Platinum or have questions to ask, please email its tech support team.