Best VLC Media Player Alternatives for Mac and Windows
You may be a bit shocked at this topic – alternative to VLC. VLC is a popular free and open-source cross-platform media player and multimedia framework written by the VideoLAN projects. As is often the case, VLC media player is helpful to stream media over computer networks and transcode multimedia files. But VLC will drive you crazy, if you have encountered some problems with VLC media player like below.
"I've recently been having trouble using my VLC player in that it's not playing some of my files, particularly the bigger sized mkv files I have. . . Anyway, I'd like to hear if any of you out there could suggest some better alternatives for VLC." -- DrRipley
"I'm getting sick and tired of VLC. The issues are too many to mention in detail, but generally: bugs (ballooning out of memory on fake/exotic movies, leftover windows, many others)… Are there any good alternatives?" -- mschulze
Searching for the internet, you'll notice that many people are seeking for VLC alternatives. So, this article will bring you the best VLC alternatives for Mac/Windows PC to overcome the disadvantages of VLC.
Best Free VLC Alternative for Mac and Windows 11/10
Here comes WinX Video Tools Pack including a 4K video player and a 4K video converter that you can use to directly play any videos files up to 4K smoothly when VLC media player is not working, or fast convert any videos for VLC to play without issues. No extra codecs required.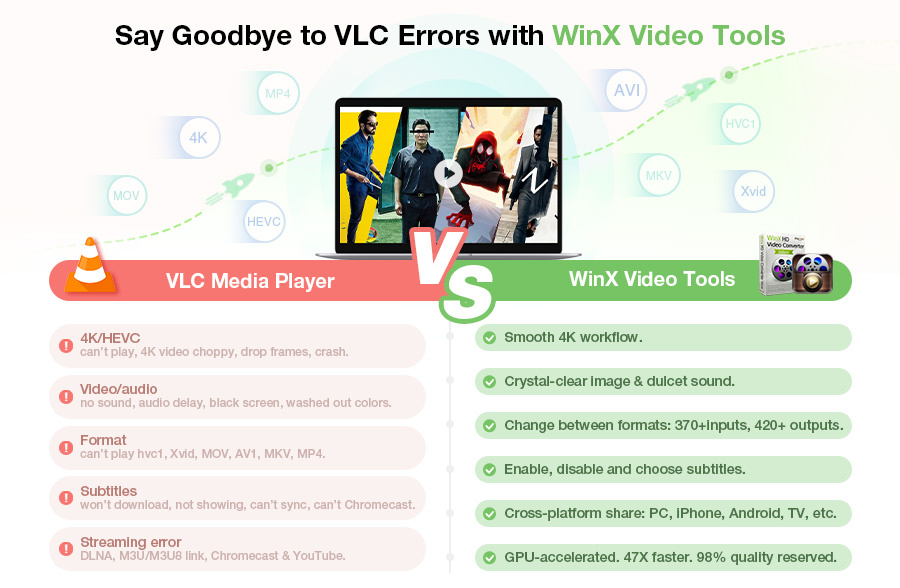 Why Do We Need A VLC Alternative? VLC Has Many Disadvantages
There're many merits of VLC, like its ability to play incomplete, unfinished or damaged video, the ability to access ISO files, wide support for audio and video formats, etc. However, the disadvantages should not be overlooked.
1. Installing VLC Media Player may void your warranty! Some manufactures like Dell say that if you are using VLC player and have the volume set to maximum for a prolonged period of time it could cause damage the speakers, and replacing the speakers will not be covered by the hardware warranty. So if you do use VLC keep the volume down.
2. Sometimes VLC crashes inexplicably without warning. VLC crashes with your playlist gone. It's really frustrating. VLC may crash when you watch some normal files, try to insert subtitle or make it fullscreen. Then selecting a VLC alternative becomes a pressing concern.
3. VLC is unable to play broken files. VLC excels in playing unfinished or damaged video (generally, but not always). Sometimes, it tells you that the file is damaged, but actually it's just being downloaded.
4. A few codes and file types are not supported by VLC. Although VLC has a wide support for video and audio codes and formats, it requires codec settings for a few formats. It isn't an easy job for a number of people.
Other problems such as green screen with VLC are not listed in detail. No matter you have come across the problems or not, it isn't a bad thing to know best VLC alternatives. Read on to get the top VLC substitute for Mac and Windows.
Part 1. Best Alternatives to VLC for Windows (11, 10, 8, 7, etc.)
No.1. 5KPlayer – Best VLC Equivalent with All Features VLC Has
5KPlayer is a free yet professional all-in-one video and music player for both Windows 11/10/8/7 and macOS. Built-in with hundreds of video audio codecs, it enables users to play all multimedia formats, 4K videos, HD/1080p files, and DVDs/ISO file/DVD folder as well.
Features and functions of this good VLC alternative:
Free play homemade and commercial DVD movies without any problems.
Play 1080p or 1080i high-definition videos under 10% CPU cost.
Play 4K 5K UHD videos without any glitches.
Support for numerous popular video formats, like MKV, M2TS, MPEG1/2, WMV/ASF, AVI, MOV, RM/RMBV, OGV, FLV, MP4, H.264, M4V, WEBM.
Listen radios from BBC, Heart, etc.
Free download videos/music from YouTube, Vevo, Facebook, etc.
Change your Mac and Windows as AirPlay sender and AirPlay receiver.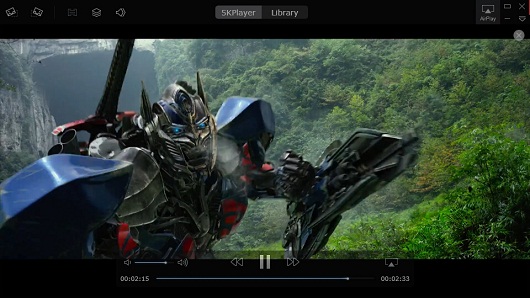 No.2. KMPlayer - Video Player Like VLC for Multimedia Playback
KMPlayer is a free and versatile multimedia player for Windows 2000/XP/Vista/7/10 supporting a variety of video audio codecs. Just like 5KPlayer, it is also a strong rival of VLC media player for its frequent self-developments to meet new trends like 4K video playback. Acting as one of the best alternatives to VLC, it allows users to play tons of files, including MP4, AVI, WMV, FLV, MKV, DVD discs and so on.
Other features & functions of this VLC subtitude:
Support 3D format.
Play Incomplete or locked files while downloading or sharing.
Support subtitles in SMI, ASS, SRT, PSB, S2K, SUB, TXT and LRC formats.
Capture desired screen and audio in the format you want.
Supports 24 languages for users worldwide No.3. SMPlayer - Superb Software like VLC with Chromecast Support
Same as VLC media player, SMPlayer is free and open source media player software. This VLC alternative for Windows 10 uses the award-winning MPlayer as playback engine, which is one of the best media players in the world. Thanks to built-in codes, users can play most known video and audio formats effortlessly, including MP4, AVI, MKV, MPEG, DIVX and more. If you need to customize your video playback, you can use the settings including video and audio filters, change of the playback speed, adjustment of audio and subtitles delay, video equalizer... and many more.
Other features & functions of this alternative to VLC:
It comes with a handy tool used to search for YouTube videos.
Several skins are ready for users.
It is available to select languages from 30+ languages.
It can search and download subtitles from opensubtitles.org.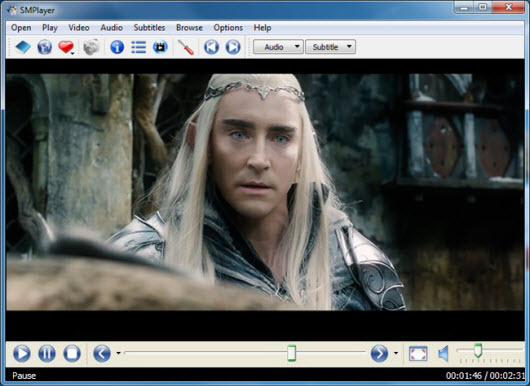 No.4 PotPlayer - Feature-rich VLC Alternative for Windows 10
PotPlayer is a feature-rich VLC alternative for Windows 10/11 that provides a highly customizable and immersive media playback experience. It is developed by the South Korean company Kakao. Whether you're watching movies, listening to music, or enjoying other multimedia content, PotPlayer offers a wide range of options to enhance your viewing and listening pleasure.
Offer high-quality playback with support for various video codecs, including H.264, H.265, VP9, and more.
Support hardware acceleration for smooth playback.
Allow you to personalize the player's appearance with skins, themes, and color schemes. You can also rearrange and resize the player's controls according to your preference.
It offers a wide range of video and audio settings to enhance your viewing and listening experience. You can adjust aspects like brightness, contrast, saturation, and apply various audio effects like equalizer, 3D surround sound, and more.
It offers screen capture functionality, allowing you to take screenshots of your favorite moments while playing a video. Additionally, PotPlayer supports video recording, enabling you to record your screen activity.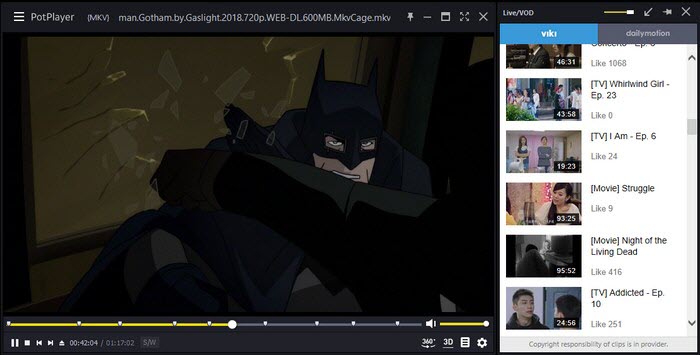 No.5. GOM Player - Alternative for Windows 10 with Codec Finder
GOM Player is a popular media player software developed by the South Korean company, Gretech Corporation. The VLC alternative for Windows 10/11 is designed to play various audio and video formats on Windows PCs/laptops. The alternative for Windows also supports a wide range of audio and video formats and streaming content. GOM Player includes a built-in codec finder that automatically searches and installs missing codecs required to play certain media files. This feature ensures that you can play most media formats without the need for additional codec packs.
Have comprehensive subtitle support, including various subtitle formats, including SRT, ASS, and IDX.
Offer features like A-B repeat, screen capture, audio and video effects, playback speed control, and more.
Offer a companion mobile app called GOM Remote, which allows users to control the player remotely from their smartphones or tablets.
Have additional tools like GOM Audio, a separate audio player, and GOM Cam, a screen recording and capture software.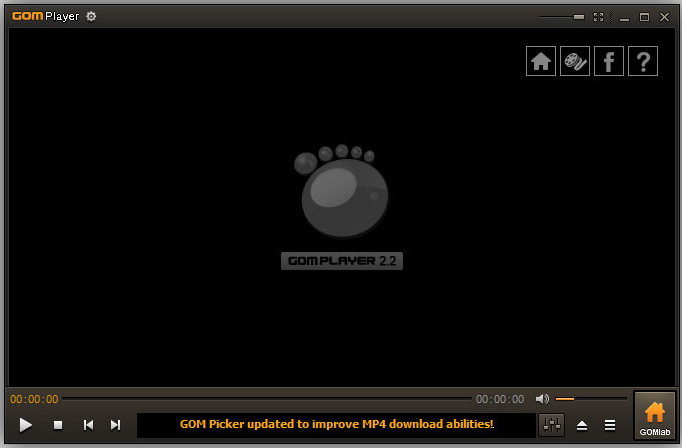 Part 2. Best VLC Alternatives for Mac (Ventura and Earlier)
No.1: MPlayerX - MPlayer Mac Version for Macs
MPlayer is a professional movie player which allows users to watch VideoCD, SVCD, DVD, 3ivx, DivX3/4/5, WMV and even H.264 movies. As the Mac version of MPlayer, MPlayerX is armed by FFmpeg and MPlayer, which means it could handle any media format in the world without extra plug-ins or codec packages. For music enthusiasts and movie lovers, the ability to output the raw DTS/AC3 stream will give you theater-like effects. Like other alternatives for VLC, it is also a free and open source media player.
Other features & functions of this app similar to VLC:
It has a wide range of supported output drivers.
It is equipped with an onscreen display for status information, nice big antialiased shaded subtitles and visual feedback for keyboard controls.
You dd subtitles to videos.
It can create playlist to play.
It can play your favorite in youtube, vimeo, and many others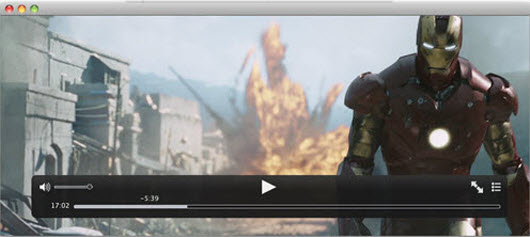 No.2: QuickTime Player - Default Media Player for Mac Computer
QuickTime is all too familiar to Apple users, because it is currently the default media player for Apple devices running macOS. There's no doubt that this VLC alternative Mac can be fully compatible with Mac OS. With it, you are able to play QuickTime Movie (.mov), MPEG-4 (.mp4, .m4v), MPEG-2 (OSX 10.0-10.6 are exclusive), MPEG-1, 3GPP, 3GPP2, AVCHD (OSX 10.0-10.7 are exclusive), AVI ((Motion JPEG only), DV, etc. Mac supported video formats. However, due to the codec incompatibility issue, even the MOV and MP4 playback may encounter errors when playing with QuickTime. If you encounter some format incompatibility issues, a powerful video converter is the smart way to go.
Other features & functions of this program like VLC:
It is a cross-platform program for both Mac and PC.
It is capable of watching videos from hard drive and internet.
A handy slider enables you to set playback from 1/2x to 3x the normal speed.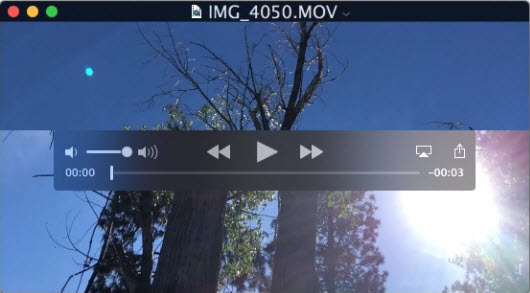 No.3: Movist - New VLC Mac Alternative Ready for Apple Silicon Macs
Movist is another top, free, simple and powerful VLC alternative for Mac. It is quite easy to operate as you can follow the guide it provides you when you move your cursor to its interface. As a top-ranked media player, it is powered by hardware accelerated decoding of H.265/HEVC so that 4K UHD videos playback is very easy with minimum CPU usage. When playing common videos like MP4, MKV, AVI, MOV, etc., you can specify the default track language for video, audio and subtitles. Besides, the HDR tone mapping feature will help reproduce the HDR color as much as possible on non-HDR monitors so as to wipe away the headache that VLC HDR washed our colors error brings. What's better, with Safari extension installed, you can also use this Mac media player to watch internet video directly.
Other features & functions of this VLC Mac alternative:
Subtitles support: View subtitles in multiple languages at the same time, add subtitles to 3D movies, read subtitles aloud with speed control, display subtitles in the letterbox space.
Create playlist to play.
Supports SMB, SFTP, FTP, WebDAV (including HTTPS) streaming.
10-bit color support.
Play and control music with audio equalizer. No.4: MPV VLC Alternative for macOS with High-quality Playback
MPV is a lightweight and minimalistic media player with a focus on high-quality playback. It supports a wide range of formats and offers features like subtitle support, customizable keyboard shortcuts, and command-line control. Similar to VLC Media Player, the VLC alternative for macOS, MPV, is free and open-source. MPV also has excellent format support and can handle most formats, but it relies on external codecs and libraries. MPV, has a more minimalistic and command-line focused interface, which may be more suitable for advanced users who prefer a lightweight and customizable experience. MPV focuses more on the core media playback experience and lacks some of the advanced features found in VLC.
Tweak various settings through configuration files and command-line options.
Offer greater control over video rendering, audio output, and subtitle rendering.
Suitable for low-end or resource-constrained systems.
have a smaller but dedicated user base.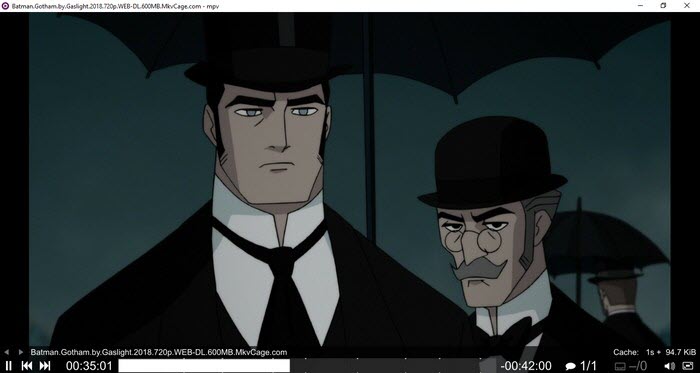 No.5: IINA - VLC Alternative for macOS with Modern Interface
IINA is a modern VLC alternative designed specifically for macOS. It has a sleek and intuitive interface and supports various video formats, including 4K and 8K playback. The VLC alternative for macOS offers features like customizable user interface, picture-in-picture mode, subtitle support, and streaming support. IINA also offers excellent format support but might require the installation of additional codecs for some less common formats. IINA has some unique features tailored for macOS users, such as picture-in-picture mode, Touch Bar support on compatible MacBook models, and integration with macOS's media controls.
Have a modern and sleek user interface that is specifically designed for macOS.
IINA provides a fair amount of customization options, allowing users to personalize the player's appearance and behavior.
It includes a built-in browser for streaming online videos.
Support hardware acceleration to ensure smooth 4K UHD video playback on Mac.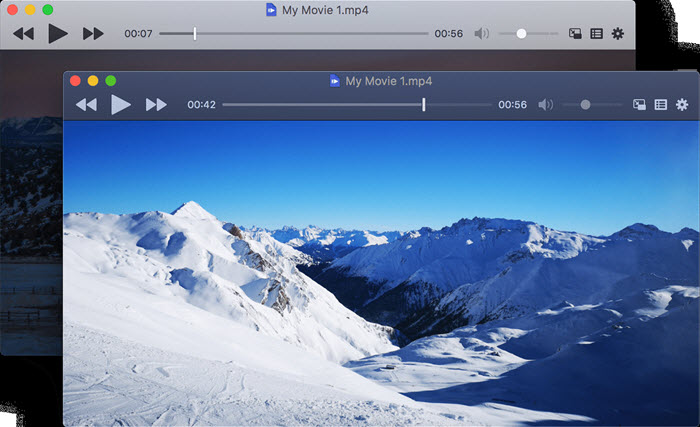 Conclusion: Apart from the above VLC alternatives for Mac and Windows PC, there are many other media players, such as RealPlayer, UMPlayer, Miro. If you are searching for best VLC alternative available for bot PC and Mac, 5KPlayer is highly recommended in terms of its powerful capability of playing any DVD, SD/HD videos, extra useful functions (downloading & streaming), as well as cutting-edge technologies used to deliver perfect video audio effect with low CPU cost.
Related External Source:
VLC media player - VLC media player (commonly known as VLC) is a portable, free and open-source, cross-platform media player...