What is MPlayer | MPlayer Wiki | Features of MPlayer
This post centers on the following parts: What is MPlayer for Linum/Windows/Mac OS X, what is MPlayer supported video and audio formats, and what is the use/history of MPlayer?
After nearly two year's waiting, MPlayer users can finally get the MPlayer updated version - v1.2 since Oct.3, 2015, which supports the latest FFmpeg 2.8 and get VDPAU hardware accelerated decoding on proper card and drivers. Its GUI, a few codes (such as HEVC, VP9, VP9 and Prores)/decorders (Opus, AAC and DTS) and many others have been improved in the recent version. But user cannot find the interal copies of libdvdnav and libdvdcss any more. Download it from its home page to have a try now!
Download 5KPlayer – the Best Free Alternative to MPlayer
Play videos/audios/DVDs/radio on Win XP/7/8/8.1/10 and Mac;
Play 8K, 4K, 2160P, 1080p and 720p videos smoothly and clearly;
Support 450+ video audio formats, including MTS, MKV, MOD;
Act as an AirPlay receiver/sender to stream media among devices;
Download videos and music from 1000+ online sites. - 100% FREE and CLEAN!
What is MPlayer | Features of MPlayer
MPlayer is a movie player which runs on many systems. It plays most MPEG, VOB, AVI, OGG/OGM, VIVO, ASF/WMA/WMV, QT/MOV/MP4, Realmedia, Matroska, Nut, NuppelVideo, FLI, YUV4MPEG, FILM, RoQ, PVA files, supported by many native, XAnim, and Win32 DLL codecs. You can watch VideoCD, SVCD, DVD, 3ivx, DivX 3/4/5, WMV, H.264 and even HEVC movies.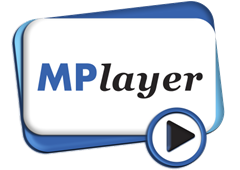 Another great feature of MPlayer is the wide range of supported output drivers. It works with X11, Xv, DGA, OpenGL, SVGAlib, fbdev, AAlib, DirectFB, but you can use GGI, SDL (and this way all their drivers), VESA (on every VESA compatible card, even without X11!) and some low level card-specific drivers (for Matrox, 3Dfx and ATI), too! Most of them support software or hardware scaling, so you can enjoy movies in full-screen. MPlayer supports displaying through some hardware MPEG decoder boards.
MPlayer has an onscreen display (OSD) for status information, nice big anti-aliased shaded subtitles and visual feedback for keyboard controls. European/ISO 8859-1, 2 (Hungarian, English, Czech, etc.), Cyrillic and Korean fonts are supported along with 12 subtitle formats (MicroDVD, SubRip, OGM, SubViewer, Sami, VPlayer, RT, SSA, AQTitle, JACOsub, PJS and our own: MPsub).
MPlayer Supported Media Formats
Physical media: CDs, DVDs, Video CDs
Container formats: 3GP, AVI, ASF, FLV, Matroska, MOV (QuickTime), MP4, NUT, Ogg, OGM, RealMedia, Bink
Video formats: Cinepak, DV, H.263, H.264/MPEG-4, AVC, HuffYUV, Indeo, MJPEG, MPEG-1, MPEG-2, MPEG-4 Part 2, RealVideo, Sorenson, Theora, WMV, Bink
Audio formats: AAC, AC3, ALAC, AMR, DTS, FLAC, Intel Music Coder, Monkey's Audio, MP3, Musepack, RealAudio, Shorten, Speex, Vorbis, WMA, Bink
Subtitle formats: AQTitle, ASS/SSA, CC, JACOsub, MicroDVD, MPsub, OGM, PJS, RT, Sami, SRT, SubViewer, VOBsub, VPlayer
Image formats: BMP, JPEG, MNG, PCX, PTX, TGA, TIFF, SGI, Sun Raster
Protocols: RTP, RTSP, HTTP, FTP, MMS, Netstream (mpst://), SMB, ffmpeg:// (Uses FFmpeg's protocol implementations)
Best Video Converter for Windows/Mac – WinX HD Video Converter Deluxe
WinX HD Video Converter Deluxe can make all your video media files playable by MPlayer or other players on any of your Microsoft devices, including Windows 10 PC, Surface Pro, WP8 and Xbox. At the same time, it is able to:

• Convert both HD (4K, even 8K UHD) & SD videos to videos or music files effortlessly.
• Convert music videos or movies for playback on PC, Mac, iPhone, iPad, Android, etc.
• Free download online videos from YouTube, Yahoo, Vevo, Dailymotion. (>300 sites).
• Create slideshows from pictures; crop, trim videos and add SRT subtitles.