How to Rip DVD to MP4 with VLC on PC/Mac
VLC is better known as an open-source media player supporting virtually all multimedia files, from videos in diverse formats to DVDs, CDs, and VCDs. As a matter of fact, it additionally acts as a simple DVD ripper since version 0.9.6. But, how to rip a DVD with VLC? Can VLC make an MP4 copy from a DVD disc? Here, we will explain how to free rip DVD to MP4 using VLC on Windows 10/11/Mac in detail.

Before you rip DVDs to MP4 using VLC on Windows or Mac, you need to know that VLC doesn't support DVDs with protections. Though libdvdcss is included in VLC, it's mainly used to help VLC play content with CSS. That means you can't rip a protected DVD using VLC.
The workaround is to try VLC and Handbrake together to handle CSS, region codes, and part of other protections. Or check Part 4 to rely on a real DVD ripper to remove the copy protections.
Part 1. How to Free Rip a DVD to MP4 with VLC on Windows?
The following steps will show how to free rip with VLC on Windows 10/11. To convert DVD to MP4 on Mac with VLC, skip to Part 2.
Step 1. Install VLC DVD Ripper
Go to VLC official site and select matched operation system to download. VLC Media Player supports multi-platforms, including Windows (XP-10), Mac OS (X 10.6 and later), Linux, etc. After it is fully downloaded, double-click the exe file (vlc-3.0.17.4-win32.exe) to install VLC. During installation, you can choose optional components (for example web plugins) to install.
<< Learn detailed guide on how to rip a DVD using VLC >>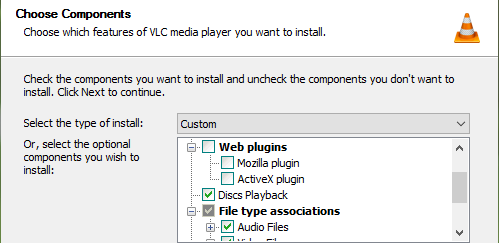 Step 2. Import DVD Disc to VLC
Open VLC and insert your DVD. Click Media on the menu bar and a drop-down list appears. Select Convert / Save… to access to Open Media dialogue box. Besides DVD discs, VLC also enables you to import ISO Image or VIDEO_TS folder which stores DVD contents as a source for ripping to MP4.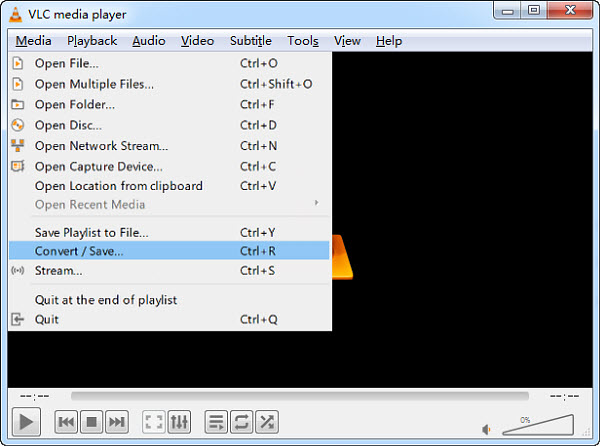 Step 3: Select the title
Click the Disc tab and you will find 3 sections on this page: Disc Selection, Starting Position, Audio, and Subtitles. Check the DVD option and browse to import the DVD source to VLC. Next, set the title (main title in general) and the chapter you wish to rip to MP4. If you don't know which is the correct title, play the DVD with VLC to find the correct title. Select the audio/subtitle tracks. Then click Convert / Save button.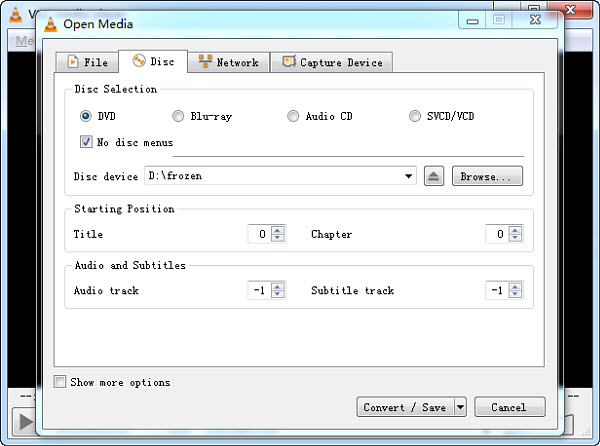 Step 4. Start Ripping DVD to MP4
Convert pop-up arrives. Move to the Settings panel. Set profile as MP4. If necessary, you can click the setting icon to adjust codec, bit rate, frame rate, resolution and subtitles. Then, click the Browse button to give a destination for saving the output MP4 file. Don't forget to name it. Finally, click Start to let VLC rip DVD to MP4 on Windows 10/11.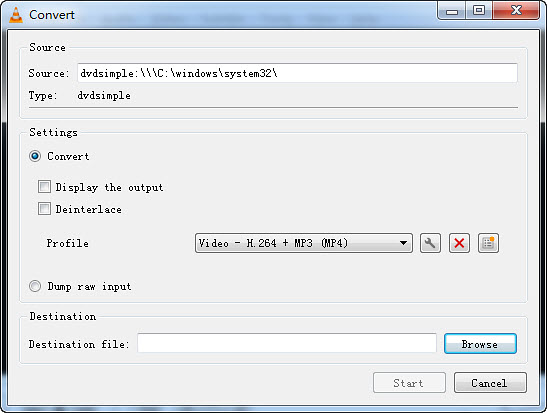 Tip: VLC provides two MP4 options: H.264 + MP3 and H.265 + MP3. Choose the most appropriate one depending on your needs. In addition, this VLC DVD ripper offers tens of video, audio, device and web profiles, such as WebM, TS, MP3, FLAC, TV, iPod, Android and YouTube.
Part 2. How to Rip DVD to MP4 using VLC on Mac?
Step 1. Download and install VLC on Mac
Go to VLC's official website and you'll find the VLC download link for Mac. VLC new version requires Mac OS X 10.7.5 or later, but old releases are also provided for earlier Mac OS X. After the dmg file is downloaded successfully, install it.
Step 2. Load the DVD
Insert your DVD into the DVD drive of your Mac computer. If there's no inbuilt DVD drive, an external one is a viable alternative. Open VLC, click "File" at the menu of VLC and then choose "Open Disc..." to load the DVD info.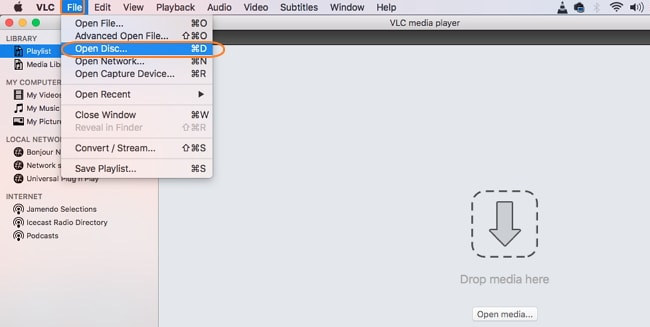 Next, you will see a settings window with your DVD's information. In this panel, click "Disable DVD menus" to avoid possible DVD ripping loop errors. Then check the box "Stream output", and click "Settings" to get access to Streaming and Transcoding Options.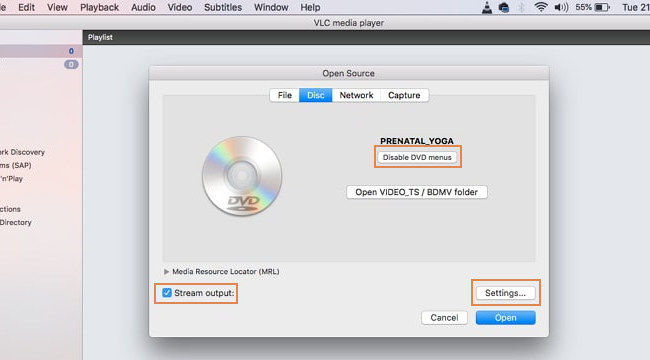 Step 3. Select MP4 as the output format
To rip DVD to MP4 with VLC on Mac, you need to:
Check "File" to convert the DVD to an MP4 file on your Mac instead of simply streaming;
Select "Browse" to change the output file name and set an output folder on Mac to save the file. Make sure you name the file with the .mp4 extension;
Click the drop-down box of "Encapsulation Method" and choose MPEG4 as the output format;
Under Transcoding options, choose video codec (H.264 is recommended), audio codec (MP3 for example), bitrates, scale, and channels.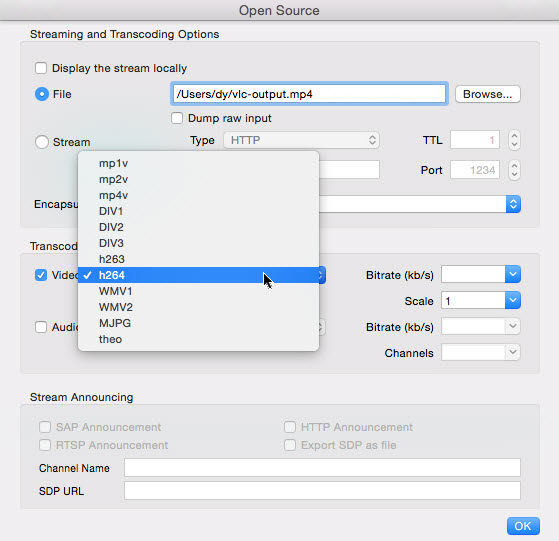 Step 4. Start ripping DVD to MP4 with VLC on Mac
When you have finished all the above settings, you can hit "OK" at the bottom right to confirm. It will then bring you back to the DVD info window. Next, click Open and VLC will start ripping the DVD to MP4 on Mac. It will take quite a long time to finish this task since it always requires from 15 to 40 minutes per half-hour of video.
Video Tutorial: How to Rip DVD to MP4 Using VLC
Part 3. Fail to Rip DVD to MP4 with VLC? How to Fix?
Ripping DVDs to MP4 using VLC can sometimes turn out to be a disaster. Errors like no audio, no subtitles, failure to open discs, etc. happen frequently. Some examples here:
"I'm trying to save a title from my DVD to an MP4 file on disk. I can save title 1 OK, but for some reason, title 2 crashes VLC."
"I am trying to rip a DVD to an MP4 file with an H264 codec in Windows 7, using VLC. The file does get created, but there is no audio."
"When I click Start to rip my disc to MP4, nothing happens. VLC gives no message about the ripping process and just shows the interface."
* Fail to support copy protections. VLC is able to rip copy-protected movies, and even if you can't tell the correct title of a DVD, you can find it by playing the movie with VLC. But this doesn't mean a flawless DVD ripping process. Errors like VLC crashes, no audio, pixelated output, etc. can happen easily.
* Limited output choice/settings. VLC supports DVD to MP4 h.264, h.265, and MPEG4 as well as several other formats. It won't ensure the output quality or settings. You can't adjust, merge, crop, and do any settings or adjustments.
* Slow speed. First, the DVD-mp4 process that happened in VLC is not quite the same as DVD ripping. It's a process that records the movies in real-time to MP4 created on your hard drive. DVD ripping is where a DVD ripper cracks the CSS encryption and saves the DVD image into another file. It's faster. Second, VLC is mainly a media player instead of a ripper. It only supports GPU decoding.
When wired issues happen during DVD to MP4 ripping with VLC on Windows or Mac, you can:
Re-install the latest version of VLC.
Try another output profile.
If VLC still won't rip DVD, the DVD is probably copy-protected. If so, we need to use a DVD decrypter to remove copy protection of DVD at first and then rip it to MP4. Or we can switch to a VLC alternative to make everything simpler.
Part 4. Have Errors Rip DVD to MP4 with VLC? Try the Best VLC Alternative!
WinX DVD Ripper - a professional free DVD ripper featuring free rip DVD to MP4, MPEG, WMV, FLV, MOV, MP3, iPhone, iPod, Apple TV, HTC, Samsung, and PSP while keeping high quality. It can handle various copy protection schemes on DVD, like CSS, Region Code, RCE, Sony ArccOS, and more. With support to Intel® (QSV), NVIDIA® (CUDA/NVENC) GPU-based acceleration, Hyper-threading & multi-core processor, it delivers 5x faster speed ripping DVDs to MP4 than VLC.
For Windows and Mac only. If you are a mobile user, please click here.
How to Rip Protected DVDs to MP4 via VLC Alternative on Windows/Mac?
It is a pretty easy task to rip DVD to MP4 via this best VLC alternative. Download and install it on your computer (Windows 11/10/macOS Ventura and lower are supported).
Step 1. Insert your DVD and open the program. Then click the DVD Disc button and select your DVD to load the data.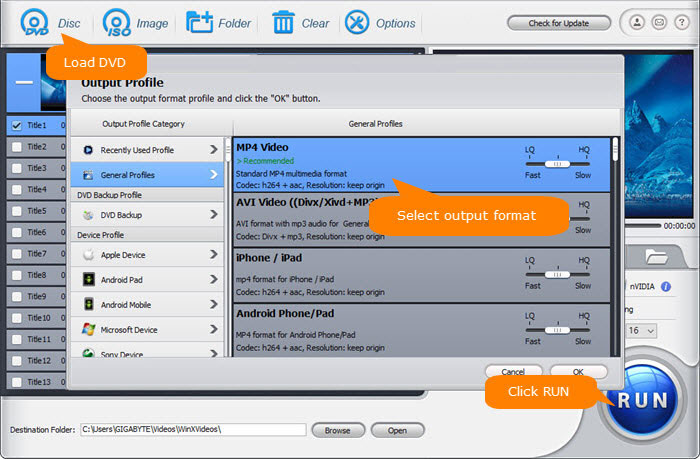 Step 2. It will ignore the region codes and other protections and automatically select the correct main title. Then an output format window will open.
Step 3. Select General Profiles and choose "MP4 Video". Click OK. Back on the main interface, you can click on the selected profile to adjust the DVD to MP4 ripping in the VLC alternative, such as the resolution, codec, bitrate, aspect ratio, etc. You are also allowed to adjust to meet edit, select subtitle/audio tracks, merge titles, and more.
Step 4. Click Start to rip DVD to MP4 with the VLC alternative. Soon, you can get a resulting digital file in MP4 format.
Video tutorial: how to rip DVD to MP4 with VLC alternative
In fact, ripping DVDs to MP4 using VLC is not the best idea. It may help you out in a pinch when you just want to rip several homemade discs and have VLC installed on your computer. VLC is a basic DVD ripper. You probably would never use it when there are better DVD options available. To give you a better picture, below is why you may need another tool to rip DVDs to MP4 on Windows/Mac instead of VLC.
Trusted by millions of users. Safe and clean.

Free and essential

Free and powerful
Download for Win
Download for Mac

Supported DVD formats
General CSS encryption, region codes, Sony ARccOS, UOPs, APS, RCE

No

Rip DVD to basic video and device formats
Rip a DVD to MP4, AVI, MPEG, WMV, FLV, MOV, MP3

Limited

Back up DVDs
Copy DVDs to ISO image or Video_TS folder with 100% quality & data.

Unique for Special DVDs
Uniquely support fitness DVDs, AV DVDs, 99-title DVDs...

Hardware Acceleration enabled
Support Intel/Nivida/AMD GPU Acceleration in DVD to MP4 ripping.

Support GPU accelerated decoding

Edit DVD video
Adjust settings, crop, trim, merge, subtitles...

Select subtitle/audio tracks
Select the subtitle or audio track in your desired language.

Upscale DVD to higher quality
Upscale DVD to 720P/1080P for better quality.

Play DVD movies

Disclaimer: Digiarty Software does not advocate ripping copy-protected DVDs for any commercial purpose and suggests referring to the DVD copyright laws in your countries before doing so.