Best Apps to Compress Video on Android without Losing Quality
More and more Android devices like Samsung Galaxy S20 support you to shoot video at 1080p at even 240FPS, 4K 2160p at 60FPS and even 8K 4320p at 24FPS. Watching video in 4K/8K Ultra HD resolution is a visual feast, especially on Galaxy S20 with Dynamic AMOLED 2X display up to 1440 x 3200 pixels. However, hi-def video comes at the expense of large size, which would chew up your device space, make video sending a flop, eat up your device CPU and cause CPU overheat during playback, etc.
Some many good reasons are here for compressing video on Android. Well, how to compress and reduce video size on Android with minimal quality damage? Try the below top video compressor apps for Android!
Jump to the part you need if time is limited:
Top Video Compressor Apps for Android to Compress Video
The recommended video compressors Android are not equal in price, some freeware and some shareware. Opt for the one you need based on your specific demand and budget.
1. Video Compress
This video reducing application wins 4.2 score (based on 41354 reviews) on Google Play store. Most of users regard it as a qualified video compressor Android to shrink video size with high, normal and low quality grounded on the compression ratio you choose. It also comes with extra boon - extract subtitles from video and rotate video to help you better customize video footage for Emailing, uploading and storage on Android phones and tablets. It can be free downloaded or purchased in-app for more features starting from $0.41.
Room for improvements:
Currently unable to let users bulk resize videos at one stroke.
A bunch of ads pop up, and most of them are video dating apps.
Output format is limited, only MP3 audio format available for free.
The latest update stops on November 14, 2016. Update frequency is too low.
2. VidCompact
Three compression options help VidCompact earn a spot in the top video reducer app Android list. To make video smaller on Android Samsung, Huawei, Sony, choose from the preset options: trim and compress, batch compression, and convert to MP4. The first option enables you to cut off the unnecessary clips out of video as to resize video considerably without losing quality. The second one is almost identical to the former one but in bulk. The last one is to change the way it's compressed, transcoding any video (AVI, MKV, FLV, RMVB, 3GP, MPEG, WMV, MOV...) to MP4 with higher compression efficiency.
Room for improvements:
The compression ratio is limited, roughly 50% size off.
The develop team of this application earns bread and butter via commercial ads. So bear some annoying ads for the sake of free lunch.
Only one resulting format MP4.
Half crash occurs when loading large-sized hi-def video like 4K or 8K video.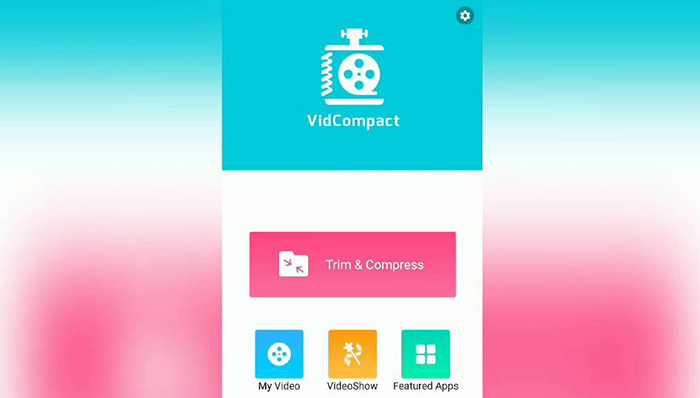 3. Video Dieter 2
The lack of video conversion makes Video Dieter 2 placed at 3rd ranking. The ace it provides you is the video quality and resolution settings, alongside with trim feature as supplement. Since you're unable to compress video on Android via video codec, the video quality and resolution downscale will definitely do resulting quality harm. Therefore, do a good balance between size and quality when facing options. It knows its downside, so it takes time lapse option as a trade-off. Time lapse option can speed up your videos to 2X or 3X faster so as to downsize video. This feature is its trump card to contend with the above competitors.
Room for improvements:
No video converting feature.
Batch compression Not supported.
It removes the sound when you use some features sometimes.
It mucks up file names sometimes with random numbers.
The top 3 video resizer apps for Android are suggested to be used for video smaller than 1GB and resolution lower than 4K 2160p. As is known to all, the CPU chip, GPU and RAM of Android handheld device is much lower than these on computer. Hence, when it comes to compress 8K/4K Ultra HD video, the hardware configurations on your Android device can't handle the compute-intensive 4K/8K compression mission. That would result in app freezing, app crash, CPU overheating and 90% CPU usage issues.
Consequently, to resize large-sized 4K/8K video, you're supposed to transfer 4K/8K Android recordings to computer for compression. Beyond that, you also need a 8K/4K video compression software with GPU hardware acceleration tech so as to handle the knotty 4K/8K video compression from CPU to graphics processing expert GPU to avoid CPU overuse and compression snail-pace speed.
Which One to Compress 8K/4K Video for Android with Best Quality and Size?
The answer is WinX HD Video Converter Deluxe! with 98% quality kept and 50% - 90% size off!
Change the video it's compressed, converting Android 4K/8K to HEVC, H264, MP4, FLV, WMV, etc. with higher compression efficiency, roughly 50% - 80% size off!
Advanced Level-3 GPU HW acceleration tech, alongside with computer powerful hardware configurations, to resize Android 8K/4K/1080p video at GPU accelerated speed, no CPU overheating, CPU overuse or app freezing/crash issues.
90% compression ratio thanks to intraframe and interframe coding algorithms and entropy encoding.
No noticeable quality loss by dint of High Quality Engine and de-interlacing engine.
Trim videos, crop to remove black borders, lower resolution/frame rate/bit rate, etc. to further compress Android video footages!
[Tutorial] How to Compress Android (1080p/4K/8K) Video without Losing Quality
Step 1. Free download this video compressor and install it on your macOS or Windows.
Step 2. Click "+Video" button to import your Android videos with whatever format (MP4, MKV, H264, HEVC, VP8...) and resolution (720p, 1080p full HD, 4K, 8K Ultra HD). Bulk compression is available.
Step 3. Choose a high compression codec HEVC as output codec. Select MP4 Video (HEVC, AAC) on the pop-up output profile window and click OK. HEVC will compress your resulting file with at least 50% size off while keeping intact quality loss. It's a lossless compression. If your destination device or platform is incompatible with HEVC codec, pick up H264 with best compatibility.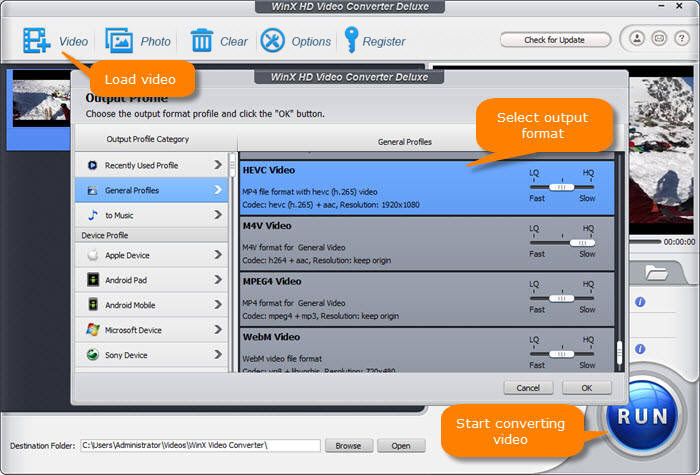 Option 1: to further shrink Android video size, Trim feature is your way to go. Tap Edit button with a scissor-shaped icon under the video info part > Enable Trim to freely set the start time and End Time to shorten your video length, or drag the slider to the video section you want to keep. This is also a lossless compression conduct.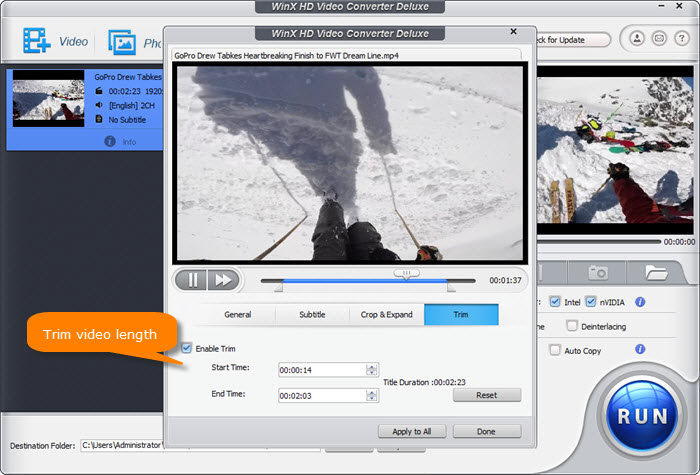 Option 2. As for Android 8K/4K Ultra HD videos, you might still need to adjust video resolution, bit rate, frame rate, etc. to make Android recording videos smaller. (lossy compression). Head to video info window, and tap the gear-shaped Settings button to get more options to tweak your video parameters for smaller file sizes. You're advised to properly downscale 8K to 4K, compress 4K to 1080p, lower frame rate from 120FPS/60FPS to 30FPS, and adjust bit rate to fit your lower-resolution screen, device with limited space or reduce video upload time. Please bear in mind that do not lower down them too much. Or the small size will come at the huge cost of poor quality.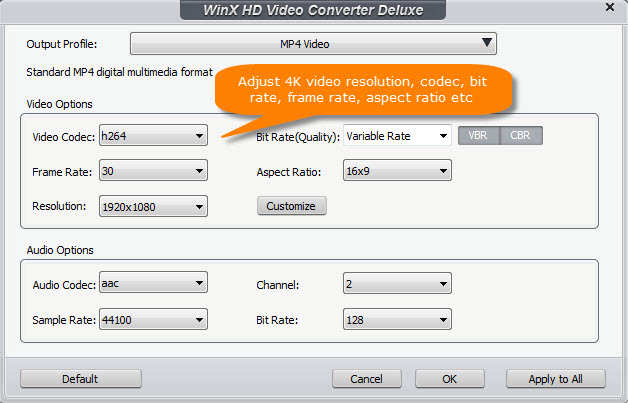 Step 6. Click the RUN button to start reducing video file size even from GB to MB with virtually no quality loss (High Quality Engine support).
The afore-mentioned solutions are meant to compress Android videos after shooting. There is another option to control video size: adjust camera settings on Android before recording. Check here if you wanna know the detailed guide concerning Android camera settings.