Best Video Compressor Apps for PC/Mac/iPhone Android
Homogeneity of commercial goods is becoming increasingly severe. In terms of hardware smartphone, iOS based iPhone has nowhere significant difference to Android based phones. And so does video compressor app in software industry.
When you hunt high and low for a video compressor app for Windows PC, macOS or iPhone Android, you'll be greeted by a boatload of apps to choose from. Randomly open one app website, and the tedious product introduction text will pop up in full screen. Not only would this cost you a couple of minutes to read one app introduction, but also confuse your judgement due to the similar exaggerated business expression they use.
Outwardly, all of them seem first-class. Yet, you know that's not the truth. You need to uncover the sides they hide from you. This post exists for this reason, unearthing the sides they don't write them out. Then you can reach your own conclusion about the "best" video compressor app after you get a complete cognition.
Jump to the part you need if time is limited:
Top Video Compressor Apps for PC & Mac
WinX HD Video Converter Deluxe
- compatible with Windows 10/8/7 (macOS version works with macOS 11 Big Sur or lower), lives up to what it says on its official webpage.
Change the video way it's compressed, converting any video (from iPhone, Android, GoPro, DJI drone, surveillance camera, online) to HEVC, H264, MP4, FLV, WMV, etc. with higher compression efficiency, roughly 50% - 80% size off!
Advanced Level-3 GPU (Intel QSV/Nvidia/AMD) HW acceleration tech solves app freezing/crash, 90% CPU use/overheat issues during 4K/8K compressiong video since it has the ability to offload compute-intensive task from CPU to GPU.
90% compression ratio thanks to intraframe and interframe coding algorithms and entropy encoding.
Up to 98% quality reserved by dint of High Quality Engine and de-interlacing engine.
Trim videos to shorten video length, crop to remove black borders, lower resolution/frame rate/bit rate, etc. to further compress video.
No Ads, no hidden fees.
What else haven't developers told you:
1. You can make video smaller on PC/Mac with 90% size off, but you have to cut most of clips out of video or sacrifice quality to certan extent.
2. VP9 is supported as input codec but not the output codec, so far.
3. The successor of HEVC codec - AV1 (as output codec) is coming to this compressor (possible for the next upgrade) with even higher compression efficiency than HEVC & VP9. Stay tuned!
>>> Check tutorial on how to compress and reduce video on Windows PC/macOS.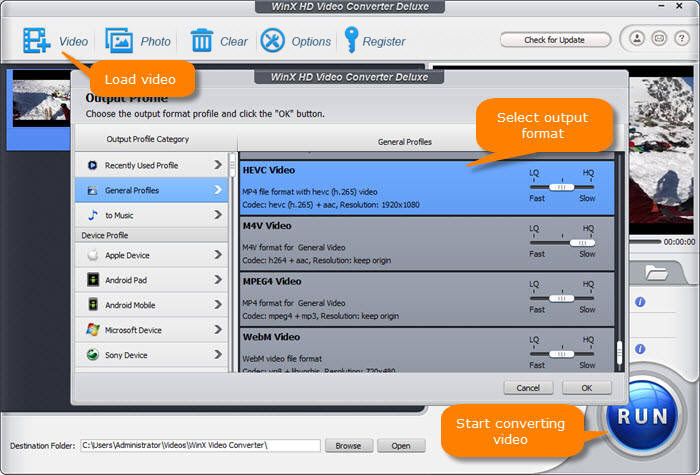 Freemake Video Converter
- Compatible with Windows PC only, no macOS version.
Compress videos to MP4, WMV, FLV, SWF, H264, MPEG-4, etc., with 500+ formats supported (it claims on the official webpage).
Trim video parts to reduce video duration, remove black bars from video footage to further resize video.
Video source 4K 2160p, 1080p Full HD, 720p are all supported irrespective of HD cameras, camcorders, online site or iPhone Android.
Parameter settings adjustment is available to further reduce video size, including lower resolution, bit rate, frame rate.
What else haven't developers told you:
Freemake Video Converter is available for free but with limitations like a watermark on the resulting file and slower compression speed. For normal or faster compression speed, you're demanded to upgrade to paid subscription.
HEVC codec is unsupported as input or output codec.
Only NVIDIA CUDA and DXVA hardware acceleration are available, NVENC, NVDEC, Intel QSV & AMD HW acceleration not supported. >>> Check here if you wanna know the detailed guide concerning Freemake video converter video compression.
Top Video Compressor Apps for iPhone & Android
The following video compression applications are mainly for iPhone (12/mini/Pro/Pro Max). Click here to have a glimpse of the top video compressor apps for Android phone & tablets.
1. Video Compress - Shrink Vids
This video reducing app stands head and shoulder over others thanks to its bulk compression feature, which even allows you to compress entire albums to save your iPhone space, esp. for 64GB iPhone 12. It also lets you customize video via bit rate & resolution adjustment.
Please note:
You'll be charged at $4.99 for the upgrade and $0.99 to skip the ads. And you'll be asked to re-pay for this app if it crashes and you re-install it on your iPhone.
This video compressor app for iPhone is designed to downsize video recorded by your original camera. Other video sources or videos being edited before are excluded.
No option to see all videos in the camera role.
It seems that no professional developer team accounts for the update on this app (reflected by user Kkb17 on Apple App Store).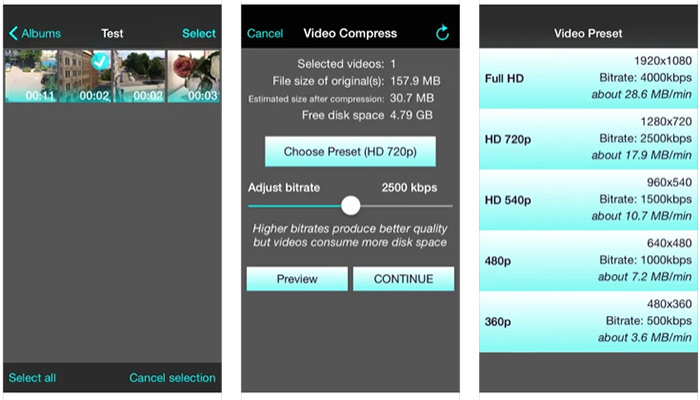 2. Video Compressor
Compatible with iOS 13 or above based iPhone iPad iPod, this video compression software is a strong performer to compress iPhone videos, esp. 1080p, 720p HD videos with 3 modes: 720p (70% size off with medium image quality); VGA (save 80% of space with 480p sharp image quality) and Low (99% space saved at the price of low image quality, only 128p resolution). Beyond that, video trimming can be applied to further resize video footage.
Please note:
It's awash with commercial ads.
4K 2160p video compression is not suggested via this app, for it would result in sudden crash now and then.
The app update frequency is low, roughly once a year with only bugs fixed, no new features.
The language of the interface only goes to English, so far. For iPhone and macOS users, you have one native video compressor - iMovie. Open this guide to convert and reduce videos size using iMovie on macOS and iPhone iPad. You're warmly welcomed to share with us via the below Contact Us link if you've used any better compression app.