How to Reduce Video File Size for Twitter Upload
Video files particularly those in 4K UHD can be very large and that can be a headache for uploading or tweeting via the web - the max file size is 512MB for TweetVideo. Here are several simple ways to compress video for Twitter, from your computer and online. You can shorten your video length to reduce your video size for Twitter without losing quality. If you get a "Video too long" error message when uploading a video to Twitter, you can also use the tools below to trim clips off. Is the video too wide for Twitter? These free video compressors for Twitter offer easy ways to resize videos for Twitter.
Table of Contents
#1. ONLINE-CONVERT
#2. MP4COMPRESS
#3. Flixier
Part 1. Compress Video for Twitter on Mac/Windows Desktop
With great video compression features, HD Video Converter Deluxe is one of the best choice for compressing videos for Twitter on desktop. It shrinks MP4, MOV, MKV, WMV, WebM, and other formatted videos for Twitter without losing much quality. Your 1GB video can be reduced to 10MB for Twitter upload. HQ Engine and advanced video compression algorithm ensure the best quality. The free video compressor software for Twitter offers a few compression quality, cut, trim, resize, lower video resolution/bitrate/frame rate, and more. Free download the tool and use the steps below to reduce video file size and resize videos for Twitter.
Step 1. Load your video file. Run the video compressor for Twitter on your computer. On the main interface, click on "+ Video" on the top left to specify and select the video file you want to compress for sending to Twitter.
Step 2. Choose an output format for the resulting compressed file. When the video is loaded, you should see the output profile window. Choose a video format for Twitter. MP4 H.264 is the best video format for Twitter and also keeps the best balance between quality and file size.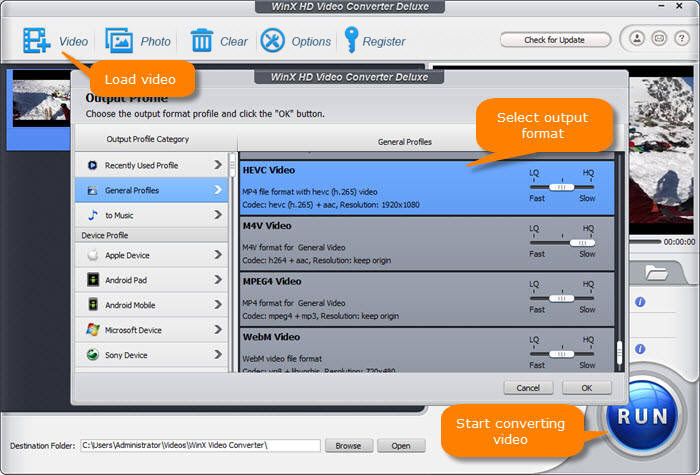 Step 3. Compress and resize video for Twitter. You can lower the video resolution, bit rate, frame rate, resize video for Twitter. It's also quite easy to remove unnecessary parts of the video (cut/trim) to reduce video size for Twitter without losing quality.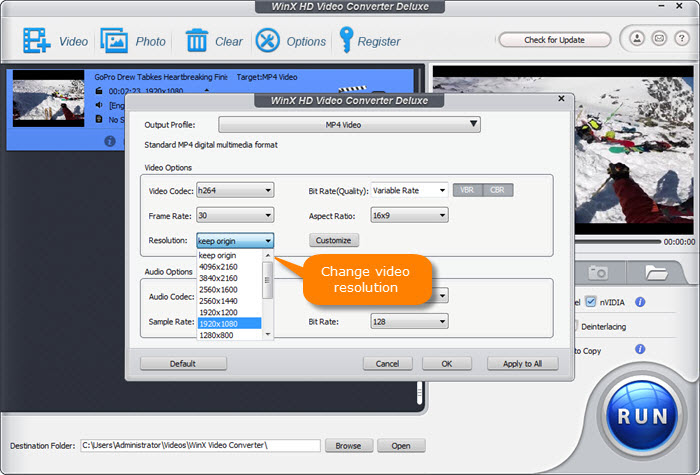 Crop: crop the black boarders of the video: Crop & Expand -> check "Enable Crop" -> drag & pull or adjust the dashed box -> Done.
Cut: cut out any unwanted clips from the video for Twitter: Trim -> check "Enable Trim" -> input Start Time and/or End Time, or select the duration you need -> Done.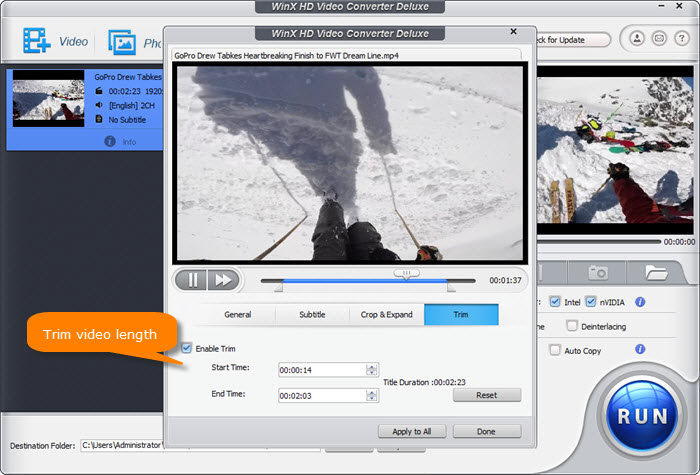 Step 4. Click the Browse button to specify a folder for storing output video file. Then start convert video to Twitter required file size, length and format. Just click the RUN button to process the video compression and resizing.
Part 2. How to Compress Video Files for Twitter Free Online
We pick the top 3 free online-based video compressor tools to help you reduce the video file size or/and resize videos for Twitter. We list the main features they offer and how to use them to compress video file size free online for uploading to Twitter. These online tools should work on Mac, Windows, iPhone, iPad, Android, and other platforms. It may be more convenient to use them on a desktop. Choose the one that suits you best.
ONLINE-CONVERT
MP4COMPRESS
Flixier
#1. ONLINE-CONVERT
ONLINE-CONVERT is a top-rated online video converter. It's no surprise that ONLINE-CONVERT is also a good choice for compressing, resizing, and converting video files for Twitter. It has a web page for converting videos for Twitter, which offers optional settings for making videos smaller for Twitter by cutting videos and presets to resize videos for Twitter. It's very clear how to compress video files free online for Twitter using ONLINE-CONVERT. Below is the detailed guide on how to use the free online video compressor and resizer tool for Twitter. Step 1. Open Online-CONVERT Twitter video convert page. As you will see, there's a file upload button. Drop video files here or click the Choose File button, specify a video file and upload for compression. You can enter the video URL, and upload the video from Dropbox or Google Drive.
Step 2. Adjust optional settings. You'll be presented with a list of Optional Settings on the main page. You can convert videos to MP4 for Twitter, choose a preset for Twitter, remove audio track or/and cut video length to compress video for Twitter free online. The Twitter Preset includes Twitter HD 25p, HD 30P, Twitter 320x150 25p, 320x180 30p, and Twitter 340x360 25p/30p.
Step 3. Click the Start button to begin compressing MP4/MKV/MOV and other formatted video files for Twitter. When the compression process completes, download the compressed file to your device.
#2. MP4COMPRESS
MP4COMPRESS is a good choice for compressing MP4 video files online for Twitter. You can compress a max of 500MB for Twitter online for free. It requires no registration. You don't have to adjust any video or video settings, the video you upload is compressed automatically. The downside is that you have no access to adjust the video compression ratio and video quality for Twitter. MP4COMPRESS also works as a video converter and video resizer for Twitter, allowing you to convert and resize video files online for uploading to Twitter.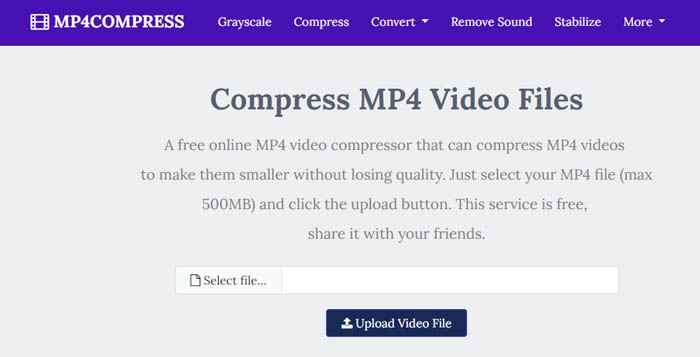 Step 1. Go to the MP4COMPRESS website. Click the Select file icon and choose a video from your computer to load. It supports MP4, MKV, MOV, WMV, WebM, and many more video file formats. Only your local video files can be loaded.
Step 2. Click the Upload Video File button to upload your video for compression. You don't need to do any other video compression settings, such as bit rate, resolution, video length, etc. The video compression task is processed automatically.
Step 3. Download the compressed video for Twitter to your device by clicking the compressed video link.
#3. Flixier
Flixier is another good choice for Twitter users who are looking for ways to reduce video size online without installing software. There are some advanced settings for you to make video files smaller: CRF and Bitrate compression, resolution, frame rate, etc. The online video compressor for Twitter gives a maximum of 2GB for free and some basic functionality for shrinking your video size. 10 minutes/month of export video is free, but the exported video resolution is limited to HD 720p. It's clear how to compress videos free online for Twitter with Flixier. Follow the steps below to reduce your video files.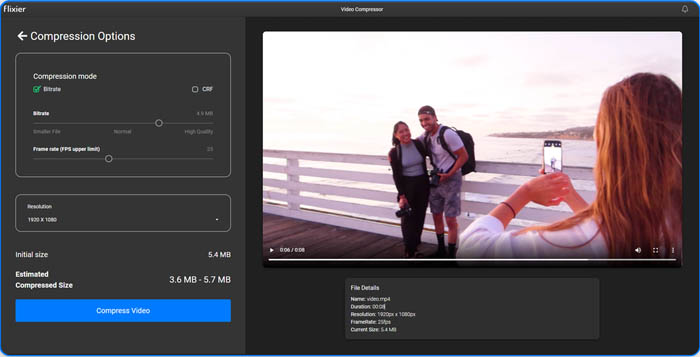 Step 1. Open Flixier online video compressor. Log in with your Google account or Facebook account, or create an account with other email accounts.
Step 2. On your Dashboard, click the Library tab, drag and drop the video you'd like to compress from your computer for uploading. Or click the import button to upload your video from cloud storage, YouTube, Twitch, etc.
Step 3. Right-click the video and choose the Compression option. Set a compression level, or click the more advanced settings to get more options to reduce video file size for Twitter, such as video resolution, bitrate, framerate, and CRS. After you've set. Wait for the download process.
Step 4. Download the video to your device once the video compression finishes. Now, you can share your shrunk video files to Twitter smoothly and quickly.
Part 3. Best Video Format/Size/Specs for Twitter
When you compress videos for Twitter, make sure your video meets the Twitter video upload requirements. Here are the limitations on video resolution, aspect ratio, length, formats, and other parameters that can be uploaded to Twitter. You can use the shared free video compressors for Twitter to meet the size, length, and format requirements.
Best video format: MP4, MOV
Default video length: 140 seconds
Max video file size: 512MB for TweetVideo.
Minimum resolution: 32 x 32
Maximum resolution: 1920 x 1200 (or 1200 x 1900)
Aspect ratios: 1:2.39 - 2.39:1 range
Maximum frame rate: 40 fps
Maximum bitrate: 25 Mbps