Top 3 Ways to Resize Video for TikTok (No Watermark)
TikTok is an mobile social media app, accepting video with strict dimension and aspect ratio. As is known to all, the best video resolution of TikTok is 1080×1920 and the best aspect ratio for TikTok video goes to 9:16 (1:1 for TikTok ad video). Therefore, if your video is captured by other devices instead of Tiktok built-in recorder, you'd better resize video before uploading to TikTok.
If you have no idea on how to adjust video dimensions and aspect ratio for TikTok, here is the right place, with 3 simple ways to resize any 5K, 4K, 2K videos for TikTok without watermark.
Way 1. How to Use Kapwing to Change Video Size for TikTok?
Kapwing is an online tool for you to resize video files free for TikTok. It can help you resize a landscape video to a vertical video or fill your video to a vertical one by adding padding to it. The common dimension options are all covered, be it 1:1, 9:16, 16:9, 5:4 and 4:5. And it lets you add padding to video from 4 sides, top, bottom, left and right. You can freely choose which background color for the padding. The unwanted video margin can be also removed with its "Remove Padding" feature. There are more features inside Kapwing. Get closer to them during the how-to procedure.
Step 1: Access to Kapwing site and tap "Upload File" button to load your video footage. The video uploading is not finished at once. The uploading speed is related with your video size and network speed.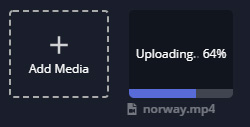 Step 2: Tap "Crop" under Edit catalogue. Then you can freely adjust the box on the video to resize video dimensions. Or choose from the below preset options, including the best aspect ratio for tiktok 1:1, 9:16, and others for YouTube, FB, Twitter, LinkIn mobile, Instagram, etc. Click "Done Cropping" when you finish. More Options:
Tap "Adjust" feature under Edit to adjust video playback speed, volume, zoom, corners (right angle to camber) and rotate video.
Trim feature is available under "Timing" section, where you can free set start and end time to shorten length for TikTok (see the TikTok max video length limit) and to reduce file size.
Basic editing features are included, like text, animate, effects.
Click "Video" option at the left side of the window, which empowers you to search oodles of free stock videos from Pexels and Pixabay to add to your Kapwing project.
Step 3: Preview the final image size and when it's up to the mark, export and download your image to save it to your device. To get watermark out off your video image, log in with your Google or Facebook account to create an account. Afterwards, upload your resulting video footage to TikTok for sharing.
Way 2. How to Use Veed.io to Resize Video for TikTok?
Veed.io is another online free video editor, capable of editing and resizing video to fit TikTok. It allows you to upload video files from device, computer, phone, recorder or dropbox with most video formats and codecs supported. It has almost everything you need for Tiktok editing. Adjust any video dimensions for TikTok best 9:16 aspect ratio, add text/music to video, choose from a bunch of video effects to varnish your footage, and enable Trim feature to further compress video size for TikTok. Check the detailed steps if you're interested in this tool:
Step 1: Upload video to TikTok.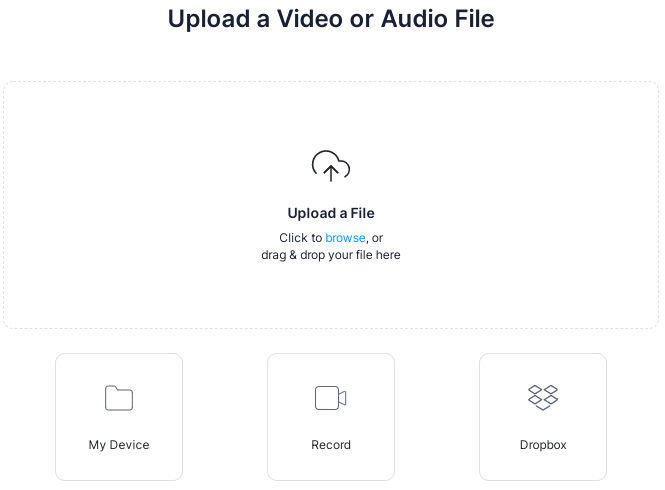 Step 2: Crop and resize your video. Click "Size" under Project Settings panel at the left hand of the interface. Scroll down the options and find "TikTok 9:16". Tick it and the preview window will become 9:16 image.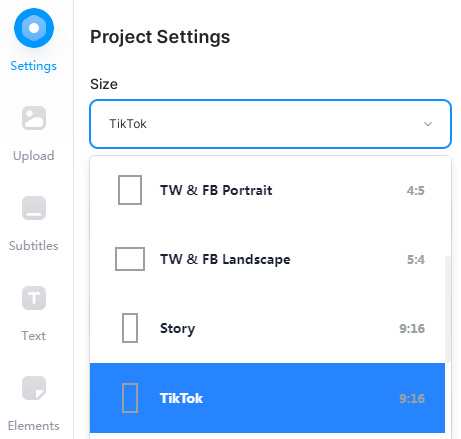 Optional:
1. Move the slidebar to manually set video start and end time to adjust its duration if necessary. Split feature is also accessible. 2. Color correction is alive in this free video resizer, like exposure, brightness, contrast, saturation. Rotation is next to color correction.
3. Add subtitles, text, filters, special effects to customize video for TikTok if needed. Of course, the effects are nowhere near enough eye-catching as those in TikTok itself. Add to your video if you don't demand too much on video effects.
Step 3: Tap "Export" to export your video file. Things to be noted are that you'll be asked to upgrade to PRO plan if you wanna remove watermark. And the PRO plan is dear, $288 annually or $38 monthly. The Pro plan gives you more freedom in video editing like your video length can be extended to 2 hours, 100GB of storage, auto generated subtitles, etc. You can choose directly export video if you don't want to spend such amount of money and don't mind watermark.
Way 3. How to Use WinX to Adjust Video Dimensions for TikTok?
Kapwing lets you resize video for TikTok without watermark (no need to upgrade to price version). Yet, it doesn't include feature to let you adjust video resolution to TikTok best 1080x1920. And the same case is to veed.io, let alone veed.io output file with watermark for free plan. Thus, if you need to crop video dimensions and tweak video resolution, WinX HD Video Converter Deluxe is your best way to go!
Resize any video to 9:16, 1:1, 16:9, 4:3, 3:4, etc. with preset parameters, or manually crop video size at your willing.
Downscale video to TikTok best resolution, like 4K to 1080x1920, 2K to 1080x1920 to better fit TikTok requirement.
Convert videos to TikTok best video formats MP4, MOV, AVI, as well as MKV, FLV, WMV, WebM, 3GP, YouTube, FB, etc.
Edit videos basiclly, like trimming the video length, add subtitles to video, merge video clips, etc.
Here are the easy steps on how to adjust video dimensions and resolution for TikTok:
Step 1: Free download WinX HD Video Converter Deluxe on your computer and launch it. Click the "Add Video" button to import video footage.
Step 2: Choose an output format from the automatically popped up profile window. Here more than 420 preset profiles are available. MP4 is most recommended for its wide compatibility. Go General Profiles > MP4 Video (h264+aac), and tap OK button.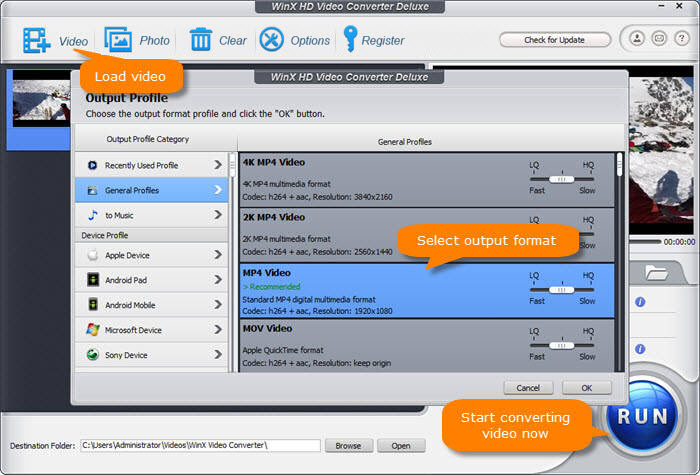 Step 3: Tap Edit button. There are two options for you: Crop and Trim. A part of videos are displayed with black top, bottom or side bars. Select Crop & Expand tab and tick Enable crop. Drag the crop letterbox or set position/size manually to remove irrelevant images.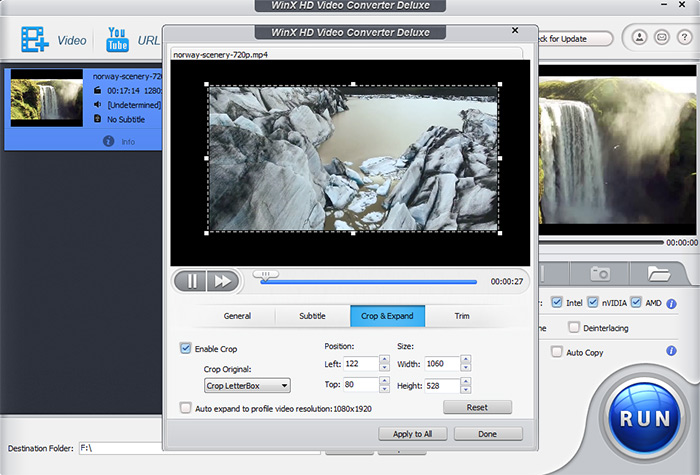 Step 4: Click on the "Settings" button to adjust video resolution, frame rate, bit rate, aspect ratio according to your needs. And then click "OK".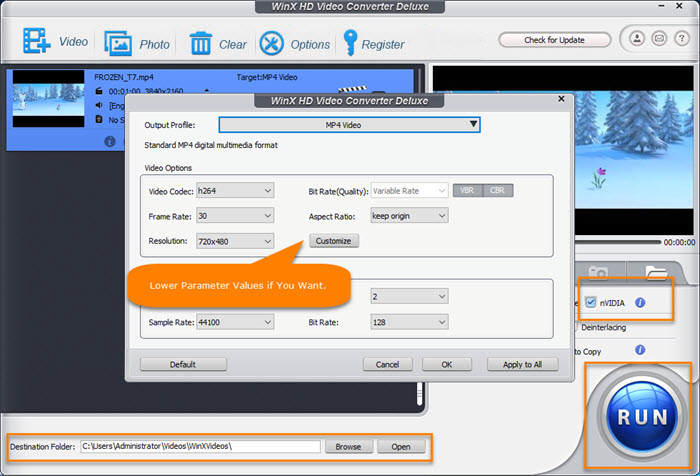 Step 5: Tap the "RUN" button to start resizing (4K/2K) video at GPU hardware accelerated speed. High Quality Engine will be auto enabled to guarantee you the highest possible output quality, up to 98% quality kept. When the process is finished, you can upload resulting video file to TikTok without watermark, nor aspect ratio or resolution incompatibility issue.