Top 5 Ways to Resize Video for TikTok (No Watermark)
TikTok is a mobile social media app, accepting video with strict dimension and aspect ratio. As is known to all, the best video resolution of TikTok is 1080×1920 and the best aspect ratio for TikTok video goes to 9:16 (1:1 for TikTok ad video). If your video is captured by other devices instead of Tiktok built-in recorder, you'd better resize video for TikTok. If you have no idea on how to adjust video dimensions and aspect ratio for TikTok, here is the right place, with 5 simple ways to resize any 5K, 4K, 2K videos for TikTok without watermark.
Way 1. How to Use WinX to Adjust Video Dimensions for TikTok?
Kapwing lets you resize video for TikTok without watermark (no need to upgrade to price version). Yet, it doesn't include feature to let you adjust video resolution to TikTok best 1080x1920. And the same case is to veed.io, let alone veed.io output file with watermark for free plan. Thus, if you need to crop video dimensions and tweak video resolution, WinX Video Converter is your best way to go!
Resize any video to 9:16, 1:1, 16:9, 4:3, 3:4, etc. with preset parameters, or manually crop video size at your willing.
Downscale video to TikTok best resolution, like 4K to 1080x1920, 2K to 1080x1920 to better fit TikTok requirement.
Convert videos to TikTok best video formats MP4, MOV, AVI, as well as MKV, FLV, WMV, WebM, 3GP, YouTube, FB, etc.
Edit videos basiclly, like trimming the video length, add subtitles to video, merge video clips, etc.
Here are the easy steps on how to adjust video dimensions and resolution for TikTok:
Step 1. Free download WinX Video Converter on your computer and launch it. Click the "Add Video" button to import video footage.
Step 2. Choose an output format from the automatically popped up profile window. Here more than 420 preset profiles are available. MP4 is most recommended for its wide compatibility. Go General Profiles > MP4 Video (h264+aac), and tap OK button.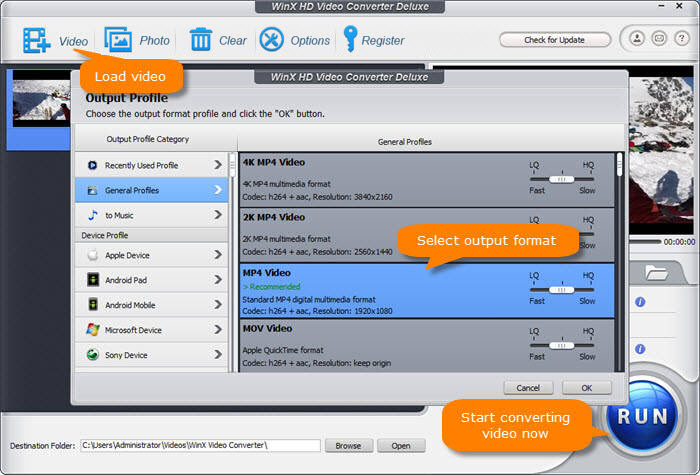 Step 3. Tap Edit button. There are two options for you: Crop and Trim. A part of videos are displayed with black top, bottom or side bars. Select Crop & Expand tab and tick Enable crop. Drag the crop letterbox or set position/size manually to remove irrelevant images.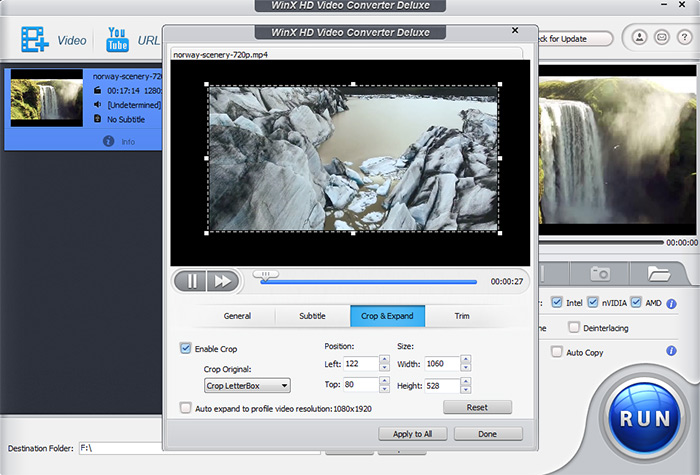 Step 4. Click on the "Settings" button to adjust video resolution, frame rate, bit rate, aspect ratio according to your needs. And then click "OK".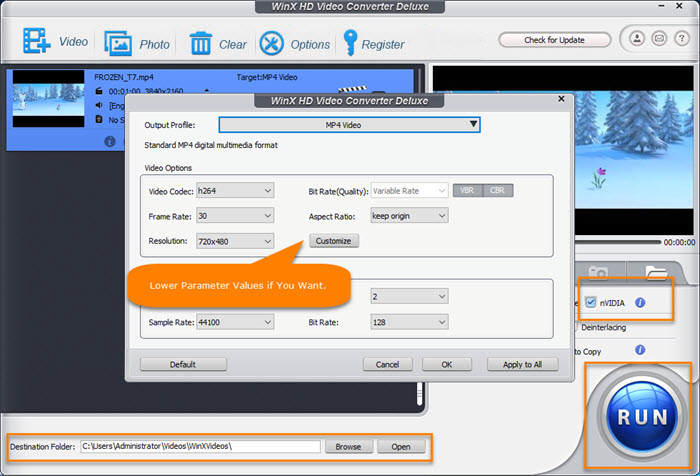 Step 5. Tap the "RUN" button to start resizing (4K/2K) video at GPU hardware accelerated speed. High Quality Engine will be auto enabled to guarantee you the highest possible output quality, up to 98% quality kept. When the process is finished, you can upload resulting video file to TikTok without watermark, nor aspect ratio or resolution incompatibility issue.
Way 1. How to Use Kapwing to Change Video Size for TikTok?
Kapwing is an online tool for you to resize video files free for TikTok. It can help you resize a landscape video to a vertical video or fill your video to a vertical one by adding padding to it. The common dimension options are all covered, be it 1:1, 9:16, 16:9, 5:4 and 4:5. And it lets you add padding to video from 4 sides, top, bottom, left and right. You can freely choose which background color for the padding. The unwanted video margin can be also removed with its "Remove Padding" feature. There are more features inside Kapwing. Get closer to them during the how-to procedure.
Step 1. Access to Kapwing site and tap "Upload File" button to load your video footage. The video uploading is not finished at once. The uploading speed is related with your video size and network speed.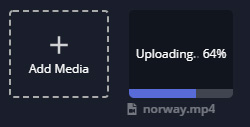 Step 2. Tap "Crop" under Edit catalogue. Then you can freely adjust the box on the video to crop video for TikTok. Or choose from the below preset options, including the best aspect ratio for tiktok 1:1, 9:16, and others for YouTube, FB, Twitter, LinkIn mobile, Instagram, etc. Click "Done Cropping" when you finish. More Options:
Tap "Adjust" feature under Edit to adjust video playback speed, volume, zoom, corners (right angle to camber) and rotate video.
Trim feature is available under "Timing" section, where you can free set start and end time to shorten length for TikTok (see the TikTok max video length limit) and to reduce file size.
Basic editing features are included, like text, animate, effects.
Click "Video" option at the left side of the window, which empowers you to search oodles of free stock videos from Pexels and Pixabay to add to your Kapwing project.
Step 3. Preview the final image size and when it's up to the mark, export and download your image to save it to your device. To get watermark out off your video image, log in with your Google or Facebook account to create an account. Afterwards, upload your resulting video footage to TikTok for sharing.
Way 2. How to Use Veed.io to Resize Video for TikTok?
Veed.io is another online free video editor, capable of editing and resizing video to fit TikTok. It allows you to upload video files from device, computer, phone, recorder or dropbox with most video formats and codecs supported. It has almost everything you need for Tiktok editing. Adjust any video dimensions for TikTok best 9:16 aspect ratio, add text/music to video, choose from a bunch of video effects to varnish your footage, and enable Trim feature to further compress video size for TikTok. Check the detailed steps if you're interested in this tool:
Step 1. Upload video to TikTok.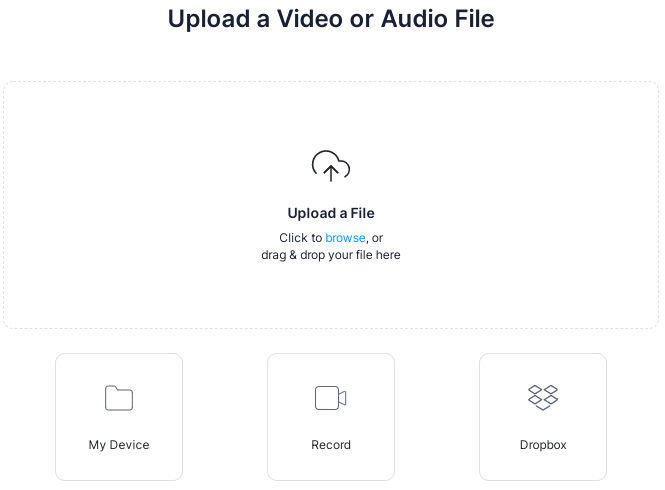 Step 2. Crop and resize your video. Click "Size" under Project Settings panel at the left hand of the interface. Scroll down the options and find "TikTok 9:16". Tick it and the preview window will become 9:16 image.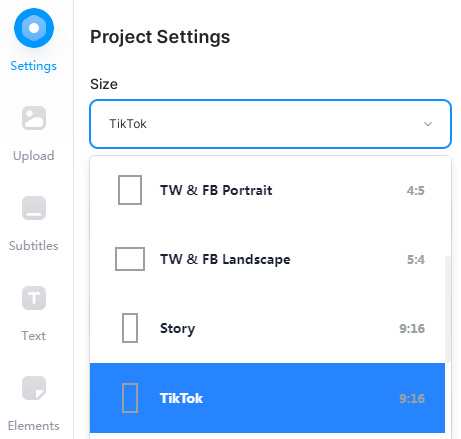 Optional:
1. Move the slidebar to manually set video start and end time to adjust its duration if necessary. Split feature is also accessible. 2. Color correction is alive in this free video resizer, like exposure, brightness, contrast, saturation. Rotation is next to color correction.
3. Add subtitles, text, filters, special effects to customize video for TikTok if needed. Of course, the effects are nowhere near enough eye-catching as those in TikTok itself. Add to your video if you don't demand too much on video effects.
Step 3. Tap "Export" to export your video file. Things to be noted are that you'll be asked to upgrade to PRO plan if you wanna remove watermark. And the PRO plan is dear, $288 annually or $38 monthly. The Pro plan gives you more freedom in video editing like your video length can be extended to 2 hours, 100GB of storage, auto generated subtitles, etc. You can choose directly export video if you don't want to spend such amount of money and don't mind watermark. It also works for resizing videos for YouTube Shorts
Way 4. How to Use Adobe Express to Change Frame Size for TikTok?
Adobe Express, originating from Adobe family, has a specific webpage for you to resize TikTok. Visit this free online resizing webpage and you can change video frame size for TikTok without downloading any 3rd party plug-in or add-on. No registration or log-in needed, you can directly import your video footage to this online video dimension adjustment service with video length shorter than 1 hour.
Though this service doesn't ask you for personal info, it indeed transfers video info to their servers for processing and data storage once you agree with their terms and conditions on using their applications or services. If you care about this, think twice before you leap. Certainly, Adobe, as an international corporation, has a thorough system to protect your personal video info from being illegally or commercially used. No need to overreact on this. If you're okay with this term, check the below steps to resize video for TikTok now:
Step 1. Open Adobe Express resize video for TikTok webpage and click "Upload your video" icon.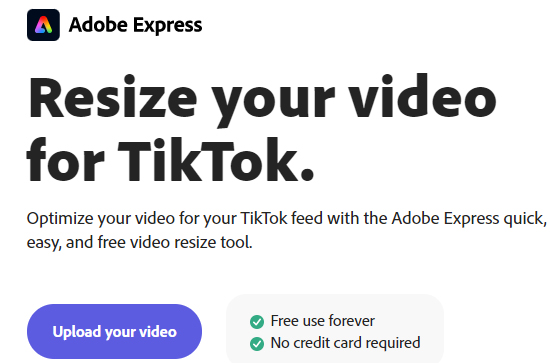 Step 2. You'll be then re-directed to a new page where you tap "Browse on your device" button to load your video clip.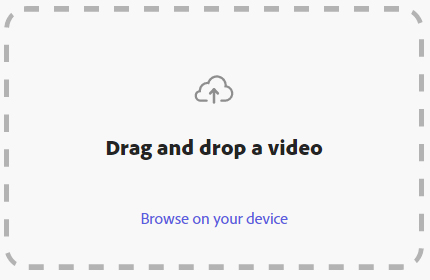 Step 3. Select "TikTok" from the drop-down list of "Resize for". Then the aspect ratio option will auto be changed into 9:16 (1080x1920).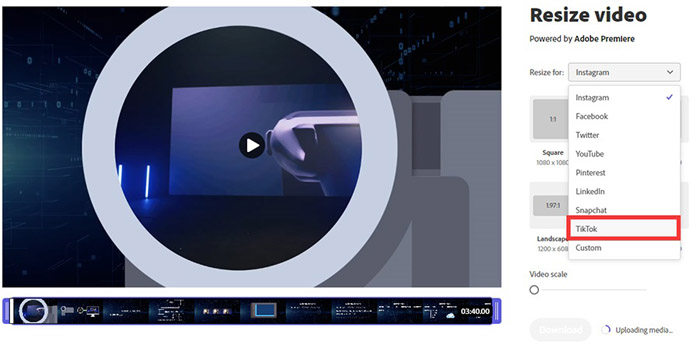 Step 4. Optionally, you can move the "Video scale" bar to freely adjust your target size in your video like a person or an object. Meanwhile, move the bottom slidebar to trim your video length if needed.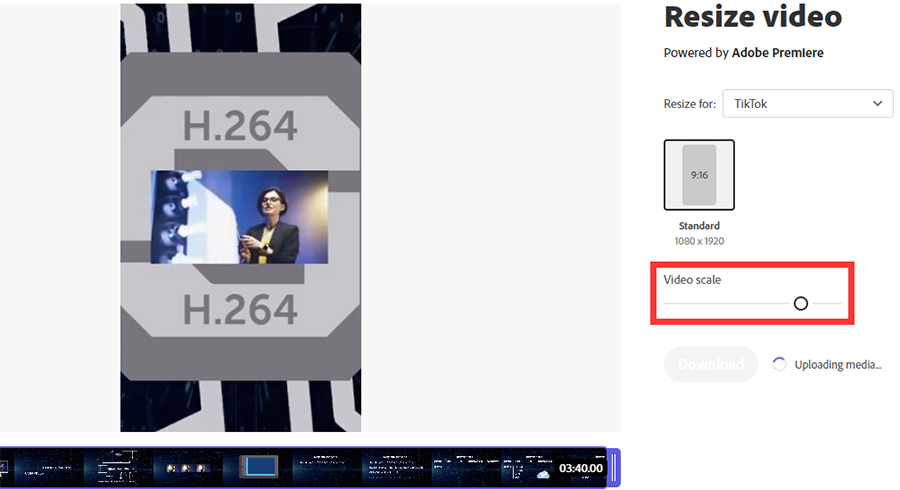 Note. After all the operations are finished, this free online video resizing service will auto upload media (shown in the below picture). Give it a minute to finish the whole media uploading procedure. Close and exit unnecessary webpages & programs if you want it much faster. Step 5. Tap the "Download" button after "uploading media" is done. Afterwards, it will pop up a progress bar to show the resulting video downloading procedure. When it reaches 100%, your output video for TikTok is successfully resized into TikTok best frame size. Go to the output folder to locate to your final video for TikTok.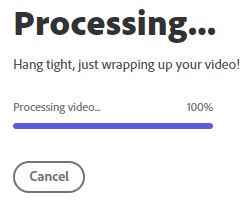 This online service provides you with a simple yet clean approach to resize video footage for TikTok without any frill. Considering it's a online tool, you'd better load a video with small or medium file size and length. Or slow processing speed will accompany you couples of minutes or even hours.
Way 5. How to Use Flexclip to Resize Video for TikTok?
Similar to Adobe Express, Flexclip is also a free online video editing service, letting you free adjust video aspect ratio for TikTok setting. Better still, it has more bonuses for more to level up your video, including filter, adjust (brightness, saturation...), flip, crop, speed, motion, etc. You can directly head over to its official website for TikTok video dimension adjustment. Or find "Aspect Ratio" option on the drop-down webpage to access to its frame size adjustment window.
One thing to be noted is that you'd better close your VPN service. Or it's damn easy for you to suffer the flexclip webpage crash error with "Out of Memory" message. When everything is ready, you can come to the next phase - change video frame size for TikTok now:
Step 1. Navigate to flexclip.com and pull down the page to the lower part to find "Aspect Ratio" under "Power Video Tools You Need" section. Step 2. Click "Choose Aspect Ratio" button on the newly pop-up window. Afterwards, you'll be directed to the Flexclip video editing interface, where click "Browse" icon to import your video clip to this online video resizing service.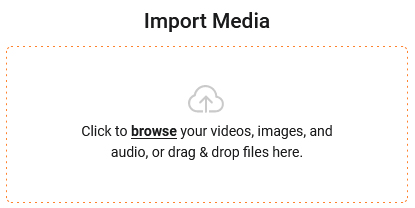 Step 3. Opt for "9:16" or "1:1" aspect ratio from the top left-hand corner of the page. If you need to manually adjust video dimensions for TikTok, choose "Crop" option to accurately resize video for TikTok.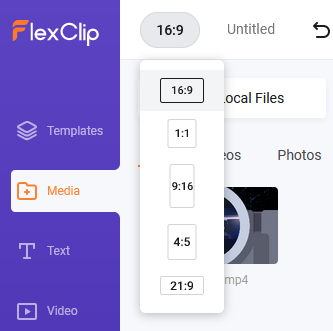 Note: as we have mentioned before, this online resizer service also features more editing functions to enrich your video footage, like 21 filters (greyscale, sepia, vintage, retro, lomo...), adjust brightness/saturation/contrast/highlights, speed up or slow down video. Step 4. Move your mouse to the upper right-hand corner of the page and hit "Export" button to yeild your output video file. Step 5. Log in with your Gmail account or Facebook account to finish the last step. Afterwards, this online video frame size change service will auto export your video footage with your selected frame size.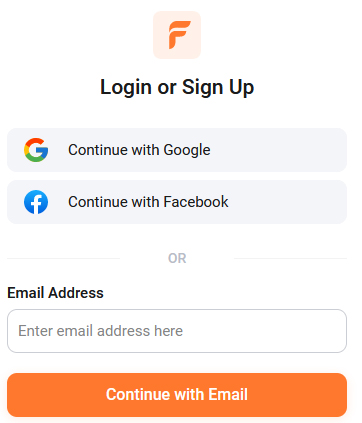 Honestly, the above-mentioned ways are all user-friendly and have their own merits and demerits. Just pick up one grounded on your specific needs. If you have any better application or program for TikTok video resizing, welcome to recommend to us and we'll keep this post updated.