How to Resize Videos for Instagram without Cropping/Watermark
The best video aspect ratio for Instagram IGTV/Story is portrait (9:16), Instagram Carousel posts and Instagram Feed need a video size vertical(4:5). Different Instagram video posts require different video sizes and dimensions. You'd better use the recommended size and dimensions for video posts on Instagram. If not, your video will be compressed automatically by Instagram during upload and the video quality will be decreased. How to resize video for Instagram IGTV/Story/Feed without cropping/watermark? Here we list four easy-to-use tools to make videos fit Instagram perfectly.
Way 1. How to Resize Videos for Instagram without Cropping in WinX
iMovie lets you resize video for Instagram without watermark while the aspect ratio is limited 16:9. Animaker can easily resize videos free online but you can only download videos 5 times. Free tools seem to have this or that limitations. HD Video Converter Deluxe is the few tool that allow you to make videos fit Instagram without restrictions.
Resize videos to 9:16, 1:1, 16:9, 4:3, etc. and manually resize videos to fit Instagram IGTV/Story/Feed/.
Change video dimensions/resolution for Instagram, such as 1080 x 1080p, 1080 x 1350p, 1080 x 1920p.
Convert videos to TikTok best video formats MP4 or H.264 Codec, AAC Audio, 30fps.
Compress large/long videos for Instagram upload, from 1GB to 20MB, 1 hour long to 3-60 seconds as you wish.
Edit videos for sharing to Instagram, such as trimming, cutting, adding watermark/subtitles.
Use the following tutorial on how to resize videos for Instagram without cropping/watermark. The program can work on Windows PC/laptops and Mac computers. Free download the video resizer for Instagram on your computer and launch it.
Step 1: Click the "Add Video" button in the top menu bar and select a video clip to import. The video should load immediately. You can add more than one video at a time because batch video processing is well supported.
Step 2: Choose an output format popping up profile window. MP4 H.264 is recommended for Instagram upload. Go to General Profiles > MP4 Video (h264+aac), and click the OK button to apply the format.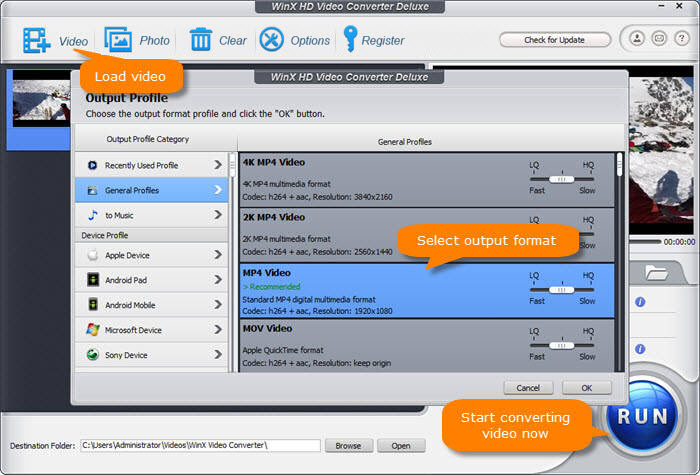 Step 3: Click the Edit button to show more editing options. Select Crop & Expand tab and tick Enable crop. It offers several resizing options: Free, Crop LetterBox, 16:9, 4:3, or 1:1. Select the video dimensions and drag the the video edge to resize videos for Instagram without watermark. You can also resize the video for Instagram manually by entering the video size(Width and Height) you want. Click the Apply to All or Done button to apply the adjusment to your video and close the window.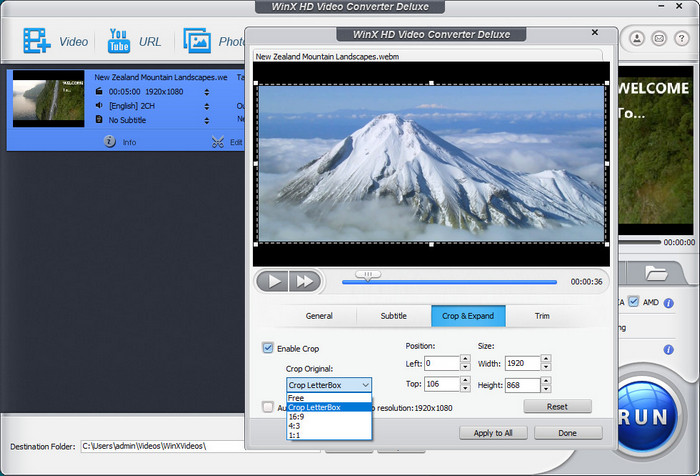 Step 4: Click the "RUN" button to start resizing video for Instagram at GPU accelerated speed. Now you should make your video fit Instagram without watermark. You can bulk resize videos for Instagram easily.
Read more: How to Crop Video for Instagram, YouTube Shorts File Size Length Limit|Size Ratio
Way 2. How to Resize Video for Instagram with Adobe [No Watermark]
Adobe Express powered by Adobe Premiere can resize video for Instagram posts, IGTV, stories, and Reels on iPhones, mobiles, Windows PC, and laptops easily in seconds. You can upload a video up to 1 hour long to resize for Instagram. It provides preset sizes to make a video fit Instagram perfectly without other additional adjustments. You can use the video scale lever to zoom in or out easily. Adobe Express is a go-to online tool to resize videos for Instagram free without watermark/cropping. Use the steps below to learn how to make a video fit on Instagram with Adobe Premiere Pro/Express. Open the website of Adobe Express resize Instagram page. Click the Upload video, locate the video you want to resize for Instagram, and select the video from your device to load. Your video can be up to 1 hour long.
Select Instagram from the resize menu and select the dimension you want. Wait for the video resizing processing to complete.
Click the Download button to download the resized video for Instagram. Done. It's quite easy.
Way 3. How to Resize Video(2GB) for Instagram with Animaker
Animaker is a free online video editor that allows you to resize video online for Instagram with several dimensions options, covering square (1:1), vertical (4:5), portrait (9:16), and more. You can also use the online tool to trim, crop, rotate, flip, merge, and change the speed of your videos. There are many basic video editing features built into the free online Instagram video resizer. Animaker enables you to resize videos up to 2GB for Instagram for free on iPhones, iPad, Android mobiles, Windows PC, macOS computers, and other devices.
Step 1. Go to Animaker's video resizer website. Pick the dimensions you'd want to resize your video to for Instagram. It offers different dimensions: FB Portrait (4:5), Square (1:1), Landscape (16:9), Portrait (9:16), FB Cover (21:9), and FB Landscape (5:4). You can select square (1:1) or vertical (4:5) or portrait (9:16) for Instagram. Wait for the loading and the Upload Video page should appear. Step 2. Upload the video you'd like to resize for Instagram. Click the Choose file button and select a video. Click the Resize icon to make a video fit for Instagram perfectly. Drag the edges of the video to scale and resize it. Click on the green button to apply the scaling.
Step 3. Click on the orange "Download" button to download the resized video for Instagram. The output video is watermarked.
Way 4. How to Resize Landscape Video for Instagram in iMovie
iMovie is pre-installed on Mac computers and can be used to resize landscape videos for Instagram on iPhone/Mac without restrictions. There are no file size limits and watermark. You are free to crop and make the video fit for Instagram in a few clicks. However, the aspect ratio is limited to 16:9 and you don't have many other choices like 4:5, 1:1. That's why we say it's a good choice for resizing landscape videos for Instagram. Instagram recommends a 1.91:1 landscape, but you can go with 16:9. Here's how to do it. Step 1. Open iMovie on Mac or iPhone. Select the video clip that you want to resize for Instagram.
Step 2. Click the Crop button or use the shortcut R to start resizing. Click the Crop to Fill button. Move and resize the frame to resize/crop landscape video for Instagram. Note that the frame has a 16:9 aspect ratio. Click the Apply button to apply the crop/resizing. You can click the Reset button to reset all the adjustments or click the Undo button to go back to the previous change.