How to Crop Video for Instagram Feed/Reels/Story/IGTV
Instagram is one of the world's most popular social media networks, which keeps users connected tightly. More than 1 billion users have signed up for Instagram and are trying to stand out on it. Video absolutely helps to inscrease the engagement, while if the video isn't in the right frame size, it will backfire. Thus, cropping video for Instagram is a necessity before uploading videos to your Instagram account. In this post, we'll show you how to crop videos for Instagram video posts, live streaming, Stories, and IGTV.
[No Watermark] Crop Video for Instagram in the Right Size
Free download WinX Video Converter - the video cropper for Instagram to resize video to fit with Instagram Feed/Reels/Story/IGTV perfectly.
Crop videos to 9:16, 1:1, 16:9, 4:5 and manually crop videos or cut out black bars to fit different form of Intagram videos.
Resize clips to maximum pixels of Instagram, such as 1080 x 1920p, without losing quality.
Convert videos to the best Instagram video formats settings like MP4 or H.264 Codec, AAC Audio, 30fps.
Compress large/long videos for Instagram uploading, from 1GB to 20MB, 1 hour long to 10 minutes or less.
Edit videos for Instagram, such as trimming, cutting, adding watermark/subtitles, merging, etc.
Part 1. What Is the Best Crop Size for Instagram
Instagram has changed drastically over the last few years, adding Stories, Reels, IGTV and a myriad of updates and options that allow you to create engaging videos for sharing with your audiences. Different types of video requires different aspect ratio and dimensions for uploading to Instagram. Thus, the best crop size for Instagram significantly depend on what form of Instagram video you've chosen: Feed, Story, IGTV, Instagram Live or Reels.
Here's a summary of the aspect ratios, and maximum video resolutions for Instagram videos. To make it clear, take a look at the followings:
1:1 or square – The most popular format.
4:5 or portrait – Only slightly taller than 1:1 and can attract more attention since it's larger on-screen.
1.91:1 or landscape – The smallest among the three and is somewhat similar to the widescreen 16:9 format.
A vertical video with a 9:16 ratio is ideal for reels, IGTV, and stories.
A horizontal video with a 16:9 ratio is only suitable for IGTV.
Part 2. How to Crop Video for Instagram
There are various ways to crop and resize video for Instagram, from Instagram app itself to online video cropper, video converter to video editing software. Here, we'd like to share 4 ways to crop video for IG, namely through Instagram itself, WinX Video Converter, online video cropper, and Premiere Pro.
Way 1. Crop Video for Instagram Right on Instagram
Yes, Instagram app is able to crop videos as well. But this can only be done from a smartphone and will ultimately crop a portion of your video during upload. It's quite easy. Here are the steps for cropping video for Insta on mobiles.
Step 1. Launch Instagram and then tap the + icon. You can upload your video from your camera roll by selecting it from the appearing gallery.
Step 2. Once you've chosen your video, a preview will appear. In the bottom left corner, a spherical icon with two diagonally opposing arrows will appear. This symbol must be touched in order to expand the image and return it to its original rectangular shape after being cropped into a square. Step 3. Alternatively, you can leave it as a square and relocate the image surrounding the crop to another region of the video. It all depends on your needs.
Step 4. Click Next and add your filters. You can save the video as a draft for later or post it.
Way 2. Crop Video for IG with WinX Video Converter [No Limit]
WinX Video Converter can be used as a solid video cropper for Instagram to crop video for Instagram feed videos, reels, stories, IGTV etc. You can easily crop the aspect ratio to 1:1, 9:16, 4:5, 16:9 to fit with different types of Instagram video, no watermark, no lagging, no quality loss and no file size limit. By using it, users are also available to adjust video resolution to 1080p, convert video to Instagram supported MP4 H.264, trimming video to no more than 10 minutes, and resize 1GB to 650MB or less.
How to Crop Videos for Instagram with WinX Video Converter
Step 1. Free download the Instagram video cropper, install and run it your computer. Click the "Add Video" button at the top and select a video clip to upload. You can add more than one video at a time for batch processing.
Step 2. Choose MP4 H.264 as the output video format for Instagram. Then click the OK button to make the change valid.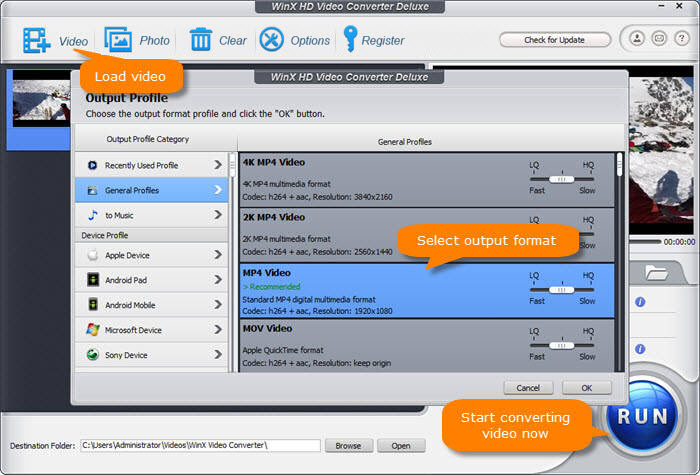 Step 3. Click the Edit button to enter the video editing window. Click the Crop & Expand tab and tick Enable crop. It offers several options for cropping: Free, Crop LetterBox, 16:9, 4:3, or 1:1. You can choose the ready-made ones for Instagram, or manually customize the crop size that works for Instagram through drag the video edge. Click the Done button to save the cropping and close the window.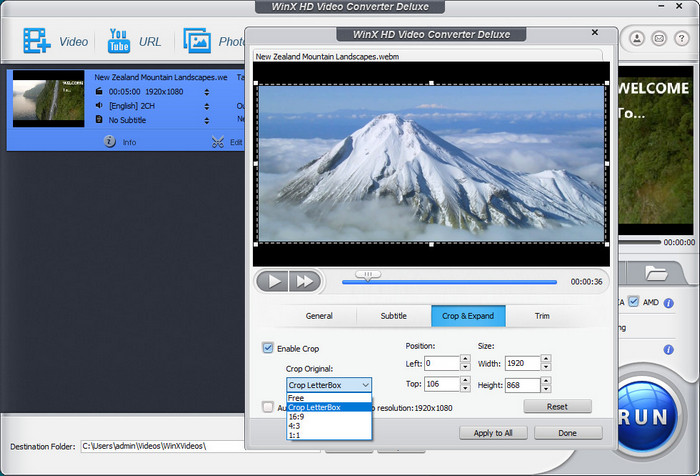 Step 4. Click the "RUN" button to start cropping videos for Instagram on your computer.
Way 3. Crop Video for Instagram Online
Online video croppers is also widely selected for cropping videos for Instagram. It's not limited to one platform, instead, you're able to crop any video clip based on web browsers. There are many choices available, such as Clideo's Online Video Cropper, Kapwing Video Cropper, Resizegram, Flixier and more.
Take Clideo as an example, it presets with 1:1, 16:9, 9:16, and 5:4 aspect ratios. Of course,you can set the exact size manually to fit with Instagram video post, reels, stories or IGTV. Check how to crop Instagram video to the best crop size with Clideo.
Step 1. Head over to Clideo Video Cropper, you'll be greeted with a big "Choose File" button. Click on it to select the video from your device. You can also upload video from Google Drive and Dropbox.
Step 2. Then you'll be taken to video cropping page. Here you can choose the 9:16 or 1:1 aspect ratio for Instagram and Instagram Story. Also, it's possible to set the desired area of the video manually using the yellow crop markers. The exact size in pixels can also be entered, such as 1080 x 1350 pixels, 1080 x 608 pixels and more. Step 3. At the lower-left corner, you're able to choose the output format. MP4 is always recommended for its wide compatibility.
Step 4. If you're ready to proceed, hit the "Export" button at the bottom right corner. After a few seconds, you'll get a cropped video for Instagram. But be aware that it's stamped with a watermark, which can only be removed after you sign in. If you don't mind it, just click on the "Download" button to save the cropped video to your device. Way 4. Resize Video for Instagram Using Premiere Pro
If you're accustomed to use Premiere Pro to edit your videos, cropping would be a breeze for it. And thanks to the auto keyframe feature, you can now easily crop your horizontal video to a vertical one for Instagram Feed, Story and Reels in one click without manually adjusting the keyframes. Moreover, by cropping video with Premiere Pro, you can create a split-screen, make a scene transition using a cropped video, or composite a special effect into your video clip.
How to Crop Video for IG Using Premiere Pro
Step 1. Launch Adobe Premiere Pro and import the video clip you want to clip into Premiere. Drag the video clip into the timeline, and click to select it.
Step 2. Go to the Effects panel from the lower-left workplace, and search for Crop. Hit the Crop effect from the search result. It should be under Video Effect > Transform folder. Step 3. Drop the crop effect onto your video clip in the timeline. And you can see the crop settings from the upper-left side in Premiere. Then you're able to precisely crop the video clip from the Left, Top, Right. Step 4. Optionally, you can use Premiere Zoom to fit the cropped movie into the frame since cropping inevitably changes the aspect ratio and resolution of your video. Check the Zoom box in the Crop options to do this.
Step 5. After you've done, click on File > Export > Media to enter the Export Setting window. Choose an output format that Instagram supports, such as H.264, MPEG4, QuickTime. Then tap the Export button and wait. After a while, you can check the output cropped video.
Now, It's Your Move
So, that's how to crop video for Instagram, from a horizontal video into a vertical one or a square one for Instagram video post, Reels, or Stories. No matter which way to choose, just crop your video to fit Instagram and attract more viewers to your account.