How to Compress MKV Video Size without Losing Quality
A growing assortment of videos are seen in .MKV extension, particularly for high-definition sources (1080p HD and 4K UHD). MKV packs multiple types of files like audio tracks, subtitle streams and video tracks into one file. This means your MKV file is always very huge, which may cause troubles for storage, playback and sharing. That's why you may need to compress MKV. Below are top 5 ways to compress large MKV video files using Handbrake, VLC, FFmpeg, Online, WinX, without losing quality for free. Pick up the way you prefer and get started.
Way 1. Compress MKV Video Files with HD Video Converter Deluxe
HD Video Converter Deluxe is equipped to compress MKV video without losing quality easily and speedily.
It accepts any MKV files, no matter they're shot by camcoders, ripped from DVD/Blu-ray, saved from online or exported from video editors.
By utilizing intraframe and interframe coding algorithms, along with advanced entropy encoding, it can compress MKV up to 90% reduction, via transcoding MKV format, adjusting resolution, frame rate, bit rate etc., trimming/cropping etc.
It reserves the highest quality as possible, almost without losing quality, with the support of high quality engine and de-interlacing engine.
This video compressor runs 47x real-time faster for MKV compression, with fully Intel/Nvidia/AMD GPU acceleration enabled.
How to Compress MKV Video File Without Losing Quality
Before everything, free download the MKV video compressor on your computer (Mac version is also available) and launch it.
Step 1: Add oversized MKV source video to the program.
Click the "+Video" button on the top and select the target MKV video to load.
Step 2: Compress MKV to MP4
After your video loaded, an Output Profile window pops up automatically. You're first adviced to go "General Profiles" -> "MP4 Video (h264+aac)" -> "OK" to convert MKV to MP4 for better compatibility and smaller file size. Of cource, you can also continue the MKV format by going to "PC General Video" -> "Matroska Video" -> "OK".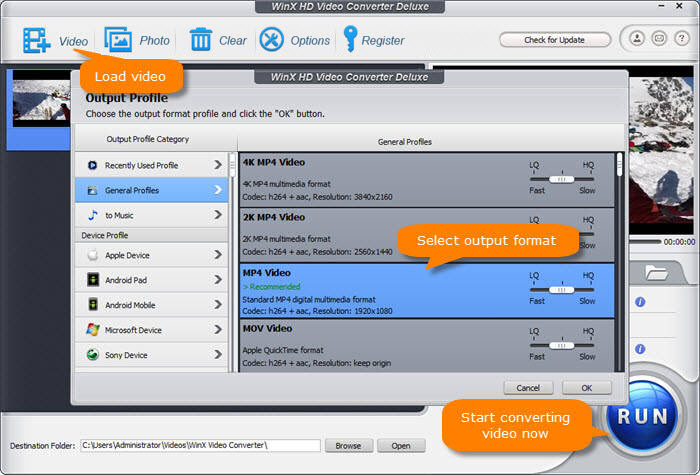 Optionally: Further compress MKV video size if needed.
Generally, the configured MP4 output option can compress video to a large extent. But it may not be enough for advanced users. More options are allowed to compress MP4 even smaller.
Click "Settings" button to adjust video audio parameters, for example, downscale 4K resolution to 1920×1080 pixels, lower video frame rate, bit rate, or change aspect ratio and so on.
Click "Edit" button to enable Trim option so as to cut out the unwanted parts of your video, or split video into several clips.
Also tap "Edit" button and enable Crop option to crop the video frame size, such as remove the black bars and so on.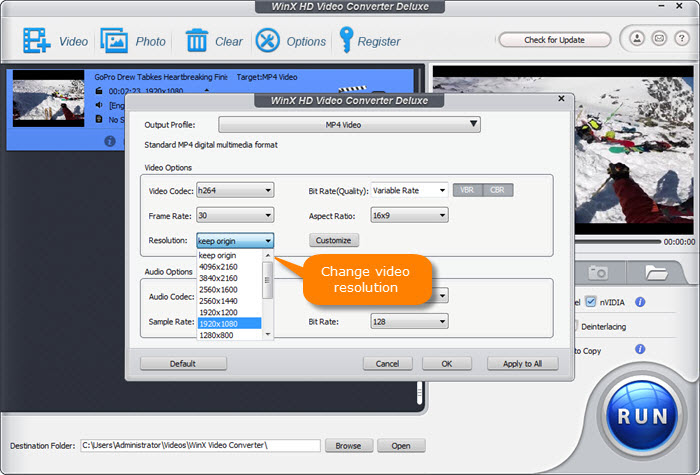 Step 3: Compress your MKV video file now!
Back to the main interface, tick on "Use High-Quality Engine", "Deinterlacing", and "Intel" or "nVIDIA" Hardware Accelertor options. These options will ensure lossless output video quality and up to 47x faster compression speed (on condition that your computer is configured with GPU accelerated graphics).
Then tap "RUN" button to start compressing MKV files to smaller size without losing quality right now.
Way 2. Compress MKV Video File Size using Handbrake
Handbrake is a popular open-source video transcoding program that can be used to compress MKV video files on Windows (10) and Mac. Check how to use Handbrake to compress MKV video file size.
Compress MKV to MP4 H.264 for smaller file size without noticeable quality loss.
Compress 4K MKV videos to 1080p to reduce MKV video file size.
Adjust video framerate, Avg bitrate, lower down constant quality to make MKV video file size smaller.
To compress MKV with Handrake on Windows, make sure you install Microsoft .NET Desktop Runtime version 6.0.0 or later. Handbrake 1.5.0 and later improved queue statistics tab to include average MKV video compression speed and percent of original file size. The potential crash when encoding MKV using Intel QSV in 2-pass mode is also fixed.
Handbrake Settings for Compressing MKV
According to test, there's no much size difference between veryfast and slower x264 presets. Fast and faster presets always result in even larger MKV video size than veryfast presets. Increasing the RF value can compress MKV without losing quality in Handbrake. Below are Handbrake compression settings for your reference.
Select 2-pass encoding and turbo first pass under video.
Reference frames : 6-12. If you have UHD video, set it to higher values.
Max B-frames : 5-8. It could be higher for animation.
Adaptive B-frames: Optimal
Sub pixel motion estimation: 9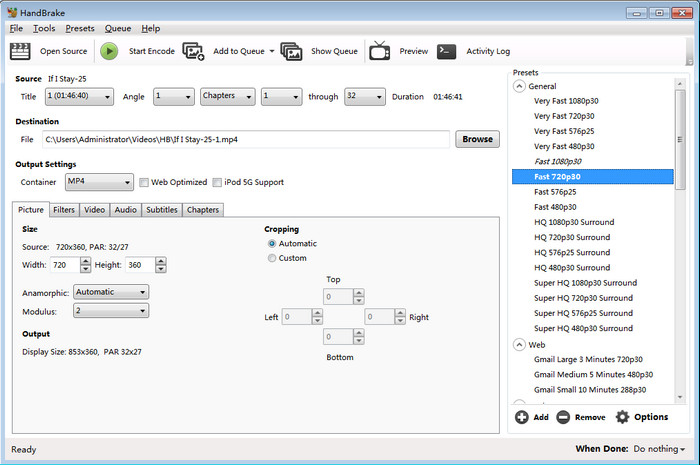 Some users are confused by the complicated steps to compress MKV videos with Handbrake.
I'm wondering if there is a program that allows me import MKV, choose the preset compression profile and done. I was totally confused by the resolution, frame rate, bit rate, B-frames and GOP options. Some complain that Handbrake makes MKV video bigger instead of compressing it. I've ripped a DVD disc and get a 600MB MKV file. I want to compress the file to as small as possible. Then I search a program to compress large MKV files, and then there is Handbrake. But instead of compressing it, the file was bigger, it made my 600MB MKV file to a 1.3GB file.
If you are encountering the same issue when compressing MKV file size, check quick fix for Handbrake output file size larger than input.
Also check: How to Compress MKV in Adobe Premiere Pro.
Way 3. Compress MKV Videos using VLC Media Player
Video compression ability is a hidden feature offered by VLC Media Player. The VLC player makes MKV file size smaller by downscaling, transcoding, lowering down bit rate and removing unwanted clips. If you have VLC Media Player installed on your computer, you can try VLC to compress your large MKV video movies size. Look at its main compression ability and follow the guide to reduce video file size with VLC.
Compress MKV video file size by downscaling (lowering down video resolution).
Convert and compress MKV videos to MP4 H.264 format.
Reduce video bit rate and frame rate in settings to make MKV videos movies smaller.
Cut out unwanted parts of your MKV video by recording a portion of MKV videos during playback.
Tips: When compress MKV to MP4 H.264 in VLC Media Player, you lose quality because it involves transcoding. You'd better not force a bitrate but to use the CRF value of x264. Go to Tools -> Preferences -> Show settings: All -> Input/Codecs -> Video codecs -> x264 and set the CRF value. Higher value means more MKV video compression. The default value is 23. Use the High profile.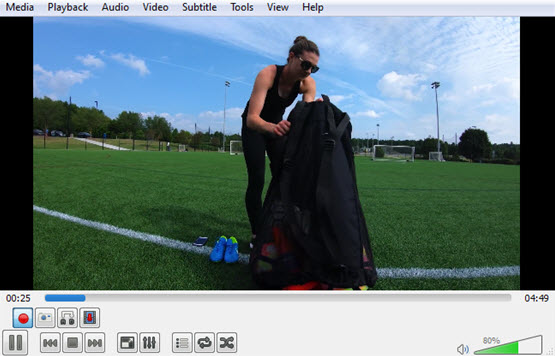 VLC is not designed for compressing videos. It might take hours long to compress large 4K MKV files. Here is the case - The MKV compression has been in progress for more than 1 hour, however the progress bar is stuck at 67%...It's possibly a bug. Go to Audio > Audio track > Disable, and check if the lagging issue with compressing HD MKV is resolved. Open Tools -> Messages to see what it reports.
Way 4. Compress MKV Video Files Free Online With VEED.IO
Here we pick VEED.IO, a no.1 ranked free but limited online MKV video compressor. It makes MKV video file size smaller online by lowering MKV video resolution and quality. It's quite easy to process MKV video compression. You can upload MKV videos from your computer or from drop box, or upload video URL.
Note: Large MKV videos (>500MB usually) can't be compressed by online MKV video compressors. When you are trying to compress a MKV file (2GB) on an online video compressor, it may tell you that your video is too large and can't be imported. Free version of VEED.IO allows to compress MKV videos under 50MB and shorter than 10 minutes. The output compressed videos will have VEED.IO watermark.
Step 1. Open MKV compressor page on VEED.IO. Choose the MKV video file you'd like to compress.
Step 2. Adjust video compression settings, such as video resolution and quality.
Step 3. Click Export and save the compressed MKV videos to your device.
Note: VEED.IO claims that it compresses videos free online without losing quality, it's not the case. One of its compression methods is to lower down video quality. VEED.IO MKV Video Compressor is currently down. When importing a video file, it shows a white screen. Nothing happens. If you want to compress MKV 2GB free online, it's a pity that your have to go elsewhere.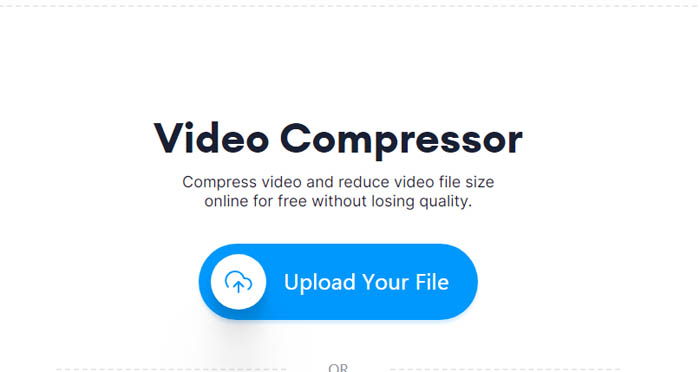 Way 5. Reduce MKV Video Size Free Online with Clideo
Clideo is a popular online video tool capable of compressing MKV video file size free online. You can use it to reduce MKV video size free online for Instagram, Facebook, Twitter, etc. The MKV video you upload will be compressed automatically without dealing with compression settings. Commonly MKV video file size can be compressed by 18%-40%. It means Clideo will compress a 100MB MKV video to 60MB-75MB. Clideo allows you to compress MKV files online up to 500MB/60s for free. If you want to compress MKV 2GB, you have to update to its advanced version.
Step 1. Go to the video compressor page. Click the Choose file button and choose the MKV video file you'd like to compress from your Windows, Mac, iPhone, iPad, or Android device, or upload the MKV video from your Google Drive account or Dropbox.
Step 2. Wait for the MKV video compression process to complete. The MKV video will be compressed automatically after uploading. It may take a long time to finish the process.
Step 3. Click the Download button to download the compressed MKV video file to your device after the compression process completes. The output MKV video file has watermark on it.
MKV videos we uploaded to Clideo were reduced by 18%-25%. For users who want to get more compression, Clideo is not a good choice. You don't need to deal with advanced compression settings, which also means there's nothing you can do to get much smaller MKV video file size. Make sure your MKV video file is shorter than 60 seconds, otherwise, you will receive the following error message: Video is too long, it should be no more than 60 seconds.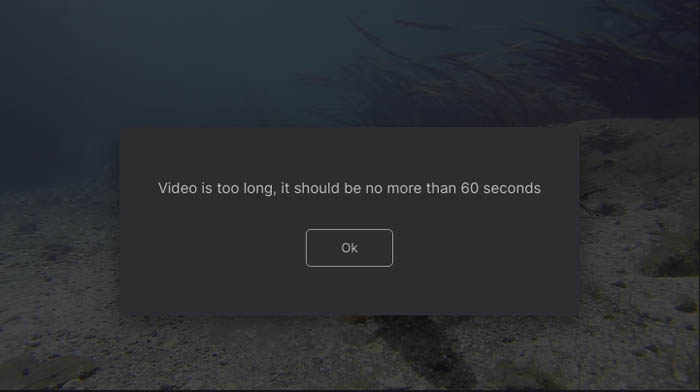 Way 6. Compress MKV (to MP4) without Losing Quality with FFmpeg
FFmpeg, open source free video transcoder, can compress MKV video size free without visually quality loss. FFmpeg compresses MKV video file size by converting video codec format, changing video bitrate, audio bitrate, lowering down video resolution. However, it's more difficult to get to know how to use FFmpeg for video compression. For more detailed guide, check for our post "how to use FFmpeg to compress (MKV) video size".
Compress MKV video to MP4 without losing much quality.
Lower down video bitrate and audio bitrate for smaller MKV video size.
Compress 4K MKV to 1080p, 720p, or lower.
Here are some examples of commands with FFmpeg to compress MKV video files and output file size. Get the best balance between output MKV video file size and quality with FFmpeg.
ffmpeg -i input.mkv -vcodec h264 -acodec mp2 out.mp4, MKV video file is compressed from 3.6 GB to 556 MB, output quality is great.
ffmpeg -i input.mkv4 -s 1280x720 -acodec copy -y output.mp4, 3.6 GB to 68 Mb, quality is acceptable.
ffmpeg -i input.mkv -vcodec h264 -b:v 1000k -acodec mp3 output.mp4, 3.6 GB to 32 MB, ruined image quality.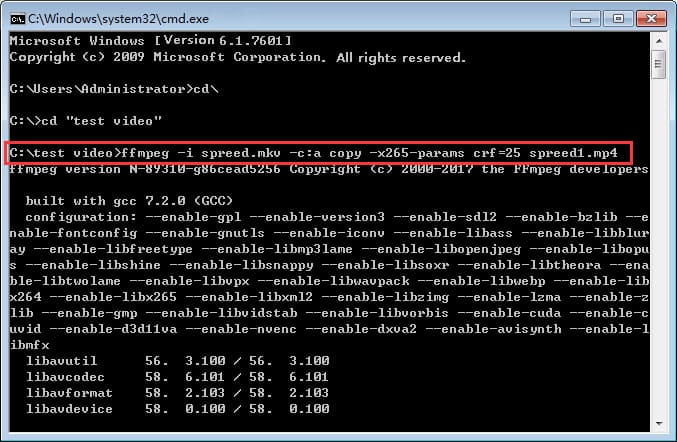 Final words: Many users are complaining that they have ever been trapped in the above embarrassing situations while compressing MKV with Handbrake and FFmpeg. For example, the video compression process lags or gets stuck. The output video file size is even larger. Common issues with compressing MKV video free online include file size limit (max 500MB), slow video uploading speed, and low compresssion ratio. If you've selected a right free video compression software, such as WinX HD Video Converter Deluxe. you can easily get out of these embarrassing situations.
Part 5. FAQs on Compressing Large MKV Video Files
1. How do I make a MKV file smaller?
Step 1. Load your big MKV video file you want to compress. Step 2. Compress MKV to MP4 H.264 format, lower down video bitrate and frame rate, shorten video length, or lower down video quality. Step 3. Click RUN to start compressing MKV video file. WinX HD Video Converter Deluxe can compress large MKV video files from GB to MB.
2. How can I compress MKV files without losing quality?
To compress MKV video file size without much quality loss, use a more efficient video codec format, and cut out unwanted video clips to shorten video length. Lower down video bit rate and video resolution will result in smaller file size but quality decrease. It's not easy for tools to keep good balance between file size and quality. It's a trade off.
3. How do I compress a 2GB MKV video?
If you need to compress a MKV video 2GB, free online video compressor services like Clideo and VEED.IO are not suitable choices. Most of them allows users to compress videos smaller than 500MB for free. To compress a 2GB MKV video, you can resort to desktop video compressor programs, such as Handbrake, WinX HD Video Converter Deluxe, FFmpeg. VLC can also work as a free MKV video compressor.
4. Why is MKV so big?
MKV video files are always big because MKV supports multiple audio tracks, subtitle tracks, and streams of data. And MKV container format is always used to store high-quality 1080p HD/4K UHD video data, which also means larger file size.
5. Can you zip MKV video files?
Yes. You have several ways to convert a MKV file to a zip file. There are a number of online tools to zip MKV video files with options to set your desired compression level, such as WinZip, ezyZip. It's also quite easy to zip MKV video files on Windows and macO to make MKV video size smaller.
On Windows, locate the MKV video file or folder you want to compress, right click the MKV file or folder, choose Send to, select Compressed(zipped) folder. Now the zipped MKV video file or folder will be created in the same location. You can rename the MKV file or folder as you want.
On Mac, tap your MKV video file with two fingers, choose Compress from the short menu.