How to Reduce VOB File Size on Windows, macOS, Online
Some users find that their VOB files are extremely large in size - 7GB, 14GB, and beyond. VOB files can be big because VOB contains DVD videos, audio, subtitles, DVD menus, and other content. Luckily, it's quite easy to compress VOB files in lossy or lossless standards. Here are 3 ways to reduce VOB file size free online, via zipping, and using WinX Video Converter. These ways can work on Windows, macOS, Linux, Android, and iOS. Let's begin with WinX Video Converter, the most reliable VOB video compressor for Windows 10/11 and macOS.
Way 1. Compress VOB with WinX Video Converter (2GB to 200MB)
WinX Video Converter offers several ways to compress VOB. It lets you compress VOB files to MP4 with more efficient compression standard. Lossless file compression is available, allowing you to cut VOB length and reduce VOB file size by removing redundancy. You don't have to suffer too much from the data loss even when the VOB file is compressed from 2GB to 200MB. The output quality is quite acceptable because data is removed out side of the range humans can see. You can also lower down the VOB video bitrate and resolution for smaller file size in a click with high qaulity reserved thanks to the support for HQ Engine and De-interlacing engine.
How to Reduce VOB File Size from GB to MB?
Though WinX Video Converter is desktop free video compression software, it's very easy to use the tool to compress VOB on Windows 10/11 or macOS. Use the following steps to get started. Free download and install the VOB compressor if you haven't.
Step 1. Luanch the VOB compressor on your computer. Click the "+Video" button on the top menu bar and select the source VOB video to import. You can add multiple videos at a time. Batch VOB compressor is supported.
Step 2. Compress VOB to MP4. Once the VOB video is load, an Output Profile window appears automatically, allowing you to compress VOB to MP4 format. Go to "General Profiles" -> "MP4 Video (h264+aac)" -> "OK" to select MP4 as the output format. You can click the RUN button to start compressing VOB to MP4, or continue with the following steps to compress further.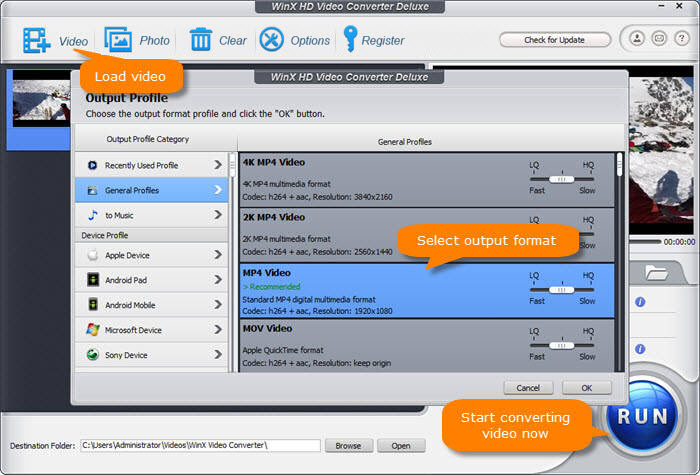 Further Reduce VOB Video File Size
Use the following methods to compress VOB, including lowering down video resolution, bit rate, cutting video length, etc. These options are available under Settings in WinX Video Converter.
1. Click "Settings" icon to open the Settings window. On the Settings window, adjust video audio parameters, such as lowering video frame rate, bit rate, resolution, etc. for smaller file size.
2. Click the "Edit" button to get trimming options. Select enable Trim option to cut out unwanted parts of the VOB video, or split video into several smaller and shorter clips. Click the OK button to save the changes.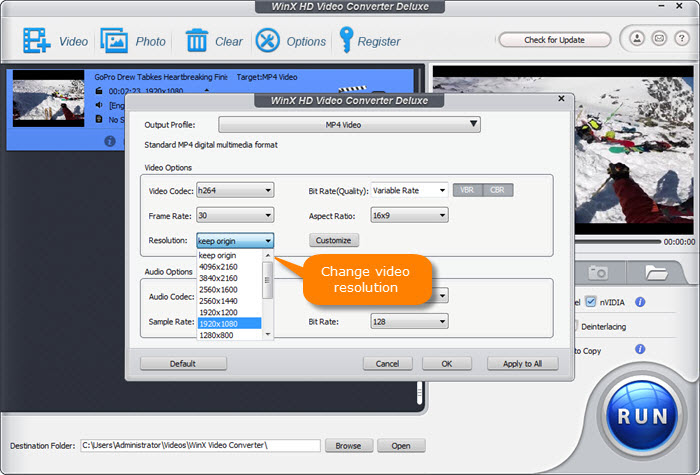 Step 3. Then click the blue "RUN" button at the bottom right corner to start compressing VOB files without losing quality right now.
Way 2. Compress VOB Online Free with Aspose (100MB to 70MB)
Aspose Online VOB Compressor allows you to compress VOB free online on Windows, macOS, Android, and Linux via a web browser. Online service is a good choice when you have a VOB file to compress occasionally. You don't need to download desktop programs or apps and register for the job. Aspose Online VOB Compressor enables you to share the compressed VOB file to your email address for storage. If you want to compress VOB online for free without a watermark, use the following steps to do it. The speed may be very slow when there are lots of users on the server or your VOB file size is big.
Step 1. Go to the Aspose Online VOB Compressor page. Click the "upload your file" button, specify, and select the VOB file from your device to upload. Alternatively, you can drag and drop the VOB file here. The online VOB compressor also supports other commonly used video formats such as AVI, MKV, MOV, MP4, WEBM, WMV, etc.
Step 2. Click the Save as drop-down icon and select an output format. It lets you compress VOB to MP4 online for free without losing quality.
Step 3. Click the Compress button to start compressing VOB to MP4 online for free. After it completes, click the file download link and save the compressed VOB file to your device. The file will be deleted after 24 hours and the download link will become invalid after this time period.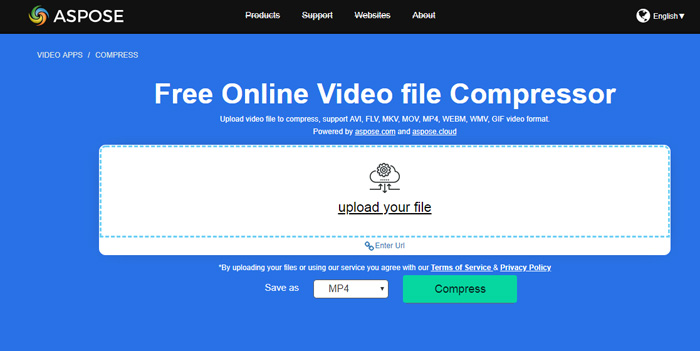 Way 3. Reduce VOB File Size by Zipping with ezyZip (100MB to 85MB)
It's a practical way to compress VOB via zipping. There are tons of zipping methods, such as WinZip, 7Zip, and ezyZip. WinZip and 7Zip are popular zipping tools and you can find out lots of tutorials on how to use them to zip files and folders. Here we demonstrate how to use ezyZip to zip and reduce VOB file size online for free. The website is ad supported and is brimmed with ads on every page. Note that a VBO file can contain an MPEG2-encoded video and audio file that is already compressed. The zipping method may fail to offer a good percent compression.
Step 1. Go to the ezyZip page for converting VOB to zip. Click the Select VOB files to convert button and select the VOB file to zip online. It also allows you to import VOB files from your Dropbox account.
Step 2. Set the compression level. The option is available under the Convert to ZIP drop-down icon. Then click Convert to ZIP to start compressing VOB to Zip online for free.
Step 3. Click the Save ZIP File button to save the zipped VOB file to your local drive.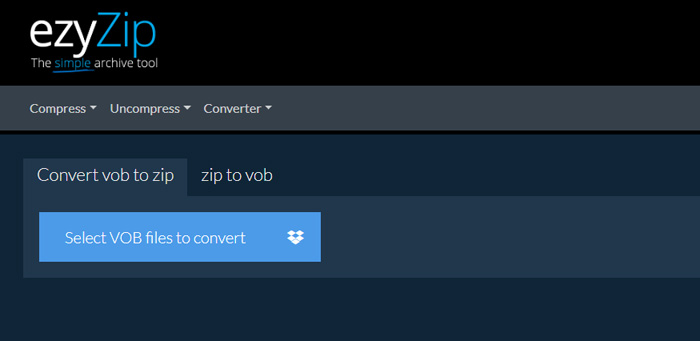 Sum up
The online way to compress VOB files is very easy, requiring no software download and registration. But most online compressors have a file size limit(max 100MB-200MB) and slow file uploading speed. The zipping method is likely to fail to get VOB files compressed further or result in a few percent compression when the VOB file is already compressed. In fact, VOB files encoded with MPEG2 are already compressed and you can't reduce the size of VOB video files easily. After testing, WinX Video Converter showed the best compression result - a 2GB VOB file was reduced to 200MB with acceptable quality. Just select the way you prefer based on your needs.